When were you first exposed to dharma?
I was born into a Christian tradition but had more or less lost interest in that as a source for the truth by my teenage years. I was always drawn to science and studied engineering at university, and part of what directed my studies was a belief that I could find some level of explanation of the world through that. You could say I was fascinated by the idea of the 'Universal Theory of Everything.' But at some point in my final year of undergraduate school and into my first years of grad school that I started to question whether I was on the right path. Perhaps I just wasn't very good at quantum physics, but when taking those classes I kept coming back to the notion that the truth should be simple, not something that required pages of probability equations to approximate. At that point I decided to look again at what religion might have to offer. After a few failed attempts at reading the Bible and some other religious philosophies, I came across Buddhism. You could say I found what I was looking for in the first text I read – the logic was clear and simple and fit my experience. I met my teacher a couple years after that and never looked back.
Transcript
History
Yeah. I guess looking back at how I was, I guess, my youth looking back at it now. You know, I can see that I was always driven really by this idea that there was a truth out there, that there was something that would explain everything. I was actually born into a Christian family. You know, my parents weren't quite overtly religious, but they definitely were very active in the church. You know, my father had different roles as like Church Council president, my mom's father was actually a Methodist minister. So, you know, it was it was who we were. You know, we went to church, I think. But by the time I was going through the confirmation, you know that aged young teens, if I remember right when I really started to kind of asking questions and then kind of realizing that, you know, the answers weren't very satisfying to me for whatever the reason, right? And probably around that time, I got a distinctly remember in like middle school high school years kind of saying to myself, Yeah, this is not, you know, I don't believe this stuff, right? And I think at that same time, I was getting into starting to get into science in school where you start taking your little bit more hardcore. That's not really the right word, maybe, but a little bit more intense science classes as you get into high school. And that was to me that was like, OK, this is where the answer is right and the science will explain everything. And I was really drawn to and fascinated by, I guess, you know, Einstein and then Stephen Hawking and then learning about it. And I kind of was guided. I thought, there's this universal theory of everything that I would find or at least a physicist smarter than me might find it. So I went into engineering school and then went on to grad school, and it was around that time where I, you know, and I was studying material science, which is a which is really applied solid state physics, right? And you get into the graduate level. You started taking quantum theory classes and and there was around that time that I I guess I had this realization that it was like, this is really unwieldy and not what, you know, I had this idea that the truth would be simple , right? And that as a this, you know, I to put in 20 some years of school and be the best of the best and really understand these theories. And kind of the best you get to is this probability equations that explain how things are. Just some reason it didn't really satisfy me, you know, and maybe it's just because I wasn't really that good at it, and I want an excuse to kind of start. But I think, you know, something just wasn't there. I didn't have the whole crowd. So at that time, I just, you know, meanwhile, of course, I had, you know, friends and people who were not scientists, people who had studied philosophies and different different things or artistic types. And you know, so at some point, a friend of mine, I can't remember even who it was, but somebody was like, You know, you sound like a Buddhist. Maybe you should, you know, should read some Buddhist philosophy. So it was then it was then that I picked up some of the some Buddhist books, and I was interested in a lot of different things. So I had some that were, you know, Buddhism in environmental science. You know, this kind of books are kind of looking for Borneo as commonalities between kind of the Green Movement, maybe in Buddhism. And that was really interesting to me at the time. And then, you know, at some point I actually decided, Okay, maybe I've got an actual book by a Buddhist teacher might be good. And so I remember one of the first ones I picked up was that night on the old pathway. Clowns read that, and that one was like, just kind of blew me away. It was really like, Wow, this is this is really like reading my own thoughts today. It's a lot of the same conclusions. Observations that I had made really, really were spelled out when you know, in that book as as explanations by the Buddha, right ? So I think around that time and I was probably maybe 23 or 24 or something like that, it was really when I started identifying as a Buddhist. But I really had this idea coming from like this intellectual background, you know, scientific approach that I would you had to figure it out yourself, right? That it would be the truth was out there, but it wasn't something that somebody just gave you that you had to kind of find your own path and figure out your own way through this. And you know, that's another that was what guided me for a little while. You know, I was just reading a lot and I'd go to see lectures. I saw a Dalai Lama lecture. I article on high lecture. You know, I thought, OK, as you know, this is what I did. I just read and figure it out. And around that time, which would have been around 2002, was when I met Lama. That and he was in Chicago, giving a lecture at DePaul, organized by the local songs at the time, which in Chicago was really just two or three people, maybe a four or five or something like that. And in the Madison in Madison, Wisconsin, was very heavily involved in lacrosse and some a lot of people that came together to put that on. But I, of course, I didn't know any of that at the time. I just went to this this lecture in 2002. And you know, it was it was. It wasn't like an instant like, Aha, this is my my teacher moment or something like that. It was, you know, I was more like chicken boxes off as he talked about. You mentioned Prep, but I read about. We mentioned, Martha, I know that guy. OK, so he sounds, sounds legit. He knows this stuff. You know, I kind of laugh at it later on. I'm thinking, I haven't, you know, I was checking the teacher as and oh yeah, he knows this stuff. Like, I actually knew anything about it at all myself. But um, so that was that was how I met the whole day. And you know it, it's funny because I really didn't think that Tibetan Buddhism was would be something I would ever do. Because as I got the original trade secrets of the larger world, I started reading about Tibetan Buddhism, and I was just really like, This is this sounds like church. It's very hierarchical. It's like this lama. And he's he's the main guy. And then everybody reports into him and like, this kind of thing like that is, this is gonna be the last thing I ever do. But of course, it turns out that's exactly what I'm doing. But that came about because I guess it was in about six months later, the whole that was back in the Midwest, and he was giving a poll, of course, and this is a transmission that he is no longer doing. It's probably been about five years since he gave him, mainly due to his advanced age and of asking him, You know, take it easy. Maybe you do more pose. It may be. You may be staying in the pure land if you do. And so he he kind of backed off those. But um, but back then he was doing a lot of public courses, and that was really what he was kind of, I guess, well known for as a pole master. And. You know, I I didn't know anything about it, but kind of when the friend told me about it, she she described, you know, told me it was a learning about conscious dying, right? And you know, to me it was I was like, Well, that if nothing else, it's like that totally exotic bird. And you know, why not go see it like, I haven't? To me, it sort of completely made up of this is whatever like, you can learn how to do this course and learn how to die consciously. I sure, you know, I was still very skeptical that, you know, more logic driven approach to dialog rather. But I guess I had the openness to, you know, I was like, OK, sure enough, I'll go, I'll go check it out. So I went in not knowing anything, and I went to see them all in. That was a really completely different experience. It was five days of meditation with them and it was intense. You know, it was like, sit down and you're meditating with them. And I had like zero meditation experience at that point because it never occurred to me and my whole dharma practice. Suppressing to actually do much meditation thought I would just read and learn it. So I went to that, and that was really what kind of the openness really, the room in the book came together at that time, you know, it was really seeing him in action. You know where you see? It wasn't it was clear it was not just about information at that point, right, that there is something more. You know what the teachings told is somebody who actually experienced what they were talking about. That's who lost all their lives, right? You could. You could just see it, as you know, and he was this was again, 2000, 2002, right? So he was, I think he was like 62 or something like that. But to me, as a 24 year old or whatever I was at the time, I was pretty old. And you know, he was he was staying up until two in the morning taking questions. You know, I would do meditation all day long and then we get to the end. And he'd asked Q&A throughout. But then it'll be at the end of the night and you know, you're exhausted, but he's still up there like just any question that people had. He was he was answering them, right? He only left when when his wife came up to say, You know, all we have to have to go to bed. And so he. So that was that interests me a lot. And just saying just, you know, you could tell it wasn't like he was doing it for the attention or for the ego, and it was like he was. It was compassion manifesting, right? And. And, you know, that really impressed me and then just how you know how excited he was, how joyful he was to be doing everything right. So he's left the impressions on me. And I think after that course, you know, it became clear to me that, OK, maybe, maybe he has something that I need. And it's not, you know, I don't need to just try to find it myself and put it together. But if I just, you know, take a step back and try what he's saying and just do the one thing that it, or maybe I'll see some results for it. And that, I think, is what, you know, obviously a lot of stuff happened after that to kind of get to where I am now. But ultimately, like, I really never looked back after that. I never looked at anything else. It was it was just clear to me at that point that all it was an example of what I wanted to be right. What I wanted to get to and what what the Buddha Dharma explains is the goal right, Michael? With this, this fearlessness of joy is compassion that an enlightened person has. You know, I saw that to whatever, whatever level I was at at the time, you know, whatever, I could see it right. But you know, that's just to me, and I've never doubted that he that he is authentic courage, that he has what I'm looking for.
Refuge
It's a it's a great question, and it's kind of funny because it it kind of goes back to the same story of the poll. Part, of course, is I mean, you do two things it's like before you even do the poll. It's like all you get is refuge and you take the voters out for promise. So like in my first exposure to it, I didn't really know either. Really, I mean, looking at it like honest, I didn't know what I was doing right. It was just was like, OK, who wants everyone who wants to take refuge? I'm going to give refuge now. And he gives a good, you know, a good explanation of what refuge is. So like, I listen to him like, Yeah, it sounds like something I want to do. Great. Okay, I'll take refuge. And that was kind of so I was like, Oh, maybe day one or two. I'm not sure exactly in this in the border software promise he gives as well at that same time. And it's like, as I get it, that sounds really noble to do. I really want to do that. So it's like, OK, I'm going to take the boat to suffer from this right? And that was kind of the extent of my thought behind it. It was like in that moment at this course where it's just super inspiring environment. It's it's like, Yeah, of course, I'm going to take refuge in this, right? It totally makes sense. And of course, I'm going to take a boat aside for a province, which is this promise to always work diligently for the benefit of all beings. And you know, and then of course, so I did that again with almost no experience in meditation at that point. And something of a, you know, you know, a couple of years worth of maybe an academic understanding of Buddhism as a as I kind of had read and studied it right? And then, you know, I go ahead and take refuge and and take the boat offer promise. And I think that now I've, you know, been almost 20 years since then and it's like over the years is when I've really understood the importance of both of those things I did right in that moment, right? And it refuge really is. I think you'd have to say it's the most important thing in Buddhism, right? It really is about the understanding that the only source of of something lasting and that we can count on in our source of happiness is our own mind. Right. And and then there's that. It's there's the other kind of, I call it, the ancillary elements of refuge. I the other two jaws of Dharma and Sangha, but Buddha, which, you know, as we look at it from the larger Aiyana perspective, is not about the historical guide, but it's about the quality of our own mind that we call our Boonah mind and taking refuge in that right. And, you know, really understanding how significant that is towards your practice is. I think you can't really, at least from my perspective, you can't really understand that until you started doing the practices of meditations. And then when you really start to see what that means, right? And how that how it's true that it's the only thing lasting is, is your mind right? And it is it is lasting, it is stable and through all those ups and downs of life, and that's what you can count on. And I think maybe the other element of it about a software practice, part of it is. To me that, you know, it's extremely important, right? The. I think what nobody tells you when you start practicing at least Vajra, I don't know if all forms are good like this, but at least, you know, nobody tells you how hard work it is, how much hard work it is, right? And it is. I think it's probably true for all meditation, but it's it's really harsh. Developing, meditating and trying to work with your mind is hard work, right? It's not that you can do this, sit on a cushion and relax, right? And that's that's it. You a few months here and let them try it. It's just it's you really start to see your mind through these practices. And unless unless you're maybe right there at the cusp of enlightenment, you've got a lot of stuff in your mind that you don't really want to see it. And it's that's where the real challenges come, as when you start watching your mind and all these impressions that have been, you know, in the noise down at the bottom and you never notice when those start coming up, then you that's when the hard work is there, right? And for me, I think some of the motivation to really keep going has been that bought a software from us because I think if you if I'm only doing this for myself, there is a lot of other stuff I can do that would be a lot easier to just make myself feel happy or feel good, right? I mean, whatever, whatever it is, you know, just get caught up in life and have some fun, right? I mean, there's a lot of other easier things to just feel good, right? And this this is real work and it's challenging work. And if you aren't doing it for others that I think it doesn't function right, it doesn't really like, but I don't see how you can keep the motivation in that case because you just quit. It's like just for me to do like, this is too hard. I'm doing something else. I'm done, you know? And you know, I had those challenges through the years where it's like, Yeah, I don't know if I keep doing this right. This is this is really challenging. And, you know, I think I for me, whatever, whatever it was that wish I made that day in November, in 2002, like it. I took it seriously, right? And I come back to that all the time. I'm like, No, I'm not doing this for myself, really. I'm doing this for other people, doing this for all beings. And and that's kind of what makes me turn the corner again and just keep going with it, right? This is that that a software promise. So, you know, it's funny, I guess I had to smile when you ask because it's just, you know, you don't I didn't think anything about it too much. When I when I did both of those right, I took refuge and took the bodies on promises. Just kind of, yeah, sure. Everybody else is doing it here, feels right and feels like a good thing to do. So I'll do it. And then we have both of those shaped the past 20 years of my life completely right. And I still take refuge every day and I still take Photoshop promise almost every day.
Sangha
And Dynamite Buddhism, we talk a lot about the teacher, friend and the teacher is the most important thing in Virginia voters and pretty clear that's that's where the example is of enlightenment, that's where the transmission flows through. But like when I'm looking really honestly at my own experience, I would elevate the Sangha to the same level, really right? And you know, and again, ultimately, the teacher of courses is everything but the Sangha, to me, has been as important and extremely important. And what I mean by that is, you know, I I don't I wouldn't be doing this if it was just all right. If I if I am honest with myself, I had just met all that and I probably would have gone back and, you know, gotten lost the inspiration after a few weeks from that course and gone about my own life. And who knows, maybe every once in a while got back into it, picked up a book, but it was really the Sangha. That actually is what motivated me to to to do this right? The practice. And shortly after this was November, then I saw them all. And then in January, as a New Year's retreat, so December, January in Minneapolis, Fred and I decided to go up to that to see the Minneapolis saga. And that was one of these kind of real diamond way special events, right where I think, as I say, special events like truly unique to what we do as Diamond was not always centers along the way, has a lot of students of his that he had been practicing for some time that he's asked to teach. And in the early days, at least in the Midwest, it was we didn't have any. There's only one teacher in the whole U.S. and he lived in New York. But we had there was another actually correct myself. There was two of them, one in New York and one in San Francisco. They were both students that both met all day in Europe. So they were like home grown students. And that was a lot of what he's been active since the early 1970s in Europe, and he's a lot of students that have been practicing 2030 years as a result of that is Europeans. And so he was one of the things that he would do is we send the students over to the U.S. or to a lot of other countries to to help to answer people's questions and be the example and guide them right. And so that was what we had in Minneapolis in that new year was actually the guy from San Francisco was Davis and his he and his wife had been asked by all that attention they were. They were giving their course there. And then the Minneapolis song, there were a bunch of people around the similar age to me. I, they just met along the way within, you know, five years prior or something like that. And so it was kind of a group of 2030 people and know people from Madison, Wisconsin, go up there and lacrosse Wisconsin, which is another kind of key center in the in the early days of the time away in the Midwest. And we all got together at this course. And, you know, it was just that feeling of like all these people, these people are so cool and it's everybody that really inspired you was like super friendly, everybody critical minded, you know, very , very all different types of people. And I, you know, wasn't like everybody was from the same cut from the same cloth, but in the sense that it's all like family, right? It was everybody was on the same page with with certain what was important to them in their life, right? And been very open and just friendly, right? And you know, I think there was one guy in particular named Eric, who up there is, he's now a teacher, but he, you know, he had this really special quality of just making me feel like he's known you forever, right? He was new to he was probably only in a couple of years at that point. But, you know, I just remember him like remembering my name the first day. I mean, like, you know, you know, asking me being just taking a real interest in me, right? And those kind of things, you know, then you get to know the people and you get the teachings and then you hear about practices like the refuge and non-drug practices. And you get you get a lot of that information and you get really that's I think at that point, I was really inspired to to meditate, write and actually see it. And I think really like if it had been just meeting level here and there's no song go there, right? That wouldn't work. It wouldn't work for me. I would wouldn't have had that over as much as I have the confidence among all you have, that openness to him is a lot of obstacles. You have to overcome yourself to actually get on the cushion and do it every day, right? And that's where the the Sangha really is. The inspiration, I think. And there's a lot of, you know, sadness stories, I think throughout. My time that you know, that I can kind of point to that really was the song of that is what kept me coming right as opposed to the teacher, right? Again, ultimately the teacher really, you know, I can't overstate the importance of it, but I think that to me, the song is just has been really critical.
Work
Yeah, I think I think active bodhichitta, which is really what that is. How are you actively being useful and beneficial takes on so many forms, right? I mean, it could be it can be everything it can and everything. So maybe there is some. I mean, an obvious example where it is like it is helping out at a Buddhist center and running a Buddhist center, which I've always considered pretty important, but it's like that's that's not for everybody, and it's not the only way, either. So I think that's a clear, clear example of what I've done. And I'm not, you know, I'm certainly not the one who runs the show here or anything like that. But so many people that have helped out throughout the years of the people that I've worked with, and it's a lot of a lot of people do that as their that's how they kind of actively express their their wish to benefit others, right? But I think it's like the real goal is to do it in every interaction you have, right? And so that that means like every like through my my work, right, where I'm an engineering manager in the steel industry, right? It's like I have a team, right? And you know, I think about what is, you know, what is my wish for my team, right? And my company and it's, you know, I think a lot of people in the business world, it's it's like about the bottom line and the profit of getting these goals and objectives right. But I approach it as like I want. I want my team to be to grow and develop, right. I'm looking more at like how giving them the opportunities to actually achieve their goals is more important to me and my goals. And in the, you know, and of course, I still get to meet the financial goals and we'll all be out of jobs. But you know, it's like to me, that's that's really what I how I try to, I guess, be a Buddhist in and work right as is to actually not is to make it about human development as much as I can. And so to to take the time to actually sit down and talk to the people and really try to, you know, get to get to know who who they are and what it is that they're trying to get to in their life and like actually work to two goals set with them. And this is this becomes an expression of that, right? And it's not just. You know, and there's nothing let's say, you know, I don't try to integrate Donna in that process, it's just like, that's how I want to try to be useful. Right. And you know, I think the work setting is a good environment for that because you're you're constantly faced with this. Like, you know, unless unless you're a person who is really, you know, you're doing your dream job, you're probably your job. Ultimately, probably for most people, it's just as work. It's a job, right? It's something that you consider or something you'd rather not have to go in and do it that day. You'd rather be doing something else. That's probably that. It's the same for for me, right? I and I enjoy most a lot of my work. But at the end of the day, if they weren't paying me, I wouldn't show up there. And it's like, that's what work is. So it's so you have to look at it as like, Okay, if you're doing this because this is all part of our the system that we're in, right? I mean, we want to we want to have money so that, you know, I'm going to work so I can have a job and I'm doing this job because I want to do stuff like operate a center, you know, I want to I have we have, you know, regional retreats and I want to contribute as much as I can to those. So I'm going to need money for that, right? I want to travel to see my teacher. So I mean, need money for that. So, you know, I'm going, I need a job and I have to take a job that actually pays me pretty well so they can do all this stuff, right? So now I've got to have, I guess, the reason to to. I guess to go into work that is like to try to I guess aside from having to have a job, I mean, one is like, Okay, now take advantage. You know, what can you do in this opportunity to to put your dance practice to work because ultimately you probably don't really want to be there. So it's like it's a good opportunity to say, OK, you know, how can I actually want to be there and look for opportunities to to help people and to be useful in that situation rather to me? I mean, that's how I look at Buddha as a lineman as ultimately a person who is useful in every situation, right? I think that's maybe. What I get most from from how long all explains his role, right, and how the role. To me, it's always served. It's very useful to look at us as a Buddha, as not some exotic creature, something that is as hard to, you know, it could be, you know, Hollywood glamorized visions of what the Buddha really is or how you read some of the life stories and make the more fantastic explanations of of what a Buddha is. To me, those. Kind of put it very abstract as something that's really hard and maybe not even possible to be read the more mythical this kind of creature is this broader like the harder, the more abstract, the more difficult it is to imagine yourself as one, right? And I think the role of the teacher of the lottery on it has been to for me to to, like, show you the example of what a Buddha actually is and that it's really not so different from your own experience. It's just that they are very or actually useful, truly useful in every situation. Truly working without ego to help people all the time. And and us, we're trying our best, but we're kind of mixing it most of the time and we're still doing things, you know, from from ultimately not very useful situation. They don't really help us because we're really trying to help ourselves more than anything most of the time. So. So I kind of that's how I look as a look at the the goal as as to really how to how to be somebody who in every situation is just useful. And so, you know, to me, that's that's how I put it into my work life and my personal life is to. You know, put put the extra time in to to help somebody out with something, even though it's like you, maybe you should like, Okay, this it's your your, your job, your responsibility. I'm not getting paid for that. You do it, you know, it's like, you know, okay, maybe I can help with that right and actually give them some more guidance and kind of nudge in the right direction a bit more. And there's all kinds of opportunities to really to see your see your normal reaction where it's, you know, you're taking it personally as am I? Yeah, I don't really want to have. I don't really want to spend the time. I got better stuff to do or, you know, and then you see that as like, Yeah, OK, maybe that's my my ego shining through here, and I can actually take an opportunity to use this as an opportunity to actually do something. So that's I think, maybe how I. How I looked at how, how to how to really use the threat, it's it's not. We're not trying to get really good at sitting on a cushion. And spending our time inside a Buddhist center with our Buddhist friends, right, if it's like what what we're really trying to do is be out there in the world and being somebody who is as a solid rock, a source of refugees themselves, you can actually be useful to people. And so if you don't go out into the world and if you don't try to do that, then you're never going to accomplish that side of it. You do actually have to. You actually do have to interact still with the world and get out there as much as you can and and be active threatened. And that's really, I think. But another thing back to the Diamond Wire are along long line was kind of a way of teaching, and what his goal is is that he emphasizes that more than anything, I think. He he breaks his explanations down into view, meditation and action, right? So this the structure of Buddhism that we have the Buddhist view, we have our meditation and then the action, which is really the most and is the way he presents the equal. But certainly it's probably more important, right? It's like the action is is really what it's about, right? Actually being being being useful in the world, this is really what it's about.
Ngondro
I think this maybe ties into the kind of some of the uniqueness of what Lamar and Palmer has done right is. They from the very early stages of your practice that refuges really emphasize, right, and when it may be just kind of clarifying, you know, from what I said earlier, like how well it does it like it doesn't. The refuge taking refuge part is not a formal ceremony when Oleg is it. There are some schools of Buddhism where it's like a very, very formalized thing, and all the aid has never done that. But he he always keeps it very just giving an explanation. And then the actual ceremony part of it is very short, right? But but he always he always talks about him and he every lecture he gives, he emphasizes the importance of refuge. And then in. Kind of back to like, you know what I was saying earlier with how he has his teachers come and. You know, we emphasize this a lot like having what we call on retreats, but they're not really like a classical retreat in any way where you're close off from the world. It's more like a program weekend or something like that. You call it where we get together. The Sangha comes together. We have a teacher that always or a local one that we've asked to teach. And, you know, we kind of go over those main topics, you know, in refuges, really always one of them, a cheetah is always, always one of them. But also part of that is really talking about, OK, you know, now what do you do or what do you do with all this right? And it's not just meditating on, on your breath and sitting in that way, right? It's like we have we actually have a curriculum, so to speak, right? It's this is what we do in Buddhism, and that's actually what all advisory on the Buddhists really do it. All schools have the very same same thing, right? And that's the non-drug practices that you mentioned. But before what? I don't know if all teachers do this, but what they really found useful for his students is before you do the non-real to actually do a separate practice on the refuge, just just call it the short refuge meditation. And this is kind of a preliminary to the preliminaries and under other preliminary practice. And so just like a preliminary to the preliminaries and his is, his idea behind it really was that the neuro is a should be treated very respectfully and significantly right. It's it's it's a long term practice and it takes it takes a lot of work. It is a roller coaster ride. There's a lot you learn about yourself in the process and kind of to what I was saying earlier, like this year, we're faced with a lot of times where you want to give up and stop, but you want to have and you don't know that going into it necessarily right, you have no real experience of that. And so a lot of what he was seeing is a lot of people were giving up on it and stopping right. They get excited just because the energy's great at the center that always a very inspiring person. They would kind of get out and the like, Yeah, I'm doing it because all they said they do and they would get somewhere and do it and then quit, and you never see the person again, right? And that would be something where, you know, he he was thought, this is, you know, potentially creating a negative seed toward not just, you know, in your future, either. So to avoid that to actually kind of at least have a little bit of a taste of what you're about to get yourself into, we do this short message meditation and it's 11,000 repetitions of of the refuge of the three jewels and the Lama, the four, the sources of the forces as a refuge. And then we go to them. But it's it's not a short practice. You can actually some people can do it if you if you kind of if you have meditated before and you've got some discipline, you can probably finish it pretty quickly in a few months. I think it took me something like nine months or something like that to actually get through it because I was really learning a lot about what meditation was at the time. And, you know, when it went in waves, I guess. But that? That that practice was one that so in my own story right now, I. Was introduced to that practice at that first course I went to in Minneapolis in that New Year's course I was talking about so shortly after meeting all day within a year of meeting all there I was at the course with a teacher from from Denmark named yes for him, and he gave explanations that on that refuge practice, right? And with the idea is like, OK. And then there's also this thing called Monroe and other people at that retreat had already started an address. So kind of we had a breakout groups where you could learn about the different, different levels of different practices. But I was like, OK, sure. So I learned about sought refuge meditation then and then it took me kind of for most of that 2003 to actually do the short refuge meditation. At the time, I was finishing up my short refuge, right? And so then I got the explanations for the frustrations meditation. And started doing that. The title, the formal title of that is his refuge in the enlightened attitude. It's a developing bodhichitta and reaffirming that idea of the rest of your address is the meditation. With the frustrations. So the first practice in the Nando is we all just call it frustration, so you're doing your frustrations and the frustration is right. It's it's. But I always find it's important to actually remember what the meditation actually is called right, which is refuge in the enlightened attitude, right? Because this is this meditation is doing two things, really. It's we're working on all kinds of things, but it's working on it, let's say, to easily explain to two levels, right? one is the physical frustration, which is this really this way is engaging your body fully into meditation, right? So that you aren't just maybe backing up a little bit of larger yana the tantric methods of Buddhism. The whole idea is weaving the Tibetan, the Sanskrit word countries from weaving, right? And so that just means integrating all elements of body speech mind into meditation. So it's using your totality to meditate. And so going and seated meditation, what your meditation posture itself, the posture, the position, or even when you're seated is actually engaging in your body meditation. And if you're using Amala, which kind of actively engages your body in meditation so that you're actually doing something, not just sitting and you're not losing track of all that, but you're active in your meditation by moving Amala, working with your speech through mantra, you're working with your mind through a visualization of frustrations that takes this kind of another step forward of the engagement of the body. So the one you like super using your body in this meditation, right? And so that has its purifying element to it, which is the purification, really. And I look at it as this kind, of course, purification like course. Anger, of course, pride. You know, you're throwing yourself on your on the floor, but you really for people with a lot of pride, this is something that you don't necessarily want to do right, especially if you kind of come from a Christian background or something where this whole idea of like praying to something is really like an aversion to you. And then now you're like, OK, what? I have to picture the refuge in front of me and bow to it. Like, I guess it is kind of like a humbling pride bashing experience, right? And and then the anger at I mean, it's also working with that, maybe in a in a way of just kind of channeling energy like anger is a very strong and powerful emotion that carries a lot of energy. So it's like a productive use of that, right? So that's like the one that we cut a lot of people focus on. The most, maybe is it's like, OK, you of course, like a physical exercise of really throwing yourself in this and then working with those course, disturbing emotions. But like it's the point of the meditation is actually the refuge in the in the development of bodhichitta. And this this is through all the text, all the kind of the say, the words that are written out of this meditation. As you read your guide yourself through this, it's all it's all built up with this, you know, remembering the importance of of the all the elements that are in this refuge tree and what they you know, what qualities of mind they're pointing out to you and showing you and how they're a source of refuge is all part of that meditation. And then the the wishes. And it's it's just these really wish rich wishes at the end of it about doing this for the benefit of all beings, right? And just, you know, you. So that's really what this practice is doing. It's like helping you work, engage your body and kind of work with these, these these course habits that you've had and and then putting good impressions of your mind of the refuge in the bodhichitta. And I think that's a really challenging meditation for most people and a lot of ways you kind of my own experience. It took me about three years to do it. Some people I know super-fast less than a year, but most most people three years is on the other side, right? It takes a lot of time. And, you know, in my own experience with it, like, you get super inspired and then you hit some kind of a wall and then it's like, you don't do it for a while and you get inspired again, then you hurt yourself throughout your back or you hurt your neck or something like that because you're trying to be a hero to 1000 in a day or something like that. And so it's like this whole process of like, you know, really learning how to to stick with something and keep doing it despite the challenges with it, right? You know, and I guess this is where that the bodhichitta really starts to come through as like the important thing that you're emphasizing, right, because it is a physically challenging meditation. And for some people, that's not hard because they like going to the gym anyway and stuff like that. And it's like, OK, I'm doing my frustrations because it's like replacing their exercise routine or something. But for a lot of people, it's like, it's, you know, that's the reason not to do it right is like, and I don't want to do that. I just sit there and go to the movies or watch TV or whatever it is. Get involved with my partner. Have some fun. You know, it's like not. It's not. It's an obstacle, right? And so if it's you know your body hurts from it is a good reason not to do it. So keep this this idea of the body. That's that's really to me that was kind of realizing that is how it's that's working, I guess came through that practice, right where you you start making excuses, you're out and you just keep going with it, right? Because because it's not about you, you know, it's not you're not the most important thing in here, like you're doing this for all, for all beings and keep working for it, right? So I think that was maybe my experience with that meditation was how the bodhichitta elements of that works is really by kind of really hurting yourself to a degree, by physically engaging your body and pushing it to do things that you don't lazy person doesn't really want to do. Or, you know, that was an important part of that one for me, the dove in my practice, the major software practice that comes out for that is kind of a completely different thing, right? And that one works with the kind of the more subtle versions of the disturbing emotions of anger and pride, probably of where you're you're now. Now, you know, the minute it's you know, you don't want to get too much into the details of that meditation, of course, without actually getting the explanations of it, but you know, it involves of imagining yourself being purified by a brutal form called bodhisattva, right? And this is. Really, where the I think from for a lot of people, the true disturbing emotions come up like of kind of the dirt that's in your mind or the the stuff that you have suppressed really far down and you don't really want to see or this kind of starts to come up and think for a lot of people, this is a really mentally challenging practice, right? And I'll probably wear a lot of people who end up quitting and under do it right and that practice. But maybe more often you kind of hear the the questions being asked of all of like, you know? You know, I started, you know, such and such bad experience, you know, and kind of blaming diamond mines, so to speak, that the voodoo pharmacy, you know that you know, Diamond my I'm doing diamond mine and this like this is totally crazy experience came up in my mind. Maybe I should stop doing it, you know, I guess I was always, always listening. It's not diamond miners who's messing with your mind here. It's your it's your own mind. And remember that you're actually seeing the rear ends of these animals on their way out as you do this practice, right? And you know, I guess maybe for me, it was actually didn't have that, that Russell had experience with that, and I read it to me. I think it was actually overall a pretty pleasant experience. With that in mind, and I got through it and it took me like a year and a half or so to do the dove in my practice. And there, you know, I guess you may be thinking about your question about, you know, what was I going through at that time? Probably what am I now about four or five years into four, maybe four years into my meditation practice and we we've got like our center, you know, we've got this center in Chicago. It's really starting to grow. It's like I did a lot of our time and a lot of our practice with some friends who are from Chicago. one of I had moved out to Minneapolis, and she she had this idea to like we all call each other every morning on the phone. They were doing frustrations and some people were doing that in mind and sort of like call each other to do our practice together as a way to kind of keep motivated. So like a lot of like minded in, I was like five in the morning before work and on the phone. We just sit by myself in my living room and on the on the phone with some people from the center in Chicago, people in Minneapolis and just kind of meditating together and, you know, and then going into work. So it was kind of a really it was really inspiring time for me, which is probably, you know, maybe why the timing itself wasn't such a purification, so to speak in that way, like it was just so much energy behind what we were doing and everybody was just super inspired. So that's kind of what my strongest memory of going through that night in my practice was the model. I've really built on that at the model of practice that is the next step. And then under the next practice where you're you're actually now that you've really purified your foundation, you've gotten all of the disturbing emotions out of there, like the disturbing emotions of anger and pride. Our you know, it was clear if you if you would say the you of whether or not you convince yourself of that is a different question. You know, I think we all are like, I don't really feel like I'm totally free from anger ever, right? But it's like, you know, if you believe in meditation, have trust in the meditation, you know, that in mind assures you you're now fully purified, right? So I was like, OK, GW, you have fully purified yourself. Now you can start building up good impressions, right? You can even gotten rid of all the negative impressions that are in your mind, and you can you can start building up good impressions. So that whole practice is all about building up good impressions, right? And. You know, I think with that one, that was my I was super inspired at that point and doing that practice very fast. Less than half a year, I believe so. I was like, I was I was in my mind all the way of like three years to do frustrations here and has to go my only six months of my life when I is just another in no time. So the next one? Yeah, go ahead. It was it was a wake up call. It was that little of that thought process, but a lot of it was just a beautiful practice, right? I mean, I think maybe the biggest thing for me that came out of it was really. You know, it's it's hard maybe to talk about without like a long history of kind of how everything was, but, you know, like I. Still, like even even though I'm practicing Dharma and living in a center and I had love this and I was no longer there at the time, but you're still, you know, just a guy in anyway, here you've got all your kind of rough habits and your crude and stuff like that. And like, you made dumb jokes and then you're not very sensitive to this kind of things that you just normal, you know, things that you never really paid too much attention to. And then like. The man who has a big effect of like really making you want everything to be beautiful, right? And it's like for me, it was like I started noticing how I wasn't very clean. You know, maybe like I did, I was like a little bit of a slob, and I was never like that guy that had piles of dirty clothes in his room. But it was. But still, you know, others you start noticing like, Oh, I guess, maybe I'm not the cleanest person, or maybe there's more I can do. And then you start noticing how and Karmapa moves his hand and when they're like, extremely refined with what they do. All their movements are super graceful, right? And especially like, well, you know, he's he's known to be like, it's really like a strong, powerful guy who all the time he's wearing camouflage, he's got like this kind of military filter, but you watch it if you actually watch him on stage, like he's he's very light, neat with things , right? He like he always takes his shoes off and puts them nicely to the side and doesn't just like, kind of have a shirt untucked. And it's kind of like Crassus sitting up there. He's like, he's very, very, I guess, put together in a way, right? Everything is very delicate on some level as well. And I think that's where, like you start to notice with the mother as well as like you get a lot more attention to, just like how we're creating this world that we're that we're living in, right? It's everything that we're experiencing is is a result of how you know, how we interact with the world, right? And you know, I think that maybe I you know, for me, I kind of had more of this hippie kind of mental background is like, Well, you know, it's nothing is real, then why does it matter if I put that picture of the Buddha on the floor, it's like the floor isn't really real, right? It's like at a certain point, I'm like, you know, that's just my own disturbance. Just like this, I still think of the floor as dirty. If I'm honest with myself the first day and I know it's dirty, it's not going to convince myself that it's not. So why would I put that picture of the Buddha on the floor? Or why would I not pick up that piece of trash that I see, right? I think that a lot of that kind of comes from the came to me, from the Manila practice of really starting to notice. Just beautiful things are actually nice, right? It's like the reason we think they're beautiful is because they think that's showing us the quality of our minds. So try try more to make things beautiful and not just have this kind of mentality of like that. Everything is the same because it's it has the same essence and therefore dirty is just as good as clean. And I don't know if that makes any sense, but that was kind of this transformation. Maybe that happened to a degree in mandala practice that you really started noticing that that it's good to have richness in the world and this beauty in the world, right? Because that's expressive. That's ultimately the expression of our mind. And if we see things as beautiful, it's it's it's because our mind is beautiful in. And then moving on to the Guru Yoga meditation, which is then for me, it was really probably the hardest of all of them, which you'd think by the time you get to that point, it's going to be coasting through. And I've talked to other people. I think, you know, if everybody has some people, a model is the hardest one something, but that was the hardest one. And it's different for everybody. But for for me, yoga was was that the whole time? So what the meditation is is like, you're actually now. Now you're picturing the entire lineage of the kamikaze school up until your main teacher and they're pictured in your fiction in line with them, like you're part of this series, right? And so you're you're taking your place in the lineage, right? And so you're you're learning as much as you can about all the different teachers and how amazing they were and how precious this lineage is. But then ultimately, what you're really trying to do is come to terms with your own place in this lineage, right? And that is an ego challenging thing. I think because you really start to think this, I'm not good enough. I'm not worthy. What am I doing this past all these practices that I've done up to this point? I wasn't doing it right. What was I doing? You know, it's like, there's all this mental games really started coming up, right? And that was a that was a challenge even to work through, right? And because I think you had to be so perfect and so beautiful because, you know, like this is the casualness. It's amazing of like any any obstacle that came up was just like exaggerated to the nth degree of like this is of not good enough for this meditation. And that was that was something auctions at that point, right? And so I think, you know, really what comes out of that for me, is that. Realizing some of the things I've been saying about how important this is, you know, of doing this as if they really are as a result of doing that practice, right? It's not. It's like I have that understanding at that time about really the importance of doing volunteering on a practice and being active and not just keeping it to yourself, but actually working and offering it to others and really always being there to to do that is is because, you know, here you are. The next you are a lineage holder in this, whether or not you're the one sitting up at the front and who formally passes the transmission on you, actually, as a result of completing in Idaho and doing a practice, you are part of this lineage in your very important role in that way. I take it. Take it seriously, right? Always, always remember your body's natural prominence and always try to be there and put the practice, put the message and put your understandings that you've gained from the practice. Put it into into the life.
Mahamudra
Talk about a couple of key important things. one is that, you know, all that for a lot of long, a long time for is 40 years, for almost 50 years now of teaching. Paul was one of the main things he did. And he's not doing it anymore. But the other main thing he did was really, Rahul is he's a Mamuju master. So that's the poll was really something that was not in the normal. What would not be considered like his normal main practice, right? It was something that he got a transmission, actually. He got this as a Nygma transmission, and he was giving that because his teachers had asked him to give it right. And when he stopped giving the apoa, he explained it as actually, now it's an opportunity to really emphasize the most important thing that he has, which is the Mamuju. So to to, you know, it's not to say that the poll is not significant or not important in any way, but it was really not as precious in his mind that as the mom teaching throughout the momager teachings are are the the highest the pinnacle. You could say of the kamikaze school or the mob lawyer practices or the mohammadu view. And so the nuns throw everything. We've talked about it tonight. The Thunder has is actually called the Trojan, which is the Tibetan for Mamuju, the children under oath. So it's actually the whole reason you're doing Nun Girl is so that you can do mahamud your practice and you can actually have this, this experience of mom. But you're right, not just mom you practice, but ultimately have the experience of Iraq, which is really what the goal is. And so that, you know, we done in a way does have something of a curriculum, you could say. But it's it's not. It's a little bit maybe incorrect to say that to use the word curriculum just because it's you're still it's still a on a Buddhism, right? It's still very individual. It's still 100% driven by really what the teacher thinks is useful for each individual student, right? So broadly only has this, this practices of these, this teachings that he thinks are useful for everybody. So he probably without fail asks people to do non-drug, right? I imagine there's still exceptions to that where he might say, you don't have to do another go and there's actually another people when they finish and under the ashes of another ninja. And so this is and now he's kind of commonly saying, just do as many non-Jews as you can do. I mean, this is so there's no real set. Everybody does exactly this, right? It's still very individual. And it's one of the beauties of Bible is that, you know, with with the 2020 exception, all is very accessible, right? I mean, he's always been very accessible. And so when you would while you're doing your practices from your very first day up until you know your 40th year, whatever it is you, you would still have many opportunities to go up and ask all the questions and guidance, right? And so. So while everybody probably is doing and under did it not Joe, and it's asked to do one. You know, there's there's always the opportunity and maybe people who are getting other things that they're doing along the same time, you know? And similarly then when you would finish in under the the ness of this kind of applies for any teacher, right? So that traditionally you do a nudge rather than you go to your teacher and you say, Okay, now what? Right? Finished my mudra. What is my practice right? And this would be when the tissue would give you really what would be your life practice at that point. And so all they does the same thing, right? Yeah. So, you know, when I finished my mother, I went up to Lama or they told me I finished my number or, you know, what should I do for it? And now he this can be it could be anything, really you get as a student at that point. But but all these main methods that he used himself that he got from the 16th Karmapa is really what he gives to most of his students, right? So he keeps that what worked for me and harder. His partner had had they both got the gorilla on the eighth car of a 16th car, but when they finished their address. And so the majority of people that didn't go to all the that's what he's giving them, right? So you could look at it and say, like, yeah, this is the dimora away curriculum is you do not grow and then you do come off of the on gone. It's come off it. And that's true for most people, but it's not again, it's kind of the point. It's not. It's not, you know, everybody gets exactly the same thing. Some people go to him. You might give him something different to do in the end. Right? So yeah, so that's kind of, let's say, the general formal curriculum that you're doing, right? But. You know, so even even with all those caveats already given right about how they relate to the individual, there is once once you now have finished that and you finish in under it, you really started in your last practice. There is no more map at that point, right? So it is pretty clear, I think when you're new to say, OK, I know what the next ten years of my life are going to be like. You know, none zero. And that then then it's like, there is so much freedom in it. Actually, during that whole time of doing another, there's there's a lot of freedom that you don't really notice until you're doing it right, that it's not the meditations. You do that in the way that they're given, but they're they're not giving every single detail of every moment of this meditation. I so there's all this space in these meditations that you have as you as you become more confident in your mind, you have this space that opens up. So there's a lot of freedom in all that, you know, as disciplined as the Thunder practices are. There's a lot of freedom in there, which is a good reason for doing a second number because you actually get to experience that a lot more. But as you as you do your life practice, it's like, OK, now why? Right for most, for most people, it's like they're supercharged at the beginning of it, and then it's like anything you like bored after a little while, you can realize what's going to do this one practice for the rest of my life is that it ? So of course, it's that's where the real the challenge is started to come in. There is no kind of roadmap for it. It's like, Yeah, you just that's what you're doing and you're doing that practice. Yeah, there's other practices that that we have. And of course, if you are distracted, it's kind of, you know, you don't have to be so strict and firm on yourself that you get to only doing this practice. But yeah, you can take take a break and do some of that, do some and other practices, whether you're formally doing it or not, you can mix and then you can all. We have yoga on the 16th Premiere Pro. That's a thing. That's what we do in our daily public. Meditations can always do that meditation. We have other charities like meditation with Benazir Bhutto meditation, so there's all kinds of meditations that we have. But the main tool that you have and is what your Lama gave you as your as your mom would your practice it, which is the for, for me, the Guru Yoga on the AIDS camp and for for most, for most of his practitioners. Of all, these students are it's the same meditation, right? And it's it has it is a modern Woodrow meditation, right? It has everything, it has the essence of Mom Woodrow, it has has that moment in it, which ultimately is what you're the moment that you're trying to to in large increase in large engaged in that meditation because it's it's the insight phase of meditation where there's a lot of the visualization. And the mantra is more the is part of the ocean affairs of the calming and focusing mind in the mind move on. That is just this insight moment that comes out of that, right? So the more you can focus your mind, the more you than can see the space of the mind when you relax. Right? And so this is that this is what you're trying to develop and cultivate through this through these methods. And it's it's, you know, it's not a simple thing at all. And it's and so you you just you have to keep doing the meditation and in trying to, you know, watch your mind and see if that that in trying to remember teachings, you've got a lot of mudra and really guiding yourself through your experiences in this meditation and of course, asking your LAMA for advice and answers to questions as you've had these experiences of. But it is it is something of a you know, it's it's a completely I guess that's where the Yogi Pass and rather you're really on your own. It is individual, it's independent at that point and it's it's completely personal experience what you're doing. So it can be it can be. Scary in some ways as you guide yourself through life, maybe like you don't really know what you're doing and and I guess that's. But at the same time, it's extremely rewarding, right? So it's like you, you have you have complete freedom. So freedom is freedom. It could go either way, right? You can. You can have that freedom overwhelming or you can take advantage of freedom and work with it added. Maybe it is, as I was thinking this, this really again back to the Sangha. I mean, this is again where the cycle becomes very important. Right? And I think if you're. If you're left alone and are meditating in isolation, then you're you know, you don't have the opportunities necessary to to see what you see your realizations right . The saga is there to always or there, always holding up a mirror to you to to show you whether or not you're actually on track or not. Maybe, so to speak, so that they're there serving the function of the Lama in the Lama's absence, right? Whether whether they're consciously now as a Sangha member. Now this is where it's like, okay, you're not actively trying to be along, are trying to show people here. You're just you're doing that without knowing, right? So you don't you don't go out pointing out everybody's flaw and say, you didn't do this right? And that's that's not what the song is. I mean, some people, of course, everybody does it at some point in their in their practice that, you know, they know exactly that person's problem and they can tell them exactly what the problem is and fix it for him. But like really what our real role is to just be ourselves and to always have our motivation to work with our own mind and that try to develop ourselves. And then through that, you're naturally acting as a mirror like, I mean, if your motivation in the in every circumstance is to really to be useful, then. Whether you're clumsily saying something and you hurt somebody feelings or not, then you know, your motivation was right here. You know, their their their job, that is to see that as the mirror that it is now. If I were intentionally trying to hurt your feelings or something like that, then that's missing the point of it, right? It's it's more just like, you know, I'm trying to just work with myself and develop myself. And then the opposite side of that is when somebody is when you encounter somebody you think is difficult as to actually look and say, is it then being difficult or am I just interpreting it as difficult right senses?
Authentic Lineage
The problems of modern society, maybe that differ from from previous times like is, is the amount of choice. But I would look broadly as as maybe two things that are kind of modern and maybe unique about our current modern times that are that are a particular challenge for development and for any suffering in one of them is the abundance of choice that we have in the world right now. I mean, every everything that you go into a grocery store, it's like there's 500 different varieties of toothpaste. It's like, I can't find the last one I had last time I really liked because it's like, you know, do they make it anymore, as is, which one of these hundred different ones is it? It's like there's so much choice and food and like, and it's true and spiritual offerings, and I quote unquote spiritual offerings, right? It's like there's there's an abundance of choice right now. There's so many offerings out there. And then the other important part that I think kind of ties into that is. A complete lack of patients in our modern society, like short attention spans and a absence of patients may be right. Like we, we are, so we are so ready for the next experience before we even had the current experience, right? And I think this is this is really a lack of patience is what this is. And it's just it's just even more exaggerated by smartphones and like social media accounts where you can just like scroll through everything . And he not even even as somebody who is very, I think, conscious of this, like I find myself reading news articles are just kind of going like, Yeah, I got it. Okay, next one, it's like, you know, you know, it was just such a pressure to just do the next thing in this in our current society. That's the kind of the trajectory we've been on, right? Is this more and more confusion through a whole lot of choices and then no patients and no time to kind of make these choices, right? So I think that's kind of the age we're in that might be unique in history. It seems like it's like just kind of keeps building and spiraling Premiere. So now how does you know, I guess, this type of Buddhism, the valuation of Buddhism? I think it. I think it is it's important to note that this is a this is the opposite of that in a way, right? Like we. We are very is a very specific transmission, and it's not trying to be broad and applicable to a lot of things. It's has a 20 600 year history of working right. So it's kind of unique among our friends and not just of not just talking about Kamikaze Dove in here, but all of true Buddhist lineages . This is this is true that they have this proven history for this amount of time, which is something that should be considered important among all the offerings. I think credits. It's not something that was just created during this time of confusion to try to to give a solution to something that is an ancient problem that we've always had around as an ancient solution to an ancient problem. And that's still happening, right? So I think I think that I've seen that, at least from my own experience, why this is important to do is is that it's not a new remedy for something. It's actually our problem is the same problem we've had as human beings forever. So this is actually a solution to it that's proven right and that it requires actual focus and being patient with yourself, right? And which is an antidote to this like constant distractions that we've always had, right? So you know, you're sitting here trying to watch your mind. And I think this is true for all of Buddhism as well as is not just not just on it, but you know, you're you're trying to you're trying to develop and cultivate patience. That's right. And this is this is. Can I look at, you know, it's not patience for others as much as it is patience for yourself, right? Because this is not something that you can just instantly turn a sweat like you sit down on the cushion for the first time, you meditate for half an hour and you you're transformed something right? It doesn't. It doesn't really work. For everybody like that, right, it's it's something that you actually have to have patience with yourself to keep trying and develop that space in your mind, right? So hopefully that is like that helps in this current era of of like we're just constant distraction and all these offerings out there. And it's. Yeah, you know, I guess I've seen at the same time, kind of to the point you brought up what it's like seeing all different people come through here, like we see a lot of lived visit centers now for ten years, right? I lived at the center we had previously for two years, and I've lived here this one right now for for eight years. I've been pretty active. Even when I wasn't living at it, I was always at meditation. So I've seen a lot of people come through Iran and especially here where we're at this, a center now where we see, you know, every week there's somebody there for the first time. And so you add it all up, there's like hundreds, if not 1000 people, probably that have got to pass through. And I've talked to a senior at it. And yet we're still a small group, right? We're where we've been as big as maybe 35 regulars and we're, you know, we're probably down to maybe 15, ten, something like that now. So it's it's never been big. Despite 1000 people coming through here, the ones that come back is a very small number, right? And you know, we don't I don't try to measure and I don't think it's very useful to try to determine if what we're doing is working as far as a quantity or anything like that. You can't really assess somebodies. There's no KPI or metric to say, yeah, the nine way Buddha Center in Chicago is working, right? It's like, No, it's not about either of those. It's not about how many we have coming back, and it's not about how many have come through here or anything like that. But it's just interesting to observe it and say, like a lot of people are very interested in working with their mind, but but not a lot of people. Take this particular message, right, and use this right, and maybe they've gone on. And this was one thing they tried, and now they're active at a nuclear center is in the center or something? Who knows, right? We don't. We don't keep up with people like that. But but I think for most people, it's like it's there's so much distraction out there that they they don't really have that appreciation for working with something and going deep with it that probably a lot of people. Are looking for like a quick solution to it something and then or something that they're going to do. On Mondays, they go to this meditation senators as their book services or at the other meditation. So like because I think that's kind of what our culture promotes and broad like, learn as much as you can spread out as much as you can about things. And I think that's probably most of what why we don't see people more often is that there's just so many offerings out there. So many things for them to do that they don't truly appreciate how unique something is and what it like to really accomplish something. It takes a lot of work and going deep in one place and not spreading yourself out. So, you know, I think, yeah, you see a lot of that, a lot of very interesting and highly, you know, people who are all different motivations for reasons for coming in, as always. I think it's inspiring to to to be on the idea of, you know, the one who's observing all that right to actually kind of is another thing that keeps you going and keeps she keeps you working with the message yourself is to just kind of always get an opportunity to kind of see what people are working with and what their obstacles they're having to overcome and what things they want to learn. And it's just been kind of a neat experience overall, right?
Fruit of practice
And something that I've always considered very important, right, I and my wife, Renata, were we always and we always try to make it a point to actually get out as much as we can. She's really good with and she has a lot of a lot of friends on non soccer friends and stuff. But you know, we go out, we go to restaurants as much as we can in bars, as much as we can. We and probably some of the most direct examples I can see of, like how interacting with people and like maybe how the fruition of practice of being an example is probably through interactions in those kind of settings, more so than maybe like my true job at work and stuff. But like we like we, I think we always like we spent a lot of time just like out of restaurants and out in public and interacting with the staff and stuff. And we have a lot of really good relationships at all the places that we the places that we are kind of regulars at, right where it's like they're they know where they probably have to probably come up in conversation that we are at the Buddhist center that's down the street and we kind of talk, you know, depending on their openness, maybe we could talk about a little bit, but it's like, I think we have a lot of a lot of positive interactions, a lot of relationships there were like that, just that happiness. I think one of the biggest products of doing these practices is just being happy, right? And a lot of a lot of people just aren't good examples of of being, you know, calm and relaxed and happy in those situations, right? And I think that inspires people and not just about not just talking to me and Renata here, but like all of our friends, like when we go out as a as a group , you know, we also try to encourage like, OK, let's have a dinner out and stuff like that. Like a lot of times, the staff at a place will be just like, Who are you guys like? Like, You know, I don't want to see too many people who are just, you know, have, you know, who are happy in a genuine way, right to life. And so we've got that kind of feedback a lot of times, and it's even more so when all is out there with you, etc. Everybody's like, Who's that guy? It's like, it's amazing how just like it kind of. It's shiny. It really it really pervades. But I got a back, maybe. And the work setting like I've I've always taken an approach like maybe more of my professional settings. I really probably not. Too many people know I'm a Buddhist or practice, right? Some of that maybe is by design, you know, especially earlier in my Buddhist career, which was like kind of taking the same happening at the same time as I really was starting my professional career. It's like, you know, I was like, you know, it's maybe not helpful to tell people what my religion is or what I practice and keep it keep work, work and very professional right now. You know, depending kind of that's that's been different throughout the years. And now it's like. You know, I don't really have retired that I'm Buddhist, but I'm also not like if somebody asked me or something like that, you know, I'm not holding it back or trying to not say anything about it, but I've always I've always preferred more to kind of have keep it as. Letting, I guess, through my professional experience or through my non sangha interactions to to really let the teachings, what I've learned from the teachings show and a lot of Buddhist flair at not using the terminology, not like saying, Oh , well, you know, the Buddha said this or like, what I learned from this was just just kind of being who I am. And then hopefully that gives people an example of what the fruition is and what the results of doing some kind of practices now, and maybe not the fruition, because I would have planned like reaching the goal. But like, you know, just step by step of development that happens as you practice like and maybe letting that just shine through without being, you know, overt about it or like direct about it. So I think I have seen like, you know, I think I've gotten a reputation in my at my place of being the calm voice of reason like of like not getting frazzled of, you know, it's a pretty intense. It can be a pretty intense environment that I work in where, you know, we're in manufacturing, you know, and in the engineering side, you never have enough resources. There's always some problem you're trying to figure out. Customers are demanding certain things. It can get get it kind of intense, you know? And know I've gotten the feedback on a lot of occasions of just like, you know, have you always been this calm like, you know what? What is it about you? Like why? You know, it's because, you know, I don't write. I mean, of course, sometimes it's not true. And I mean, everybody, everybody gets caught up in some things. But it's, you know, most of the time, it's like I say, I feel like I'm able to to see things objectively and see and kind of not bring my emotion into it. But it's just like, Okay, this is this is the situation we're in. This is what we're going to do. And let's do this. Let's work through it, move forward with it. So I like to think that I've given a positive example. And, you know, and some people, they know that I'm a Buddhist. Probably nobody that I work with knows that I live in a Buddhist center, but that's always a little bit of like the awkward ones like, Hey, you want to come over and have dinner anyway? I guess, I guess I'm not really, you know, it's like people who really have been to the Buddhist center. But you know, it's it's it's everybody's got a different experience. Some people are very. Very open with that, and like everybody they know, everybody knows that there they practice Buddhism and other people have kept me know that I know, keep it, keep it very much to themselves. And that's kind of more how I've been with it, not really directly saying I'm a Buddhist and this is what I know for Buddhism, but just trying to remember to watch my own mind and every situation. And hopefully that ends up being a positive example to some people. I think I associate it with family. My family, although, of course, that I practice and then they, you know, when loved ones have passed away, you know, it's maybe there's always a that's where you see people really struggling with things and how they. And I think there's been a few occasions of like being of that stability being a good example there as well. I've gotten, you know, I've got the feedback from relatives like, Oh, it looks really, really nice how you were able to be there, say those things or whatever the example was. I think those are kind of key moments that, you know, know things are going right, at least.
Diamond Way
Yes. I mean, it's a great question, I think, and there really is no precedent for what for all in Hama did and in bringing it to the West. I mean, there was they had to create what it is right there was there is no one they could look for. How do you transplant Tibetan Buddhism to a European culture, to Western culture? So they like they had, they had to figure all that out, right? And similarly, there's no there's no precedent for what's next, right? I mean, Hina passed away in 2007 or is going strong at 80, but it is 80 years as a question gets asked a lot to lava or to our groups. And I mean, there's no there's no answer to that that I can give you, right? I mean, everything would be speculative, but there is, you know, it's something I think about in terms of, say, Diamond, the organization. Because because yeah, if you look back through through the history of the kamikaze lineage and really through all of Buddhism, like the only president there is or like the monastic communities and like how they stuck together. And so when the main teacher, the main the lama for that monastery passed away, then the next one was born. In the meantime, has his main student held it and then that one came back and they've kind of pass it on. And that's not really a precedent that would really apply here, and it's not going to be that right. There is no there is no student of Lama always who he's identified, at least that he's told everybody that this is going to be the the main student who will replace me. And I really think there isn't one right there because that's not how he has organized this or how he's run this, right? So it's a it's a really good question, I think. I think what all they and I really wanted were were college or they wanted everybody. They wanted all their students to reach their same level, right? And that's that was their main goal. And if that's the goal, then it's like, you know, not all himself. Once he's once he's gone, then then his students are guiding themselves, right? And so then you got to get into what is the what becomes of the organization at that point? Do you need the organization as you know? What is it right? What is it without? All right, so there is no clear answer or in really any time, although he does get asked that question, you know, he always is quick to point out, you know. Well, 16 Karmapa didn't die, right? You know that people say, well, you know, after the Karmapa died and then you and Hannah stepped up to this and is like the 16 confident die, right? He's so it's it's important. It's like not. He's not. There's no time to die. That's it's like completely okay, that that karma up body is going to come up is still here, right? And so in that in that same way, like, you know, he also is not dead. I mean, so we're not sure what what will be her next role. The only whenever he does, his body does die, like, how's he going to go from there? It's like, I think he says that because it's not really that important, right? The important thing is to actually try to accomplish the practice yourself, right? That power that is in the lineage will always continue through, right? And so as I look at it like. I don't, you know, of course, I've had, you know, probably years ago I was more concerned with that answer to that question. I what are we going to do with all that either? And as I look at it now, like I, you know, I really look at it as like the what all he wants is like to me to practice and meditate so that I will don't need him when he, you know, I'm not reliant on him. And it's, you know, he's even said that even as he's he has scaled back cover to say scale back his activity over the past few years because he is getting older and his doctors are advising him, you know, it's, you know, you're not going to live as long as if you do this same intense schedule, right? So if you want to if you know your choice, keep going by the schedule and maybe who lives, who knows so long. But if he years it back a little bit, you know, you can live a lot longer and benefit more people. This is how he looks at it, right? So he's used it back and in like he's less directly involved in your questions. And so he answers a lot, you know, meditate yourself, right? Like, you don't need to write an email to me or ask a question like meditate and think, you know what would be the most useful tool to all beings or what would be the most beneficial for those then in the future? What would my teacher do in this situation, right? And these ask yourself this question and be your own teacher that way. And that's what he that's what he really wants. So like the practical side is like, of course, there's there's practical things like the properties that the diamond lady owns about how that gets managed and all that. But the as far as how the transmission continues, it's not something that we that we have an answer to, and it's probably not something that we need to worry so much about. Because if we actually are doing our job of being practitioners, then we'll carry that transmission right? And of course, 17th come up, as is the lineage holder of the kamikaze school and who will be directly involved or I mean, that's that's obvious. That won't be the same cart Carmichael will try to recreate with. We did or step in and do it, so it'll be different. But of course, it will be will be involved in everything to see as he is now. Yeah, so I guess that's kind of how I look at it and how I think through that question myself, and they just make wishes that he's still going longer than me because he's much more useful.
How has the path manifest in your daily experience?
I have been practicing Buddhist methods now for close to two decades, so it is a challenge to look now at how my daily experience is influenced by the path. Without a doubt, my practice greatly influences how I view and interact with the world in personal and professional relationships as well as with strangers. What comes to the front of my mind now in thinking about this now are really two things: compassion and joy. For example, I am not exactly living out the career dreams I had as an idealistic young man. Like many, I had hopes that my career would be something of great benefit to the world while also being immensely satisfying. It was sometime after meeting the dharma that I realized that those ideas were not important. There is joy to be found in every moment, and even a mundane job can be used to bring benefit to others. I certainly have not perfected that practice, but I can truly say I continue to try to hold that view to this day.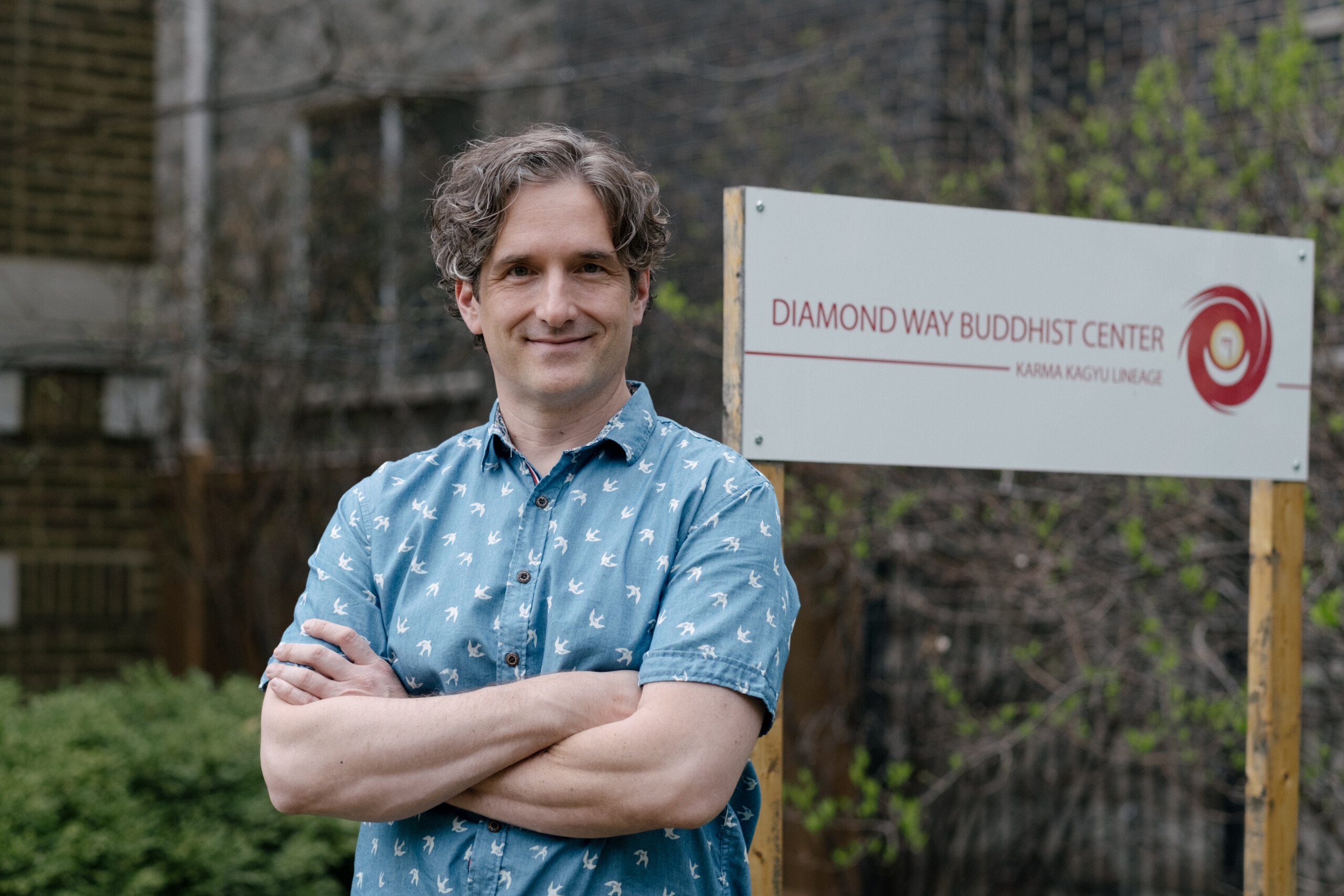 Ben resides and leads
the center in Chicago
for a number of years.
If you explore other lineages within buddhism, how did you come to decide on which lineage was right for you?
I practice Diamond Way Buddhism under the guidance of Lama Ole Nydahl, which is in the Karma Kagyu school of Tibetan Buddhism. Prior to meeting Lama Ole and Diamond Way, I did not practice with any other teachers or spend any significant amount of time using any Buddhist methods from other schools.
Lama Ole has a profound influence on my practice. He is my root lama. Prior to her death, Lamini Hannah Nydahl was also my teacher. All the methods I use come from Ole and Hannah. Lama Ole has had hundreds of students since the time I met him, and while I have seen him many times over the years and even traveled with him, I have never had daily personal interaction with my teacher. This actually has challenged me to develop confidence both in myself and in teachings and methods, and for this opportunity I am extremely grateful.
What are some of your practices/rituals that you do to support your spiritual development (meditation/prayers and etc)
My main meditation practice is a Guru Yoga meditation on the 8th Karmapa. I was given this practice after completing my Ngondro (the foundational practices for Vajrayana Buddhism). In addition to this, I regularly practice a Guru Yoga meditation on the 16th Karmapa. For the past 9 years, I have lived at the local Diamond Way Buddhist Center in Chicago. Living at a meditation center and supporting the local program is a tremendous tool for development.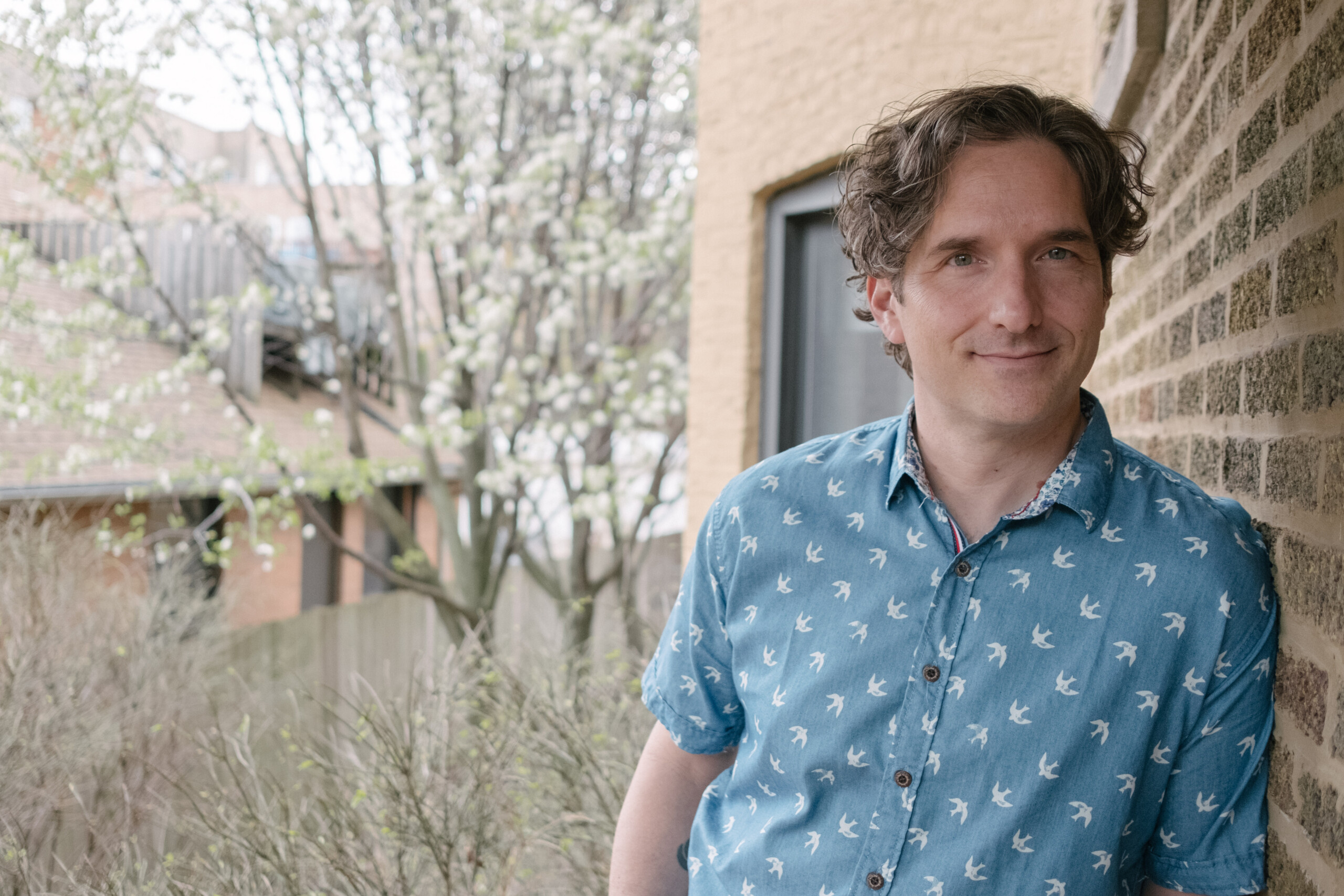 Lama Ole is fond of saying
"Highest truth is highest joy is
highest level of functioning."
What is your primarily profession?
I work as a metallurgical engineer in the steel industry. My degree is actually called Materials Science and Engineering. So that way, you could say I am a professional materialist, and there are some practical challenges to applying the teachings on emptiness to my work 🙂 But what I do instead is apply the teachings on compassion to try to build up my colleagues, and try not to take things too seriously and instead see the richness in things, to have fun and create a joyful workplace.
What teachings/practices have had the greatest impact on your life?
Lama Ole is fond of saying "Highest truth is highest joy is highest level of functioning." You might call this his mantra. To me this is the most pith teaching I've received. Everything you need is there.