I'm 71. I am watching my fame and fortune slip away in the distance. As of, I used to build ponds and waterfalls and was, you know, actually well known and still get calls that I have to say no these days. And so that has been receding into the distance as my physical health didn't allow me for these big projects. It would take, you know, month at one point I was three years behind doing projects and tremendous amount of pressure. You have people and equipment and men in safety and owners and homeowners associations. Oh goodness. So that part of my life was very rich, so creative. I just actually loved the the whole then that I did what you should take. I'll take pictures of the backyard. You'll you'll enjoy that. But I had a very traditional upbringing, born in Pittsburgh, mostly, so they could my mom could have my father was a electrical engineer. He got called back into the service. So we lived in Hawaii. And I've lived in Colorado and California a lot of time in Illinois, kind of a community church type of arrangement.
Transcript
History (continued)
Oh, and so at that point, she asked me to leave because she fell in love with him. And I wrote about, Oh, my God, I use this. I could milk that story. Like, you can't believe I could. I would have my hand up and tell. I'd have people cry, you know, oh, my God, I could. I was so good at being the victim on this story for a long term kind of cringe. You just don't have you can edit all of this out. Oh, but strangely enough, that was the worst day of my life to have that all be pulled out from under me. I moved out of that house. I had tried to quit drinking a couple of times by then, but it hadn't worked. And at that point I realized that I was in deep trouble. I could not stop. I'd say I wasn't going to drink and then boom, I'd have a thought, next thing I'm drinking and this and that or smoking, you know? So I got into AA suggestion of a friend. My life was so busy. I had four small kids. I had them every Tuesday and Thursday, every Thursday through Sunday, every other weekend. You know, just it was a and then at that point, I decided that I was was tired of the corporate world. There was interest in I would have a job, I'd be very good at whatever. Right. You know, pound it out, sit there and then but two or three years later, in the job, I'd be restless, resentful. These people did not appreciate me. I worked my ass off. I make them so much money and I get no appreciation, no time off and this and that. So I would go and I'd do something else. Another company, sometimes a different field altogether, and two or three or four years later into that same thing. I mean, well, making good money and this, that. But I finally just got sick of the whole thing of trying to please and you know, so I started my own business actually a couple of them. And, and at first all you run in your own businesses is it's crazy. I mean, you know, so I was so busy all the time that I never even realized the same irritations and resentments were started to crop up again. It was like having a backpack on and it came up over me. And then there was the day that was I think I was sitting, I'm sure I said, Oh my God, my boss is a complete asshole, but it was true. You should, you know, not enough. You got to go a little faster, you know, on and on and on. And it's hard on employees is the people that work for me that was not, you know, anyhow, that was one of those wakeup calls that I started to have that I might have something to do with the life that I'm leading. And finally, the drinking got and I joined the All Men's AA group, which was probably a good stroke since I had such a raw relationship. Father So he going into the meeting that for the first time I saw two guys give each other a hug out front and I said, Oh no, you know, what is this? And I get into this decrepit church on Bannock Street in Denver, and I get down on the basement and there's probably 50 guys and they're going around giving their names. Got around to be I was going to give a false name. I was looking they broke up into small groups and sat around a table with a bunch of men and they were saying things that I just was unfathomable to me, just telling what's going on in their lives, their stories and this and that. And I was like, I didn't know that you could be in the company of people like this. And that was the beginning of the path. I only had one night off every two weeks, a Friday night, and I did a parallel track. I would sit there and go to that men's group and this about alcohol on Wednesday nights, but then every other week was my night to be out and free. And so I was still drinking and that track started to get too wide. I could do both. And then someone said, you know, there's a meeting on Friday night you can go to. And so that started a long session of a 12 steps, and it was how I was introduced to the drama 11 step. We're doing a step study. It says, Do prayer and meditation. You improve your conscious contact. And there's words like God and him and defects of character and shortcomings, words that actually fit the way I treated myself. So it was actually kind of a comfortable place to be in some places because there was just very clearly outlining the fact that I was a schmuck. But then when they said, you know, do you have a meditation practice? And I told the story about the University of Illinois, of course, because that was one of my favorite stories. But same time they said, well, Shambala is having a level 1/2 Trump came up with the very. Yeah actually in retrospect a really clever way to to get past the overemphasis of the religion part of it and really just give us the tools to become own meditation instructor. And I went up there to Naropa Institute and on the second floor I remember sitting there in a room from Friday, Saturday and Sunday, and it was the longest weekend of my life. I was having a temper tantrum after TED tantrum. The most exciting thing that happened was a son going across the wood floor and it had a new board, you know, that someone, a wasp flew in and landed on the person in front of it was like a marching band just walked it. It was like the most something different just happened. I walked out of that set. I'd never go back. I really didn't like it. It was really brutal hanging out with myself for that long. But then, you know, I'm going also to AA meetings and that that by that time in my life when, when someone else would share in a meeting, there was this part of me called Mister Snarky. You're going to hear this repeatedly, and Mr. Snarky would be listening to someone else's share and he'd be going, God, they shouldn't be here. They should be in fucking prison, you know. And then the next person and I'd rip them apart and then it just, it just went around the room and I would do this, you know, you know, constantly just aggression, you know. So these people are really screwed up. And then this guy talked to me once and he said, Dave, just for something maybe a little different, maybe you can sit there and see what you like. A bottle is a very throwaway line and it changed my life because I remember sitting there that one of those meetings and there's there's Frank he's a motorcycle guy with change and sons of something or other on the leather and, you know, and this and that. So I decided to try it and I looked at this jacket and I said, Oh my God, that's incredible. I went, How, how would you even do that? Know, how would you make a jacket like that? This and that. And in that meeting, Frank looked up at me for the first time and he smiled and I just ducked my head like the now that that's when I started to realize that that aggression of constantly sarcastic and this and that had become the mainstay of also how I looked at myself. So my view of myself was now the view of the world and had no idea. Then that began that began a well 40 year path. I was that was that was the the turning point where I had the there was no more Friday nights. I was now on a path of recovery. The recovery was introducing me to things that I had never considered before, still snarky and this and that, you know, Mr. Snarky and I'm going to leap forward 40 years. Mr. Snarky is now my best friend. I can be introduced or hear something from a teacher or this or that. And Mr. Snarky goes, Oh, what a crock. You know, my Western mind, it just smacks right up against the world, the edge of Dave and it can be hot. It used to be really hot. Now it's just like I get, Oh, come on. And that's where I get interested. That's actually part of the path. That's, that's actually where that bell of awareness rings in the background. And I go, What's going on here? What did I just run up against the way Dave set up the world? According to Dave, what happens there when I'm running up against something, I don't want to be comfortable. I just backed away from that stuff and kept the world according to the way, quote, comfortable. But that's still in the world of suffering. But if I'm willing to be uncomfortable, that's where and I was very uncomfortable 40 years ago, couldn't could be anymore comfortable that and I remember people being introducing themselves saying in those meetings, I'm a grateful alcoholic. And I remember my heart irritation, grateful, you know, this and that. Well, here I am 40 years later, I'll say it very much, but I truly am appreciative of the fact that I had to hit that particular wall to actually wake up a little bit. I had to give up. It's kind of like playing the trumpet and, you know, berating people. It kind of one of those ahas and realized that I had it was just a fortunate, fortuitous situation. And in the meantime, I was also leaning a little bit more after that first session where I said I'd never go back. Well, six months later, they're having a level two. And by then I was gone. What the hell was that? You know what? What? You know. And so I took a level two and and then, you know, a level three and a level four. But this took place over a longer period of time while I was still back away from the edge of actually being terrified of drinking and drugging. So as you back away from that edge, now I'm under the hood. And when we sit for those long periods of time and I've thought in AA that the 12 steps were just something to give the mind, something to do, because all the work really took place in the space between the steps. And that was very true with the mind also with, you know, I'm getting these directions along lengthy, you know, how to sit in this and that, which just gave my mind something to do. But then there's the actual practice of sitting there for, you know, three or 4 hours with no walking and this. So my introduction then was that way with a very slow and the song go, Oh my gosh, I was you want to talk about someone who is resentful? I'm trying to quit drinking now. I think I always prided myself that I would picture the shambolic tradition that the, you know, always prided themselves on having long, long retreats and practices. And then, get this, that's it. What are the chances of finding that as a spiritual? But also there were other people other than me in the same situation. I didn't know that at the time. I felt terminally unique in those trade rooms. I didn't have any idea that that was going on, that other people were also there because of the same situation I was in. So much as I would just bolt and go long walks in Boulder and didn't have any communication. Yeah, well, we'll get into Songer a little bit later, I understand, but that's the path. And that path has never stopped. I have to call it the wall of Dhamma. And then teachings would come in and then I'd read a book like Awareness by Anthony DeMello, who was a Jesuit Catholic priest. And that book popped my mind like no other book could. And it was a brilliant canvas, you know, combination of of practice and of with zany sense of humor. Oh, my God. And he told stories. No, no. So anyhow, there were lots of different influences along the way. And in the recovery path there is lots of exploration. There's so many off ramps that you can sit there and take off, you can go on Indian sweats and you can do this and that. So there was just no end to the various explorations. One could take a look at that. In the meantime, I'm living a life. I'm a human being, you know, with four small kids, then over trying to run a business difficult relationship with my, you know, first wife. It was a tumultuous time. You know, was I was a poster child for suffering and all. But at the same time, you know, all of a sudden, I have four small kids, two in diapers, that all of a sudden I had to take care of. And I didn't know how to do that. I had no no model for something like that. So it was very difficult, but it was also brilliant so that, you know, I'm jumping back and forth between how that impacted me from back then to now and the gratitude that I have. Strangely enough, I embarked on a path of making myself uncomfortable. You know, then my first half of my life was always trying to, you know, get a bigger net worth. You know, I'm trying to think of all the ways I used to. I call it the I'll be happy one game. I'll be happy when I can get out of my parents house. You know, I'll be happy. But just go to school. I'll be happy when I get a degree, you know, I'll just be happy when I get a girlfriend, you know? I'll be happy when I graduate and get a job. I'll be happy oh when I marry somebody. So I'll be happy when I have kids, I think and I know I'll be happy and still all this I'll be happy when games I'm 71 I'll see a lot of guys my age just coming up on it saying I'll be happy when I can retire. It's trap you know. I'll be happy when I have a net worth or happy when I own my own house. I'll be happy when and there is nothing, anything wrong with any of the those things. But I made my happiness depend on it, which was, you know, constant grasp and constantly suffering, trying to get get something out there. Pandemic life, I don't think it's up there anymore. But on the refrigerator, we stuck a note up there. This is Dave, what you're looking for. It's not in here either. So at some points you can have great fun with this stuff. Lately, I've been taking the lot of breakfast with lots of people, but it's a situation where I go out with my granddaughters to breakfast now and then and you know, I'll ask them. I said, they're all in this 16, 17, 18 age, you know. And I just ask them all these questions, you know, and then I'll think, All right, tell me about mansplaining, you know, and then we'll have this plenty of discussion, then talk about their dating life and house. You know, no one dated a man for a while, but then started dating a woman. So the sexual fluidity is just part of their lives. They don't even look. They don't blink twice. But for a guy born in the fifties, you know, 51, that's like that's an alien thing. I mean, it's just, you know, so it's like, you know, Mr. Snoke is inside there. God, are you fucking kidding me? But then when I'm with them, just love them to pieces. And so that's how the rug just keeps getting pulled out a little bit at a time from the world, according to do, I took a class on the right use of power that came through Shambala International and through the Naropa world and I'm really awkward to sit there and, you know, I've always you know, I'm a white male born in the United States in the fifties and sixties. I just assumed I made so many assumptions about how it is. And isn't that weird? Absolutely wrong. And are power positions down? Power positions how I had to act in enough power with a, you know, military father, you know, and then the other way down and this and that and learned so much. But it was really uncomfortable, kind of cringed a little bit. You know, the way I would run businesses, it was not a healthy way. But then I'm looking at these situations today and going, I am so appreciative that there's a new way of looking at these things and that there's a way to work with the thinking that is so deeply embedded. And I've had to test it. I've had to test these uncomfortable classes.
Lineage
So it's giving you an overview of a whole lifetime there. But underneath was a growing practice growing, yearning, growing, curiosity growing. So I went to a level two, and that particular practice is a type practice where you actually have a very tight practice, your, your gaze goes down really tight in front of you and you're there for a long time. It's a very claustrophobic aspect to it. And then, you know, and the other levels now all of a sudden you start to raise your gaze and you start to let more in. But I didn't understand one word of that. I really didn't get it. But then I was practicing, and there's a stubborn part of me that knew that something was right there, and I would go along, period. So there wasn't some cohort that I was group grouping with. This would take a year or two years, but each time my readings would would change. I got curious and I started reading, you know, you know, sugar tonk paths, books and meditation and action and this and that. And again, I didn't have any file system to reference points, but there was some knowing that this is true. That's the way I would put it. I could go in there and read those books, same books today, and I would still be having aha experiences. So I would have a little bit of intellect. I had a really difficult time with the song, though. The style was for the teachers to sit in. The teacher's suite and drink saki and then come out and teach our hour and a half late from when they said they'd be out. That was the style. That's what they were trained to do. So they were mimicking sugar chompers. Then with that, you know, it's crazy though. So, you know, to sit there and have that would incense me, could write just me off because I'm sitting there, you know, you know, I want to be on time. And they had a very strict curriculum for how you got to the position of being a teacher. So they were sitting there almost verbatim talking about the the gap and they had some of the cultural themes of of Shambala. I'm mostly deaf this year is completely decoration. This year I wear very powerful hearing aids. So as they would be going and doing their teachings, they would go into Shambala speak, I called it where they would then to make a point, they go quieter, quieter. And I'm sitting there without a friggin clue as to what they were talking about. Not not even a whisper of a clue. But I was still sitting there practicing, and I'd still have conversations with human beings and people. And so I go through all the levels and all. Now these days, I realized that basically what was happening, even though I didn't know it as I was becoming my own meditation instructor these days, for instance, if I would wake up and I'll describe this, this is the way the practice is. I'll wake up with I call it a hangover from my dreams. I don't remember what I'm dreaming, but there's very definitely a sensation or a feeling or a brew in this physical body of mine. It's like wake up on the wrong side of the bed now my mind cannot handle an unexplained feeling. So I just go into the world. According to Dave, you just start flipping through the file system, you know? Oh, you know, I got a ticket here, you know? Yeah. Yeah, that ticket, that was bullshit. Now I have a story that goes with the feeling. Now, even though in the Shambhala teachings, I'm learning about this gap between the sensation and a feeling of this and going into the story, I was still very much ensconced in that. So, I mean, I could run a story. I mean, I haven't even gotten out of bed. And by the time I'm out of the shower, I've run that ticket story through my mind that by that time I had I 25 Oh my God, I'm really pissed off by now having no idea that I'm sitting there with a feeling that I am now going to have the rest of the day because I've been in running in my mind. So to sit there and have a practice where you sit down in the morning and just spend five or 10 minutes coming back to the breath, coming back to the breath, come in the back to the breath. The drugs and chemicals of how I woke up in the morning are very definitely changing and shifting away. And I realized that that was going on and that I went through periods of time where I meditate. I would meditate and I started to discern the difference in my days when I meditated and when I didn't meditate. And so very slowly I decided to develop some rudimentary skills to work with this thing called having a mind. So if I wake up and I'm my mind's all over the place, I'll do a type practice for a while. But if I'm too tight and I'm already tense and this and that, I'll sit in there, do a I'll raise the gaze, I'll sit there and open my eyes a little bit more and I have more light sound in. And these are things that are just ultimately unfathomably practical to practice, but these are also coming up through a lineage of 2500 years of people working with these things and sitting there giving, doing the best they can to sit there and pass it on. And I still grateful to to those teachers that were loaded and psyche, you know, doing the literally the best they could to sit there and pass on the you know, what, show them Trump are passed on to them. But it's being melded, of course, with the cultural world of of the United States. And that age in the sixties and seventies, those those things were entangled in the Shambhala teachings, but they were still. How would you say it's secular enough that I could work with it? That's that's the thing that, you know, if it had been any sort of religion and this and that, there's no way I would have done this. But the slow progression and I went through all the things I went through the sacred path. I went through this, I went through lawyers, assembly. I went through all these things over the course of ten, 15 years. And yeah, I always was learning how to work with this. But as far as the teacher goes, I like the people, you know, that were teaching most of the time. Some I like, some I didn't like, you know, you know, Tarzan, like, you know, like, you know all that. But I hadn't resonated with anybody or taken them on as somebody till I did Warrior's Assembly. Now I like to write in a journal early morning, so I get up incredibly early and I'd go down to the giant tent up there at the, you know, Shambhala Mountain Center. And first thing I had to do was clean all the mess up from the raccoons and this and that. And then I was like a squirrel. I'd, I'd hide the night before all the packages of coffee. I don't hide them all over. And then I would make coffee in this big or I would make coffee for everybody. This is at 435 in the morning. Then I'd get my coffee after I did all this, and then I'd go and I'd write. That was my ritual here at the house. This is my ritual, you know, up there. But this one guy, I'll use his name, Dan Jesse Soria, the former sorry, they don't have those titles anymore, but he couldn't figure out he's an early riser. He couldn't figure out who was making coffee. And one day near the end, just before the end of the whole thing, we ran into each other and he's talking to me a little bit and he says, You don't hear anything and nobody really catches that with me. But he had a daughter that they adopted from Vietnam is profoundly deaf. And so he he spotted it right away and he said, you're sitting near the back. And I said, Yeah, I found myself making myself really special because I have a hearing impairment and then I'd have to sit in the front of the room. So I finally just got to this practice and you sit where you're going to sit, just stop, he said. So I've been talking for two weeks and you haven't heard a word I said? And I go, That's basically true, but you seem like a really nice man. And we both laughed. All the month or two later I had coffee with him. She was in Boulder on 30th Street, and we're feeling each other out. You know, he's kind of a, you know, honcho in the Shambhala world. And I'm I'm just I'm a practitioner. And we were going by a minute. I'm talking this and that. And finally, near the end of the lunch, he goes, Hey, Dave, unless you're going to start your own religion, would you be interested in getting maybe a little more framework of the Buddhist path? So we laughed and I said, okay, I'll do that. They gave me a book to read glimpses of Abbey Dharma, specifically the very beginning, how you create the heaps and this that I feel like I'll get that book and I got that book and I read it and looked at it and studied it and called him. Six months later I said, You want to go to lunch? And at that point, everything's changed. You, of course, didn't remember what what he told me to read, but it took us over and over and over was very definitely he's the teacher and I'm a student. And so I would just follow the directions. Some of the stuff he gave me resonated. Some of it I go, I have no idea what he's talking about, but in the meantime, I'm starting and I'm starting to trust him and he's starting to trust me. His it didn't matter what assignment he gave me by the time the next that I knew, having read this, then what was going on and we would immediately move into whatever the next thing is. And then meantime I'm doing all of these Shambhala things and this that probably a game changer was the that tune first as a participant the 30 days of in the middle of the winter because I didn't build my ponds and waterfalls in the winter. And so I actually had time and the following winter, he and Holly Gailey was going to do the dot tune and he wanted me to attend, but, you know, like a staff or something. But, you know what role, you know, because I didn't have I wasn't going through the very strict curriculum. But if you're going to be a teacher or you're going to be this that it was it was so lined out as to what you needed to do before you could even enter the room type of thing. So with a complete lack of ideas, he said, Why don't you just come up and be my secretary? And I said, Sure, you know, having no idea what that was going to entail. And and I'll pour Holly, you know, she gets up there and I'm going to be the secretary to the charity and then she's going, Whose idea was it to have a deaf white guy as secretary? But surprisingly enough, one of the skills of this practice and the path is as awareness pops up, then the skills that I already had of, of not hearing all the words of of what someone is saying, but hearing enough of the words that I would have to piece it together in my mind's eye. So I would be, you know, so I could stay with the conversation. But you look at every cue and clue that you have and those long things, you become very skillful at sitting there knowing what's going on with a body language in a tonality and a tier. You know, you can really you have a skill set. And that skill set, as the secretary was pretty cool. I could tell if there's stress cracks in an MRI with the participants I greeted every participant as a greeter and I knew in a heartbeat who was going to need help, who wasn't going to be helped. Some of it. I could take care of it with a just a kind word at the coffee machine the next day. But other things I could see that were some really deeply rooted things that needed other help and eventually, you know, over the course of five that tunes. They just called me the Secret Agent Man, you know, still a terrible secretary. But, you know, you know that skill set. And but I'm now in the position of having to listen to these teachers, do their notes and carry their notes. And, you know, following the rituals of Shambala as they had developed and evolved over all those years. And so strangely enough, I found myself with a sense of, quote, power in the organization by just being the secretary. I had the ear of both the charges. And, you know, everybody would come through me in all the notes. I would make decisions and what I could handle, what I couldn't handle, who needs to do this? That but it developed this huge appreciation for the Dharma because these questions were coming straight up out of their Dharma talks and this, that. And I'm realizing how these people are being affected and how they're affecting myself. One of the places that I placed myself quite often was gatekeeper. And so when someone came charging out of that tune with their eyes spinning, you know, I could I could work with that. I could sit there. And one was a Vietnam vet. We went for a long walk until he settled down. And then he said, okay, I'm ready. You went back in there and took his seat again. But you develop the sense to when when to enter or when not to enter as a secretary, you know, there might be in interviews or this or that, I'd just open the door to some of off. So I developed sort of the highly developed skills, the holding water and listening to the flavor of the conversation behind the door with dust. I could and then just turn around and walk back and put the water down and I'll do it later. And that was a huge part of the Dharma, really got in depth of being able to spot one's own basic ignorance of not knowing these things about ourselves. And I mean, how lucky could a human being be? And in the meantime, I said to them, I'd like to have a harder recovery, meet it at that tune. And, you know, they're kind of no, no, we don't want sideshows, you know, but okay, well, you could do one. So I announced I heard a recovery, I don't know, 90 people at the tune. I announced it in a way that was relatively open. So it was not just alcohol. It was very much a habitual pattern addiction. It was causing problem had 20, 25/3 of the tune showed up at this meeting on a Wednesday night, and then the next day the room was completely different. The Shrine Room, when we went into the long morning practice Shrine Room was completely different because now you're sitting there, you're not terminally unique anymore, you see. Oh, they were at the home of that person had this, and so there had been shares and everything and the hearts would start to open. And it didn't take Dan and Holly too long to realize what was happening. And as I told them, I said, watch the room. And so then it became really an automatic thing that every as this was going on, alcohol, you know, was a tradition to have big parties. And so at the Dutton's the midway point that had the one day off. And that was that turned out to be, you know, that was just like you didn't just take the lid off. It was just an explosion and all hell broke loose. You know, I said, you want to go off? So eventually, I don't know, maybe the third tune in with them. They just said, let's not do alcohol. And at the halfway point, hey, let's not do alcohol at the end. And what happened was they're just the care and the love and the connection that the Dharma is always talking about that, you know, your heart starts to open. You start to have that heartbreak. Those are not just things that the joke trunk said, those tears that are coming down your face, that are a combination of joy and sorrow simultaneously are no longer an intellectual thing. This is this is what's going on. It's where Buddhism hits the road. You're now part of the practice. It's not an intellect, it's this. And so people started to realize and then they refined it. They they would have no gotcha attitude. That makes sense. You know, that's really popular in today's world to do that clever, gotcha, sarcastic remark. No gotchas now that just just don't do that in my marriage to Kathy I do we do not have sarcasm and if it does pop up, it's usually because one of us is in an awkward situation. We don't know how to handle it. And so sometimes we go to our old default settings. And so she might make a sarcastic remark. My reaction inside is not to be Mad Hatter. It's like, Oh, you need to pay attention here, get over there, see if she needs any support and vice versa. It goes both ways. So these are things that the only way that that could have happened is is that so my practice, you know, every morning I mentioned that and so I decided to do a study of lotion teachings and start with the absolute training. And then you go, you know, and there's, I don't know, 58 of them every day I do one. One of the things I did in order I did that for two or three years. I'd kind of look at the end of the day and I'd just laugh because I said, Gosh, I never thought of it once, all day long. Well, do better tomorrow because that's that gotcha friendliness was starting to develop. I was the meanest meditator for the longest time now, and I teach. I said, the first thing I ask, Does anybody here have a dog? And they raise their hands, what's your dog's name? And they give the dog's name and I say, Oh, oh, how does your dog greet you? And you come home now? And they all laugh and tail wagging this and that. So I'd like you to add that to your practice. When you're sitting there doing it, you're following your breath, then all of a sudden you're off on a some tangent with your mind when you say thinking and you're coming back, I want you to actually greet yourself like your dog, greet you to the point of like this. I said, Don't do this in the shrine room. Don't do that one. But it will be those friendly greetings that will add up eventually you start to trust yourself. It's just the thought. You can work with it and you start to trust these teachings. You can trust what reaction to one of the lotion teachings. I can trust you. I mean, if you could have been in my head when it was be grateful to everyone. Oh, Mr. Snarky was just going off that you've never met my sister. Oh. And that at this point absolutely be grateful to everyone. The only way I'm going to if I'm going to sit there and get to the end of this life without a whole bunch of baggage of the world, according to Dave, it's going to be by sitting there examining those awkward places, all blends into one. Oh, I just was so upset. I'm trying to develop a little sense of kindness to myself. They all blame that. On what? That's bullshit. And this was free. Slug them of all time. Because when my normal way is if I have a bad feeling, it's awful that Bill, you know that that's out there. And then to sit there and keep practicing and keep looking at that and sit there and work it and look at it again and and sit there and see, my God, the freedom of knowing that this feeling that I'm having is inside of me. It's not external to myself, is one of the most freeing pieces that you know. But I had to go through a long and many years before that slogan, even be good to make sense to me and absolute slogans below, you know, What are you talking about? You know, this is not. I always wondered why they started with the absolute slogans and they were just to baffle you completely. But then you just keep working with them and as knowledge builds.
Lineage Challenges
Well the entire time. I feel very fortunate that because of the situation I had with drinking and their drinking and this and that, I have to hold them at an arm's length. But the teachings were coming in and somehow or other I was sitting there learning about myself and pulling the rug out from under. And gratitude started to form an appreciation even for those teachers that, you know, whose behaviors were not healthy. My concern and heartbreak that that Trungpa basically was, you know, brought forth teachings, Tama teachings, where you pull out of the path that you come to him from the path. But it was the right time to bring them forward. And I would be very sad to see these teachings go back into the dustbins of time because it helped so many people. But the chaos that followed the Shambala lineage has just been unbelievable. I mean, you know, it's been impressive. It's almost part of the path that people would get set go and different split off and this or that. But you see, one can't sit there and get curious about the teachings without it effecting one's own heart. So it was never the path it was. It was the gateways that could be opened from those teachings, those five levels of learning how to be your own. Then the warrior in the world, which was a just straight Buddhism. But it's taught in a way that could be more palatable to the Westerner mind. I watched the battles that at Naropa, as you know, splitting from Shambhala, saying that's just watered down Buddhism and on and on and on. So this word, my as people worked through their own stuff, got pretty heated. And this and that. My new favorite saying is that I'm so appreciate of I so appreciate some backflips because it's still going to add behaviors that are just flat out wrong, not appropriate in any way, shape or form. People leaned into those mistakes. I became Am I? And all of a sudden I'm up there at the Shambhala Center, and they put me in a room with this woman to do an interview. I said, This is sick. You can't do this. This is a woman who doesn't know me. She's scared anyway, you know, because I'm a white male teacher. So I just went back to the directors and said, I will I will continue to do the interviews, but I want to be on the front porch of the Shambala Lodge. Well, it's cold out. That's fine. We'll be cool. That's not a problem. Cold is easy to work with sitting there putting a woman in that kind of position to be with an unknown male in a room is nuts. But that was the way they always did it. And, you know, and so that it's been falling apart for a while now. There's so much more awareness around alcohol and drinking and habit. The Buddha's path is really come alive for a lot of people because of the this, you know, of some backflips. And I stay with it because I want those teachings to continue without the problems. Heartbreak. When I see people that have the only way the lineage can continue is if you take the out as a teacher and feel my heart break with that, knowing that that that kind of flavor and attitude is what happens to religions you are no longer your path to enlightenment is being brought to a rather abrupt halt. But the world by this is the way it is. This is the way it's got to be. You can't change the language systems of this to be inclusive. That's bullshit, you know? What do you mean? You you change the heart sutra to a song of monastics instead of a song of monks nuns. Those are the type of things that you build up and you create a heartfelt connection to those words and those rituals. And then one word can sit there and explode your ability to work with what's going on. And today, age with, you know, understanding patriarchy, understanding how things have not gone well with capitalism and understanding the destruction of our planet. And so, yes, it's crunchy. It's so awkward. I and but the heart that I still lean into is that that's what the practice is. It's really uncomfortable being old white guy and, you know, change the world according to do and so and then finding out how to be useful, you know, you take a vow that you dedicate your life to the benefit of others, but then if your only way you know how to benefit is to sit there and get in front of a classroom and explain everything to people, not going to be helpful. One of my lotion teachings is Dave, you're not helping. It's very good in a relationship. So I and I still have some very, very dear friends and I don't care to. I mean, you know, if those teachings that the Socon is teaching are holding our lineage together, they're going to be better for others. 200 years from now, great. Because by the can and will be gone, you know, his life will be gone and everybody's life. And then yet here is this residual of of of teachings that are being carried forward into time. And so if someone has discovered some other way of or another teacher that's going to sit there and keep it alive and benefit that sangha and this or that, great, the teachings have to somehow remain alive, but it's going to be with people whose hearts have been changed and will never be the same, not espousing their way of doing things, but their actual heart and their teaching from that place. That's how those teachings have been carried forward for 2500 years. My friend Martha just held a seat. She would teach and she knew everything. Oh, my God. She was a, you know, a very accomplished teacher, but very rarely. And she just held the seat for people that gave them the room to sit there and go, Huh, I've been doing this my whole life and actually get under the hood of why we suffer in the first place. But that story. So I truly feel very lucky to have gone through all the chaos and continue to go through the chaos and figure out ways that I can still be helpful and maintain teachings, but trust that this is this is on the long term. This isn't in my lifetime. This is going to be through. And then that crazy part of the power is up. Well, you keep coming back, you know, what was I thinking? And I just pissed off the devil all the time. If you just, you know, hit the poor man so of the path is there. I have long since smiled at any sort of yearning to become enlightened in this lifetime. That's a trap. Now, God, you know. And so. But at the same time, there's an aspiration to do that, that, of course, I could sit there and learn how to be much more helpful with the remainder of the time I have to be alive by doing this. Then I joke about the there's a scar on the back of my hand and I jokingly say that I had it surgically removed from my head. This is one of my favorite villagers. This is the way I live my life. I, I just start to get bad service in a restaurant. My hand starts shaking, pops up before I know. But it's that sort of flavor of dinnerware and having my little goof around phones and this and that, that, I've really just been able to sit there and do the best that I can and excited when people discover a way that they can do their own exploration, be kind to themselves. You know, at the end of every hard of recovery, we do the dedication of merit. And these are words and language that the people what's a Rigdon, you know, you know, I have no idea what the words are, but I said that you give everything away because it's not what you learned or what you gained here. It's just by the willingness to take a look at this, you are becoming kinder and softer to yourself. That's what's carried forward. That's that's how we help others. That's what we give away all the time. And we can't help. I often thought that the the hitting on a path is where I work the most with the people with addictions they are just now exploring. But they as they back away, I have some people I've worked with for upwards the ten years now that they care about others. I remember one man in shock when he was sharing it, one of the heart recovery made and said, Oh my God, I'm starting to care about you people. And everybody burst out laughing. So that's how the Mahayana rises up out of Indiana. We actually just develop a very natural inclination to help others and that's the path. That's the path. It's not like you graduate and then you get to the next one. But I intellectually got trapped a little bit when I started doing Vajrayana and next, you know, I'm really getting there now. I've got it and I got it. I saw what I was up to and rolled my eyes and that's inappropriate amount of chagrined, did all the practices, etc., etc. that are designed to pull the rug out from under. But it didn't work because I'm sitting there building myself up and so I had to back away and just go back to practice in my honor and, you know, doing the best I can with all the cultural stuff that and my lows on Teach It All, you know, one of them I use in lately, you know, I'll give you walking up my morning walk and all of a sudden I'll bring into my mind unvaccinated people and just be look at myself off with a little, you know, get a little juice, you know, this or that. So I say to myself, Dave, I could have been a contender and just burst out laughing and go like that. So yeah, is a this has been a fun exploration of the last 40 years and I, I just think that our ability to sit there and relax enough with ourselves and other for others to relax enough for themselves to start getting under the hood. And it was very much a path like quality, but it's not an intellectual path. It's a this. And if you're lucky enough to come across a martha hildreth or have a chance meeting with, you know, my goofy friend Dan, who led me through the skeleton of the actual Buddhist path, you know, the very that's a very fortunate situation that as far as giving my will and life over to the care of a guru, not so much so.
Mind Training
So at some point along the path, one realizes that their own mind has been created in their life and so these teachings had started to become trustworthy. And then when someone suggested that I might take a look at these laws on teachings and start practice taking a look at them and doing one a day and do that for two or three years. Then bit by bit by bit, every time I would examine one of those teachings, I would it would, it would just it was like a very slow process of, of learning how my mind was working and see my reactions the and just invaluable. But they're using you know, these are old teachings that was like 2500 years ago. So you're sitting there looking at analogies that are, you know, what are you talking about? Transfer the cows love to the ox. You shouldn't do that. You know, they're all you know. So this Western mind had no. But one of the things that did start happening is that they sink in, they pop up in the most amazing ways. And I kept the journal. And one of the things that happens is you start coming up with your own little John teachings. You actually start coming up with ways that catch your mind hadn't done one of those neural fence line like a mad Chihuahua. And you have a your own ability as your own mind to recognize it and say maybe one of your own slogans. So over the years, I've developed a whole slew and I encourage people to do this to, oh goodness, and I don't know if you have enough time to hear all of the stories, but they're all and some of them are culturally getting so old they don't make sense to people anymore. The new people would say, What's he talking about now? I'm dated. Well, how's that work? You know, I could be taken off and all of a sudden I hear myself say to myself, Get out, get out. We trace the call. It's coming from within the house. The old horror story with the telephone or this or that, you know. And you know, it's just sometimes said something like that is enough to sit there and bring me back into awareness, right back to the moment before I take off. And so, John, teachings are that's their purpose. That's what they were trained in. They're they're called mind training. And then they sit there and learn those slogans intellectually and do the best you can to let them sit down, but then build your own, that you can resonate completely and with 100% with what's happening in the moment, as it arises, as it arises, that that's the, you know, the cue.
Practice
Well, my early practice about it described it. I said, I'll never do that again. And then I went back six months later and did level two. And I sat all day, all weekend. And so there was another pop. And every time they say, you know, just meditate five or 10 minutes a day, they said that every time. And I'm, you know, Mr. Snarky. Yeah, right. You know, somewhere along the line, I decided to give it a try. I would just sit in the morning. I had no shrine, no anything. It was just me sitting down on a chair, following my breath and coming back and then I would I'd hit, you know, I'd hit the wrong places. And me and I'd say, I'm not doing this. This is uncomfortable. This is bullshit. You know, that that part of me and then this and that. But then I would come back and I can't really describe how. Bit by bit by bit. I came to trust that one can actually sit there and notice their thinking and come back to this present moment as it is. We can actually do that. And so then I would sit there and as the thrust of the practice came up, I was also more trusting of the Dharma as trusting of the things that were being said. I'd be very triggered sometimes in these Shambhala sessions where I'd be really tired. I had to drive 40 minutes to get home and bolt from Boulder, and there'd be two or three people with one teacher just mincing the Dharma like you can't believe. Just then there's 27 people in the room and and I feel a room acutely knowing they want to go home. I want to go home. And you have these people that are, you know, you know, just using the Dharma. Well, I won't say it. We're being recorded. So I've got upset. I got very upset. But even with that, there's Dale upset because of this. So these are these are all things that are actually starting to help. And then there's sit there and finally have a teacher that was giving me some hints. And and Dan was a good teacher and we became good friends. That, that is funny how a teacher student relationship will change over 40 years. And so I would lean into more and more then. So if you were, if I was a beginner and I would go, I'd be really good meditating 10 minutes every day for, you know, sometimes two or three months and then all of a sudden a drop off. And I wouldn't do it. And then I'd go to something else in the Shambhala world or this or that or what was one of the things that was happening is I would be open to exploring other. I looked at Jack Cornfield and they had, you know, a very great teacher at my wife's Unitarian church was there on Sundays. So I started going to that and, you know, and it's I can remember distinctly sitting there and it's a 45 minute meditation and he gave directions and it's not the same directions of Sharma to well, I have to sit there and go, Oh, that's so wrong. That's not the way it works. And then sit there for 45 minutes and then eventually, you know, realize that the, the practices that I used at the beginning of my day of, of Sharma to other, to using the breath to get the mind body synchronized a little bit are stabilization they stabilize me I it's the friendliest place on earth for me. I can sit there and come back and I don't exhale. Just let it all go. Doesn't matter what I'm thinking. I could be assassinating my father and then 2 seconds later playing Bambi or something. You know, it doesn't matter what the and then using that as a stone where the thoughts that then arise very naturally, you can use those as an object of meditation. And so those are skills that came back, but it came from another tradition. And then I wove them into the Shambhala world. I think those Shambhala practices were so, you know, the good news as they were so secular and that the front end that I could handle this. What did get difficult is when it became very stylized, ized and formal and this is the way you do it, and you'd have someone come by and whack you. You know, they have the person in the room that actually and I actually got really kind of good at this. I could tell a room, those starting to just completely lose it, the fidgeting, the this and that. And so I need to do something here and to help. So I would stand up and I would take two or three steps, like I was going to go around the room and then I'd go back and sit back down again. In fact, video the person in the front of the room and we'd be on a little longer sit, you know, you know. And they're watching you like a hawk, you know, you know. And so I'd reach over to look like I was going to ring the gong. And then I'd come back and I'd sitting there, you know, you could see it on their forehead, scissors, sign, you know, ring the fucking gong up. But this is how I learned to. I had to sit there and listen to my mind, go read agog, you know, I got to get out of here. Didn't understand boredom. And, you know, when they talk about hot boredom and cool boredom, I didn't know what cool boredom was. I knew what hot boredom was. But then I learned through the continued practices. And then at some point I just practiced almost every day. And the review in the morning and the review at night was was an interesting little practice, started to trust that, but that it could be a practice that would be turned against myself very easily. And the cruelty of you didn't do very well at this day. What were you thinking? I would go back kind of almost to the day's days. Shortcomings of character, defects of character, you know, all that stuff. So it it was very helpful to notice that very slowly, bit by bit, if I was a newcomer, just, you know, just stay curious, go through all the emotions, go through all the range, listen to the teachings and go, Hmm, and apply how those are playing out in my own life. That's how I got under the hood of Dave. And now I'm 71, had a stroke. And so I'm very aware now after that experience of just how quick it can be over. And so it did it added a new sense of urgency to sit there and make myself as uncomfortable as possible, taking classes and going to Dharma talks and some other retreats that I know I'm going to hear are things that are going to bounce right up. How I learned it over the last 40 years. That's the richness. That's that's what I'm up against, what I don't know. And so that's the instead of freaking out and bolting from being uncomfortable, I actually lean into it just a little bit. Not that extreme stuff. I'm talking just just the willingness to take a look. If I had not had the last 40 years of watching my mind, I could not do this. And all those practices, every one I've done, the rituals, whether I liked them or not. A turning point was when I went silent. I don't have any trouble talking. You've figured that out. But you know, I had to be silent for a month. I did know Dave not talking. And so there was a whole new, vast emptiness that I didn't know that was available to me. I discovered that one of the reasons I talk so much is that I'm mostly deaf. I've told you this earlier, and so one of the ways I can stay with the conversation, if I start it, I have a better chance of actually being with people in a conversation. I tell people now that I'm president and everybody's using that, you know, of MSU, you and everybody goes, What's MSU that's make shit up university? I hear two or three words that come up with what's going on and this and that. What better training for a long retreat than to watch one's mind just making stuff up and have a sense of humor about it and stop letting Mr. Snarky have you speak enroll. Silence was before you know it could be going in my mind that to be right out there with training in practice one can be totally comfortable with watching Mr. Starkey go off, but not speaking, it changes your life. You don't have to make amends. Nearly as much as I used some of these. This Buddhist path is incredibly powerful. If it's made my own, and I find that I can work with newcomers really easily, I actually have more fun working with people that are working with a hard addiction because they're there and they know they're killing themselves. So there's a sense of urgency that's really over the top. They already know they're screwed up. So when we sit there, they're actually following the directions and watching their minds. And if we do this in a kind and gentle, the Martha School safe place because they're really hot at that early place of practice, you know, I'm a terrible meditator. You know, the usual stuff that you hear and then lead them through that and just get them into the next level of curiosity about themselves with some sense of friendliness and the same friendliness and goofing around stuff that I have the best teachers tell stories. I suppose I can go to all those books and I can read the text there. They're in there, they're in my office, the wall of Drama. And I love to go in them. Once in a while I'll just I call it Dharma Dives. I'll just reach up and grab a book off that shelf and I'll sit there and I'll flip it open and we'll just and I'll go down and do a little Dharma Dove. And I've just always been astounded at the oh, my God. Oh, oh, goodness. I have changed. And so the strange thing about the Buddhist path is you're you're in the story. And so you don't know it's changing, but it's really changing all the time. Every moment and any bit of awareness that pops in is good. Now, can I be did I become enamored with rituals, lighting the shrine the right way? And yes, it seems to be a phase. But, you know, it's also that phase of being Dave, the great Buddhist and that that passes. And if it passes, it's a gateway. It really opens up after that. But to sit there and be Dave the Great and have friggin pins all over my chest, but you know, that's not it. I could I could have latched on to the wonderful good times I had and the way it used to be. That's that's that's a trap. That's a cocoon as the Buddhist way. But to sit there and catch that I'm doing that is really valuable.
Relationships
From the human side of it. When I would disappear for 30 days in the middle of the winter. Through the holidays, I would hear, you know, the stories when I got back that they put on Facebook, that dad's pulling the Buddhist card so he doesn't have to buy his Christmas presents. And the you know, I met my wife 20 years ago, like, you know, and she blonder Unitarian Church and sang in the choir but she would see me go into the she'd see my rituals that I would go in and she would sit there and watch how I worked with people. And she would see people approaching me. But when it came to our relationship for two years, we would say things to each other like just, Dave, I don't need you. I said, Oh, Cathy, I don't need you either. And we would both burst out laughing because we had done enough of life. And we and I obviously by now knew my mind that soon as you need somebody to be happy, you're going to start making demands on them and start getting hooks in. And so you want to be in a good relationship, learn how I could be esthetically happy around my wife, but she's not responsible. And we have what's called affection attacks out of the blue. I'll just look at her, my heart open and I just go, you know, I just feel that open. And she has. And with me now and then and then. But we don't hold it. Hold on to change. It's always going to change. She's I've been through some passages that were difficult and and she learned but don't follow Dave into the cave. They'll come out and it's because of the willingness to just keep leaning into these things and this and that. Is that true about myself? Is that really do in long Buddhist chants, you know, where I would say 108 times they you know, I am basically good. I am basically good. And watch me 108 times have my internal reaction from Mr. Snarky no bullshit I basically yeah right I have basically good yeah I basically good at watch this it's going on at the 108 times later you know and then there's that and brilliant time in the passage we used start to or what if it's true what if I am basically the what if the nature is truly basic Buddha nature what what if that's true now that's terrifying. I know myself the sarcastic it does that, but I don't know myself. If I was just open to this world as it was, I just vow to do the best I could and talk about turning points, taking a vow refuge, vow, take refuge in the Buddha as an example. That refuge is Buddhism, God, external to me, but as an example of someone who actually managed to pull this off, take refuge in the Dharma. By now I'm realizing that these teachings have a depth of truth to them, but it's up to us to sort out our own cultural baggage that we've attached to it. It's up to us to sift off the cultural baggage of 2500 years of of how it came across from from India with that system. And then in the Tibetan world, the bones, you know, everything. And we are always going to be on the razor's edge of sifting out to keep this vow alive. And the sangha, I find that I found people, even within the communities that I just trust and I love, and that we can have discussions that can be awkward discussions, but we can have them and so that vow is, is I always referred to as swallowing a Pac-Man game. And it just just chewing away at the ego very slowly, this and that and the patience of of this path, this dust up, I suppose I've heard your read the stories. It's someone gets it all at once. That has not been my experience. I've had to try and meditate, not meditate, find my life's better when I meditate. You know this and that. Read something new. Go to a different teacher. Oh, goodness. Number of various teachers that I've listened to and gone to. It's been very difficult because a lot of them had, you know, heavy accents. And because I don't hear anything, they're really difficult to understand what they're saying. So I came to know that some some teachers resonated right away. Others, I couldn't trust that. But know that they're doing the best they can to pass on this the intellect, the unfathomable intellect to the Buddhist path. I mean, if there was going to create a list of well, let's just start with 84,000 different ways to become enlightened. And we'll start with there you know, that's available. But each teacher when they present are presenting a piece of it. I've heard meditation instructions given, I bet, thousands of time now and quite frankly, every time I hear those instructions, I sit there and I realize that I can come back to the present moment and look at what I'm doing. So that's invaluable. Another turning point was I took a vow, bodhisattva vow. Now the day I was taking that vow, I had Mr. Snarky going off inside of me like, Are you fucking kidding me? You are. You're nuts. That the wonderful thing about a vow is you take them, they're in there. And so they work very slowly. Very this. And at 71, looking at my life, I live this life for the better, for the dead. Now, Dave, as you know, the world, according to Dave, is just a great sense of amusement. It's like having an old archive system that bit by bit I've been adding more and more light to the archive system and the old stuff comes up and it's more and more workable. There's no better thing to be able to help someone and learning how to help someone without flipping on my old mighty mouse cape and start sending in the Mighty Mouse song. You know, I'm a friggin white guy, you know, I was trained. I know where I can show you this. This is these are suspenders. This is man's foot. Let me tell you how it is that the way I was raised is the suspenders. They hold my pants up. So the Buddha's part, it's it's rich and I'm very serious about it. But I took the word my off of it some time ago, not mine. And I see a lot of people get trap the my my practice my my sangha my style my and very, very serious. There are terminally serious.
Recovery Sangha
Friend of mine, Martha Hildreth, who she and Pema Chödrön became friends, and in a chance meeting they had to sit there and she asked Martha asked them, Well, what can I do to help this organization? And we have a real problem with addiction. And they did from the leaders all that all the way down. So Martha just took it on. She said, okay, I'll start working with addictions. And she had sobered up and she's a person. And so she she and we figured it out once or I figured it out once. She probably helped 40 to 50000 people with her efforts. Example Shambala Mountain Center that it's wild and wooly up there it's it's crazy in the staff. You know, we're just young people getting away from the world party animals. But, you know, it's impressive, actually. But it was getting out of control. So they decided, John said, Martha, we need a meeting. So Martha would get off work on Wednesdays Drive two and a half hours from Denver, go up there, have a meeting. She'd bring her dog and they can have dogs up there. So John Allen would take care of the dog. Had the meeting. Sleep overnight and then drive back in the morning in time to get to work for two years on Wednesdays and Thursday. That was the kind of dedication that she had to create an environment, and that's where she honed her skills and creating safe environments for people to explore their own minds and their addictions in a safe manner. That I'm using her skills today. Well, she died on Good Friday last year and the reason the organization grew and was so healthy, it was a really natural hierarchy. Everybody knew that she was the matriarch. She was running the thing and then I would help. And so like some of the little O cultural things from Shambala, you always got a teacher, a glass of water. So I would sit there and always make sure that she had water and that it wasn't a big ceremonial was it was just give someone a glass of water and then people watch me do this and go, what's up with that? You know? And then all of a sudden people would say, Can I get bath? Yeah, why don't you get her the water? And so then a natural hierarchy. And then, you know, we get too many people in here, we need a greeter and said, okay, I'll greet you. Martha actually gave me the eye once and she looked at me and I cut her eye and she went like that. I look over and there's a whole bunch of people at the door and I'm over there getting people that are seats or cushion or whatever they need. And so I then greeted on a Wednesday night for about a year the brilliant practice. It's a, you know, within the Shambhala world there have of gatekeepers and, you know, all the various forms that you have to bring people into the room. But for me, when that people came up the stairs or down the hallway, I'd look at them and I'd watch my mind go, I like them. I don't like them. I don't care. That was that was what was going on. I'm watching myself do this. And then after I guys could see it, then I could actually properly greet somebody and get them into the room. I joked with one of my friends that I was like an old Tarzan movie, Johnny Weissmuller black and white movie. He only had three lines. It was like was like, no, like me, no. Give shit another good, you know? I know those were the only three categories that this initial mind of mine would have. And then, of course, it got richer. So anyhow, Martha died, and I even got a text the next day from one of my, my snarky or friends and the text said, who died and made you came? And everybody knew. In her latter part of her life, she was getting more feeble. And so the the service that people would take care of her, they would walk her to a car. She's still driving, you know, and everybody would sit there, everybody treated her with such utter respect and she created the safest room I've ever been in. And she did it in ways that didn't fit the the rules. She would actually you know, sometimes we had 30 to 40 people crammed into a room. And these people, many of them have never meditated in their lives. And she would give very succinct instructions, get everybody settled, but not give the full bore how to do it. Instructions, and literally would ring the gong and throw people in the deep end for 20 minutes. And for many people, that was the longest 20 minutes of their lives. And yet that unfathomable discomfort of being in a room you didn't know people you're sitting there quiet. You had no idea what you're doing. It was probably the opening, a gateway. And that discomfort that changed lives completely. And I follow, you know, then she was brilliant at sprinkling in the Dharma. She would sprinkle in ways to hold your body. She'd say things like, Sit there like you're about to receive an award with a sense of pride and dignity. Sit that way. Then she would ring the gong, and there's another 20 minutes. And for many people, that was that that 20 minutes at a time, every Wednesday was the soul part of their practice. But the meetings after that. Then finally she said, I'm tired of coming up with topics. You guys have to come up with topics. So every week, for years and years and years and to this day, someone comes in with a list of topics, but based on what their experience is right now. And at first it was kind of ritualized. It was a quote from AA and then a quote from Pema and then a quote from it. You know, and that was sort of the beginning. But at this point, oh my gosh, that that influences of coming in to that hand and he's always got us in there and just brilliant ways for people to start to work with her. Mind you, some young lady came in the other night and she's saying the thing. She's saying her this from lyrics from a song that touched her heart. So she actually sang it, you know, by then, you know, my old mind, my military raised mine, which said, that is so wrong. That is not the procedure to stop that immediately. Yeah. No, no, no. You you created a place of safety or she created a place of safety and that we could listen. Long silences, very uncomfortable for people in a world. Someone finished talking, someone was going to talk. I mean, instantaneously, you know, talk about no gap, you know, some end and this and this and this and this and this and even some of the heart of recovery meetings, I noticed that they don't allow that. It's very uncomfortable to be in a group and watch the silence start. And yet Martha taught us to hang in there with that, you know, just sit there and eventually someone will speak. But sometimes two, three, four or 5 minutes can go by and nothing is going on. And for the newcomers, that's excruciating. And but at the same time, that's where we started. It's really honor and it's really honor. And to sit there and let someone speak and then just stop and work with what they said, you know, the long silences would sometimes cut the the impulse to to immediately go into what you're thinking. So strangely enough, in this whole process of my life of I was taking an improv class. Improv is is just the best. It's like hit in the present moment from a place of just total. I don't know what to say. I had something comes out and it's hilarious and there and I'm taking this class at the same time. I'm sitting there meditating where you hit the present moment from the side of stillness. And so I'm doing both of these. I'm coming from the side of big action and this side of stillness. And it led to, you know, one time this guy, Bob Wells, just funniest man I've ever met. He kind of a space cadet. He'd call me and say, I'm in New York City. You're going to have to teach the class. I was a student there. I wasn't you know, I'd talk about stop in my mind. And so I ended up doing some of that. And then part of my life was practicing martial art and fourth degree and black belt in Aikido. And, you know, this is a no there's no no offensive moves at like you you move with whatever is coming at you, but it's very martial. And so a lot of the police officers trained at the dojo that I was involved with. And so I got involved with combining Aikido, which is move with what's going on with business practices. And so I was given a talk now and then to the, the beginning of a long career of breakfast, of of if you go and give them a talk to the co-owners, the Rotary, the Optimist Club, and that's no end to those. They're always looking for speakers. And you speak for 20 minutes and they give you pancakes and a side of bacon crispy, which is an attachment to this day. I love that stuff. And there were so many stories that that what happened was a woman was out there and she came up to me and she was an agent speaking agent and asked if I would be open to giving a talk sometime I had once when the four kids were sitting around dad weekend, they're screaming and, you know, just chaos. And always the phone rings and someone said, We would like to have you speak for our group. I said, Oh, sure. You know, let me get my, my, you know, calendar. You know, I can write it down so well before we start. We are we need to know what you charge. And I remember to this day slamming my hand over the phone, tell her, shut up, you guys, this is serious. You know I'll do that. You know, I have to say that basic ignorance is kind of fun once in a while.
Death
Well, of course, death is an overriding theme that from the earliest of the days I had a great teacher who suggested that I was struggling with death and the whole implications and had me meditate on my own death every day for 15 minutes and every day I had to die and die a different way. And I had to go into incredible detail. The people rush up from having a heart attack and they put me in the ambulance and then I, you know, and then they burn my body or whatever, and then this and that. I do that for 15 minutes and every day I had to do a different way. And I didn't notice that one, that when the meditation was over, that's, you know, I'm still alive, you know, and the sky is a little bluer. Trees greener. I got so bored. Oh, my gosh. You know, I think one of the last ones I did was that I got run over by a steamroller and Sixth Avenue and I've just laid out all the way to 28, you know, I mean, you know, I brought my humor into it. But death has always been that you need to make friends with it because it's one step behind me all the time. And then two years ago, to have a stroke, I'd get up in this house and I couldn't I couldn't get my socks on and I went back in. My wife's still sleep some seriously wrong. And she said, should I call 911. I said, yes. And this couch to 8 minutes later I've got ambulances everybody is this they know that there's a stroke strapped into an ambulance flying on Kipling Avenue. And there's part of me that still was was with it, but I said, oh, shit of my time. Well, if I'm dying, I want to be here for it. I that was the thought. But then there was another thought when there is a guy with the phone and he said, we have a 69 year old white Caucasian male with multiple deficits, and I'm going, Well, fuck you, you don't even know me. So there was still that part of me, but all of my ground was pulled out from under me. I couldn't move it for I could do it. I could eat. You know, I was so relieved when I heard my wife's voice and in the emergency room so I could piece together a little bit of my ground. The world, according to David, is very clear that I just hit a spot where I had no idea who I was, and I look at all those places in my life, very minor. I knew who I was when I was a drinking man, but I had no idea who I'd be when I sobered up and so I walked into the not knowing part there, and I had no idea who I was. And Silent Man, I knew of myself talking, but I didn't know who I was without it. And I look at all the deaths, just all those little touch points of all this. And then right up to that moment where, you know, and having residual aspects to a stroke, you know, the left side doesn't work, at least the starboard for the rest of the days. And but strangely enough, there was a sense of more confidence that that goes with this. The the part, the Western mind, just was go on, reincarnation. You know, that's when you know, that's what I love. Mr. Starkey. I know it's been a theme all the way through this conversation, but Mr. Snark is my best friend. What? That's bullshit. You know, this and that. That part of me that sits there and bumps up against something that I have no ability to work with. That's the part where I don't know, and that's the part that's going to move me towards pulling the rug out from under. That's why, at my age, I make myself I take classes that I know are going to be a little uncomfortable. I the first time I sat in meditation, I was really uncomfortable, never doing this again. No, that discomfort was getting to know who I was as a human being, as with all the flavors of being human. And so death is one of the flavors we're going to have and nobody gets out. My father in law passed away and yesterday was the memorial service I had 125 people and he I didn't know about him. You know, he's 90 years old. So just listening to people, the way he touched people's lives was really, really lots of tears. You know, the joy, sad, you know, he's gone. But at the same time, there is the tears coming down my cheek, but appreciation for how he helped people. He was a Buddhist. He was just a really good man. And he believed in other human beings and their goodness and their basic goodness and their Buddha nature. He didn't have those words in language, but that's how he lived his life. So there were a lot of people there. And so I said, you know, I need I need to live my life that way, too. I need to just be as helpful as I can tell stories, really be fortunate if I could be present for my last breath and be kind of cool. So anyhow, that's the end. Of course, the Buddhist path you do is a great study. The, the, the wheel of Dharma, you know, it's circular in the, you know, the little scene where the pigs chasing the rooster and the snake, you know, that's the Tarzan thing. You know, I like it. I don't like it, you know? And all the different realms, those realms are so wonderful. I mean, that's why it's awkward. That's why I need to make myself as awkward as possible through the rest of my human. This human bird. Because that's the only one I could have probably made. Well, I did make money once, and so I was in the realm of the gods. And then I lost all my money. And then I was in the realm of the jealous gods. And then I'm sitting there, you know, trying to figure out how was going to pay child support. And so I'm looking out at the world trying to get something out of the world so that realm of a hungry ghost, we have this giant body with the tiny neck that you're trying to nourish it, trying to get what you want for a wonderful image to sit there and be able to catch that, oh, I'm in the realm of the you know, a hungry ghost right now or the hell room when I'm just, you know, and fury this and that. So this path and that sequence as you go around. And then I hit the fact that this is over the course. Some people teach that over the course of three lifetimes. And of course, my mind couldn't handle that. So then other people plot it in the way of its one lifetime and that I could sit there and work with. So it's really a matter of of making this path unfold you as religion and this and that. I don't know any other place that you I could have this sort of experience, which is why I remain loyal and faithful and do the best I can to have these teachings carried forward to my granddaughters. Days. I think Grandpa's crazier than alone, but they like to have breakfast with me, you know? And so it's a it's a, it's a good, good path. But I'm very western as you picked up than your, you know, my my set. I am I am not a Buddhist scholar. I am a Buddhist practitioner. And I have just very definite distinction. But thank God we have Buddhist scholars out there that can write and teach in ways that these teachings can be carried forward.
But my sister has more Pentecostal at this point and, you know, we don't have enough time to talk about brothers and sisters, so we'll just let that one slide by and then and how things happen in a lifetime. I played the trumpet. My father was a strict disciplinarian, and I and he made me practice 2 hours a day. And so with that kind of training, growing up from, you know, the grade school on, I became very good at the trumpet. And at one point I actually played taps for military funerals while I was in high school, and my teacher was second chair of the Chicago Symphony, Peggy Fox of just a brilliant, brilliant musician. Then she'd bring me along to play second, and we'd play personnel for weddings all over Chicago. You know, very strange part of my life, but when I went down to college, our our household was run like the military. I received a towel and a top sheet and a pillow case and the bed was checked with a quarter. And I have skills that you can't believe I can roll underwear. You know, and the tiniest little balls like a paper sack this big I can a year's worth of underwear. It's so when I went down to the University of Illinois to New NUS, New Student Week, I had already discovered some of the joys of drinking at the high school bashes and this and that. And I went absolutely crazy. I went off I the freedom that I felt was just beyond belief, but it wasn't very good for studies. And then the family story, which has been greatly exaggerated over the last 50 years, but it wasn't when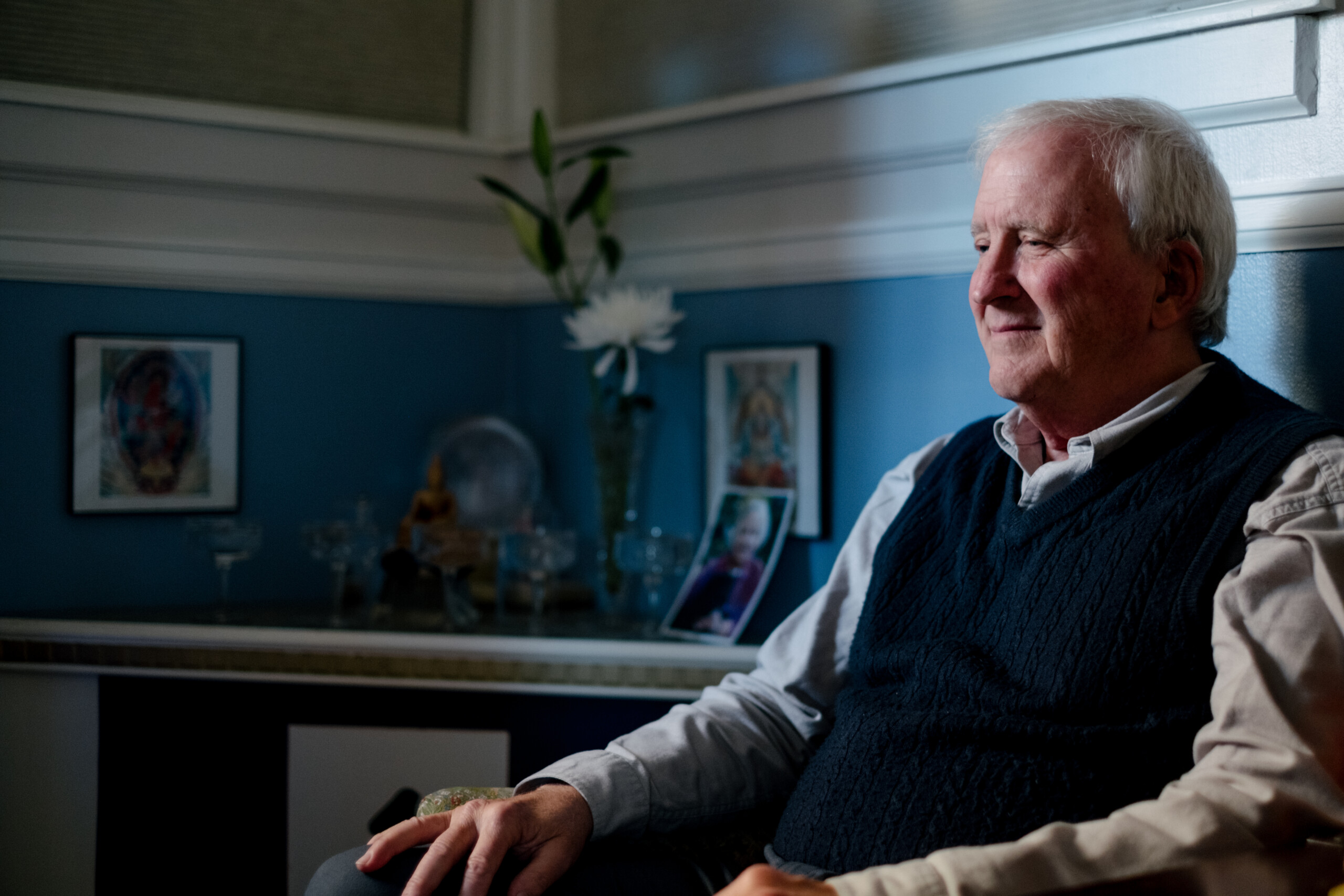 I'll be happy when and there is nothing, anything wrong
with any of the those things.
But I made my happiness depend on it,
which was, you know, constant grasp and
constantly suffering, trying to get get something out there.
I got my midterms of my freshman year, according to the story, I had all F's and one D and my parents didn't know what to say. They said, We we think maybe you're spending too much time in one subject. So but because I played the trumpet for military funerals, I realized that this is the Vietnam time. So early sixties, late sixties, early seventies. And so dawned on me that as soon as I flunked out of the University of Illinois, I go to Vietnam. And that was one of the first times that I realized the mind can completely change. I went back after my midterms and I became a student, ended up with a 4.0. So it's just that it it was just the switch of the mind. And I always kind of looked at that piece and and said, what happened there? You know, what could sit there and pull the rug out from under an entire story of of who I was? And I started drinking in seventh grade. And I remember having one of the best times of my life. Here I am drinking out of Bob Benoit's liquor cabinet, little eighth grade girl and we're having laughing and this, that. And I just felt so open. It was like there was this huge opening. And later on when I wrote about that, I called it liquid spirituality because I got a glimpse of something that was very free and very open, having no idea that by the time I was in seventh grade, I was already wound up tighter than a drum. And because of our military way, we did things in our family. I created what I also called later on stained glass. Dave, here's the image you have for the family.
On Mindtraining
I would it would, it would just it was like a very slow process of, of learning how my mind was working and see my reactions the and just invaluable.
This is who I had to be. And then behind the scenes, there was a really, truly kind of a mess. Yeah, I could snap to like this screens up and I could function really well in our society. It was very successful in business to this, but behind the scenes, a feeling of complete poverty that was never going to be enough, never going to be right, just constantly grasping. And so, you know, I was at the University of Illinois and I actually heard about meditation back then. I actually heard, you know, starting to know that it was starting to creep into the you know, just the early pieces were creeping into the society. And I was like, of all things in a fraternity where the wars were going on between people who just drank and the people who like to drink and smoke, you know, you know, never mind the the utter ridiculousness of both people, you know, getting loaded. But I remember once I sat down on a pillow, smoked a joint, put Jethro Tull on, sat there for 15 minutes and nothing happened at all. And I said, Oh, I just I just know. So that was the first very feeble attempt. And I had no idea that 12 years later I was going to have to sit there and go into it with a sense of urgency that could not have happened in my early twenties. There was just too it was just a light touch twenties. I kind of did everything I was supposed to do. I had the images from growing up. I watched the black and white TV shows, The Lone Ranger, Mighty Mouse, Yul Brynner riding into the Mexican towns of you know, all of those are in my mind. And so I'm sitting in the basement of this house in Illinois watching these shows kind of coming up with what I'm supposed to do as a man. I'll save, you know, Oh, I can't pay the rent. You must pay the rent on the Mighty Mouse song. Here I come to save the day. And so this white male Midwest flavor of how I'm supposed to be is a man and what would would be acceptable became deeply entrenched and quite frankly, invisible to me until later on when we get under the hood, so to speak, with the Dharma. And then the actual I had married, I lived on Herrington Drive. I had a house with a white picket fence and a red door, and I had 3.4 kids, the boxer and a Volvo station wagon. And I was involved with everything and on and on and out of that, literally everything I was supposed to do. But my poor first wife was miserable in Illinois. We were down in Champaign-Urbana, a University of Illinois down there. So we moved back to Denver and here she was much happier, but our marriage was going down the tubes. I'm in this. You're on the board of this. And you know, all this stuff that you do where you're your everybody knows your name type of thing. Never home came home and would pat the kids on the head. I she complained that I can't do all this stuff around the house by myself. And so I hired this man paid them 895 an hour and he he serviced everything, including my wife.