When were you first exposed to dharma?
I was raised Roman Catholic and my grandfather was a fourth degree Knight of Columbus. So, I was very intrenched with a fixed Idea of what God was and was not. As well as a lot of dogma and beliefs that I wasn't even sure were real, that the people telling me weren't eve sure were real either. I always suffered because I was trying to force myself to believe in a God or higher power. I was first exposed to the Dharma at the Zen Center of Las Vegas. A friend of mine from Oregon, who was a Soto practitioner suggested I find a Zen center, since Zen primary focuses on meditation. I was having a lot of issues with my mental health at the time, and suffered from an undiagnosed panic disorder. I was genuinely seeking a way out of this immense suffering it was causing me. I went to practice with hem a few times prior to ever hearing a Dharma talk.
Transcript
Discovery
Well, hello, I'm Josh Mellowness. I am a Zen practitioner. I currently reside in Las Vegas. I grew up in Bend, Oregon, is where I grew up. And I. Moved here about eight years. Ago. I was raised Roman Catholic. And I'm. Sure most people in America were raised Christian. And not. All, but most. So it's very, very common in eight states, but is a result of that. I always had somewhat of a difficult time just in the idea and conception of a higher power God. And what that God would be. And if I didn't believe what would happen to. Me and. Kind of always thinking is God is like kind of out here. You know? And to even really talk about this, like, I'm already in trouble, you know, not in not in the sense of a disciplinary way, but it's just like there's there's so many fallacies, you know, pitfalls along the way of this conversation. But I did not find the Dharma intel. I'm 39, so I think I was 34, 33, 34. Yeah, that's when I found it. And. And I found it here in Las Vegas. But it was strange, you know, growing up, I always I remember when I was a kid, I would say between eight and 15, I would sometimes daydream about meditation, and I don't know exactly where that came from. I'd never been exposed to meditation. I never been around Buddhists because in rural Oregon Buddhism, it would have, yeah, it would just like not a thing. And even if it was a thing, it wasn't talked about. So I don't know. So where did this come from? Right? So at least some questions. And by the time I got to 21, it was very obvious to myself that I had a drinking problem. And. I decided to get some help for that. I won't mention how I got the help, but I did a twelve step program and you know, I've been sober now 18 years continuously, and that is the first. That's when I started to wake up. You could say because when you enter a twelve step program, it's it that's like it's a baby teaspoon of introspection, you know, through the steps and. My father lived here in Las Vegas, and he had been in real estate for quite a long time, and he was not retired yet, but getting close. And he said, Hey, why don't you come down here and do real estate for me? I'll teach you what I can when you're here. And I thought, Yeah, you know, and me and my girlfriend that time moved down here did that. And I've been in real estate now for eight years. And in that time, I've learned a lot. And it was maybe six years ago I was having a lot of mental health issues, and I think some of it is probably stemming from some of the stuff I went through through the recession. And then also, probably some of it. They always talk about nature versus nurture. And I think that's probably on both accounts is true. I think probably my I'm physically prone to being an anxious person. And so I have a lot of I would have panic attacks and I was having a lot of problems. It's caused me a lot of suffering and I'm just having pain texts for like no reason. Sometimes it's like there would be no actual rhyme or reason to it. And I remember when I would try to reason with it to like mentally, I think I do like a wellness check like, Oh, well, I shouldn't be having this because this is fine. This is fine. This is fine, right? Everything's in its place and it just made it worse. It didn't seem to help it. And so that was the first time I started to realize, like I couldn't think myself out of what was going on with me. I couldn't fix it. And A. So it was it was quite a few years like this, and then one day I remember I was sitting somewhere and I was like talking to a friend of mine through text message and he was a soto Kepler, actually, and he's part of Buddha I temple in Eugene. And at the time, I messaged him and I said, Hey, man, like, I'm having these issues. I'm thinking meditation might help. And he says, Well, if you're interested in meditation, he said, why don't you try to find a Zen center? And I never even thought about that. And so he looked on Facebook at the time and then sort of Las Vegas had a presence. And so he says, Why don't you go there and say, Yeah, I'll do that. And I. Basically the next practice they had, I. Went and it. Was interesting. I walked in and it was very formal, you know, like a zen center zendo would be. And at the time, Lisa. A new a new. She was the vice abbot at the time zones in Las Vegas, and she was there. And. I didn't know who she was. She came up to me. She said, Hey, do you know how to meditate? And I'd meditated one time prior, but not in a Zen format. It was with a friend of mine. He kind of showed me, you know, you put this, this this music in your ears. It's like these delta waves. It brings you your brainwaves down to the delta level. And you know, and then you float on out of this room and you kind of, you know. And and don't be wrong. I got some good feeling from that right for like 15 minutes. It was like, Whoa. Wait. But it didn't feel. It didn't. Feel genuine. It didn't feel. It felt very, very contrived, you know? And I I. Thought, Man, maybe there's a better way to meditate, you know? And I couldn't do it alone. I didn't have the discipline and have to practice. I didn't know. Anything. And so when I sat there on the cushion and she looked up, I looked up at her. I'm on the cushion and I can't even sit fully on the cushion like my knees are up, you know, because he never sat before. And I'm a Westerner, and so I'm sitting there and she comes up to me. She looks down on me. She goes. We're going to meditate, do you know how to meditate? And of course, the ego immediately wants to go. I know how to maintain I've. Done it one time. I know, right? And but I. Didn't. For some reason I said, You know what? I don't. Tell me how you do it. And she just explained to me, she says, You do this. She told me how to breathe. And she did it. And I said, OK. And then she went, sat down and we sat down. And then she fears we're going to. Meditate to. 20 minute rounds and she hits the tube. And I remember thinking. Fuck. Like 20 minutes. Are you joking? Like. Like, that's a long time and you don't meditate. That is a long. And then we're going to do twice. And so I'm just like. So I'm sitting there and I'm trying to do it like, she said. And it seemed like forever. Finally, the first round was over the ten minutes walking. I'm like, Thank God for walking meditation, you know? And so I'm like, All right. And then we did another 20. And. There was a reading, no talk. And that. Was it. And there was nothing wrong with that, but it's not like it hit me. You know, that's the practice. And so it wasn't, you know, and I didn't go back right away. I think a way or three more weeks, I went back one more time. And same. Thing. No problem. And then I think I didn't do anything for like a month. And then I was somewhere. I think I was at Starbucks. And. I was like thinking, I just need to go relax right now. Like, I'm stressed out work and stuff. So I'm down at Starbucks. I'm sitting there and I like, you know, I got all this stuff. Going on internally. And I had no clue this. I've got this mountain of karma and I don't even. Know what to do with it. And and. I'm sitting there and I'm drinking coffee. And I look. At my car like, You know what, if I leave right now. I can be at. The center for meditation. And I. Honestly didn't know if Zen was going to work, but it was like the last thing for. Me. It was either that or go. You know. Go get a psychotherapist. And. Maybe medication. And that really terrified me, to be honest, because it has a stigma. And. It shouldn't have a stigma. Mental health should not be. A. Burden. It should not be a shameful thing. Every a lot of people have mental I won't say everybody, but a lot of people have mental health issues, especially this day and age. And so. I went in that. Night, the message was there and they'd move locations to where we are currently at the Chai and Meditation Monastery. So we practice right next door to the tarot bodies. And this would be paramount. To. Protestants. And. Catholics practicing next door to each other in the same place. Right. But in Buddhism, it's no problem. Because. In Buddhism, we know that. You know what? It's none of this means shit. And. So that night we did the same practice, but this time is MzGee Hang was there and he gave a talk and I remember I heard this talk and I've heard many motivational speakers. I've heard many people in recovery talk about twelve steps in recovery, spiritual things. And I've heard a. Lot of great things. I've heard some of the best. And but my. Teacher would call that. Almost. Mind. Candy, right? Like, it's kind of catering. People want to hear Dharma talk, so they want to hear some intellectual feel good, something that they can grab on to and say, This is it. I got it now. He said the words, I don't need to go back. I've got everything. I need, right? And but when he talked, I didn't feel that way. I felt like, whoa. Like I knew I didn't. I didn't understand what he was saying fully because it was so foreign to me when he was talking about the science of the mind and how we have these mental constructs. And I don't even remember exactly what he said. I just. Know. The direction he was pointing, and I remember I was thinking myself, This is true. I didn't know how. I knew it was true, but I was like, Oh, this what he's saying is true. I knew he wasn't full of shit. And I thought, You know what? The penny didn't drop for me then, but I was like, I'm going to be back here. And I. Slowly kept going, and my anxiety was so bad. That. I could only go once a week every other week for like a year, and I'd be practicing at home five minutes a day. And and I'm not. Talking about anxious. I'm talking about the kind of anxiety where it takes over your whole body. And like I would throw up sometimes from it, like it was debilitating. And. It was getting worse too. It wasn't getting better. And so finally, there was a. Retreat and. It's only three day retreat. And to be honest with you, a real, genuine retreat with our school, our lineage would be, you would you'd be residential, you'd be staying somewhere. It would start Thursday night. You go all the way to Sunday night and it would start like, you know, you'd get up at 4:30 4:45, you go tell 10:00, you know, it's all day three, three days and. But luckily for me, it's not lucky for the Zen Center as a whole. But for me. It was. Kind of auspicious because. I. Wouldn't be able to go and still in the night everywhere, because at the time my my, my anxiety was. So. Overwhelming that like I had my own little system of getting to bed, getting to sleep like I had to like, like I was very insulated. And so it was I was very dependent on this insulation at the time to manage because that's really so rather than see, that's the thing, rather than go and get professional help and pulling it out by the route, I was trying to manage the symptoms of it, which made me worse. And so I didn't have to do an overnight Zen center because we didn't have a place to sleep overnight because we were now renting a spot from the minute. So it was like an easy retreat. Like. Princess retreat, like, you know, like your Zen princess or prince. It's like we would get there at eight. We would go to nine 9:30, but you didn't start till 8:00 a.m. because people need time to drive. And you know, and I did that for. I didn't. Do the first one, the first one. I made an excuse and I told I said, Oh, I got something going on that week, and I can't. Make it right. Because I was scared. I was very scared. And then. Finally, a second one came up like three months later, and I really did want to do it. I would just scared. And I wasn't scared because I thought Zen was going to hurt me. I was scared because how am I going to sit on the cushion all day, every day if I have these panic attacks, like I can't get up and leave, like I'm the kind of person when I commit to something, I want to do the whole thing, and I didn't want to have to leave the retreat early or leave in the middle. Which now that. I've been exposed to Zen, that's no problem. If you have an actual. Issue, you can get up, you know. Politely and excuse yourself. But I. Went and I put my money in the. Box like. That Thursday night at practice, and it was like as soon as I did that, like, I had a panic attack because it was like, I'm committed now, like my money's in the box. And and. I call myself down. And I went that Saturday, Friday night and. And. Friday night was easy because only a couple of hours, you know, you go you said you said 2:20 minute rounds, you do all the chants, special chanting and there's a talk and then you go home and. And then. It's like, OK, I could do that. So it was like, I'll just do this just tonight. I cannot go tomorrow. And then the next day. Came and. Then I swear to God in the middle of morning chanting after bouts like in the middle of chanting, like, I could feel my stomach like I almost want to throw up. And I was like, I just like, I can make it through chanting, I can make it through just chanting, and I did it. I made it through just chanting. And then this. Went on the whole retreat. But I was able by the end of the week and I made the whole retreat and I couldn't believe it. And I and. So. That was my first experience, and. It. Was either that or the second retreat. After that, I could sit 20 minutes a day at home, alone. And then after that I did another retreat and then pretty soon I was sitting 40 minutes every day at home, alone. Plus going to practice a couple of times a week. And I was lucky, you know, the Zen Center was around three days a week, so I went three days a week. And you know, I started doing little things trying to help open and close. Being of service, you know, trying to get back to Zen and okay. And then pretty soon, you know, I could sit solidly in the cushion. An. Hour a day. And I never that was never my aim. And it's really important to know that if you're trying to get something from this practice or from Zen Buddhism or any Buddhism or anything for that matter and you're trying to get. Something there, it. May be whatever you're trying to get may get further away from you. And it's important to know that because. one. Thing my teacher always really instills is the heart sutra. It's it says right in there very plainly, no attainment with nothing to attain. And and there's more to that teaching than just that simplicity of it. But that's all talk about right now. And so it's important to note there's nothing to attain in this. Practice and that. We are sitting just to sit right, taking away all the expectations. Now there will be results. But getting rid of the expectations so that. And I would. Be lying you if I didn't say I didn't have an expectation what Zen would do for me, I'd be lying in a phony if I didn't say, yeah, like, I try to attain something from this practice for three or four years of hard practice every day, like. And I wasn't trying to attain something like to be some spiritual giant or to get some enlightenment. I would just like doing everything I could to try to just get some relief from the suffering that I was. That's why I was practicing so hard. So I did have some hope and I put all my hope in the practice. I had great. Faith in. The practice, the cushion, the breathing. The. You know, the great tyranny I had. That's where my faith was. It wasn't in a god or deity or something out here or some teacher. It was within myself and the practice. And then, you know. It was around four or five years a hard practice that that's when that's when, like my teachers say, the penny dropped. I was sitting. I remember. I'll never forget it. It was culture and culture for our school is a 90 day. It's in the winter. It's a 90 day retreat, silent retreat for 90 days, and you practice it seven. Days a week. From 43 in the morning to 10:00. At night. And you know, there's. A whole schedule and you're doing something the whole time. And it's very intense and the monks do that. All the monks in our school do that. And then some students, late practitioners will go and actually some sit the whole retreat, some sit. one week, you have to set a minimum of a week to do it. But I wasn't in a position between my. Work. And everything and also just my sheer mental health to go do that. And so what I did was is my teacher suggested heart kill, which is you're practicing extra every. Day. With. That in mind. And so I was doing an hour day at the time and all the chants. So what I started doing is two hours a day and all the chants. And I was sitting two hours a day solid on the cushion, not in. I would sit like a couple of 30 minutes in the morning to 30 minutes at night. And sometimes I sat and sometimes I have sat for 30 minutes in a row at night. And it's interesting I started to develop this clear mind and I'll never forget it. You can't really describe it. And anybody that's a meditator understands us to really describe this mind as clarity. It would only obscure it. But I remember I was experiencing it. I'm like, Wow, like, and it wasn't like a while like, this is like some drug or anything. It was just more of a very clear like. And I remember I picked up my phone, I was going to actually text my teacher and kind of explain to them what I was experiencing. And then I realized to even try to explain this wouldn't even so, I just did. I didn't even send the text. I didn't write anything. And he said, I said no. And I knew when last, it cannot hang on to that. So I just said, this won't last. Let's just be whatever I'm doing right now. And that's what I did. And so, yeah, that's kind of that's when the penny dropped. For me, that's that's what it was like. You know what? I don't know where I'm going in this world. I don't know what I'm going to do with my career, relationships or anything. I don't even know where I'm going to end up moving because life happens. But I know that I want this practice to be my center. This is right here, and that's when that started to happen for me. And that's when I finally had the courage to seek professional help from a panic disorder. And I'm glad I did. And if it wasn't for anyone, I will get that help. And I just want anybody to know that maybe watching this that. That it's OK to have mental health issues. It's not a bad thing, it's not a something to be ashamed of, and then it's OK to get help and you do not need to ask anybody's permission. You don't need to ask your teachers permission, your spouse's permission, your parents approval. You don't need anybody's approval to get help. And it's important for people to know that because not being willing to get that help, I suffered a lot longer than I should have. I had a decade of panic disorder almost a decade, basically from 28 to 2018. And and I knew it was more than something Zen could fix when I was meditating two hours a day with the correct breathing, the correct direction. And it was still happening. That's when I knew I was like, You know what this is? This is a chemical problem that I cannot overcome on my own. And that's as much as I'll say about that. But it's important for people to know that because there is probably practitioners out there that maybe somebody arrogantly says, Oh, no , no, no, no, everything you need in this practice. This is all you need, and that's bullshit. That's 100% bullshit because you have this ball of stuff everybody does. And sometimes Zen can untangle it. But sometimes you need professional help to untangle that ball. And that's important to know because everybody's got. That's the. Thing. Wherever. If you have mental health issues, this will help you. But it's not the cure all. It is something to go something. It's that this is the foundation of everything I do. This is the concrete of everything I do. This is the awareness that it created, the awareness to know that I needed to get help. I need accept that help and I need to put my ego down. And it's not shameful. That's what it did. See, that's what this practice, in essence, is doing.
Lineage
But as far as our school, the quantum school said it's not good, not bad. It's just a container. It's a container like this cup is a container for the tea. It doesn't change the tea. It's the same whether it's in this cup or another cup. So to say that the quantum school sends the best are not the best. That's a big mistake. It's I wouldn't say that it's matter of fact now that I have, I guess you say the penny dropped and I know how to practice. I could go to any school and practice no problem. I could. I could even go when my grandfather was buried a couple of years ago. He was Roman Catholic Fort, the Great Knights of Columbus. He was buried at Catholic Church, full mass. I went there. I prayed the rosary. I did everything they did. I was 1% doing what they did. I didn't say, Oh, I do zen now. No, that's not Zen Zen is doing following your situation. 100%. Doing. Where like, Hey, if I came to your house and you guys are all eating vegetarian, I'll eat vegetarian because that's what you're doing. You know what I mean? Whatever. Following my situation. And so. Because that lessens the separation and then I can be one with. Things. And if you're really doing zen correctly, nobody should really know you're doing that. You can always tell somebody new. And then because they talk about it a lot, right? They're always talking about it, like, want to promote it, get people that. And that's that's. A big mistake. It's a big mistake. And you know. We talked about this a little bit, but I'm going to talk about American Zen. And. Maybe some of the teachers in our school know this. Maybe they don't. If they get upset, that's OK. No problem right here. No hindrance. Our Zen in America is going to have to change, and it's going to have to change because it needs to start meeting people where they are. And one of the things that's going to have to happen is there's going to have to be a big shift. In. How transmission is given to teachers. Because right now, it's very, very much the it's almost it's like the old like, almost like if you go to Asia, it's like apprenticeship and it's handed down. And people my age and younger don't give a shit. They just don't. So if you're going to survive long term, you need to change with the times, which is more zen than anything that needs to change to the society it's in. So the society we're in is a society where, you know, if you're full of shit, I'll just leave and I won't talk to you ever again . Or if you don't say something like, I'll block. You. If I don't like you like, I'll unfriend you. Write whatever it is, that's a society. We're in a society where if you were sitting here, we're hungry. We hit a button and literally within 15 minutes, we can have an Uber Eats right here at my door. I can answer it as we're in this interview. That's the society we live in. And you think. That they give a shit that you've got transmission from this person, this person, this person, this, they don't care. It means. Nothing. And the reality is, is it's not special. It's not. You're trying to sell something that everybody already has a side of. If you if you already have clear mind, a teacher is not even necessary schools necessary, you can do it on your own if you know how to practice. I'm not saying somebody shouldn't practice with the school. I'm not saying we shouldn't have a teacher. They should. I am definitely a product of good teachers. What I am saying is we need to reexamine what's really important. Are we really trying to help people or are we just trying to pass on cultural Buddhism and protect the little esoteric system we have, right? Because right now, if you want to be fully transmitted teacher, you have to jump through many hoops. I mean, it's very arduous, which granted there should be some kind of hard process for quality control, but it's also political and don't think it isn't. It's very political. If if certain people in the school don't like you, you're not getting it. No way. No way. Very political. And so. It. Needs to probably come down to the system where when your teacher thinks you're ready, maybe you have to do a couple of things, but then that's it, you know, because my generation, they're not going to tolerate that. They're going to have is going to have to be a change. And I might be ahead of my time with this statement. Right? But I love the quantum schools and I never want to say anything bad about them. They're great. This is more of a cultural thing than it is our school. It's brought. Soto has it inside, has it. They all have it. And that works well in Asia. You know, they have a very disciplined culture. They understand this tradition, but we're less about tradition. We're more about. Like like. Hey, you know, I saw some. YouTube videos on this, I understand how it works, I'm good at it. I'm just going to go do it. I don't need anybody's permission. Right? So Zen will be the same way. Once people sit long enough and they wake up correctly, they're not going to stick around for some. Right now, there's a very it's a very unique phenomenon in our school that people will get their long robes and then they drop off, which long robes is when you become like a teacher? Low level teacher, right? You're not allowed to teach Koang as the leader retreats, but you're a teacher and so they'll get their long robes . It takes about four years, five years, depending on the student. And then they drop off and it's like they can't see why. And for me, because I'm younger, it's very clear to me. first of all, people think they're going to get something right. I'm going to get something if I get these long robes and then and then they get there and it's like, Well, nothing happened, right? Nothing special. There wasn't this transformation. And then the other thing is is it's like they have to see how far ahead they have to go in the school just to help people, because in the end of the day, that's all we're here for. We're just here to help people. And what are we here to help them do, help them with their suffering? Because it's somebody that suffering is something that every single human being on the planet understands perfectly. And what we are doing is we're helping people to not get rid of suffering. That's impossible. We're helping people to learn how to cope with it and work with it and to help their lives be a little better. And that's really what we're doing it. That's our purpose. Why? Why make it so hard and why make it so hard for somebody else to help somebody else to do that? Why? So why spend all your energy. In. Some esoteric process that's, you know, hundreds of years old, created at a time totally different than ours just to do something that you can just leave and go do. I mean, you know, there's been teachers in our school that have left and just done that, not zen masters. But there have been teachers that are like, Know, I'm going to do this, I'm just going to go help people. And they're doing it. And I must say they're doing it very successfully. And that's what's going to happen. And that if anything happens with schools in America, that will be it. That will be the collapse of them because they're refusing to meet people where they're at, they're refusing to change with the times. And I really believe this in my heart exams. As his son was here today, the school would not be run the way it is. It would be different and it would be different because he might have the keen eyesight to say, Oh yeah, we need to maybe just change the method, not change the practice. The, you know, the the bowing, the chanting, the setting. That's fine. I'm talking about the structure, how it's done, how we're meeting people, how we're connecting. It takes. People. Probably a good two to three days of sitting in retreat to even slow down because of how fast we're going. We're going faster than we ever have. We're going faster now than anyone's Ms. Soon-Shiong was alive 20 years ago. We got Sydney was talking about this. We will have. And I was talking to you like, so I'll be in bed watching TV and oh, I got this up for work real quick. I only take five minutes. I'll send an email. Oh, my computer. So then I got two screens, so I sat down and got a text message. Now I've got three screens. And you think in that society there's somebody is going to say, Oh yeah, I'll go in a 90 day retreat August at 100 a solo retreat ain't ever going to happen. It's not. Matter of fact, I can already tell you right now that I will never sit one day solo retreat, and that's one of the things that you have to do, or it's recommended you do to be a full fledged teacher in our school. And I'm not against solo retreats. I'm not against one a day retreats. I'm just saying that I already know I'm not going to do that and I'm OK with it doesn't. Bother me. Now if I could see myself sitting a three day solo retreat or a seven day. But I'm not going to I. I literally with my bonsai garden and my dogs and my responsibilities to it to the world is a lay person. I cannot take three months off to go do that. And that's OK. And so that's what I mean by meeting people where they're at people. We have to meet the lay person right where they're at. Zen is not. It's a mountaintop. It's right here in this living room right now. It's right next door. It my neighbors, whatever problems they're having, you know, or whatever down the street, that's where Zen is. It's in the inner cities. It's not some esoteric place. And so if that's the case, that's where the school needs to be. That's where the school needs to be going. Bernie Glassman understood this very well. I think he gave 26 people transmission, something like that. I don't know the exact number. He understood that, Oh yeah, you need to give this thing away, right? Give it away to the right people. But it should be at the discretion of the teacher and knowing that person's practice because they practice with them every day and they understand, Oh yeah, this person has it, their woke up, their safe person. This person won't hurt anybody. They'll give it to somebody. The teacher needs to be aware of it. Some teacher that's not even sitting with you way in some school back in Providence shouldn't be deciding this. It should be your teacher, the person you're sitting in the trenches with, the person on your side by side trying to help other people with that's who should be doing it. And that's the change that needs to happen.
Retreats
So, yeah, I guess I could talk about retreats. Our school. You know, we're I think we're the only school in North America that offers a full three month retreat nonstop. You know, if you are, I'm sure other schools have long retreats. Just not quite that long are the lineage we're from really emphasizes. I know that some other schools, maybe Soto rather than, do you know, six months of your retreat or three months because their summer in Winter Hill chase, they'll do like once a month or have a session and they'll sit seven days and retreats were vitally important to me because retreats is an opportunity to kind of stretch yourself further than you might have to push yourself farther to. Because, you know, intel, you do it with other and when you're dealing with other people, there's something magical about that together action because you're kind of doing it together. And it's odd to think, I remember the first time I really realized it because I went to Dharma Zen Center in L.A., Paul Park runs that great teacher Paul Park and he he had a retreat there. My teacher was leading it, but Paul Park runs the center, and I remember there is people that I'd never met before and it was great, great Zen Center. And I remember we sat and it's silent retreat. So you don't talk, you're not conversating and you're conserving, you're conserving all that energy, all that tea for introspection and any kind of conversation or any kind of too much eye contact even will kind of take your energy from that takes your focus. It's a distraction from this inside work. People think it's some kind of like austere thing, but it's not. It's it has reason. And I remember I sat with people I never knew, I never met them before and never talked to them. And at the end of the retreat, I sat with them for the whole retreat sitting across from people and you see you see them working through whatever it is they're working through. We're all working through something at a retreat. And you know, you see, Oh, they're moving and oh, they're, you know, maybe, maybe they go to the bathroom a lot. Or maybe they don't. Maybe they're solid, you know, and you know, you're watching and you can even though you don't know what's going on or some you kind of do. You can see it and you're doing it, too. Same time, you're doing it. And so by the end of the retreat, even though you've never spoken a word, you kind of know them better than almost you would is if you talk to them. And I don't mean I just mean that in the sense that you said it, you did it together. You did this thing. And and whether you're better or not for it is up to you. You know, it's up to the practitioner. That's the thing about Z is that nobody can fix you. Nobody can save you. Only you can do it yourself. You have to do it yourself, the teachers and the Buddha. They just point the way, the path. And so retreats. Yeah, very important. I mean, if you just look at the, you know, the story of the Buddha, he was basically on a retreat for five years. You know, between all his esthetic stuff and everything he did, more or less he was. He was earnestly seeking. But really, at the end is when it happened, you know? And so there's something to be said for that, something to be said for, you know what? Like, getting to the other side is something pushing yourself beyond the point you could do it and don't think some magical things are going to happen. It's not the the magic is the way it, it the way it affects your habit, energy, the way you're digesting all your karma and all karma is, is cause and effect. Very simply, you know, if you show up on time to work, you have good karma. You show up late all the time to work, you have bad karma. That's all it is, right? And so the consequences is on its own merit. So you may get fired. That's the consequence. It's not some mystical thing, and it's important to know that in the West, Westerners, most people that have a practice don't really understand karma what it is. They think it's like some mystical accounting system. And more than that, it's just cause and effect. It's that if I go up to the top, my roof and I step off, I'm going to hit the ground. That's what karma is. It's really that simple. And so growing up in this has to do with retreats. Growing up, we all have our likes and dislikes, right? We all like to get up at a certain time. We like to drink or coffee a certain way. We like to call our friends or do whatever it is we're doing in the morning. Maybe we like to get up, take a shower. But what happens is. When you're on a retreat, you can't do what you like. You have to do what everybody else is doing. So it's together action. So this forces us to come up against that like, dislike, mind and say, No, no, no, no, no, we're going to do this together now. Right? And so people think, Oh, you're going to you're going to go set a retreat. How wonderful, how relaxing. It's the opposite. It's not wonderful. It's not relaxing. It's tons of work. Know a great story. I heard once my teacher was on a retreat somewhere when he was younger and he was with another guy, they were sharing a room and they got there the day before it started. Or that night it was starting. And the guy had a girlfriend and his calls. All right. We're going to lay down. We need to rest. You know, we need to get some sleep before practice starts. And she was like miffed and mystified. What do you mean? You're just meditating? Like, what do you need to rest for? You know, not realizing how much energy it takes to sit and concentrate at that level and to look inward fearlessly. It takes a lot of energy. And so, yeah, you do need to rest a lot. Like matter of fact, after retreat, you might want to sleep a lot, you know? And so retreats are very important. I wouldn't want to do them every month, but I do like to attend regular retreats. You know, you saw when pre-COVID we do three retreats for retreats every three months, really once a quarter, you have a three day retreat. And and then if you want to stretch yourself into a seven day retreat, that's great.
Teacher
So when you get you mentioned them, and I think just to kind of if you guys could expand a little bit more to it, just just I'll see if it's just the idea of the teacher. I think, you know, I think you mentioned the importance of the two, you know, your two most important teachers that you kind of resonate with. And so, you know, and so I think in the context of the path, just kind of talk about your relationship when you met your teacher. Like, how has that evolved and how you get honestly in terms of specific details, in terms of challenges, you might have that, you know, I think because obviously, I think , you know, in this day and age where there's thousands of apps, meditation apps, you know, it's like, OK, this is why even though the teacher is gone and all the be all, it's still like you said, you know, it's helpful to have a teacher. And I think that the relationship is is being able to sound pretty meaningful to you. So you could expand on that. OK. So to talk about teachers, I need to talk about Buddhism. And if you look at Buddhism, wherever it goes, it, it kind of picks up in that society like it kind of meets a society where it's at. Like if you go down to different places like, you know, South America, maybe you know, there's these different religions everywhere. So it's important to know that so zen in America, even though our lineage is a Korean lineage and homage to Korea, for this, it's their jewel. We're Americans, we're not Koreans. So we're really not practicing Korean Buddhism. We're practicing American Buddhism. Now that's not that's not to say we deny our roots, it's just to say, Yeah, we're Americans. You know, when you went to the Zen Center, they did. You see any Koreans? So having said that, it's important that America hasn't done it yet. It's in our school, the schools, and it's started. But it's got a long ways to go. And I don't mean that in a negative way. I'm just saying in we are still in our infancy. I can see it very clearly. And what I mean by that is that we need to meet people where they are. You talked about meditation apps. And that is people look at that. I hear people talking about it is like competition, like we're losing people to meditation apps, and I don't look at it that way at all. I think that if you can find a way to practice doesn't matter what it is, you should do that if the best you ever do is to sit 20 minutes every day at home alone with a meditation app, that's the best you can do. Do that because our job is not to say, Oh, this is a particular brand of Zen or this or that, right? But what I will say is there is something to be said in the teachings of Buddhism. Buddha is very smart. But more importantly, he was a pragmatist like Buddha. Wasn't this lofty guy that had all these expectations. He's a pragmatist. So the teachings say and is a pragmatist, he knew that. You know what? The meditation without the teachings could be dangerous, and it could be dangerous because meditation can be used for bad things . You know, this history, you know, samurai used it for bad things. They kill people. You know, every religion on the planet is slaughtered. Religion is probably responsible for more deaths in this world than anything else. Let's just let's just get that out of the way. That's a true statement. And so let's not be delusional about what religion has done to the world. Does this mean it's never done anything good? But it has done a lot of harm. And so it's important that we have the teachings of some kind of a teacher, at least in the beginning, to guide us because a number of things no one like I heard, I was reading somewhere where bomb builders in World War two were learning Zen, so they could be more concentrate when they're building bombs to murder people. You know, so, so Zen can be used for bad things. You know, if you right now there's a big exploitation of corporate America is exploiting meditation. And are they doing it because they care about their employees and they want them to have a better life? No, they're doing it because they want to get more production out of these people. Let's let's just let's be completely honest, and there's nothing wrong with corporate America. It's the mechanism that's helped build society. I'm part of corporate America, but I I have a hard time with anybody trying to make money off of the practice, donating to a temple where you practice. That's one thing, but trying to make a living, make money off of it. Those are not people. So I would say, if you're going to do this wherever you go, the Dharma should be free. If it's not free, if they want to charge you, if they want to make you pay, then you need to leave now if they ask. Politely, that you donate, that's OK. We donate hours and center, you should donate to Zen Center, it's yours in center, but it should not be a for profit motive. It should be to sustain the temple, sustain the place of practice so others can work. That's it. And so it's important to know that. So without the teachings, you know, the practice can be exploited. So it is very important that we we guard the purpose of the practice that it should be, for one thing and one thing only. And that's how may I help you? That's what it's for. That's the purpose. Because it's a tool to dig that ego out. And so when I'm on apps and I'm on, you know, I'm doing the corporate America that Google said, I should sit for two hours, right? Or whatever. I need to know that there's nothing wrong with that, but that there is more. There's so much more there is. So to just reduce what we're doing to just this, meditating for relaxation is it's just it's just cheapening and devaluing something that's a jewel like this is the most important thing I've ever come across in my life. And it's not important because there's some great results I'm getting manifesting physically. It's because of this is it's an inside job, you know, so you have to meditate your way into it. And it's important when you're new. I would say there's no way without a teacher, without a sense center, I would be able to meditate like I do today. I can say that without a doubt, without Zen Master Ji Hang and I won't. I won't make any two ends ifs or buts about it. It's because of him that I'm sitting here because if it wasn't for him, we wouldn't have a Zen center. He would drive all the way to L.A. Years ago to sit in Dharma Center L.A. with our school. And he would do that every three months, you know, to sit retreats with them. And eventually, after three or four years of that, he got his Dharma teacher robes and then zen master Suzanne said, Oh, now you can open a center in Las Vegas. And he did that, and there's a lot of times he showed up a new way to come to practice. It was just him and he'd set up the cushions and he was just doing it 100% for the practice to be there for other people. And so that tri minds, that kind of motivation is the kind of motivation that if you're going to have a motivation, practice should be it only or my actions only for myself or for all beings and or to simplify it or my actions, only for myself or just for one other person, like just one. Maybe there's just one out there. I'll help, right? If I only reach like, I could be misquoting this, but I'm pretty sure I read a lot. The teacher that gave the message to Song Transmission only gave it to one teacher, one person. Then that's it. And then the music song started this whole school and has all these people who gave transmission to. So you do not know how just helping one person can affect you? Don't know. But I would say, if you're on an app, that's OK, but please, if you can just try as in center one time or even not as in center, maybe any doesn't matter any kind of temple that will teach meditation. And then you can go do it and perhaps Sangha and have a collective consciousness of people that are doing the same thing this together action. I would say that's something you wouldn't want to miss it. I wouldn't want to miss it. Not now. Yeah, so my relationship with my teachers, my number one. It was my only option, but I lucked out because I lucked out because it's important to have a teacher, but it's important to have a keen eye teacher. You know, they can kind of see what's going on with the student. This is why it's important to have a teacher that practices with you. It's like you don't want a teacher that's just going to like, you know, tell you what to do and then not do it with you. You want somebody down in the trenches digging the hole with you, you know? And so that's why it's so important to have a guy like that because they're right there with you. So when something comes up, maybe you particularly have one issue. They can see it and then they can help you with that. And it's happened to me as a Jehangir. You know, when I was new, I couldn't sit still, especially because my anxiety, I couldn't sit still. And so he suggested a mullah. You know, 108 beats. So I would use that, and every time I take a full inhale and exhalation, I'd go to the next speed. I go to the next speed. And when I first start doing it, I go all the way around really fast, right? But then eventually I was, you know, it took me 40 minutes to go all the way around. And then eventually one day we were there and he says, You don't I don't want you to use that here anymore. Not that I should use it ever. Just basically he was saying, Hey, now you don't need them all. Like, just sit. I want to see you just sit. And now I don't use it at all. Not that I wouldn't. I'm not against it. I don't need it. It's a distraction from present moment, if you would, if you want to call it that from breathing. So now I just sit, you know? And so that was one example. Another one is just being a practice with us every week. He's always there. So it's like, it's not like we're practicing. And once every three months a teacher comes, it's like I got to like some people that don't live in a zen center with an actual teacher. They like this band given transmission. And so it was very like the fact that I lucked out. I mean, I never would've thought Las Vegas would be the place where a real zen master would be. And they'd have a real school and a real zen center. Like, it's like you would think before Zen, I would think this is the last place it would be. But now I think this is the best place to be right because doctors don't hang out in gyms where healthy people are, the hospitals, where they're sick people. And, you know, Vegas has got some great stuff to it, but it's like G.M. Sing-song used to tell my teacher, Oh yeah, you're practicing here in the jaws of the lion, you know? And it's true. Many distractions here, like gambling, drinking drugs, prostitution, anything. You can think of this to buttress its here. And is, you know, I don't drink, I don't gamble. And I rarely go to the strip if I have a reason to go to the Strip. It doesn't bother me, but I don't go there because I usually have a reason unless somebody is in town or have a reason . And so being able to be on the cushion next to my teacher every day that, you know, every week, that's it for me. So if you're let me tell you something, if you live in a town that has a teacher that's been given transmission and their practice every week, and you can go sit with them for pretty much free with just donations and you're not taking advantage of that. Hey, you're missing out, you're missing out. Big time. And you're missing out on the fact that you're walking around with everything you need already. That's what you're missing out on. That's what they say. Zenz like selling water by the river. It's like so. You know, everything, really, it's like people don't want to hear that everything you need is already inside you. They don't want to hear that it sounds too simple. Sounds like no, that not. It's got to be because we're brought up our whole lives to think we need to be doing step out there, doing it right. And one of the. I'll tell you one more story about my teacher when I was new. He. He's given a Dharma talk, and it wasn't directed at me, it was just in general. So what happens is people will come into practice and maybe practice for a while, however long, maybe six months a year or two years, and then what happens is you start to gently wake up and. The the word enlightenment is such a it's such a catch phrase. Enlightenment isn't some esoteric thing. I don't even like talking. They call it the E word. It's like, 00, you know? But I guess call it more than anything rather than, say, in life. I mean, you're just you're waking up to mine, makes everything. Your mind is making all these dramas. It's making these likes and dislikes is making these opinions. It's making all this separation. And then you start to see all these mental constructs you're creating. And he says, what happens is people start. Then it ends like taking that single step off 100 foot flagpole and you're free falling into darkness. You're letting go of everything and you don't know where you're going and you're just dropping your free falling. And that's zen is because you're let go. You can't hang on anything. There's no teaching you can hang on to. There's no God. There's no amount of money. There's no education. There is no relationship. There's nothing you can hang on to because everything's impermanent. So when you do zen, you're completely letting go. More than anything, you're letting go. And that doesn't mean that we don't have relationships, it doesn't mean we don't have education. That doesn't mean we don't have a job. It just means that we can't hang on to anything like the man at the tree and hanging from nothing. He's got his hands tied behind his back, his feet tied together, and somebody comes along and says, Oh, why the body armor comes to China and you've taken a vow to help people so you have to teach this man. But you can't teach him without falling to your death. So what do you do? You know, it's like, you know, if you open your mouth to talk, you know, then you're going to die. What are you going to do? There's nothing you can hang on to. Not even you can't even hang on to the Dharma. So what? What then? And so go ask a man up a tree, he'll tell you.
Teachings
So it's important to know when we start to talk about the teachings and which ones like I've really digested that already problems because. You may be here. Really true statement like, but the truest statement in like one of the books I've read, here's a statement of one of the teachings. The true statement is a stake that even a donkey can be tied to for 10,000 eons. Right? So it's really meaning it doesn't matter how true it is. You can still be attached to that right and then you can't waver from it. So I don't actually have any attachment to any teaching. But I I mean, I will talk about some of the teachings. And the reason that is is because I don't know mind is infinitely better than any teaching. If you have, don't no mind. You do not need a teaching if you have clear mind. In fact, like if you were to have clear mind all the time. Practice is actually not even necessary. Questions are not necessary, meaning because you're clear, but because clear mind is not permanent. Practice and teachings are necessary. So that's important to get out there. So I would say for me, I didn't gravitate towards traditional teachings and sutures that we chant the Heart Sutra every day. It's the shortest suture, probably arguably the most important. And that's why we chant it in wherever our school is located. They have it. They have the Korean always, which is poly Sanskrit. But then they have whatever country it's in. It's a native language. So if you're, you know, if you're in Mexico, it'll be in Spanish. If you're in China, it would be Mandarin wherever you are. And so ours is in English and you chant it every day. The one in English. So you memorize it. So you know it. And that's the one sutra that I've asked. That's the only one and only suture. It's not that I've read, but gone line by line and actually. Try to understand what they were saying, and I don't want to get into that teaching. But the heart teacher is very important. It's a good sutra. The most important thing out of there is no attainment with nothing to attain. There's nothing to attain, except that there's nothing to attain. That's what you need to attain. You attain that realization that, oh, there is nothing to attain here. That's why they call it the jaitley's gate, you know. So we talked about this yesterday, but I'll say this is a great story. So the two books primarily that I really gravitated towards. And the first one is copies of Zen Buddhism as a sad song, and it was really compiled by him. He really wrote it out of the master song's teachings and some of his bass lines. And really, that's probably honestly the best book ever written on Zen ever, because it talks about every aspect, all the way from Treverton to Mahayana all the way through everything. What karma is, it talks about all the teachings. So if somebody didn't know anything about Zen Buddhism or to read that they would come out having a decent idea of the the ethos? You would say. But in that book Zen Master Sin Song, you know, he talks about it says in Tehran, it's like writing turbine tradition. It's like in which they say it's the Buddhist tradition that's up for debate. I'm not a scholar, nor do I care to be. But it says, you know, going in heaven is like on a bicycle by yourself into interurban. And then in my honor, it's like everybody gets on a bus and drives there together. And then and then it's like, we all get on a plane. We take off, we fly around a little bit and pretty soon we land and we're in L.A. We don't know how we got there. And and I'm not even joking. That's what my experience like. I got to experience Zen. The way probably Zen should be experienced or most people have is that I just sat and practiced and I had this, the Buddha already said. He said, Don't take my word for it, try it yourself. And so that's what I did. I literally have the same. I would never compare myself to the Buddha, but I had the same kind of experience like it's just you just sit on the cushion every day and you get this awareness on your own. A teacher is important because they're the guide. And I think it's really important when you do that, you have a Zen center somewhere. And this this is kind of like my teaching is that you do need a zen center somewhere where you can go on a weekly basis and sit with other people and do it. And. Lots of people could tell you all the different ways of meditating, but they don't do it. So when you knew it's important to just decide on one and then just do it nonstop for a long period of time, and then if later on you need to change, that's fine. But get a core base where you have a practice and you're doing it every day and more than anything. This practice is the teaching. You know, we have boughs. We have chanting, we have sitting, you know, we've got mantras, we've got all these things. And it's like it's an amalgam of some of the best, like her like, hands down. You know, Lindsay's got the discipline, you know, and from what I can tell from what I've seen and read and they've got that, you know, they've got the cojones and everything. Soto has the city and then Korea. We have the chanting, right? And because hands down, I didn't like chanting when I started. I just I didn't mind it, but it didn't really resonate with me. But then once I had the great droning memorized, then it was like, Whoa. Because I could chant it without being around people I can channel on my own. I could chant throughout the day, and this chanting it throughout the day was more powerful than I realized. And I've now chanted it so much it has a way of creeping into your subconscious. I got to a point where, like I'd be eating and before I even realized it, I could hear it underneath. So it's always kind of the undercurrent.
Chanting
So for me, first of all, the purpose of chanting is to chant, that's the purpose. It's nothing more than that. We don't need to complicate it. We. But if you really want to get intellectual with it, which is already a big problem, then we chant because it sets us up for our. Number one, we chant because it's another form of meditation. There are retreats where all you do is chant like you'll be going. I can't remember the name of it, but you know the it's the whole. The whole world is chanting, That's it. And and for me, there's a lot of chance we have maybe ten, seven, eight. I don't know how many there is, like my teacher has them all memorized. I don't. I don't care to. Doesn't bother me. I'm very zen when it comes out and I have the main ones memorized, like how much three jewels, hearts, suturing Korean , hard suturing English and the great drumming. Those are the ones I have memorized. And and the reason I have memorized is because holding a book all the time is when you're in retreat, it's it's a vexation, it's it's extra. So I'd memorize them over time through practice. The great irony is definitely my favorite. I love it. I really like the harsh feature in Korean. Sometimes I will chant that. And you know the purpose of the chant. If you look at it, it's a form of meditation. And if you change it enough and you're just chanting and that's all you're doing, then you're probably not thinking right? And so it kind of. And you know, I've I've seen a couple of articles on on the internet about singing and how singing affects different areas of the brain. And it calms you emotions like you could go out there and search those. So there are actual probably sciences behind what happens when we chant, right? But Zen says, Who cares? Just do it, just do it. Who cares? Don't get into all that. Don't get caught by the why or the how right? Because being caught and attached to that intellect is why we sit the cushion. That's why we're here. We don't need Zen or meditation or Buddhism for that matter, if if we're going to just worship that intellect, right, we can just go to college . Over and over and over, you can get all the books. They'll be up this tall and you'll read them all. I'll tell you a story. This is good story. It's a true story. And. Saying Who's a monk that was originally from our school? He tells a story, and many people in my school know this story, so somebody from the school's watching this, they know. But he tells a story at Providence when Damascus's song was still alive and he was there leading a retreat that a member of the school was there sitting and night. He was sitting at the kitchen table, you know, by himself, and he's reading the books, you know, very intellectual person, probably very bright. Most people would try to practice, and it usually really smart people. That's why we end up here because our intellect causes us the suffering. And so he's sitting there and he's reading and he's looking for the answers. You know what answers the answer? You know, if I just read enough? And then all of a sudden, he felt some presence behind it. And it was a massive suicide. And he said, you're homesick. I'm sick. Well, I'm not homesick. I miss my home. The last thing someone said, you're homesick for your original home. And that's it. That's it. That's why we can't. That's why we sit. That's why we are talking right now.
Cultural Obstacles
Cultural Buddhism is the biggest hindrance to Buddhism in America currently, no doubt, no doubt that's why we are literally dying on the vine. It's very clear to me in the back. I mean, hey, culture Buddhism sitting here in this living room, I have a Buddha right there. That's it. That's culture Buddhism. Because the Buddha even said, I don't make any statues to me, don't make any, you know, he didn't want any that he'd want to see this. People man did this. And you don't culture Buddhism in our school. You know, our school teacher. The of the whole quantum school Zen is Bobby Rhodes, a fabulous teacher. Wonderful teacher. She's a woman. And when she goes to Korea and sits with the monks over there, she's not allowed to sit in the front row with all these massive ships in the back. She's a woman. You tell me that's not cultural, you know? So it's still here. It's alive and well, and that is what we need to like a sharp sword cut through. Because if we can do that and we need to definitely, though not deny our heritage, we need to be respectful where we come from. I love Korean Buddhism. What it's brought like. I was marching song, I would say. Out of all I've read and all studied, Zen Master was probably one of the most, if not the most important. Zen Master of the 20th century, at least for America, was because look at our school, look how big it is. I wouldn't be sitting here without that. So what I would say is that the cultural Buddhism part, we need to recognize where we're from. Like, for example, sitting on mats. That's cultural, you know, because in Asia, everybody sits on the floor. And so it's but Americans were brought up in chairs. So our legs and our, you know, it's hard. A lot of people think, Oh, if I can't sit lotus, I can't meditated, can do this. And then they're saying, if they sit in a chair, right, and I'd sit on a mat and I had to force myself to do it and I could do it. No problem now. But it wasn't easy. It would definitely been easier to somebody, you know, and I could have sat in a chair. But my ego when I was nude didn't want to let me write. So in our Zen Center, when a normal before COVID, we would automatically just put half a row and chairs out that way. It's not like a big thing. We're taking a mat out and putting it in. And that's just one small thing you can do to kind of overcome that. And then, like I said, the I really like what you said about the peer to peer teaching. That's important. I think that's cool. But I still think I don't think that a teacher is outdated. I think a teacher is still important. I just think that what's happened is a result of the internet is that the value of a teacher. They think it's decreased, but it hasn't. A teacher is just as important now as ever because it's when I read something online or I googled something online when it comes to something I can always tailor to me. But when it comes to matters of practice, there's I'm telling you there's nothing better than sitting on the mat next to a teacher that's done it. And as want to show you the path, it is powerful. So, yeah, so yeah, I think that that end of it, we do need to recognize like our chance. There's a there's nothing wrong with our chance or any things you don't really. For example, the great tyranny. There's no that I know of and people I've talked to. There's no literal English translation for the great tyranny. It's in Polish Sanskrit and. It's good because you don't understand what you're chanting and you're not supposed to, because if you if you understand what you're chanting, then thinking starts coming up right and you're supposed to be just chanting. So that's why the Great Drowning is such a powerful channeling. You don't want to know what it means. You just don't care. Matter of fact, if you chant, you know what it means, you already understand. So, so yeah, I think that in the long run culture, Buddhism needs to be approached and it needs to be fit for America. You know, if we want America to continue for resenting it or any Buddhism for that matter, it needs to gently start meeting people where they're at. Adapt to the culture and to the society it's in, you know?
Fruit of practice
So I think this is my maybe my third or treat or fourth retreat. We had gone to like late at night and I was tired. I remember, I think I thought to myself, I could not. I did not want to do one more round. Like if he tells us we're going to meditate even one more round, I'm going to get up and leave because that's how tired it was. And I was just like, we had practiced hard and I got in my car and drove home because, like I said, we weren't staying residential and I remember I was at the tea pot making a cup of tea just so I go to bed like I was just going to make a nice cup of tea. And I'm like, I won't. I won't even lie. I was literally thinking, Why the fuck am I doing this? Like why? What's the purpose of this? And all of a sudden it was just like, I just realized I was like, I'm not thinking about anything. Like, I'm just completely clear right now, like normally my my would be like a squirrel cage, I just have, you know, I thought, you know, and I just thought, Wow. Like, it kind of crept up on me. I was like, I just realize it like. And that's kind of the fulcrum for what happens in like when, like me and my girlfriend at the time, I remember I used to start to be a little more aware, like if we had any issues like, I would start to raise my own level of awareness, like, oh yeah, like looking at myself more, maybe being able to apologize easier if I did something wrong, which, you know, if you ask her, are many things wrong? And so that kind of stuff. And then relationship with my father, I cannot stress enough. My father started practicing because we talked about this, but not on camera, but my father had. He. Hits soccer practice at the same time I did, he heard I was going. He said, I want to go and I didn't. It's not. I didn't want my dad to do it. I wanted my dad to meditate and get but get become a better person or whatever I thought meditation would do at the time. But I was like, Then he started coming. I was like, Well, this is my thing, you know what I mean? It's like it said, Now it's our thing. It was my thing. And for me at the time, it was a mild annoyance, you know? But then when it up happening is. He started meds, cancer, and we're practicing just as hard as each other. We were like doing it and we were sitting retreats together and we were like. And I didn't know it at the time, but after so many years, my dad, my dad, was talking to a monk named him. He's he was originally from our school. He's he got transition from Zen Master Samsung, founder of our school, and we were communicating through email a little bit just, you know. And he's he's a monk. That's all he does. And he said he realizes, Wait, you and Josh, your father, son, and you both practice. So wow, that's a doubly lucky because for a person, especially in the West, anywhere, really, but in the West, for a person to start practicing is rare. But then to have a father, son or even father, you know, daughter, whatever, it's like rare. And so I was like, that's when it really hit me like, Oh, wow, it is like really rare that we're both practicing. We're both doing it. Like, I have pictures of us up at Mount Charleston, at a retreat. And that's probably the most unexpected thing that I've gotten from the practice that I thoroughly enjoy and our relationships gotten way better because of that. You know, we listen to each other better. We don't have nearly as much friction because, you know, when you have a Father-Son situation is the dynamic. You know, the son does what he's told, you know, and if you're not meeting expectations, you're you're you're very well aware of this and you know, the traditional. But a lot of that has fallen away. And it's because of the practice. And it's because he's doing it and I'm doing it and and the thing about the practice and what I love. And another thing that I've gotten from it is. I really tried, especially when I was going through anxiety a lot. I really try to force myself to believe in some kind of higher power like a God or something, because if I believe in it hard enough, maybe like it would give me hope and something like like, like, maybe God will fly in on his cape and save me. You know? And I in the worst of it, I was praying to God every day like God, please help me, please, I'll do anything you want, just help me in. Never, never came in. That got me to really let go of that. I didn't have. I didn't. I didn't know what I was going to do in spite, you know, not in spite of it, but in replaces that and to the practice I started. It's a gentle awareness, so you start gently looking inward, right? And when you have problems out here, then what happens is the more you sit and the more you sit in, the more you. I talked about a big mountain of karma and the massive swan song talks about it encompasses and it's like a huge mountain of karma. And in order to melt this huge block of ice like the practice every day. And it's not one day of doing it. You have to do it day after day after day after day, and it gently starts to melt and you gently start to look inward. And that has been my experience with Zen for me. It wasn't a it wasn't like I went to a retreat. I woke up. That was it on Enlightened now. It wasn't like that. Nothing like that. It's nothing like that today. It was a slow, gentle awakening. A slow, gentle. And it was an awakening to something esoteric or special. It was an awakening to a wait a minute. I have everything I need inside of me already. I don't need some God. I don't need something outside. I don't need some mental construct. Then I'm not even sure is real. The people are telling me that aren't even sure is real because somebody told them that or some story written down on the book. And I think that's a really important point. So, yeah, so for me, the fruits of this practice and what has it brought to me, believe it or not, it's the simplest things it is being able to when COVID happened, and that's another thing COVID happened, and it was very scary. I remember like we were just at the CNN center practicing. And I've been coming to the Zen Center now, six years and the last time I was really there, I've been there the last month or so, two months since they opened back up. But before that we didn't have practice because we were canceled and the last time I was there, it was a three day retreat. We did. And I remember before we left Cove, it was just starting. We were wearing masks. It was, you know, we were spaced social distancing. They were just talking about social distancing and what everybody's going to do. And I remember thinking, I hope this doesn't last more than 30 days, you know, and here we are a year and a half later and now now more than ever, this practice is relevant. It's needed. And the reason that is is because I think people finally got a up call to, you know, you're not going to be able to distract your way out of this one. You're not going to be able to work nonstop and distract yourself. You're not going to be able to buy a lot of stuff, not going to be able to go gamble. You can go out to eat all the time, whatever it is we're doing to keep between us and whatever's going on up here trying to outrun it. And so I think a lot of people there at home and suicide rates have gone up. Mental health issues have gone up because people than most people do not know how to. Genuinely deal with suffering, they don't, you know, this permanence, this inevitability, this sitting with your head all day and I was lucky, a lot of a lot of people are lucky to have this practice. Like I could take comfort in the practice, I could take refuge in it. And I really feel like in some ways I've been on like a solo retreat. You know, this last year, year and a half, I have been working and I have been doing stuff, but it's basically just been me and the dogs bonds I garden. And every day I mean, I've gone two or three days. Sometimes I leave in the house. If I have a reason to leave the house, I will. But you know, I was going in time and, you know, and I did get COVID. I had it in January and I was lucky, didn't go to my lungs. I didn't have to go to the hospital, you know? And so it's like, Hey, you know, I was in social this thing like, you're supposed to, but I'm sure I'm human and I got lax. Maybe I touched the pin pad and I didn't wash my hands right or something. And because we were in the it almost a year when it happened. And so, you know, it's this, it's this big. Don't know, we're in this world right now. And so now this practice is more important for me than when I was new and but I'm not as attached to it as I was. You know, I when I sit today, I'm not trying to get anything and anything I do get. I don't attach to, you know? So today my focus is primarily just the general awareness, the breathing, trying to make sure I can sit each day, going through my day, taking care of all my responsibilities, trying to. Recognize when I get caught. Maybe I'm angry. Maybe I'm insecure. Maybe I'm happy, you know, and that's good, too. And so this practice is not nihilistic. It's not. It's not to say, Oh, everything's empty. Nothing matters. Things matter. But the little dramas in my head don't matter. And that's the key is I can realize today that my thinking isn't real. It may be real to the degree to where I can use my head to problem, solve something for work, maybe to create something good. But it's not real in the sense that it doesn't really matter what side of politics I'm on. It doesn't really matter if I believe or don't believe in a higher power. It doesn't really matter if I'm going to convince somebody else, right? It's not to say I don't have some of these beliefs or opinions. It's just to say I don't have to hold onto them so tightly to where I'm creating immense separation from other people. And so it's, you know, so it's I'm still there's still separation. I'm a human, but it's less it's less.
Professional
So my profession is real estate, I like real estate, I have no attachment to it, like I don't love real estate. I love it as much as you can love a job, if that makes sense, right? It's still a job. It's a career, but it's still a job. So I do. I do like it. I like it more than I've liked other jobs I've had. What I love about real estate is that I've always had a problem with authority. I don't like them, but I want them to love me, right? So as a kid, you know? So there was that. But real estate allows me to kind of I don't have to be careful. The boss has to be accountable to clients, right? And so and I can do that. I don't mind being accountable clients. I really enjoy when I get a client into a house. Maybe they felt they couldn't. Or maybe maybe they just thought they couldn't get a certain house or or something happens. And I just help the client and I really try to go above and beyond and being helpful and just do it. I really enjoy that feeling like that's a good feeling like I feel like, Oh yeah. But when I was doing real estate, I had never worked in sales or customer service. I'd always worked in like I worked in aviation or built airplanes. I worked in. I worked as a motorcycle mechanic, so I'd always worked in shops. So there was a culture of that, and you only have to see the customer, you know, once a day or whatever. So I wasn't used to catering to clients. And so what would happen when I was new like clients would be difficult. And I just want to fire them. All right? I wouldn't, but I'd want to because I didn't know. Like, I was like, How am I supposed to be so crazy over like 200 bucks or something? Write something on a quarter million dollar deal or worry about $200? But what happened is a shift happened to me, and the practice helped a lot. I because if you do business that way, you won't. You won't be making money, right? Because every client has something that is particular to them. So what I started to do is I stopped. This is where Zen comes in. I started asking the question, What is difficult about this person? What are they fearful about? What do I have to overcome, right? And then I try to realize it, right? Like, Oh, maybe they're just fearful about, you know, they want to make sure they have at least a certain amount of square footage. Or maybe they're just fearful because they want to make sure that this roof repair gets taken care of, right? They just need reassurance. It well. Right. So what I started doing is doing that and and I stopped being angry if they were difficult, internally angry. So I started just asking questions. OK, OK. And then I just started like, OK. And then what do I need to do to overcome this? I'd ask, What do we need to do here? And just being more of a facilitator? Right? And which is what your job is as a real estate agent to be a facilitator. And so I started doing that and I started getting good results like the clients were happy. I was happy because it wasn't all of a sudden it was more of a it was more of a Oh yeah, I know I just had to find out what I need to do right? And and then I remember one time there was a realtor fired one of their clients, and my lender called me says, Hey, the realtor fired him. Do you want this client? And I said, absolutely. And he said they may be difficult. I said, I don't care one way. And actually, it was a really nice person and I really liked them. And they they were just particular about wanting good customer service. And there was a couple of things that I was able to overcome those things and I got him into a house and like, I really enjoyed it. I really enjoy what I do in that sense. Right? So, yeah, in my profession is Zen has helped. It's helped me because I deal and industry of people helps me get along with people better. So, yeah. All right. Well, so then to get. To then Bonds I Bonds II is 100%, then it just is. And what I mean by that is that bonds would be considered an outside path, as my teacher would put it or the book, I guess. But it's an asset path in the sense that in order to do bonds, I bonds, I, first of all, is a very obscure thing. In Asia, it's more popular in the United States, it's it. We are now in the golden age of bonds for America. And what I mean by that is that. Just. Now the correct information because of the teachers we have, Ryan Neal, you know, Todd Slay. For these people that have done the work, Ryan's went to Japan. They brought the correct information and techniques to us to where we can. At some point, America will be able to do bonsai at its highest level. So we are literally in the golden age of American bonds. And because of Zen like it, to be aware of that, a lot of people are probably not even aware of it. There are some, but a lot of people probably, you know, they're just OK. They don't realize how important. Like, how many times in history have anybody been able to know they're in the golden age of anything, right? And I get to be aware of that, and this really hit me last fall. You know, good person I love he's a bonds ideas. Todd Slavery's a pro. I adore Todd. He's a great human being and he's an amazing artist, and he takes the time to come here and work with us. And he we did this reporting workshop here. It was all day at my house. We did like four trees, five trees in the day. And when he left, I was so humbled that I get to not just be part of the golden age of American Bonsai. Whatever sliver is my part, but I get to be aware of it. And it's because of the zen that I'm aware and I'm aware of how important these relationships I have are these people. I have a good friend of mine, IRA Sison. He's a club president here. And he brings these amazing people here. He brings them into my house, right? And you know, it's like, I get to have these really, really amazing people in my life, you know? Ryan Neil, for me, he's arguably one of the best artists in the whole world. He came to my house, you know? And so, yeah, I love Bonsai and I love it. And the actual doing bonsai is it's it's unique in the sense that it's part science, part art and part craftsmanship. It's really an amalgam of all three. It really is. And people will argue each different point. But the science is in the the care, the horticulture aspect of the trees, like the nutrients, the watering. These type of soil mixes, the the pruning different times of year, the care, the the craftsmanship is in, you know, the deadwood creation, the some of the repotting, the wiring , the wiring. I mean, you can literally wire a tree for twelve hours. Some trees like there have been trees. It took me days to wire. I couldn't sit. I had to do it like four hours at a time because I had work and it just sit in the studio and I would do four hours at a time and you get it first. It's difficult because you're sitting there watering all these little tiny branches over and over and over, but then you get what's called wire endurance. Todd Schaffer introduced me that term wire endurance and and then it's a meditation. So you're literally. So what I would do is, and I'm not so zen that I don't listen to music when I when I work, so I. But then you could say only working and listening is 100% zen, right? So whatever you're doing, just do it. But I would I will often listen to like every Metallica album downloaded, so I will put Metallica in my headset and I will just wire and I'll go and I'll be totally 100% total flow concentration. Somebody just. Boom, boom, boom. And then what happens is. If. first you see this map of a tree, it's just a map and a healthy tree will do that. It will be outgrown, blown out. And then what you'll do is you'll start at just the bottom branch, you know, one branch and you'll do the whole thing. You'll think, Wow, that looks like a branch now. And then you go to the next and the next. And then before you know it, it's like you look back and there's a tree, you know, and it's like, boom. And that's that said, that's bonsai. That's so Zen is definitely helping me in bonsai and bonsai is helping me in Zen, because bonsai is a very patient practice. You, it takes. It can take years or decades to get trees to certain levels. And I'm not arrogant enough to think that I'm going to get to that level. But I. Like to, you know, I like to and to get to that level, we're not for me, but for the trees. I would like to see the trees become the best possible tree they can be. And that's why I work so hard at Bonsai because I really am doing it for the trees. I'm doing it for the art, for so just to do it. It's not really the end result for me. It's the doing it. I love to do it and I can do it tirelessly working in the garden. Yeah, it's tiring physically, and I do get a little burnt out at times, but I never think I don't want to do this. I always think I love this, I love this, and I feel better doing it than I've ever felt coming home from any office job than I've ever felt from doing any other kind of work. It just because I get to do everything I love to do. I get to create. I get to be a craftsman. I get to do art. And it's like, So yeah, it's yeah, it's like right here. That's it. Yeah. If that's what you say, it sounds, you know, it's a practice. But like, you know, when you say and and the awareness that you are over the age of bonsai in America, that, like you said and also you say, you know, it's a very zen that one of the guys didn't quite get like because it sounds like you start outside at the same time you started that kind of right. Oh, that's true. Yeah. So it's like you came to Vegas, and that's where you begin to pick up. So. So that's why I was like, What does it mean to take it to the next level? I mean, besides, I mean that awareness. I think what you alluded to is that having a concentration, that awareness is what allows you to really excel at bonsai. I mean, it's I wonder what what it sounds like, because without that Zen Foundation, you, you mean. So I. Not be it the same, because that's what that's what I'm hearing about. Maybe. Yeah. So I would say that my zen practice and my bonsai practice are actually on the same. They're linear, really, because I, like you said, I've almost started them at the same time. I was doing Bonsai a couple of years prior to Zen, but I wasn't doing it at the level that I am now because I didn't have the information, I did not have the right teachers. So once again, teachers are so important. So really, I'm lucky I literally got to have the best teachers in the United States right now for Bonsai and some of the best teachers for Zen. And so literally, it's like, boom, I had these two rails and I'm not promoting bonsai. Like, it's very hard. It's difficult, like you will slave. But what I'm saying is. That it's just. Both happened at the same time. And actually, I'm glad you brought that up because I never thought about that. And it's true. They both happened at the same time, and I am growing and evolving and both at the same time. Yeah. So it is special, I guess. Double special. Yeah. Yeah.
So, it was just 100% the practice I was experiencing, and in hindsight was exactly Zen Buddhism's approach. Meaning Zen relies less on answers and more in questions and experiencing the Dharma by the individual practice first hand and not relying on any Dogma or Beliefs handed down by others. Much like the way the Buddha was awakened. So the first time I heard Zen Master Ji Haeng give a Dharma talk I was blown away. I had never heard anyone talk about the mind and the science of the mind in that way. It was just simply so powerful that I didn't have to believe in anything or buy into any dogma. All I had to do was sit and meditate and look within. This was very contrary to the way we are brought up in the west, believing that we are lacking something and that only god can fill this hole inside of us and the only way for that to happen is to Believe with blind faith. Zen woke me up to the understanding that I am already 100% complete with no cultivation necessary and that I lack nothing that isn't already inside of me. Only my thinking is causing this separation.
How has the path manifest in your daily experience?
Zen has changed my view on every single thing I do throughout my day. Zen has helped me to be better at my profession, Bonsai Art, relationships and most importantly, the relationship with myself. It allows me to see more clearly throughout my day the reasons for my decisions and the reason for life's little vexations and dramas. Simply put, all of the daily occurrences good or bad is a chance to practice my gentle awareness that is a result of my daily sitting on the cushion and practicing. Only in this way, looking at my own habit energy can I be more helpful to others and be able to listen to others suffering. The most important thing we can do to help others suffering is just to listen 100%, we don't even have to have answers for them. Only listening.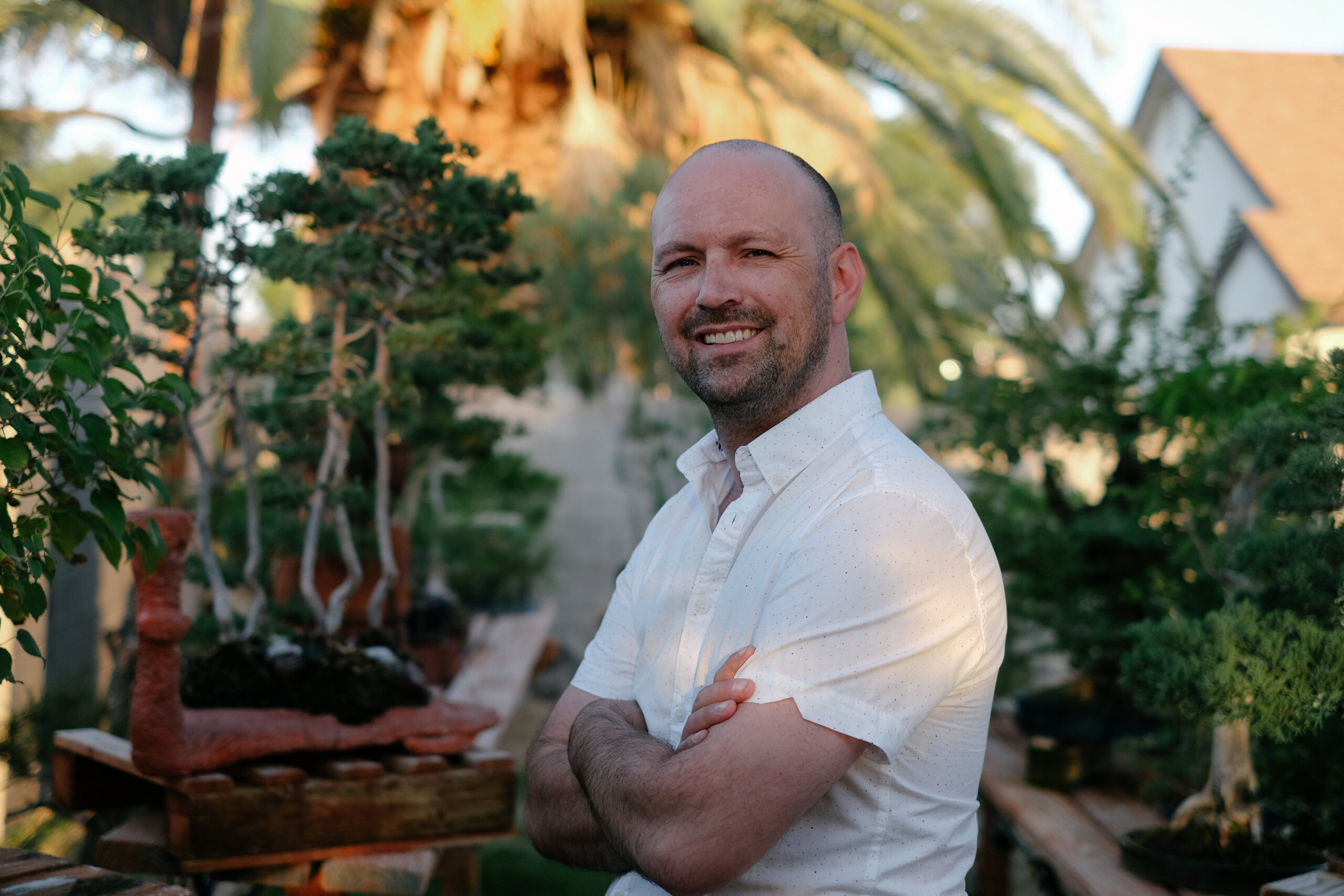 Josh is an Bonsai artist and
his artistry grows with his practice.
If you explore other lineages within buddhism, how did you come to decide on which lineage was right for you?
So, it's very important to realize regardless of linage it's the same Buddha. I was drawn to Zen because it primarily focuses less on the written teachings, and more on the practice of Meditation. Having said that, I could sit with anyone in any linage and have no problem. I could even sit in a Christian or any other denomination church and it would be no problem!
The reason I joined the Zen Center of Las Vegas was because of my teacher, Zen Master Ji Haeng. He could have been teaching in any lineage and I wouldn't have cared, because he is who I chose to follow. In Zen a teacher is a guide that helps you navigate the introspection into self, the reason Zen is so unique is because your teacher is doing it with you at the same time. Teachers are normal people just like us, and its important to remember that.
What are some of your practices/rituals that you do to support your spiritual development (meditation/prayers and etc)
I try and sit an hour each day of Zazen. (Seated Meditation) And I often chant the Great Dharani throughout the day.
I also attend the Zen center weekly and practice with other people. Sangha is the most important part of any practice. Together action is the fuel that helps us when times are hard, and we share with each other when times are good.
Which sangha do you normally attend?
I attend the Zen Center of Las Vegas; my role is a man of no rank.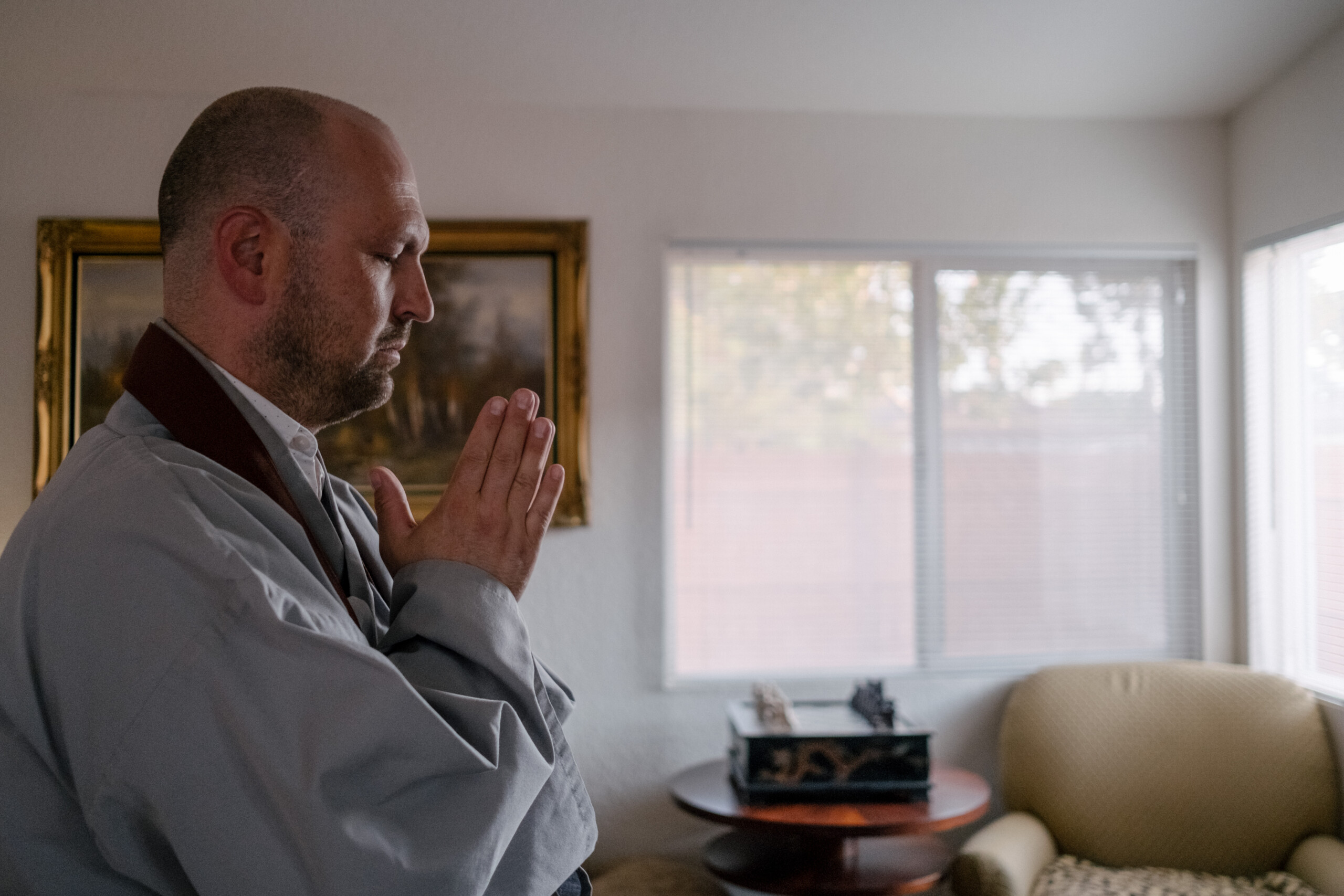 Zen woke me up to the understanding
that I am already 100% complete
with no cultivation necessary
What is your primarily profession?
My primary profession is a Real Estate agent. I do however work very hard at being a Bonsai Artist, and my garden has around 100 trees currently. I would say Zen has helped me to be more focused on the discipline of Bonsai cultivation. Bonsai shouldn't be reduced to being a hobby, it's much more than that, it's a Vocation and or Discipline. Anyone that has practiced hard at Bonsai cultivation will understand this very well.
What teachings/practices have had the greatest impact on your life?
Breathhhhhhhhhhhhhhhhhhhhhhhhhhiiiiiiiiinnnnnnnnnnnnnnggggggg…………………
That's the most important thing that has transformed my life and everything I do, the breath. It's the mechanism that centers me and its practice is the most important thing I do in my day.