"No sessions, no breaks." This is a saying in the Vajrayana Buddhist tradition that seems to be the theme for my spiritual journey. I remember talking to 'God' when I was three years old. This was the language I heard around me, echoing from all natural phenomena and relationships. I knew it was about being present to the moment and connecting with something beyond my limited self. I spent a lot of time inside my introverted nature discussing reality with an unseen presence.
By third grade I wrote a paper on the "death of god" theology that was in the headlines. I thought it was a weird premise to state that a transcendent deity could experience death. So I humorously indicated God was actually alive at a hospital in St. Louis under an assumed name. My teacher thought I was a strange kid. She was right.
My interest in what drives people to a journey of self-discovery continued in high school when I made a short film about the individuation process. I called it "Roles and Jam", referring to the masks we wear and how that false self gets us into so much trouble. Although I played the game of excelling as a student and finding myself in leadership positions in various school activities, a part of me was a detached observer. It was simply a mask I was wearing to be a part of the high school scene.
I was also interested in the scientific approach to what makes people tick. I began my college experience by majoring in biochemistry. Due to my academic performance in high school I was placed in advanced classes. I remember a moment in a biochem lab when I was isolating DNA from a desiccated rats liver. When I saw the slimy material dripping from the glass rod in my hand, I thought to myself, "What does this have to do with anything?" Later on, one of my roommates killed himself in our shared apartment. He literally blew his DNA all over the place. As I picked up pieces of brain from furniture and album jackets, I had an epiphany. I entered the Religious Studies program and graduated with a degree in Comparative Religions.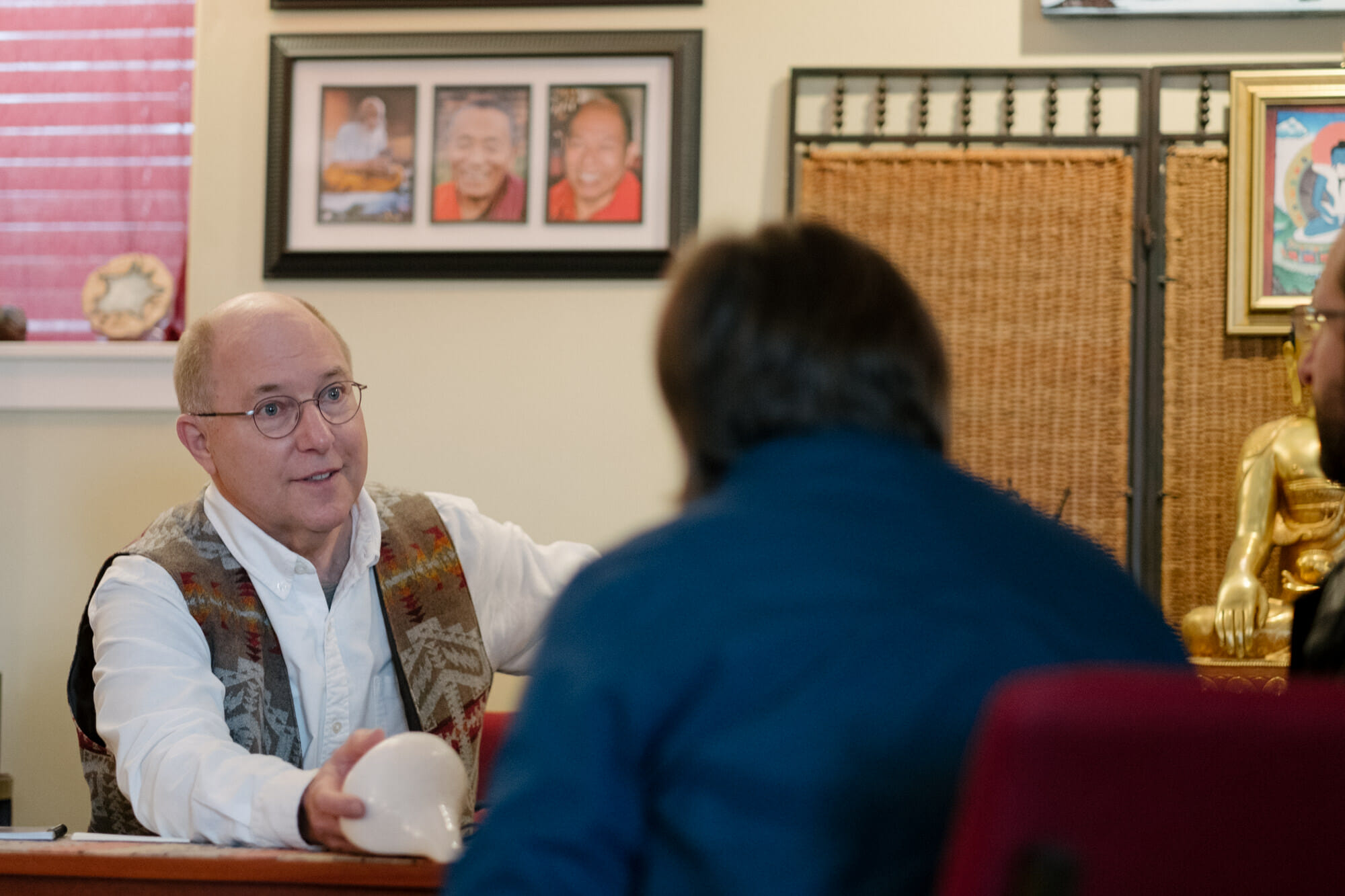 My introverted nature and inclination to discover
the true nature of mind as reflected in wilderness,
lends itself well to the practices of Vajrayana.
I went on to graduate study in theology and clinical psychology and took deacon ordination in the Methodist Church. In 1975, my seminary sent me as their representative the to the World Council of Churches meeting in Nairobi Kenya. My eyes were opened to the global church and how it was exported to places around the world. I saw how the power belief often superseded awareness of local needs (ie.missionary work) and experienced another epiphany. I created a multimedia production contrasting Christian ideals with the simplicity of native customs and practices.
I left seminary and decided to follow my inclinations toward meditation and inner direction. The journey took many paths with lots of twists and turns. I studied with a Hopi shaman, a Zen master, and engaged in various meditation practices. I eventually found a spiritual mentor in the yogic tradition and studied and practiced/taught yoga for many years. I was a licensed massage therapist with my own private practice. I even got certified to teach the in Enneagram tradition of personality awareness and development.
Finally, I went to a seminar taught by a couple of brothers who were Tibetan Buddhist masters and I was home. What they taught was inscribed upon my heart long before my parents were born. I recognized an echo, a trace of a long forgotten memory. What they taught was, "no sessions, no breaks." I began to practice in the Nyingma lineage of Vajrayana Buddhism and never looked back.
As years went by, people began asking me to teach about Buddhism and, long story short, this led to the founding of the Natural Mind Dharma Center in Bend Oregon. I teach here and through the local community college. I also guest lecture at local high schools when they offer world religion courses. I am closely connected to the hospice community, offering classes on the Tibetan Book of the Dead and volunteering as requested to be present for the final breaths of some folks.
Now, backing up a bit, this entire journey played out on a backdrop of householder dharma. I have been married for more than forty-four years to a wonderful woman named Tarn. She has been a supportive partner along the way. I worked in many jobs: solar and woodstove sales and installation, an outdoor and sporting goods store, bookstore manager, wild bird shop sales (birdseed, feeders, etc.)—whatever it took to honor my end of the financial responsibilities. I found this work to be the best of all fields in which to practice moment to moment awareness.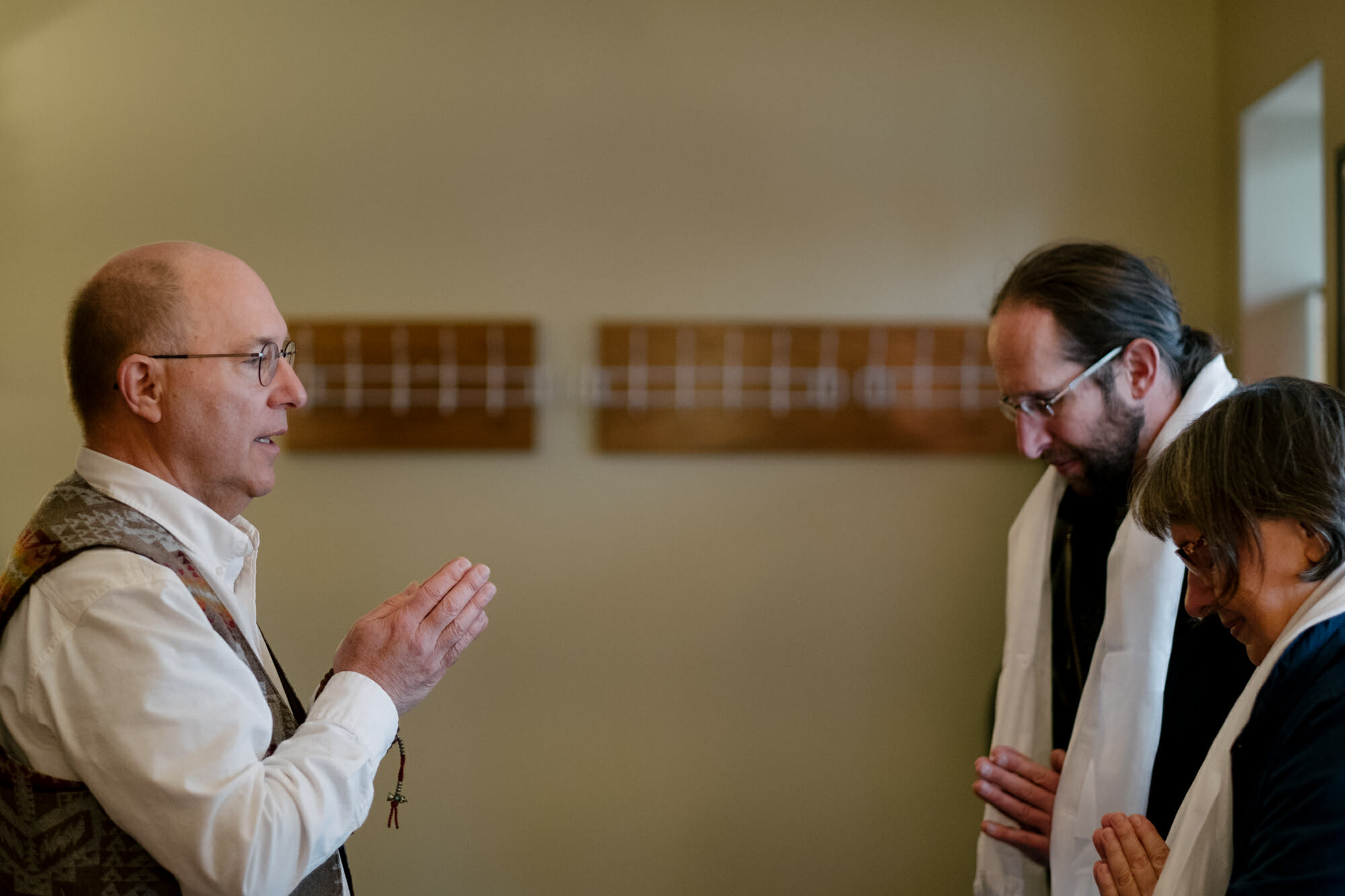 I am closely connected to the hospice community,
offering classes on the Tibetan Book of the Dead and
volunteering as requested to be present for the final breaths of some folks.
This story is also framed by my primary practice of sojourning in the natural world. I always heard teachings emanate from rocks, plants, rivers, deserts, and mountains. These have been my main teachers. My wife and I are consummate wildflower and geology nerds. We take weekly hikes into the wilderness to identify the plants and geological features. Every bit of botany and geology mirrors a teaching about awareness. The dakinis of earth, water, fire, wind, and space, speak in echoes of the primordial mind.
My root teacher, Khenchen Palden Sherab Rinpoche who passed away in 2010, had the same connection with nature. They called him "hurricane" because, as a child, he would tear around the countryside laughing and enjoying the dance of untamed wilderness. I had a formal connection with the Padmasambhava Buddhist Center until he died. My current living teacher, Lama Rinchen Phutsok, also enjoys the natural world. When he travels here from Kathmandu, we often take hikes together.
My close lineage is Dudjom Tersar, beginning with Dudjom Lingpa, to Dudjom Rinpoche, to my personal teachers. There were many signs that pointed to this tradition, not the least being its connection to my mentor in the Christian world, Thomas Merton. Merton met my root teacher and spent an extended time with Chatral Rinpoche. I also had dreams of Dorje Drollo, a Nyingma deity/archetype, even before I met my Tibetan teachers.
My introverted nature and inclination to discover the true nature of mind as reflected in wilderness, lends itself well to the practices of Vajrayana. Moment to moment awareness of bodhicitta, the heart/mind of compassion, is reflected in natural cycles and tested in the realm of work and relationships. In particular, the non-graduated path of Dzogchen is a perfect example of practicing with "no sessions, no breaks," and the Dudjom Tersar Ngöndro has all elements of this complete practice.
Share This Story, Choose Your Platform!