When were you first exposed to dharma?
In brief, I currently aspire to the Vajrayana path as laid out by the great masters of the Indian and Tibetan Buddhist lineages. Many have dedicated their entire lives to the preservation of their lineage which has been unbroken and thus is an intact living lineage, still "whispered" from teacher to student . The practices were laid out and also discovered or revealed to help others in this time, by masters who accomplished the goal of "waking up", enlightenment, or simply put, those who see reality "as it is", as the master Tulku Orgen Rinpoche stated plainly. These practices serve as a path and a road map to help those who are currently on their spiritual journey. None of these teachers I have met tell you what you are to experience, they know that each of us will discover our unique path and manifestation in our precious body in this life. I have heard that we just need a bit of polishing, dusting, and possibly some scrubbing in order to manifest a gradual awakening to our true nature.
Having faith in the methods, one's teacher, and trust in one's self and especially in one's own body and intuition is the key to my journey. Work, children, troubles, successes are all driven into my path. What has helped me the most is the contact with my teachers and trust that they are with me in my practice and may journey. Anum Thubten Rinpoche says to at least read through our practice every day so as to keep in direct contact with the lineage. I believe the lineages are a giant hand and my teachers are fingers of that hand. The practise keeps me in direct contact with their energy.
I met my initial Buddhist teacher first through my aspiration to study with a master in France at the age of 15. I originally had the intention of studying with a master of fine art, which I did meet and studied with in France. This art teacher used as his method, the principles one pointed mindfulness and he emphasized learning how to see the world as it truly is, without preconceptions of what we think we see. For example, of what we think an apple looks like. While studying painting in France, I spent a few months traveling and on my journey I did find my first Buddhist teacher in the city of "Buda", and was introduced to the Kagyu and Nyingma lineages of Tibetan Buddhism traditions while in Dordogne. In addition to aspiration and longing and the effort of the search, I truly have experienced the reality that teachers appear when the student is ready. For me, shamata meditation and somatic work with the body is essential for my understanding of all that my teachers have shared with me intellectually.
I grew up in a Protestant home and attended Catholic school at St. Gregory's in San Mateo, CA, as a child. I enjoyed singing, Sunday school and youth group. When I was very ill at age 19 I felt at peace with the idea that I may die, I remember the night that the doctors let me know it was a critical time. I was not afraid. I felt it safe to pass out of my body, I felt held by love and light. I believe most of the great people who live or have lived and blessed all of us through their journey on this planet, have all held love and compassion, and wishing happiness for others, as the cornerstone of their work and beliefs, something that goes beyond organized religion, which actually only started popping up when agriculture was established. This is why I believe the Vajryana path of Buddhism is so valuable. It upholds the essence of what the Buddha discovered.
I was first exposed to the Dharma in the city of Budapest, or actually, "Buda", the city on the west bank, in Hungary. I was able to attend a retreat in the countryside after first meeting this teacher of the Kagyu tradition. While reciting the Vajrasattva prayer in retreat, it suddenly felt like reuniting with an old friend. At the time I was studying painting in the Loire Valley, in France. I had had a near death experience at age 19 and thus, was very interested in learning,POWA, the transference of consciousness at the time of death. I found a center in Dordogne, France. I received POWA instruction from a Kagyu master, I also met Jigme Khyentse Rinpoche, and was shown to the home of t Dudjom Rinpoche's family, there I turned the prayer wheels. I was also able to visit HE Dilgo Khyentse Rinpoche's Home.
After I returned to the US, I moved to Manhattan, there I spent a few months drawing from the Gandharvan Style art in the Asian art galleries at the MET. There, while drawing Maitreya Buddha, I met HH the late master of the Sakya lineage, Dagshen Rinpoche, Lama Kunga Rinpoche, Lama Pema Rinpoche. Dagshen Rinpoche invited me to have lunch with his friends, and that night I received teachings from him. I continued receiving teachings from Sakya lamas, including Luding Khen Rinpoche,and also Tii Situ Rinpoche, and Jigme Khyentse Rinpoche, whose residence is also in Dordogne, France. I decided to visit a friend in the summer of 1995 in Colorado and from there I decided to visit my biological family that resides on San Juan Island, WA. While on the ferry to San Juan Island, I saw robed monks, they were Sakya monks. After I arrived, I was able to luckily attend LAM DRE given by HH Sakya Trizin Rinpoche. The same Rinpoches in Manhattan were there along with the very young yangtse of Dezhung Rinpoche. I continue to study with HH Sakya Trizin and his sister Her Eminence Jetsun Kusho-la. Also, I was asked by Lama Kunga Rinpoche to re cast in bronze the Three Garudas sun Khor in 1998 from a woodblock carving. The image was originally created at the Ngor Monastery in the 14th century. I continued to help Lama Kunga Rinpoche make woodblock prints of his image for his foundations in both the East Bay and Nepal. I was fortunate to have been able to attend the Kalachakra empowerment bestowed by His Holiness the Dalai Lama in Indiana. After this event, I was encouraged by one of the photographers I had met to meet HH Chagdud Tulku Rinpoche, who resided in California. Here I attended my first Drupchen, 10 day long practice from the treasure revelations of HH Dudjom Lingpa. At the end of this Drupchen, he invited his students to join him on pilgrimage to India and Nepal in 1999-2000. I was able to somehow tag along. While with Chagdud Rinpoche, I was able to receive teachings and to meet many, many amazing teachers in India and Nepal including Mindrolling Rinpoche, his daughter Khandro Rinpoche, Chokyi Trichen Rinpoche, the yangtse of HH Dilgo Khyentse Rinpoche (and was invited to play with him and his dog and birds at his home in Nepal), Tsoknyi Rinpoche, Chokyi Nyima Rinpoche, Dzongsar Khyentse Rinpoche. While in India I received teachings by H.H. the Dalai Lama in Bodhgaya. In Nepal, I was also fortunate to be asked to tutor the yangtse of His Holiness Dezhung Rinpoche. He was very sweet and funny, he studied very hard, so when I showed up he was really wanting to play, but he would learn some English and then we would hang out. I was always invited to eat dinner with him after the session.
(He was young and very sweet and he would tell me not to tell anyone, and then he would ask me to please bring him him cookies and batteries for his gaming device, and then to offer them to him, because then the adults could not refuse to let him have them, maybe we should not share this, i would have to ask him)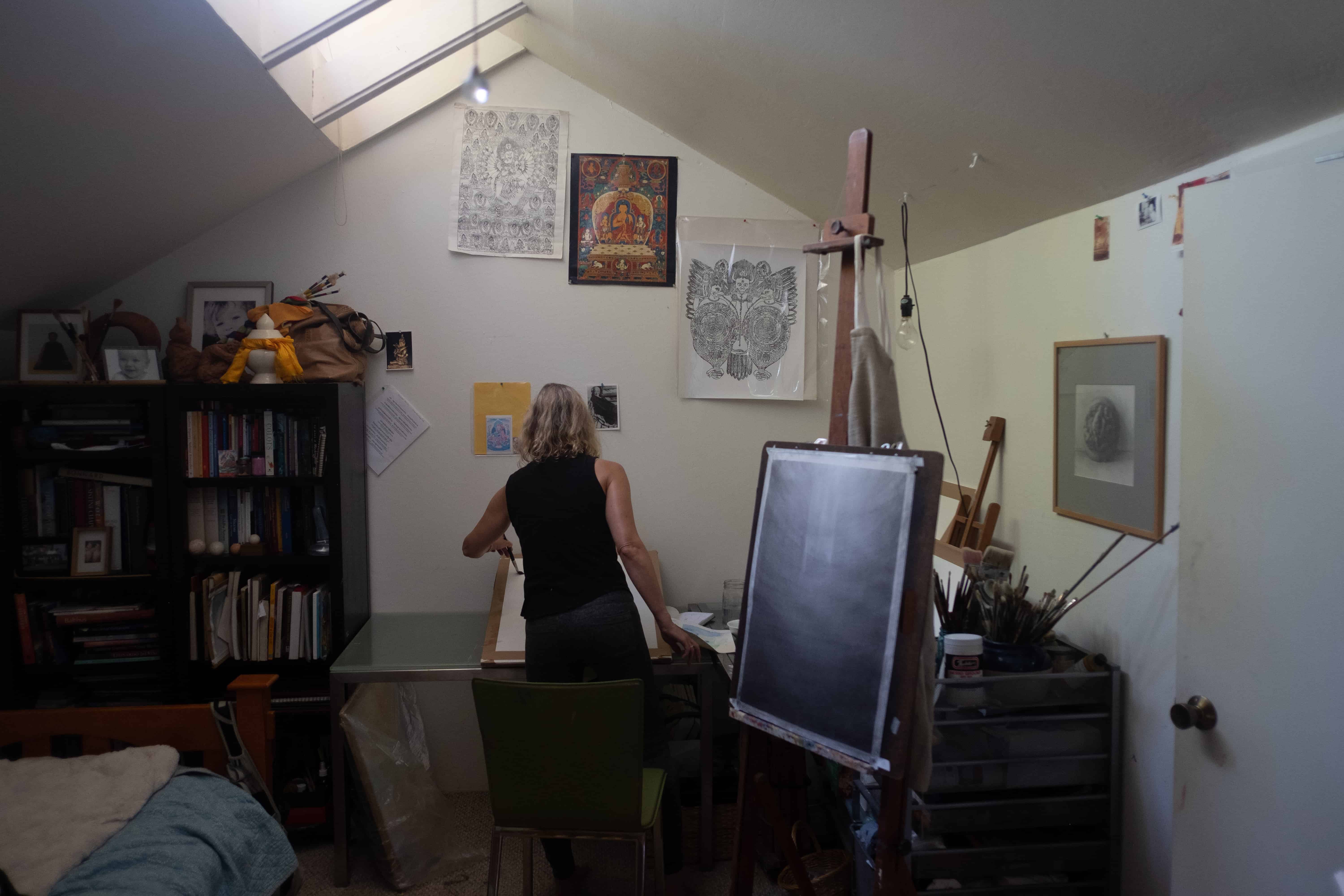 I may stumble or have to take many u turns,
but if I slow down, go to work on my root structure
drawings at the waterfall, I will return to the path.
He was my inspiration to find a subject for an animation or a film for children that would be of benefit or an inspiration to children around the global and would touch on the subject of the enlightened hero.
( I am hoping to go to visit HE Namkhai Drimed Rinpoche in Nepal whne I am able, he is Guru Rinpoche in my mind and a manifestation of Gesar energy. If you would like to photograph me there, I would not say no! I would be an amazing reason to get myself there!)
Shortly after this I found the story of King Gesar of LIng at Tibet House in Manhattan with the help of Ganden Thurman. I also was fortunate to meet HE. Namkhai Drimed Rinpoche who is a direct descendent of The Ling Family, in Manhattan and begin my now very long journey to write down his family story of King Gesar. In 2000, I traveled to the South to visit my mother and father in Fairhope, Alabama, of all the places in the world, the least likely place I would expect to find a Tibetan Geshe, was in Alabama. However, on my first visit to Alabama, in 1994, after my parents moved there, I was fortunate enough to meet Geshe Thubten Dorje. We developed a good friendship, and he was there for me when my mother passed away in 2000. He now teaches at the University of Arkansas.
After 911, while living on San Juan Island, I made my first trip to Pema Osel Ling, or the Vajrayana foundation in California, HE Namkha Drimed Rinpoche was giving a week long teaching there. I was fortunate to meet Lama Tharchin Rinpoche on this trip. Shortly after, I was told by a friend who lived in Vancouver, who I had met at lam Dre in 1995, while I was in Vancouver for the summer studying classical animation, that a wonderful teacher, who had invited him to Tibet that past summer, was to come to Vancouver. I was blessed to met His Holiness Orgen Kusum Lingpa in Canada in 2002. Shortly after I met him , I was invited to help cook for him in San Francisco and was able to see him in LA at Lama Gyatso's center, he also has retreat center, Ari Bhod, outside of LA. HH Orgen Kusam Lingpa invited my friend Jeff and I along with two other students to visit him in Golok that summer. I had been working on the Gesar project and was delighted to go for many reasons. While staying in Golok, all of a sudden his two amazing sons, His Eminence Do Khyentse Hung Kar Dorje Rinpoche and Dorje Trangwa said we were packing up and going to a Gesar Festival in Dawu. I did not know this before the trip, how amazing! We ended up in the pristine valley along with thousands of Chinese and Tibetans and a handful of Europeans where we celebrated the life of Gesar of Ling. There were operas, singing and musical performances, poetry, horse races, theatre productions and more. I helped to curate an art exhibit with relics and priceless items from the Ling family. Also, since I was one of possibly 2 European and English speaking women at the festival, I was asked to announce in English the dances and operas of Gesar of Ling for the TV station. It was an experience of a lifetime.
From Tibet, I came home with a baby in my belly. I moved my belongings from San Juan Island, WA, where I resided, to Mill Valley and then to San Francisco.
As a mother with babies, we continued our close relationship with HH Orgen Kusam Lingpa and his son Do Khyntse Hing Kar Dorje Rinpoche and their family. We were also able to see HH Namkai Drimed Rinpoche, Luding Khen Rinpoche, HE Jetsun Kusho-la, HH Sakya Trizin R, Lama Kunga Rinpoche and receive teaching by them and also Dgzonzar Khyentse Rinpoche and his Brother Garab Dorje, HH the Dalai Lama. Lama Sonam rinpoche and other lamas who are the cornerstones of Pema Osel Ling. With young children I have only been able to set aside a few weeks for retreats and teachings. I found that shamatha meditations at the local Shambhala center was a real privilege to be able to attend and where we meditated all day, alternating sitting meditation with walking meditation for a whole weekend. Since my boys have been older, we are now able to attend children's retreat at POL and I try to go there as often as I am able. I am now trying to study regularly and locally with Anum Thubten Rinpoche in Point Richmond and Orgen Chowang Rinpoche, who has recently moved his residence to Marin County and offers meditation daylongs and teachings.
Our family attends the children's days at Green Gulch Zen Center. Located just near Muir Beach. Avery really enjoyed the coming of age program there last year. The 7th and 8th graders met together once a month with mentors, hey had 2 sleep overs. We plan on Lukas attending when he enters 8th grade.
How has the path manifest in your daily experience? Does it reflect in your work and relationships?
Simply, my intention when I start my day is practise, when I create art, this is a part of my practise. I try to bring what I have learned to my students when I teach. I try to work on my preliminaries everyday. I at least read through my practice of the Longchen Nyingma Preliminary practises and hope to add to my day if I can make the time to work on the 4 accumulations, or sitting shamata and somatic work including yoga. As a part of this I am also rolling clay "medicine balls" in a corner of my studio to be added to the the Treasure Vases designed by Lama Tharchin Rinpoche for the Vajrayana Foundation, or Pema Osel Ling. I prepare myself and read the sadhana of Khandro Norlha and recite the mantra, always with the intention to benefit all beings. That all beings have health, wealth and happiness and are prepared when it is their time to die. Orgen Kusum LIngpa was very direct when stating that an authentic teacher is one who prepares their students for the time of death.
Raising three boys is Buddhist practise x1000. Every day I fail in some way, every day I brush myself off and return to my center and try, try again " to Stay calm and carry on" fi that fails, then I tell myself to make the time to "roll the medicine balls" or take the time to be "still in my body" , to listen, to meditate. As Sogyal Rinpoche explained in a teaching I attended by him at Tibet House in NYC, "Meditation is being kind to yourself". When all else fails, I try to remember to be kind to myself, this is a path, I am on the path, I may stumble or have to take many u turns, but if I slow down, go to work on my root structure drawings at the waterfall, I will return to the path.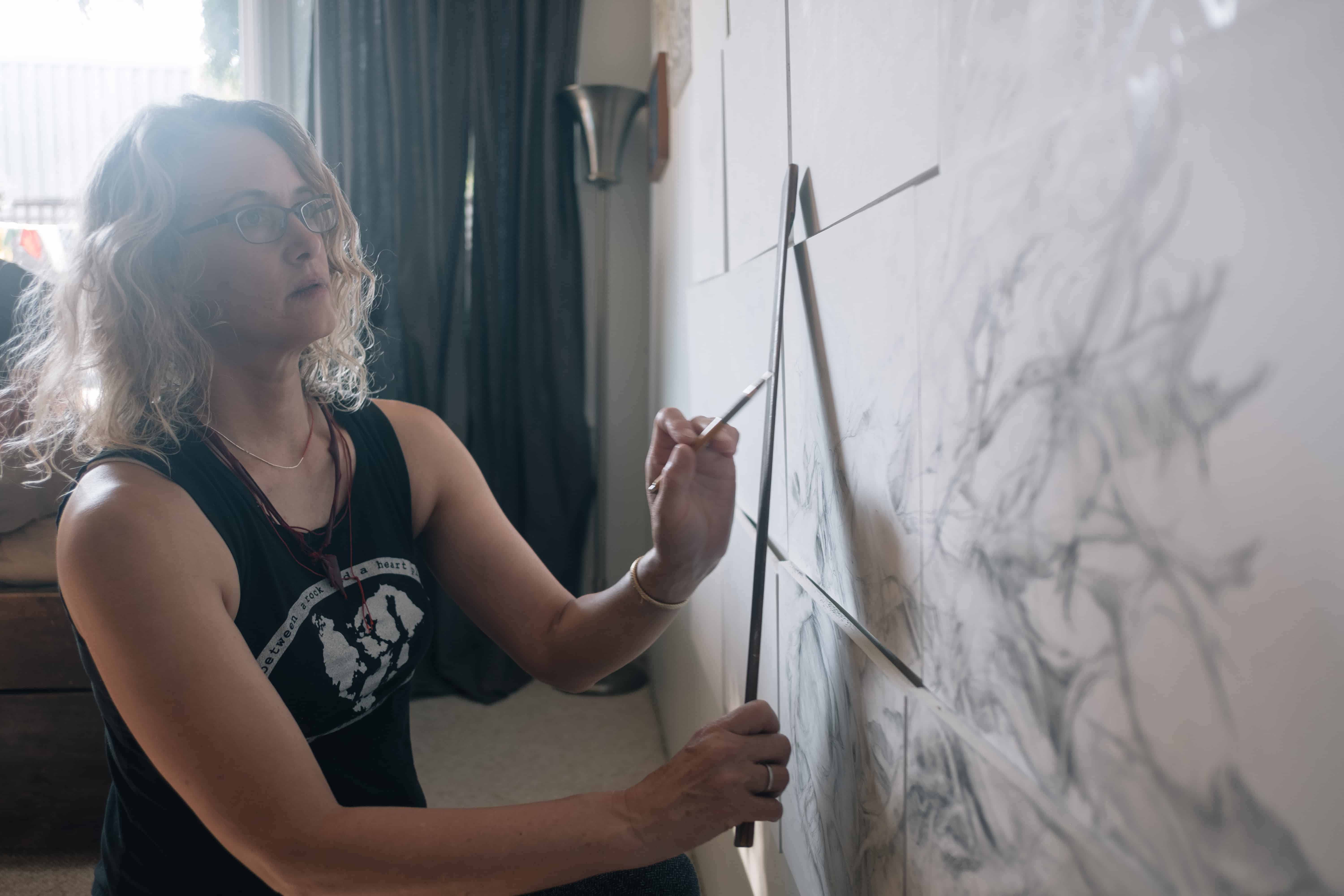 While reciting the Vajrasattva prayer in retreat,
it suddenly felt like reuniting with an old friend.
Who is your teacher(s)?
I believe that my kharma led me to my teachers, I have been touched by teachers in all 4 traditions of the Tibetan Buddhist Tradition. My strongest connections are with the SAkya and Nyingma traditions. I have found my most challenging work is within the Dudjom Lineage of the Nyingma tradition. Due to my family connection with Orgen Kusuam Lingpa and Do Khenstys Hung Kar Dorje and now Anum Thubten, I am steadfast on sticking with the Longchen Nyingtik Preliminary practices. A part of me wishes i could complete, the Sakya, Kagyu, Dudjum, Pema Nyingtik, and the Ripa Lineage preliminaries also.
Which sangha do you normally attend?
Dharmata Foundation, Anum Thubten Rinpoche, Vajra Sangha- regularly
POL or Pema Osel Ling, the Vajrayana Foundation, Lama Sonam Rinpoche- for retreats
Ari Bhod, Tehechepe, Lama Gyatso Rinopoche's Foundation- retreats
Sakya Dechen Ling, San Juan Island, Wa-retreats
Rippa Foundation, HE Namkhai Drimed Rinpoche-retreats
Pristine Mind Foundation, Organ Chowang Rinpoche Center- semi regularly
Ewam Choden, Lama Kunga Rinpoche
ODD and Tara Mandala : Transitional Life Care Program offered at these centers
Rangjung Yeshe Gomde, Chokyi Nyima Rinpoche- retreats
In the tradition that you practice, how do you think it has adapted to western culture?
This year I have benefited from the somatic meditations or basic breathing meditations that are rooted in Buddhism (but not restricted meditations that require permission to practice), that are available through Dharma Ocean Foundation, the audio guide titles "Your Breathing Body", Volume 1 and 2, by Reginald Ray, PhD, have helped bring the teachings I have received into my body. So they have taken root as opposed to remaining solely intellectual. I feel we are all so unique and there are so many choices out there, I am sure whoever is seeking will find what resonates with them. Also, attending Drupchen every year and spending time with my teachers when I am so fortunate is priceless. I all adds up like drops into a water bucket. I am on the journey, I pray at the time of my death one of my great teachers will be there to help me. I hope to be of help to others before that time comes through my life and work. It is all unfolding, I do not know what lies ahead. I am just a simple human trying to figure out how to make the most of my time here in my precious body, and truly understand my relationship and connection to the earth, water, sky, air, fire and all that is apart of this word system I have been born into. I know this life is precious and fleeting.
Share This Story, Choose Your Platform!