Okay. So I'm Donovan early. I'm in north of Houston, Texas. Southeast Texas. Born and raised. Born in San Antonio, Texas. And raised in Houston. And had an interesting childhood, to say the least. Wasn't it wasn't a great childhood, but made it through and here and I'm a nurse. I'm an advanced practice nurse. I do anesthesia. A few miles away down in southwest Houston. And I'm married. My wife is an advanced practice nurse as well. She's a cardiology nurse practitioner. And I have a 13 year old stepdaughter and I have two adult children, 30 and 25. That mean the world to me. And so I'm very blessed to have to have my my family. So if you growing up there was there was a lot of chaos, a lot of instability. There was more than instability. There was there was abuse. And I guess you would consider maybe neglect. There was not a stable, supportive, safe. I never felt I guess I never felt safe. I didn't realize it at the time. But looking back now, it it it wasn't really a safe childhood. So I kind of came out of that. Very driven, very single focus. Like I felt I and I was always uptight. I was always, always sort of angry and looking back and through some work that I've done over the years, it's all I think it was all based on fear. But in it came out of that, that childhood, that traumatic childhood components and there were parts of it that were okay.
Transcript
Lineage
Alejandro would say when I went the first time and I heard him say it to other potential students that would come in, he said, Think of it as a sing along, do along. He said, Just come and sit in the practice. Do as much of it as you would like to do and don't do if you want and sing with us. Don't sing with us, do with us, don't do with us. And it was a sing along, do along. And so it's exceptionally relaxed, non ceremonial, non ritualistic sort of practice and I don't know. And I will say and Alejandro would probably agree with me as a student, I'm not a very good student of Buddhism. I, I connect with it spiritually. I don't intellectually I'm not a very good student. From a study of Buddhism perspective, sangha members that I am very close to Jackie Cole. She is a very good student. And but from an intellectual perspective, I don't I'm not I'm just I'm just not I connect with this spiritually. I understand some or most of the practices that we do. And and I connect with it. But the that there's not a ceremonial there. There's there's no formal dress of any kind. There's no there's no specific thing that you need to do to, you know, become a member. It just, you know, you remember if you show up, you remember like there's not even a like a financial like most, most most centers have some sort of memberships thing even even in Buddhism, even in the in the Houston area. And there's a financial commitment of sorts. And we don't even we don't even do that. You just show up. You want to show up? Don't show up. You don't show up. We do have we can retreats pretty regularly. So we're we're very, very fortunate to have a resident lama. You should know Justin who was I believe he entered the monastery in Nepal at the age of maybe eight. And he he came and taught and would come and teach once or twice a year through like Mecca. And he we were able to get his visa. And he's been with us for, my goodness, how good of a time for him. So maybe four years now. Maybe four years. But he we're fortunate to have him. In fact, when he came when we got the visa and it was a big celebratory, we picked they picked him up from the airport and we actually came here to our home and had a big celebration with you should in mind. And the song remembers and we had we had food and and it was a wonderful day. It was the weather was much like this. It was sunny. It was very, very pretty day. And it was definitely auspicious. Like it was a very positive beginning. And he's still here with us. Amazingly, despite all of the difficulties and challenges of keeping a resident resident lama in the US at times, but there are lineage, at least with our with our practice, with dementia practice. And this, I know this practice is, is similar with Ligaments International, which is in Charlottesville, Virginia. It's it's just sort of attend retreats, do the practice, do what connects with you. And if it doesn't connect with you, there are thousands and thousands and thousands of other options, opportunities that you might have to to find something that you connect with. And so we can retreats, can cover many different facets. We've had lamas in from all over the world to teach us, and you should remember who is now with us as a resident lama. He does retreats regularly, maybe 6 to 8, maybe even up to ten a year. Now he's he's really they really increase the number of retreats that he's doing. And and I attend some I'm able to attend some and not not others, but it's a it's a very loose, relaxed. If it works for you, do it. If it doesn't work for you, then don't do it. I remember so our so like Mitch International, the director is Tenzin Wingo Rinpoche, who is Alejandro's teacher, one of his teachers of many years and is someone who came from the east and has been studying us, studying Westerners as much as we have learned from him and when he teaches, he's he's very comical was a very his English is very good and he teaches with with references to things in the West that we can connect with. So he talks about files, saving a file, hitting delete and things like that. It's so it's really great. And he would come do do a retreat with us every year. And our fundraising, our big fundraising thing in January is when it used to occur. The pandemic has altered all of that, but he would come to retreats every year. And and he's such a great teacher. But I remember he came and did Dream Yoga is one of the one of the retreats that he did. And I didn't even know what dream yoga was. I, I didn't I had never heard of it. So, you know, he came in, he taught and he he, you know, intellectually or the the cerebral aspect of of being able to be aware that we're dreaming when we're dreaming and then being able to change being able to change the direction of that dream. And and and that's something that I had never even considered and completely honest after this. This retreat was probably six, seven years ago. And I still can't I still I still have it, he says. It's very difficult. And there are sangha members that were talking about having lucid dreams. And a lucid dream means that you're aware that you're dreaming, that you're that you're dreaming, but you know that it's a dream that's a lucid dreaming. I've never I've never had one. But but the this the sleep hygiene or the sleep yoga, there's a dream you are going to sleep yoga. And they're very closely interrelated. And it's about the it's about the what we do in our daily and our daily life, being aware of being mindful, and then in preparation for sleep, sort of clearing that and not carrying those difficult moments, those difficult times with us into sleep because that's where our tradition believes, that's where the dreams come from. Or those those those those aspects of our day that we haven't cleared, that we haven't reconciled or or connected with. And that's where the dreams come from. I remember a story that Rinpoche told during the The Dream Yoga teaching in the retreat, and he had a student who said, who lived, who had a lot of fear in their life. And they they were very they didn't feel safe. And as soon as he said this, I immediately tuned in because I grew up not feeling very safe. And it was a it was a female student. And she was not in a safe place. She was not she felt physically unsafe. And she told him after the teachings and he was working with her and she told him of a dream that she had. And she was driving in a car and there were men in a car behind her. They were they followed her to her car and then they followed her. And she was driving down the road and as dark road, and she was alone and there were people behind her. And she realized that it was a dream. And she changed the dream. She she made her car fly off the road and left the danger on the road. And so there was a lucid dream that she was aware of. And and she felt much safer after being able to work through the practices of dream yoga and and that example, that dream that thing that she carried with her into her sleep, she was able to change the path, changed that fear. And and she didn't dream of an unsafe situation again for a very long time. So the the ability to as the, you know, one example, one set of teachings and our and our lineage of this dream sleep, yoga and the ability to to not carry those things with us. I don't I don't remember dreams at all. I would say once or twice in six months, I even remember a dream. I go to sleep and I wake up and have no interruption. Usually with that. And that is one that's not something that was happened to me. I used to take medicine to sleep. I used to sleep very lightly, wake up multiple times a night and and Rinpoche says that that that that peaceful and uninterrupted sleep is as a result of some of the sleep yoga practices of of of clearing those things of of not carrying them with us as we as we go to sleep and I don't I know he's been actively practicing for a long time. I don't I tried after the retreat to really go through some of the specific practices that he taught us to do and the meditations that he would guide us through as we were getting ready for for sleep. And I don't I don't consciously do them. I think they're probably happening subconsciously for me, but I definitely allow my mind to wander and and things pop up. Things flare up. You know, is, is, is Alejandro was teaching in the Crown Chopper in the sky in those clouds. Those clouds they pop up of different things. And I would I used to latch on to them. I would latch on to them and I would carry them with me to in my sleep and I would, you know, and I would wake up. And now I don't I don't I don't do that. So I think that for me, there are pieces of that teaching that I was able to to hold on to and to incorporate into my is in my life. And it's made it's made my sleep much better. So that's just one example of teachings we have. We have so many different types of teachings. We do have also we have we have daughters. We have different supporting figures that we have practices that surround. And Jackie called Leeds the chair of trauma practice and that supporting mother practice that that we that we do once one Monday a month and so there are different there are different formal practices that we do and there are figures that we use in our practices as support. And some people connect with different facets of it and others, others connect with different pieces. And it's not it, it's what works for us. It's very non formalized in the way that we approach Buddhism. It's, it's a here, here are the offerings, here are the teachings, here are the the practices. Pull what works for you, what you connect with, and just leave the rest. And it makes it very easy to it's not oppressive, it's non I don't have to go through certain pathways or certain processes in order to be a student of Buddhism or to be a member of this of this sangha. I just I just show up and I practice what works for me. And I don't know that all Tibetan Buddhist practices are quite that relaxed. When the teachers come and they teach, they all say, Yeah, in our tradition, they, we, our teachers refer to it. Well, in our tradition and our tradition, it isn't you have to it's just this is just what we teach. This is what we believe. This is our tradition. And grasp it and hold it if you want. And if you don't want to, that's okay, too. So it makes it ah it just makes it easy to, to be there and to participate and to listen and to learn and to practice with guidance and then pull out of that what we what we're able to connect with and then just do the rest of it, they're fine with that. Let's go have lunch. And if it if it doesn't work for you, there'll be another retreat next month. It's okay. Or, you know. So it's a pretty relaxed, chilled out approach to to Buddhism. I know my best friend runs a Zen Buddhist center in San Antonio, Texas. Huge, huge sangha started with maybe 12, 15, 20 members. They have almost 400 entries a month through. They have classes almost every day. This is a huge sangha that I mean, I didn't know in San Antonio, Texas. I mean, he's he's the director of the center. He's been to Japan. He's been I forgot the the what they not anointed but what they gave him as a title. But he they flew him to Japan and they formally acknowledged him as the director of the center and as a teacher. And he's he's one of the most wonderful humans I've ever met in my life. We've known each other for a very long time, but well, way before he got into this Zen Buddhist center, way before I went through my transformation, my own life and new life as I like to refer to it. But their their practice, you know, the the Zen practice is very formalized. And so those who are participating in the ritual of their Sunday practice must address a certain way. They the order of things is very specific and there is a lot of ceremonial formality in the way that they do their their weekly practices. And it's in stark contrast to the way that we we do ours and show up. And so for standing sit in a chair, nobody cares. You can wear whatever you want to wear it. There's no there's no ceremonial piece to it. But in his in his practice, there is. And I've attended his practice probably, I don't know, 15 or 20 times. And that that that I don't know if rigidity is the right word that that ceremonial piece. I it it's hard for me it doesn't I feel I feel like it's forced and it's hard for me to connect. But I feel what they're doing. Like it's there's a lot of energy and there's, it's a very positive thing. But for me personally, I just don't connect with that, that ritualistic ceremonial piece. I'd much rather just show up and hear some teachings and and enjoy, enjoy that without, you know, that feeling of feeling. I have to I have to do this or I, you know, this is how we how we do things. And again, you know, I'm not a very good student. I remember I was at his sangha for the first time and I was pretty young and it was pretty early on in my Buddhist exposure path. And he said, So you know what, you know, talk about what what your lineage and what whatever. And at that time, I couldn't even answer that. I couldn't even answer that question. So, I mean, you know, I can't now, but it's you know, it's been ten years. So despite not being a very good student, intellectually, I feel very connected. I feel very at peace and at home with our practices in the way that we do, the way that we approach the teachings and the offerings and the practices, the Dharma, the teaching of of of what we do while we have practice that we follow every Wednesday. There's no formal requirement to step a step wise. You need to complete or you need to practice for a certain amount of time, or you need to, you know, transform through this practice before you can move on to the next practice. There isn't there isn't any formal requirement or or a process for that in our in our teachings and our our lineage.
Recovery
So the the treatment, you know, I met Ali after you know, after I got out of inpatient treatment and there was outpatient continued continued treatment. And I was with I was with others who had different substance use disorders. So alcohol or cocaine or, you know, pills. They had a I think, the first pill anonymous meeting in Houston occurred at the treatment center while I was while I was there. And I was I was well be on pills in my in my face into the sun is what I call it now. But the the traditional medical base. So there's there's medical based approaches and there's more of this psychiatry, psychological based approaches. And and the medical approaches are complete abstinence of all mind altering substances. And they're heavily rooted in a 12 step program. And and so and that's that's required, in fact, the in the state of Texas anyway, for nursing and medicine, you're required to to go through 12 step programs and be and do the steps and get a sponsor. And you have to go to meetings. You have to have a meeting log. It's required by the our nursing and medical boards. And so I was going through all of that. I, I did the stop. So I even became a sponsor and were sponsoring others and taking them through the stops. And I was at the treatment center on Saturdays for what's called aftercare. It's a group meeting after on Saturdays for people to come. And I did, I was doing, doing all of that, but it just wasn't I, I would go to meetings and I would have friends that I met in recovery and they would come out. So I just I just get such a spiritual boost from meetings. Who would say that to me? And I would think that doesn't. I mean, I like to see people and say hi and shake hands. But it didn't it wasn't it wasn't connecting for me. I wasn't getting anything. I wasn't feeling well. The feeling like it was it was helping me move in a direction that that was different. I was going through the motions. I was you know, I spent most of my life doing doing the right thing, making sure that I always did the right thing. And so I was doing what they told me to do, and I was making sure I did it well, because that's the way I live my life. But it wasn't connecting with me. So we met face to face the first time this would have been so October 2011 is October 12th. 2011 is when I entered treatment and I probably met Ali maybe, or on January of the next year, December, January. And we met one on one. I told him my my story and where I was and and I didn't know what I needed. I didn't know what I wanted. But I knew I was not in a good place. And we worked together one on one for weeks and months and met weekly, sometimes twice a week. And he began the process of helping me connect. And the work that we were doing was, was, was spiritually moving for me. I could I was connecting with what we were doing in a different way than I was connecting with the 12 step. I was still going through the process. I was still I had finished the steps by this time and was taking others through this. I was doing the whole 12 step thing. I was going to meetings, but I was connecting with this work with with Alejandro very differently. And, and so I think that was the beginning of my realization that change was possible. Like, I honestly, I, I didn't, I didn't feel like there was any way forward until I met him. And it was a, it was a life changing meeting of Alejandro for me, without without question for sure. He helped me begin to learn how to connect with breath. And, and, and then we incorporated sound in our practice pretty, pretty early on. And, and so the, the visualization, the, the, the combination of the, of the sound, you know, the five warrior syllables and the five chakras that we were focusing on as we moved, move through the sound and the visualization of, of how he taught me was very powerful. I was able to connect more deeply and for a longer period of time than just sitting and focusing on on my breath only, or maybe looking at a candle or something. The sound piece was very powerful for me. So, you know, the drums are five shock road warrior syllables or the seed syllables, as they're called. And our tradition, they were that was very powerful for me. And the visualization of of the bright white light and the crown chakra and the clearing and the the support of that light and the and the power of the it was it was I still use that that that's my in my daily practice every every day. And the practices that we were doing on a on a daily basis. And I remember the Christmas after I went to treatment and I met Alejandro and had been working with him, my, my wife bought, I woke up Christmas morning and she had set up a an altar, a Buddhist altar for me to, to practice. And that was and so I, I really began during that next year to, to try and incorporate what we were doing into my daily practice and with Alejandro's guidance. So I would have a short practice in the morning on a longer evening practice. And one thing that, that I just, I just thought of is we were as we were working together, was also I was also seeing a psychiatrist for the Post recovery post substance use component on the on the medical side. And I remember him asking me one day when we were in session, he said, Can you visualize Donovan at five or six? Can you see that little boy? And I said, yes, I could see I could see me. And he said, Can you reach out and touch that little boy? And I couldn't. I couldn't I couldn't reach out and touch me at five or six and I remember that being a pretty profound like I tried I really tried to to reach out and I couldn't then I couldn't I didn't really understand. I didn't understand why. And I brought this up. We talked about it in my therapy sessions and I brought it up to Alejandro and he helped he helped incorporate that along with my physical pain into our practices and learn to, to accept to, to not push away things. And I think that that's what I did. I put the childhood trauma that happened to me. I, I thought I had moved past it, but I did chronologically a time. But I didn't, I didn't accept it. I pushed it. And that's I think maybe that's why I couldn't touch me if I was six. I can I mean, I can I can I can feel my hair now. And I remember when we were working together and and the the sounds and the are on grams are in the five chakras. And and he would Alejandro would say, so is you, is you, you know, this bright, clear, supportive light in the sky, you know, over a desert or over a beach. And there are clouds in the sky. But the sky doesn't seem to mind. So we have as we have, things come up, it's we have physical pain as we have maybe traumatic events or stress. They're just they're just clouds. But the sky is still there. The support is still there. And so he said, don't push the cloud away. Just just focus on the cloud and let it let it be there. But it's just a cloud. The sky is still there. And so those types of of integration teachings and practices were really helpful to me too, to be able to begin to work through some of the difficulties that that I had that made this rigid have to be correct, always right on the right path, unhappy person, and begin to kind of break some of that down and begin to relax a little bit. I, I don't he can probably say better than me, but he, I remember him saying to someone, I think it was my wife and maybe some Songer members that he said that the difference he said and Donovan came he was he would do this. He would kind of describe me as like all tight and bound up. And he almost wouldn't even speak. I was so, so tense and he said the the transformation over over those months, he said it was just it was amazing. He said it is much he now he smiles now he laughs now as his shoulders relax. He's not, you know, tensed up. And and so it was I didn't realize it was happening. And then when he said that, I mean, I knew I felt better, but I didn't realize I didn't I guess I wasn't aware of myself at the time that we started. And it was it was sort of a breaking down of those of those things and working from maybe the inside and letting things being more at peace with the world around me, being more peace with with the things that had happened to me in the past, the work that we did and together, and the ability to to be at peace with me, to find the safe, what we call the heart home, to find a safe space, not a room in the house or not somewhere. But it's this is it's safe here. When I began to be able to connect and it took it took many times of trying and trying. And I intellectually, I would try to connect there. But but it took me a long time to to really feel the connectedness and the safe space of being here and being safe. And the work that we did through. And there were there are other facets of our of our practice. It wasn't just the the warrior syllables and the rose and the nine breaths, the purification and some of the prayers, the go to yoga and about a cheetah. And there are many different facets of of the practice that I was beginning to learn with, like mentioned that allowed me to connect in a safe place. And when I finally was able to do that, be aware of that space and be able to connect to that space, and it was safe. That's when I was finally able to begin to let go of some of the of the trauma and be able to go back in and embrace me and hold me at five or six. I needed I needed to know that there was safety somewhere because I figured out that everything, everything that was me going into that treatment center is all based on fear. Everything was based on fear. I was I was scared of everything. And that manifested in a very rigid, angry, self-centered, driven person. And the whole time it was right. It was right here. And I had no idea like I had I had no idea that it was out here and and being able to to to find that safe space and connect with it was was really the the pivotal time for me to be able to really begin healing for real. I had never really even begun to heal and not just move past it in time, but to to be able to to work through it and accept it, not not push it away, but accept what happened because it happened and be able to connect with it and and and accept it and not push it away or eventually not be angry about it. I was angry for for a long time and still still fearful for a long time. But I eventually was able to fully accept today I fully accept what happened and the people that were involved. I mean, I could sit and hold their hands today and have a conversation with them and not be uncomfortable. So it it took it took time. And the Buddhist teachings were really what I was able to connect with and get to to that point and and still going through what was required for, you know, for my my license, nursing license, it was a three year monitoring program. So three years from beginning that which would have been, you know, after treatment. So three more years of that plus the psychiatry component I was working. And so all that sort of finished up, you know, three or four years after I, I went into, into treatment, but I had already connected with the song. I had found a home with these wonderful people and that and the practices that we were doing our our Wednesday practice. I'm I was and am doing that Wednesday practice every night in front of in front of my altar. So the same the same order that we follow and and I connect with it so deeply. Some days were better than others. But, you know, it's a practice. But it's it's a very it's a very powerful component of my life today. And I find myself in my in my professional world or in my personal role. I find myself, even if I can't either make a sound or do a movement, I visualize components of the practice at different times. I just and I don't even realize that I'm doing it. I'll maybe I'll notice that I just put my finger on my chest and I've already taken a deep breath once or twice. And I didn't even realize that that I was doing it. Or maybe sometimes I'll touch my throat so it's become a part of my daily existence. And it just happened over time. And it it's not something that I have to think think about. It just, it's just there. Those practices that I had been taught and that I was learning, maybe being triggered by sound, maybe being triggered by certain things in my professional and personal life that allow me to bring those practices in and now I don't even think about it today. It just I don't think about taking drugs on a daily basis. I don't think about how I incorporate my Buddhist practice into my daily life. It's just it's just there. It's completely infiltrated everything in my life. And it's as absolutely, absolutely wonderful. It's life changing. Life is life saving. I mean, I. I wouldn't I believe I wouldn't be here without finding that spiritual connection. I don't think I'd be alive today. And so a huge blessing to have found it for sure.
Practices
As I sort of integrated into the ligaments of Texas sangha in this Tibetan healing, Tibetan Buddhist healing focus and the strength of the sangha and the teachings. And I began to understand a little bit about why we do different practices and what what the intention of the practice is. So the the kind of the essence of of what we are wanting, what we're trying to accomplish is not the right word, but the the the why behind it and coming from as a Western health care provider. The why is it my whole life is about why so understanding and sustaining it intellectually? Because I started with just the practice and there were some there was teaching, but it was really just the practice to begin to to help me break down some of the the components that were had me so, so twisted up. And so I didn't I think I think it's more common to maybe learn learn intellectually about Buddhism or Hinduism or Jainism or whatever you might what direction you might go, learn about it intellectually and then begin the practice. And for me, I came sort of the other direction, not by design, but just by the way things, things worked out. And so as we all remember in, in at the beginning. Once or twice a month, we would have practices every Wednesday evening. And once or twice a month, Alejandro would teach, take a single component, a specific part of our of our regular practice, and talk about what the essence of what it is the the root of where it came from and why we do it. So the nine breaths of purification. So why is it that we do there? Why do we close one channel, breathe in and focus on the other channel and we clear out, you know, angry, clear out attachment. We clear out ignorance of what what do those what do those mean? Why do we do them? And and and he would say sometimes, you know, as we breathe in and we clear anger, you know, and the blue light as it is, it exhales out. He said, Some days you may just do you may need 20 of those. Maybe it's not nine, maybe there is no attachment, maybe it's just anger. And you just you clear that channel until it feels like it's it's cleared. And and the the visualization of the colors, you know, the channels had a color, have a color, and the the the smoke or the the clearing of that attachment or that anger or that ignorance has has a color. And so there is a visualization to it so that the act of the deep and how the act of the forceful exhalation in the nine breaths, a purification and how the what what does it mean for purification? What are you releasing? You know, what are you what are you clearing? What are you clearing? And so understanding it helped me connect with it more deeply. And so the nine breaths, a purification is something that I do all the time. I mean, I it's not only just in my regular practice, but it's something I do throughout throughout the day. And, you know, the word symbols I talked about already that were very powerful for me and and Alejandro is published has he has books out and one of them is in the Tibetan Yoga or the soul long is the is what, it's how it's set in Tibetan and long long as the energy breath is what that means. I think she is as the Sanskrit word, I'm not mistaken. And so this all long, there are five movements that we do, and there, there the intention is to activate those same five chakras. So we do different movements to activate them. And, and, and there's a lot of energy involved in it. There's breath holding. You pull in and you holding their breath holding, and then you do the the movements. And then there's a forceful exhalation as you clear and as you do each of those three times and you move through those five movements. It's there's a tremendous amount of of of energy involved with that and connected connectedness that allows for me, my mind to be clearer as we would then move into the warrior, the sealed syllables and the sounds of our home drums are. And after that then there is a contemplative, a 20 minute or so component of quiet meditation, breathing time. And by the time we've done those other practices, everything is completely clear. I felt I always feel very connected. And I'm not focusing on, as Alejandro calls it, the monkey mind of of thoughts, running and jumping. And I feel very still. I feel very connected. I feel very safe at that moment to be able to.
Impact on Relationships
You know, there I mean, there are some examples of the way that that the transformation or the the path that I'm on with practice has has changed my not only my perception, but my interaction with with people. So one example is, you know, a homeless person or someone on the corner, you know, with a sign or someone that runs up, you know, with a dirty sponge to, you know, to clean to clean my clean one shoulder. And before are those kinds of things. Would those people I would I wouldn't even make eye contact, make them go away from my vehicle or I'd you know, I would pretend that they weren't that they weren't there because the only thing I really cared about was, was me and my, you know, my little small network of people. So I remember being in the car with a colleague and we were driving and we red light and there was a person on the side of the road and I, I rolled down the one and gave them whatever money I had and I didn't really want to back up. And my colleagues said, well, why, why would you just going to go buy drugs? They're going to go buy alcohol. And I said, I don't know. And it's not what they do with that money is not is not not why I gave them the money. I gave it the money, the intention was to be to recognize them and recognize their need and and to try to help. And that is something that I would have never would have never done that that's an aspect of of even recognizing that that being is there whether they're in need or not and even just acknowledging their existence, I wouldn't even do that. And so I, I approached other people with less judgment than I did before as well. So, you know, I read I read people pretty well because I am I need to professionally. And and so I would form a formulated judgment of someone almost right off the bat. And sometimes I was right, sometimes wrong. But it was a judgment. It was it was a judgment immediate. And I really don't I try to I'm much more open now. I'm much more you know, everyone's on the same. Everyone's on the same playing field. Everyone's at the same place to begin with. And so that openness to who people are without formulating that, that rigid judgment, most of the time negative. Like if I could find something to formulate a negative judgment about someone, that's, that's that was my go to place, you know, and it was all, you know, looking back, it was all based on my own lack of connect, connectedness and fear and all that stuff with with me. So I was projecting that off on being better than, than others around me sort of thing. And now I don't, I just, I just don't care. Like, I don't, there's not a need for me to be a better provider than everyone else around me. There's an, there's a need for me to be a good provider, a safe provider to provide an anesthetic for my patients that is safe and supportive for them. But it doesn't have to be better than the one next door or the one yesterday, other one tomorrow. I don't I just don't care. And I care a lot about that before. So and it's interesting that that despite not caring or despite not trying, I have I have surgeons that have surgery. Their request me to do their anesthesia. Right. So I think that my yeah, there's some skill set in there. But my, the change in my approach of not needing to be better than and to just simply just have the right intention, I think has been a big part on the professional side of my of my life in this path that I'm on with the with Buddhism and the way that it has infiltrated, the way that I think and approach people in life. And I went through a divorce during right after I went to treatment. Everything was sort of just kind of spiraling out of control in my life. And as I began to kind of piece it back together, I remarried and Alejandro officiated our wedding. So my wife, again, who was raised Catholic, wanted a Buddhist wedding, not not a formal Buddhist wedding, but she wanted that. She wanted 100 officiated. And so she there was we have a gong gong. So there was a gong. And that was played as she walked into the room and he did a march. It was his first ever wedding to officiate. So he was a little nervous and it was a really wonderful we did. We did a meditation. We did a quiet guided meditation during the ceremony. So everyone will have pictures of everyone, their eyes closed and doing a short, short meditation. And anyway, so the relationship that I have with my wife and I have a step daughter who's 13 raising, you know, I said I would never raise another teenager because my children are 30 and 25 of us. I'm not doing that again. But I swore I would never I would never start over again. But that's totally changed. Like it's a totally different experience. I wish, you know, we're not supposed to, you know, wish things to be different or go back or hang onto those attachments. But I do think about how it might have been different with my kids. I was I was a good dad, but I was a really rigid dad. And I really not open. I don't think that they felt like they could come sit and speak with me about anything and I would have an open who would have open arms and supportive. I don't think that that's that would be their perception. If you ask them today and I try to be more like that today, I'm not perfect, but I try to be more more open and try to have a different level of connectedness with with my family now. And it's it's easier for me to do that than it was before. It's not something that I have to work on hard or try or I don't have to work at it. It just it just sort of happens and and it's it's it's the Buddhist practice and it's the practice that's infiltrating. It's infiltrating my life. And I'm not perfect. I mean, I still get angry. I still, you know, we still have arguments. It's it's not like this isn't this is not nirvana. We're not like just in some, you know, utopia. Wonderful. Everything's perfect all the time because it's not I mean, it is simply, isn't it? It isn't in my professional life. It isn't in my personal life. But it's so much easier. The conflict is so much less when there is conflict. It's it's worked through in a such a a different way that has is only there because of my is because of my Buddhist practice and the way that it it shows up. I'm, you know, trying to think of a specific example of, you know, in my personal life, I gave some professional nothings coming to me. You know, specifically, it just seems like it's a an evolution, a path of of of less conflict and less less expectation of perfection that I had of everyone before because I felt so inadequate and all the childhood stuff. So I projected that into having everyone needing to be perfect. And that's a pretty that's a pretty terrible way to live. To live and pretty terrible way for others to live around. So I feel like it's really my practice has really become an integrated part of my personal and professional professional life. A daily, weekly, monthly, yearly, for sure. I'm, I'm very content to sit and speak with just about anyone, even if it's not something I want to talk about. I don't, I, I, before I would just turn my back and walk away. But now I value other people, even if their views are different than mine. And I don't mind hosting that time. And that's a, that's a different level of peace that that never, never even remotely came into my life before I found I found this path. So it's very, very powerful and comforting and peaceful existence compared to to what I what I was before. And I guess that transformation that Alejandro was speaking of, maybe that's maybe that's a component of it, right? The the rigid, you know, closed off person that I guess that I was before and now I'm I'm I'll sit and talk to anybody about anything for any length of time. And I never thought I would get to that point. My best friend in San Antonio who runs this Zen Center, he would he was always like that. He would certainly could sit and talk to anyone about anything for as long as they wanted to. And it was just it was magical. And I thought to myself, there is no way I would sit and talk to that person about that subject for 30 minutes. Why would I waste my time? You know, that's the way I would watch him. And, you know, you are the center of attention. He makes you feel like you are the center of the world when he's talking with you. That's the way he's always he's always been. And I just thought it was just just crazy. I would never, never do that. And while I don't I'm not gifted in that way that he is, I I'm very happy to sit and talk to anyone about about anything, if I can, I'm sure. Let's just sit and talk and I'll notice other people around me sort of tense up and begin to kind of drift away from conversations. And I'm happy to just sit and have a, you know, there's always something that comes out of a conversation that's that that's a positive thing or that, you know, you can kind of connect with so much more relaxed approach to, to special people and special events, I guess, in my life. And I still hear that from people. I hear that from friends of one of them said, well, I was they went to Denver for some things like there there are no normal looking people in Denver anymore. And I'm like, what is what do you mean normal looking? But they're so judge. They're so judgmental about it. But that's that was me like that, you know, I don't even pass judgment on it on him for having that. I mean, I can see me saying those things 15, 15 or 20 years ago. So it is it is a an enlightening, bright, wonderful, you know, way to to get you know, if we're walking down the street, we live in suburbia, so it doesn't happen much. But if we're downtown or we go somewhere right on a street and someone that, you know, maybe lives on the street or, you know, I was walking. I know my wife will immediately like like go as far away from them as like she. And at some of it's safety, she's a really tiny little Asian lady. She feels she wants to make sure that I'm sort of between or whatever, but that she she, you know, she still tenses up and still is uncomfortable with other people. And I just I'm just not that doesn't I don't have that that aversion to others, regardless of where they are in their life or where they come from or, you know, those sorts of things. I another another example that just popped in my head at the hospital I was at before the state prison is there and we had prisoners who we took care of that if they had surgical needs, if they didn't go down to Galveston, they would. If it was relatively minor, we would do them in our little, little hospital. And I remember the staff, the operating room staff were always asking the guards like, what? What were they? What were they in for? Like what? What was there? And I never, ever wanted to know. Never to this day I took care of dozens and dozens of them, and I have no idea what they were in for. And I never wanted to know because it didn't didn't make any make any difference to me. Number one, it's none of my business, but my job at that moment was to take care of these humans who were in need, regardless of what their status was, regardless of what got them to where they were, whether they were in a prison jumpsuit with handcuffs on, or whether they walked in off the street with crutches from a football injury in college, it's the same the same exact person for me. And I'm telling you that that is not that was not the case 15 or 20 years ago. I would want to know what they did, and I would want to find a way to make sure that I pass judgment on them for whatever it is that they that they did. And that's just not I mean, I've never been in prison. I should have. And there were times that I, I probably should have been, but I haven't. But those people are the same people that whether it's grandma or whether it's the guy that's covered in tattoos from head to toe, it doesn't doesn't make any difference to me because it's they're they're they're sentient beings. And and I would have never I would have never thought of it that way. I would have wanted to know I would have wanted to pass judgment. I would have wanted to hang on, you know, latch on to that that attachment. And never a not not one not one that would start talking about it and ask them to stop talking. I didn't want to hear what what was happening. I didn't want to hear what the guard said. I don't want to hear what the staff said, because that wasn't my role in that time. And so that's another example of of, you know, looking at looking at everyone differently. And regardless of who you are or where you came from or what you've done, you're still a sentient being that that in that moment needed my help for something in a professional way. And I provided it without judgment or or wanting to know, you know, anything else. And that's very different. I hadn't thought about that and, and a couple of years, but it's a it's a good example of how it's infiltrated my my professional life again.
Sangha
I went to my first practice at like Mantia, Texas, and Alejandro was a board member that went to Texas. And so that was my first introduction to a Buddhist practice and group as a small, small center in Houston. And I met people. Everyone seemed to be very friendly and they were getting ready for a retreat. And then about a week and a half and I just met these people. I just walked into the center for the first time. I was a little apprehensive. I didn't know the practices. I didn't know, you know, I knew Alejandro and he was, of course, supportive. He would he would he was leading our practices. And I remember they ask, oh, and my wife came with me, so my wife grew up in the Philippines, all girls Catholic school till the age of 21. So she came to this Buddhist center with me and they were talking about getting ready for this retreat, and they were listing out the things that they needed help with. And my wife said, Oh, I'll do. I think it was flowers or something. And they're like, Oh, great. And they went and somebody handed me a key to the center, and I've been in here for an hour and I thought, Wow. So they just handed me a key to this to this Buddhist center so that we could do flowers. There was no hesitation. There was nothing. They just but that's how that's how everyone was. That's how everyone is. I mean, I'm still I'm still a member of the Sangha. And the support the the support and the the openness that that that the members of this Buddhist sangha are mean. They're they almost glow. I mean, you know, Alejandro has a glow around him. You should Dinmore and Dorothy MATTHEWS, executive director and Jackie it all of these wonderful people, there's almost a light that just emanates. They're just, you know, and they're so glad to see whoever is there. It doesn't matter whether they've been there once in the last year or 50 times in the last year, it doesn't it doesn't matter. They're just so happy to see to see people and to support the the other practitioners as they're on their journey. And and I can't it's hard for me to put into words how powerful the Sangha became, has become and still is over these now, I mean, almost ten years. I think these people are very dear to me. And and the support of of doing these practices that I began with Alejandro in this terrible time in my life and and then being able to to learn the practices, learn why we do them or understand them better intellectually so that I can it would help me focus different components with the, with the spiritual piece of it and, and incorporating that in and being able to do that together with other Sangha members was, was just incredible. I couldn't believe that there were people so, so friendly, so supportive, so, so spiritually connected. And in there we're running a business at the same time. They were running the center a small, but there were still running it and and bringing llamas in from all over the world for these retreats. And I was just I was completely swept swept in with this whole with this whole thing and very blessed at the time to have found them. And and still very blessed. You know, COVID we're in the middle of a pandemic now. And and so everything's virtual. We're not meeting face to face. And I miss them dearly. You know, the retreats and the being able to sit next to Sangha members and and chanting together and the power of of prayer, recitation and chanting and and practicing together and as in a single space, is something I miss, but very, very powerful.
Teachers
So I have the great fortune of having teachers one from the West, Alejandro and then to Denmark also. And who is from the East? Our resident lama. And we you know, the healing process for me began with a connection with Alejandro. On a personal level, one on one. And and then he evolved into, you know, the sangha and being exposed to other teachers coming in for retreats and hearing. Hearing Alejandro talk about his teachers and how. How important those teachers were and are to him and how many years he had been their student and what he had studied with them and his path and his journey and sharing that. I think there's a lot of power in the teachers sharing their their path and his his role. You know, there's a very personal role. Alejandro and my wife and I are very close friends. And Alejandro's wife. We've we have we have lunches together. Sometimes we we have a personal relationship that is that goes beyond student teacher. He has professional interests that are, you know, somewhat similar to mine. And so and so. And while that's evolved a little bit differently, but, you know, we we've connected on on a very much different level than just student, student teacher. But his his role for me has become, interestingly, less formal over time from a student teacher perspective. And and it's become a little bit more more personal. So we and then most of that's probably for me, you know, and and not you know, I've said it a few times in this interview that I'm not not the best student, you know. And fortunately in the lineage that I'm in, you know, you practice as much as you practice. And we get I get the benefit of my practice. But, you know, if I don't or if I'm less connected and then I lose that, I lose that benefit. Right. So there's no one saying, well, you have to do this or that or, you know, that relationship with Alejandro is is you know, he travels a lot. He's very busy. He opened the Mind Body Institute of the Young Center, and he's the founding director. And and he travels you see teachers all over the world. And so he's very busy. So we connect electronically most of the time. We don't connect face to face much. And with the pandemic as well. So, you know, the the student teacher role has really changed for me over especially over the last couple of years with the pandemic and I haven't I mean, I haven't I haven't touched you should in Mars hand in two years it's a you know or I haven't given Alejandro a hug in two years. So it's a very different relationship as a virtual relationship and and it's not, it's not uncomfortable, but there's a lot of power in and being together and and not just through Zoom, but being together as we as we teach and and as I learn, as they teach and I learn from them. So Alejandro is his has become a close, a good a good friend. I still am his student. He still teaches, but maybe a little bit less formally over time, just in the way that our paths of have have gone. And I'm very comfortable with that. As as it is, we're Gisha Denmark is is our resident lama. He he he's learning his English is getting better. He's learning how to communicate with us and teach us. And he's have, you know, as Rinpoche says, he has to study us a little bit, too. And and learn from us as well. But he's such an open, caring, wonderful person. He's just his outlook is so positive and his his knowledge is so vast. I mean, he it's just amazing what they have to what they go through for those. I mean, I guess it was a 16 years of of learning. I mean, from the age of seven or eight to when he was in his twenties or late 20. I mean, this is a very long path that they that they follow in. Their their education is obviously very formal and and very extensive. And so, you know, his path is is obviously very different than Alejandro. So his approach is is to teaching is different. And I find them both very supportive. You did not in such a personal way, much more on a teacher, student aspect. And but it's very, very comfortable. I can give an example of of of how they're slightly different and approach. And so I had a after in recovery and after getting back and doing doing well and doing my thing, I had, I had a, a really substantial negative event that happened in my life. And it was a professional situation that was very, very devastating. And so I wasn't I lost a I lost an important position. And in my professional life that I plan to keep forever. And so it went away. And so I was devastated. And I went to to Alejandro and he I told him and he was like he and he was asking me, you know, trying to connect with it cerebrally and gave me a hug. And we talked and it was there was a discussion, you know, about incorporating some facets of my practice. And but he was also connecting with with it cerebrally, because he's Western born and he has a profession, a professional life, and he was connecting with that as well. And I went to the center and met with with you to demand and told him how what had happened and how devastating it was. And he he paused and he is like, your dogs will be so happy that I was like, I mean, I thought my career is over. And I said, Well, you know what? My dog is like? Your dogs, your dog, so you're going to be home. The dogs will be so happy. And, you know, looking back, I mean, that's such an amazing way to look at life. Like to take the take, you know. Yeah. Okay, well, so that happened. So, you know, it happened. It's done. It's over. It is what it is. Now you get to going out with the dogs and play with the dogs. Right. So they're, you know, they're different in their in the way that they approach teaching and the way that they approach me as a as a as a student. But they're but they're both amazing in their in their own way, you know, Alejandro's formal teaching with our with our center, with our Tsonga is less because he has is we work in conjunction. So we mentioned Texas and the institute at the Young Center definitely do things together. We host things together as much as possible. But it's a it's a different path. So he's not teaching formally at our center like he used to. But we have, as you said, Denmark has a resident lama who does who does our teachings. And we have others that come in. But he's much more the formal teacher at the center. He is our spiritual leader and the spiritual director of our of our of our center. And so it's a much more student teacher, a little bit more formal from that perspective, a little bit less personal than my relationship with Alejandro. But they're both they're both pretty amazing. They're both pretty amazing people. I really do miss I really miss being having physical time in their presence because I, I get a lot out of that. Just even if we're just sitting, even if we're just in a in a quiet meditation or whether they're teaching or not teaching, just being in their presence has a very positive glow. I mean, there is a light there's actually a light that could probably be captured by camera, too. Just emanates from both of them. They're just so open and they're always smiling and they're always they're always glowing. And so there is for me, there's a lot of power and enrichment and benefit that I get from being in their presence. And I miss that deeply. And other Sangha members as well. The power of the song of being together. So, you know, you should my leads are or he's a part of our Wednesday practices or we may not may not lead them directly, but he's always there and he does our retreats and and I participate. I just wish that, you know, that we can have more time physically as this pandemic waxes and wanes. I'm hoping that that will wane enough that we can get back together and do a little bit of physical face to face teaching. But they're I'm I'm very blessed to have to have both to have Andrew and to he should. And I think as I was thinking about this interview in time, I think I was I think I took it for granted a little bit too much to the the amazing opportunity that I have for both of these these spiritual teachers. And I think I took it for granted a little bit that I that I have access to that because not not that that's not I know it's not common for for students to have that kind of, you know, access to teachers at that of that caliber, of that of that level of knowledge and openness and wanting to give and and and I'm grateful for this time with this this interview, because I think I was taking that for granted and not being aware of of how powerful that is and how fortunate I am to have that to have that opportunity. I knew it. I was aware of it, but I don't I think I took it for granted a little bit. So I'm grateful for this time because it's allowed me to reflect back a little bit and not not take it for granted so much and be more open and and make a better effort to reach out even if it's virtual and spend more time connecting with them. Yeah. So the, the relationship, the student teacher relationship is in our lineage is relatively informal from a a process perspective. We it's, it's a, it's kind of a lose. So if you're if you attend if you attend teachings, you're a student of that of that teacher sort of thing. And so it doesn't it's not always formalized. But in my situation with, you know, with finding Alejandro, when at the time of my life that I found him and in the process that we went through, it was a very intimate, powerful, scary, difficult time process for me. And and so there was there was, you know, a lot of positive and very difficult work that we did together. So our relationship has become personal. But I you know, he asked me, so how your practice and how, you know, what aspects are you are you struggling with? Do you have are there pieces that are that are stronger today or other pieces that you you have difficulty with? And and so he's his availability for to give me that feedback is is is great and it is virtual now. But you know and I do live I live about an hour from the center and that's through Houston, Texas traffic. So my, you know, getting when we were having face to face practice as me getting there at that time of day you know is a six 3645 star. And and so I'm driving through, you know, he's starting at five. So geographically and fortunately I have some limitations to being physically present at the center. I did spend some time on the board. I still volunteer. I answer all of the emails and phone calls. Actually, that's how we that's how we got together was through an email, through the info. I live in Texas but so my my access to Kisha Dinmore so he's always he was he was at the center almost every day and so being able to go to him with questions or with challenges or just go and just be in his presence, you know, maybe help clean, clean the altar or maybe help reorganize the book, the books in the bookstore, or just sit, just sit and sometimes not say anything. You know, this is very it's a very wonderful thing. And I, you know, I gave the example of the the the the huge, impactful negative thing in my life and how he was supportive. And he was supportive beyond that, you know. Oh, the the the dogs. He was supportive. He he helped me. He's sit down and and and and connect. You know, I was having trouble finding in that time. I was having trouble finding any safe space. I was I was just devastated. And and both Alejandro and you should spend some time helping me calm down a little bit and and get back in and connect with that. Even if it was for short periods of time, connect with that same space and begin to reconnect. And as they helped me do that, the power of this event became less and less and less and less, and eventually is now it's just an event. You know, I don't I don't grasp it, but I grasp it for for a long time. It was a it was a major opportunity for my practice that they really supported me in. And there have been other times, I mean, you know, nothing nothing comes to mind. That's a specific, tangible example. But there have been other times that I I'll sit and talk with them or hear them speaking with other students about about pieces of their practice and and then realizing that I'm maybe, maybe that's that's not something I had thought about for some time. And then, you know, setting a time to sit and meet with you should in my about about that facet and he would always he would always have a practice he would he would go and find a piece of paper or two with a specific piece. He would sit it Oh. And he would go and, and he would know exactly what to bring me to help me with whatever I might be struggling with. It wasn't just simply, Oh, well, let's sit and think about this. Like he would have a tangible something that I could take home with me to my daily practice because he's he because that's I mean he's he's got a basically as a Ph.D. and and the Boone tradition, he's he's so well trained and so knowledgeable that he knows exactly. And he knows me as a student and he's able to connect me with the teaching that would that helps me overcome that obstacle so much more readily. So he it's just such an amazing and that's something that you didn't Mamadou that maybe Alejandro would would not do maybe 100 would connect cerebrally with me. We might sit and work on a practice component together, whereas you should. Dinmore is on the more formal teacher side. Teacher role would give me the practice or would send me in today's world. He would send me the link for the for the the electronic access to that or he would say, I need to find this. It's at home, I need to find this practice, I need to translate it. Sometimes he would even translate things that had not been translated in and what he had with him from from the East. So that that's incredible. That that's I mean so few people have access to that that kind of knowledge and understanding and ability to even if he couldn't do it perfectly in English, he he was able to almost immediately connect me up with what I needed to help me get past whatever it was that I was I was struggling with. So it was amazing, amazing opportunity. Amazing people for sure there is in there. And there something that I don't always appreciate is how much work they have to do to understand us in the West enough to be able to to get those teachings because they learned all of that and their language and and their their tradition and their culture. And this is a totally different world for them. So they're having to learn, study us as much as we're learning from them so that they can provide that support and and give the teachings in a way that we can understand and digest it. And it's a lot of work for them. I don't always appreciate how much work that that is for them, especially, especially like you said in my with the English. And he's he's just he works so incredibly hard to do that. So yeah, it's it's a it's a wonderful I have an access to it is just just wonderful. So much so much there, you know. And like you said, there's 84,000, right? So if this one doesn't work well, there's you know, it'll be thousand 999 other ones you can go to go find a to a something that you can connect with. You know, that's it's such a it's just it's so great. You know, it's not that there's just so little dogma. It's not this is the only path. This is what you have to do. This is the path. This Z path. And for us, it's just not like that, you know? It's it's awesome. It's awesome. That's the best. That's what I can. Times are good.
The Practice
I remember Alejandro coming to me kind of early on and saying, So how's your practice? How how is your practice? How is your practice? He didn't he didn't quiz me on on my understanding of it intellectually. He wanted to know about. He wanted to know about my practice. How. How how is it? How do you feel? How are you? Are there pieces of it that are difficult? Or are you. And so the. My introduction to. To burn Buddhism to Tibetan Buddhism. It was a very much a healing component for me. I needed it very badly. But it was all practice based. I mean, not all. Almost all practice based. The intellectual piece or the learning or understanding of the practice came came much, much later. And so it is it is about the practice. And when I see him, you know, he he will I mean, if I if I see him today, he's like, oh, how are you? Oh, you know, big hug. And, you know, how how's your practice? Like, how is your, um, how is what, how, what is your journey you look like? Is the other way to ask that question? How are you in this transformation or how you know, are you using that on a daily basis sort of thing and not from a teacher? Are you doing it correctly, but just wanting to know how how am I practices and and I did that. It's powerful because the hope is with with the Buddhist teachings or the practices that we we pull that in to our daily or daily life. And, and for me, it was work like I, I, it was not something that happened easily. I had to block the time and I had to almost make myself. I had it was I had to have the right intention. I didn't always I didn't always want to do it. There were times that I didn't want to sit and do. I wanted to go do something else. But, you know, Alejandro and Rinpoche both will say, if you can block off a meeting with someone at work for 30 minutes, you can block off your time with yourself for 10 minutes. You know, put it on the calendar, put a reminder and I actually did actually actually put my practice on my calendar as I was still a very busy professional at the time. And in the academic world, in the clinical world of anesthesia and a teacher and I was very, very busy. So I put it on the calendar, I put a reminder and and it worked. And then it became not work anymore. It didn't it became not forced or work. It became part of part of what I did. And then I looked forward to it. Then I looked forward to shutting off everything else and as opposed to having to shut off everything else. Now I want it. Now I want it, you know, then I want it to. And so the practice, the, the, I'll call it the formal practice or the, the Wednesday practice that we we do. I would incorporate pieces of that into my daily into my daily practice. And so and that has evolved over time. My time in front of the altar is actually less now than it was four or five years ago. The actual time in front of in front of the altar, I still do sit in front of the altar every every evening, every night. I do that I still use those same the same components of same facets of of our practice that we do that I've been taught over time. But it it'll change day in and day out depending on what I feel like I need what what pieces of those practices that I want to connect with. But what I, what I find and I'm not even aware of it until usually after, but what I find is those those practices, those pieces of of the nine breaths or maybe, you know, the cell lung or the Tibetan yoga, maybe I'm I'm sitting in the operating room and I can't I can't break out and a and an a heart chakra yoga moment. But but I can visualize it and I can hold my breath and I can I'll sometimes find myself touching my chest or touching my throat. And these are happening without me being aware of it. So they've integrated into, into my daily life. I, I remember I was so I've, I've started a new clinical I'm a part of a new clinical practice and a new contract in a hospital. And there's transition and there's always it's always about the people. It's never about the what. It's always, always about the people in life. And there are some some problem. There's a problem, folks. And I remember sitting in a meeting with one of these one of these folks and I was I had faded off and stopped listening to this person. And I was visualizing a beach, bright white light clouds moving through the sky. And I had done that without even thinking about what I'm thinking about. It. And I came back and then listened to and the outcome of that interaction was very different, much more positive because of of that almost subconscious integration of some of that practice into that moment. I wasn't even aware that I did it. So it would have been a much more I think a much more contentious negative interaction outcome of that time together with this person that if I hadn't done that and I probably would have carried that with me through the day and probably carried it right into into sleep, you know, and woken up in the middle of the night, probably hosting it, maybe. I don't know. But I remember Alejandro would ask me, I would talk with him. I was like, oh, this, you know, I would talk about this one thing that happened in my day that was so, so stressful and so I was so angry or unhappy about it. And he would say, Oh, you know, how how long? How long did that take? What you know what? How long were you having to start? And I said, Oh, gosh, I 30 minutes. He said, So what about the other 23 hours and 30 minutes of that day? What about the rest of it? And I would be like, you know, why? Why are you asking me that question? He said it was 30 minutes of a 24 hour day. So what about the other 23 and a half hours? Would you know? What about those other aspects? Right. So the the integration of the practice and the changing the way that I was thinking about is hanging on to that one negative thing all day, as opposed to being grateful for being aware of all of the other wonderful things that happened that day, that I walk outside, that I hear birds, that I talk with, people that I enjoyed and that I you know, why do we hang on to that one that one thing? And and I still do sometimes. I mean, I it's a practice. It's not it's not perfection. I still find myself getting through the day and coming home and talking about work and what do I focus on? And when I'm talking about work with my family, maybe that one that one interaction. So I'm still, you know, still learning is still integrating my practice in my daily life. But when I do sometimes consciously, sometimes subconsciously, it makes a huge difference. And, you know, we we dedicate our practice at the end of every practice we dedicate to all sentient beings. And sometimes I'll, I'll think to myself, well, this, you know, this, this, as I honor call him special. He calls them special people when they're a special person, I'll just dedicate my time with them to everyone else and not I'm not. And try not to internalize this time with these with these special, special people or special things in our life that we want to grasp on to and hold on to and not not release. So it's it's powerful to be able to you know, as my practice has evolved over time, I don't I don't sit in front. I kind of envision myself, you know, five or six years down the road. Well, I'm not just sitting in front of my altar 30 minutes and I'm sitting in front of it for two and a half hours a day like this expansive time. And that hasn't really it hasn't really developed that way for me. I I'm still there. I still have the same facets. I still I have a singing bowl that I that I play every day and I, I, I, I drop in, I live, I set my alter, I light a light the candles and, you know, left we do have a little ceremony. We love to write and we put them out right to left. And I have offering bowls that I'll sometimes fill, sometimes not. And I still go through that process every day. But I don't I don't sit there. I'm not there hosting a my practice at my altar more now than I was five or six years ago. And I kind of thought that would that would that would be the case. But what I what is happening for me is the integration of those that my practice popping up throughout the day in different scenarios. And sometimes I'm not even thinking about this and that's probably the biggest change for me. But but, but we have but I have to practice. If I if I don't practice, if I don't sit, if I don't take the time, then what happens is for me, slowly, over time, my mind begins to drift right back into that same pattern that it was that it was in before. I'm less mindful, I'm less grateful. I'm hanging on to those special things, the special people and special events. In my day, I've become a little bit more rigid, I become a little bit less accepting. And so for me, I do have to practice and I have to reset myself and I have to block that time. And are there days that I don't make it up there? Yes, but there are a few. Like I really try to get there or, you know, I do in-house hospital call so I can't get there, but I do my practice. I still find it maybe 2:00 in the morning when I when I finally get to a but I'll do maybe just 10 minutes of something to reset myself to to to help me get through that, that, you know, difficult maybe 24, 30, 36 hours. So I do I personally do have to practice. And my teachers all say in order for this connectivity to be there in the safe space to be there, you we have to practice. We have to we have to go and go through the processes and practice it so it isn't forced. If I don't do it, nobody says anything to me. I mean, no one, no one's like, you know, I'm not making a log of how many minutes I sit sit in practice. And then somebody reviews it and says, Well, this isn't enough, or this, you know, it's it's it's my practice and and and I have I have I personally have to do it or or it just it begins to fade. It begins to drop back. And and again, you know, I'm not the best student. And I'm probably I probably, you know, my teacher would probably say, you know, maybe you should spend some more time practicing. I think that would be a fair judgment on his part. But there are members of my Songer that practice two or 3 hours a day like you should. And it's it's like between six and eight. I mean, it's is is 3 hours, 2 hours and 3 hours of of daily practice and is just awe inspiring for me that these these people can do that I, I can't for timewise, but I just don't, I just don't spend that much time. But I have the benefit. I do practice, but I have the benefit of the practice throughout my day. I think that's the the most important thing for me is to be able to use those practices and for it to make those small changes and help me through through sometimes a difficult a difficult day. Yeah. I'm going to pause for a minute. Yeah. And you cover the material really well I think the importance of.
Motivation
We do a dedication, prayer, and we dedicate our practice to all sentient beings. And when I heard this the first time, I did the prayer and I was reading the English, I was reading the English translation and I think there's something that I it never occurred to me. The the song of members, all of them would would always talk about others and how they would help others and the value of their people. And. And that's just not something that I, I did. It was, I was very, very self and closed and to do a of an hour and a half practice and then dedicate that entire practice to everyone else but me was pretty foreign. I didn't I don't really I don't really get it. But it but it is it was very powerful for me to to realize to begin to realize that every sentient being matters and I'm not I'm not this the focal or center point of the universe. And that's how I spent the first 40 years of my life thinking that I was. And so the dedication, you know, the practice that we we did and do and that dedication piece was very powerful for me, that we we do the practices, we, we, we connect, we, we go through all of it, and then we dedicate it to everyone else and the value of every other sentient being in the world is something that I find warming and supportive and and enlightening for me, because I was so I never thought of life that way. I thought of only me in my immediate family. I didn't think of of everyone else. So the practices in this lineage in this and the one tradition have been have been a big part of my life for a long time. And I do I do our Wednesday practice, a smaller component of it every every night. And then we still get together on Wednesdays, virtually, and practice together via Zoom. And and I don't make every I don't make the practice every week. But but when I do, it's, you know, I get to see the the faces and the smiles and the, you know, the people that are so incredibly wonderful in this and this wonderful, wonderful tradition.
Comparison to other traditions
So I remember when my wife came with me to. She went probably, I don't know, four, maybe four, three or four or five months with me to Wednesday practices and was getting to know the people and really enjoying the the sangha and then the members. And I remember she asked me one time on the way, she said, So do I have to convert? And because she's she's Catholic, right? And I said, there's no there's no converting to anything. I said there was actually a Catholic priest that was attending Wednesday practices when I first started at La mancha, and he would go to Wednesday practice once or twice a month and connect with us. And he's an ordained Catholic priest. So there's not it's a it's a it's an interesting, very different approach to spirituality compared to the more the the different facets of Christianity and and even Islam, maybe even Hinduism, the they're more formalized in the way that they the way that they practice. And I have had some exposure to them through as a teacher in a graduate program. I had a what it's called an immersion weekend, where students that are online would come in from wherever they were in the country. And we would spend a weekend going to different, different spiritual and religious places. And the Islam, you know, the Islamic center, we would go and spend hours with the director and and the mandir down in Stafford and then we would go to the Zen Center of Houston. I my a colleague of mine was a, a teacher there and of course, ah, we would try to find a time to meet with Alejandro if possible. So, you know, there the practices that I've participated in or watched are very the process of, of coming into or that that religion or that that spiritual path are pretty formalized in many ways. Certainly with Christianity and Catholicism, there's definitely ritualistic processes that that happen. And and we we are exceptionally not ritualistic. We we don't there's not a very there's not a specific path that you must take or or requirement to, to complete stepwise pathways into, into our ah lineage at.
Buddhism
You know, I think there's so many different facets of Buddhism that I think anyone can find what works for them, because I know I mean, I have friends that probably wouldn't be comfortable just showing up and not having some sort of formalized they would want to have some structure and some and a path and a, you know, and they've found other Buddhist, other teachings and Buddhism and other lineages that would suit them better. So I think that Buddhism is a is a different way to look at life. It's a different way to connect with ourselves and to look at and view the world. And there are so many different ways to do it that I think anyone can find the right what works for them and what fits fits for them. And and if even if someone, you know, like my wife who was raised Catholic in in the in Asia, she still goes sometimes she still meets with these people. She still participates in in our practice. She goes sometimes we'll go to retreats and and go through the practices. She didn't have to convert. There's no conversion to to to burn Buddhism. You just you go and learn and be a part of. And and I remember she would tell me, you know, she was an all girls Catholic school for 21, 21 years and and everything was very formalized and very, very ritualistic. But she said her favorite parts of all of the everything that they did was when they would go into the woods, they would there was a there was a place that the did the school owned. And they would go they would drive and go out and they would sit and they would they would just have contemplative time. And I mean, they were it was meditation. Time is what it was. But that was her favorite time that she remembers of all of the teachings and all the time and Catholicism. And and that's that's that's what we do. That's how that's how we actually practices and that sort of connecting and and contemplating our connectedness with with all sentient beings and the the stressors around us and the the challenges that we face. And maybe it's pain, maybe it's relationships, maybe, you know, the the samsara, you know, birth, you know, old age, sickness, death, you know, sort of process that we live in all the time. And the ability to connect and be released from that at some point, hopefully reaching enlightenment or at least enjoying the path and the journey to to maybe find that someday it's a wonderful it's a wonderful component of my life. And I really think that anyone who is who is looking for something can find a Buddhist practice that that they can connect with in the world and the pandemic. Now, everything is virtual. So, you know, finding something positive out of this horrible, horrible thing, we have become a virtual world and that's education, that's profession, and that's also spiritually. So everyone is meeting virtually. We have we have members we have people in retreats from Poland, from Germany, from Austria, from Mexico, from Argentina. We, Russia, we translate our our teachings into five different languages. Each retreat is translated and and re re offered to those who registered and paid in in five different languages. And so, you know, finding that there are options out there, even if geographically it's not an option depending on where you are. The virtual world has has really changed access and in a very positive way. So it's a positive thing that came out of this horrible, horrible pandemic.
Contemplative Institute
So when I met Alejandro, I didn't know. I mean, I looked him up. I didn't know exactly who he was or what he did or. And so his his his he was born in Argentina and Argentina. And his story is is funny. He was born in a predominately Catholic, Catholic country. His parents were Jewish. And so he says, of course, of course, I'm Buddhist. That's that's the way he would tell his story. But anyway, he came from he's for the West, from the West. And he did a PhD in Eastern religion and was a member a board member of looking into Texas and was working at the time at M.D. Anderson full time. And the I don't remember the name, but there's a there is an institute, Mind-Body Institute or Integrative Medicine Institute as the name of it. And he worked there and he actually they had a multi-discipline area team that would actually go see patients that included that included meditation, acupuncture. And he was published with with guided meditation, breast cancer, self-image, sleep patterns, pain levels were were improved with mindfulness five short mindfulness techniques that they would do. And so he clinically did did those sorts of things in his work. And then meeting with me was was sort of a someone in need, someone that he felt he could help with his background and his his education to possibly help. So not really a therapist per se, but was instituting or implementing his his studies and his his guidance to help me in my in my time of a really big need. So that's that's sort of where he comes from. The tradition that we follow is Tibetan Buddhism that I'm now following. At the time I had no idea. But that's that's his lineage. And his teachers are Tibetan lamas and teachers. And so the practices that we were beginning to do together, one on one were based in that in that lineage. And so as I learned them slowly over time and began to connect with them, it was very powerful for me to work with him and have that spiritual connectedness. Um, that I wasn't getting in my, you know, and the other I was sort of felt, I felt like I was running parallel. Parallel what a recovery life because I was for I was forced to do the 12 step piece. And then I was working with Alejandro in addition to a behavioral health specialist as a as a third, I guess a third or another component as well. But that's that work with Alejandro really, really helped me begin the journey of making some sort of difference. And while it was, it was based on Eastern tradition and Tibetan Buddhism, the the ability to connect for me myself here is so much more powerful than having someone tell me that there is an overseer or God that dictates what, you know, what we do and we give all thanks to that God and we wouldn't exist. That just isn't. I just couldn't connect with that Christian spiritual peace, but I definitely did with the early work that we did with the the Eastern religion that he did. And it was very powerful.
But there were lots of pieces throughout time that were really not not okay. And so some motor vehicle accidents, some injuries in addition to my what I look back on now is fear based anger. And, you know, self-centered sort of life ended up in rehab for opioid abuse. And that was in 2011th October 2011. And I was a pretty big, pretty big blow for me professionally because I do anesthesia. So I carry around these these medications every day. I give them to patients every day. And then I was I was taking them I mean, I was taking them for myself so, so devastating emotionally, spiritually. And so I the recovery road began in a treatment center and I didn't I didn't I had I didn't see a path out. I didn't see any way for me to to to make it there. Everything is based on 12 step. I was going through the process of 12 step, got a sponsor, did those things that we're supposed to do. But I wasn't feeling it at all. I was just going through the motions and I was not it was not working. And so I asked someone at the treatment center when I was outpatient about how to what what I could do, like what are my options. And he gave me two names and I called both of them. And the first one to call me back was Alejandro Trouble. And that was the beginning of my of my path.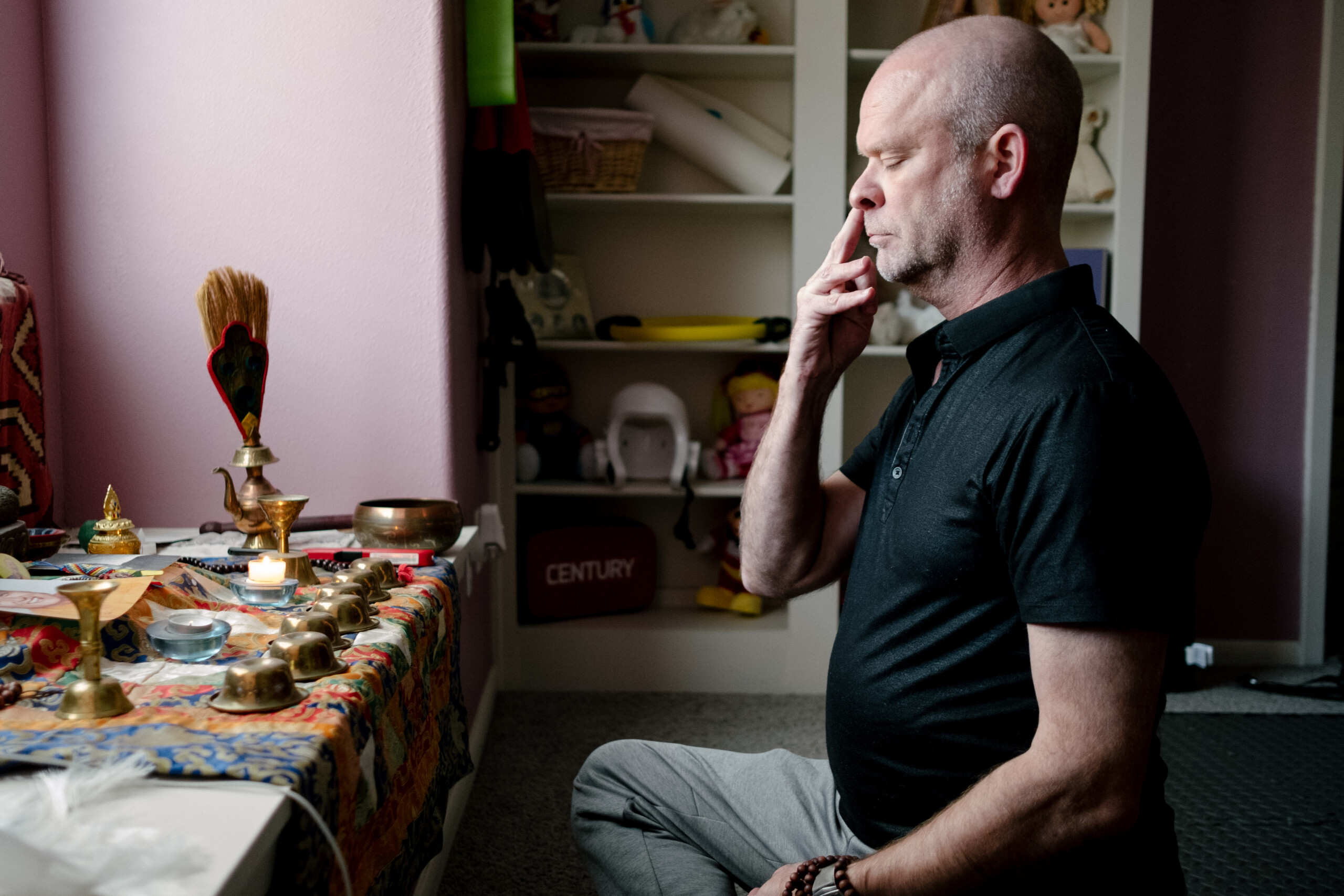 So I projected that into having everyone needing to be perfect.
And that's a pretty that's a pretty terrible way to live.
To live and pretty terrible way for others to live around.
So I feel like it's really my practice has really become an integrated part
of my personal and professional professional life.