Transcript
Kim Journey/Discovery
00:00:00:23 – 00:00:19:08
Kim
Well, I met Willie, and that's how well, actually, I grew up with a Korean grandmother and she was Buddhist, but it was cultural. It was in the cabinet was the Buddha. And you know, we'd often orange like the incense, and we'd sit there and stare.
00:00:19:43 – 00:00:22:12
Kim
And she didn't say any prayers or anything.
00:00:23:13 – 00:00:29:54
Willy
But you have to say really about you had a Korean grandmother. She was being groomed to marry the the kid next door, and they were Koreans.
00:00:31:56 – 00:00:43:59
Kim
Yes, she was teaching how to be the perfect Korean housewife. Like, this is how you make the kimchi. This is how we planted peppers. This is how you can sell the rice bowl. Don't ever leave the rice bowl.
00:00:43:59 – 00:00:46:05
Willy
This is middle of nowhere small town in Pennsylvania.
00:00:46:18 – 00:01:02:02
Kim
Yeah. Yeah. She was like, You'll be a great Korean wife. You know, she had to make do with she. But I spent a lot of time with her and she did not speak any English. So I learned some Korean, of course.
00:01:02:27 – 00:01:25:28
Kim
And but you know, I, you know, and we grew up around, I was all Christian, of course, and small Pennsylvania and rural towns. But my parents weren't religious. But Christianity was. That's what was available. And but I thought, Wow, you know, the Buddha looks completely peaceful.
00:01:26:04 – 00:01:48:58
Kim
It's calm, and he's sitting in a very athletic position, and he looks like he really knows a lot. But like the old lies, not old. He was like young looking, but had a lot of wisdom into college. I was interested in yoga and eastern always reading eastern philosophy, but I didn't actually seek out any practice and there
00:01:48:58 – 00:02:04:55
Kim
wasn't anything available. It's hard. It's kind of like that ivory tower where, you know, the dorm is kind of hidden and you really do have to open up and find it. It's there, but it isn't really there. It's kind of hidden.
00:02:04:56 – 00:02:29:34
Kim
So you kind of have to trust your path and if you're ready for it. It'll expose itself, it'll share. Yeah, well, for me, it was art. The path was art and art had a certain sensibility and a truth that was real, and art led me on the path to Willie.
00:02:30:26 – 00:02:36:40
Kim
And with that unfolded came the connection to the lineage, to the Buddhist.
00:02:36:45 – 00:02:52:19
Willy
I was and I was interested in art, but I didn't see it as any kind of spirituality. It was, and it was Kim who showed me that it like that. There's actually a tradition in Western art. You know, I was I was looking for something.
00:02:53:32 – 00:03:07:46
Willy
And I thought I found it only in, let's call it, Asian culture. And and then Kim was the one who showed me no, actually, it's deeply rooted in Western culture and that it's in our, you know, it's in our history, it's in our art.
00:03:08:13 – 00:03:13:44
Willy
So she gave me a real appreciation for. For looking at it in a different way.
00:03:14:38 – 00:03:32:37
Kim
There's something that you know, you go if you're doing an art medium, whether it be painting or drawing or photography, there is there is something where you open up to a space and you're part of part of everything.
00:03:32:56 – 00:03:48:15
Kim
And there isn't a certain kind of separation. And then there's a lot happening. It's kind of get out of your world and you open up. And there's like countless worlds of of these insights that happen.
00:03:48:17 – 00:04:05:27
Willy
You're saying like going beyond this little bandwidth, like we're living in this bandwidth here. And then it turns out we're not actually living in it. That's just this kind of forced overlay that each one of us has. We could blame our parents in the world and all of this, but in all actuality, we're responsible for this little
00:04:05:27 – 00:04:10:08
Willy
thing. And so art is this like pushing it open to bigger?
00:04:10:49 – 00:04:11:40
Kim
Yeah, that's a great.
00:04:11:47 – 00:04:21:06
Willy
Bigger possibilities of what's really out there, that there's tons of bandwidth, there's tons of vibrations, there's tons of frequencies tuned in to tons of experiences.
00:04:21:06 – 00:04:40:40
Kim
And Buddhism was like here, the keys to the universe. This is what you're experiencing. This is where the mind. This is a container of the mind, and all of this play is the blessing and the bliss. And you know, it's the the idea that, you know, there is impermanence.
00:04:40:40 – 00:04:57:43
Kim
There's anti-this, but within emptiness, there's this potential. But knowing that there's emptiness is a relief because you're not solid and real and stuck in this suffering aspect, you know, it's like it is very hard. Got the keys to the universe.
00:04:57:43 – 00:05:08:25
Kim
He's like, This is the awakened state, and every single person has access to it. It's not out there, it's here, and it starts with the awareness.
Art
Yes, for my photography, a lot of that, I mean, photography is a perfect medium to show the Dhamma because it's an illusion, it's a dream. Things change in the mirror, the lens like these pictures that appear and then they don't, you know, they come and go. But I have this one series called, you know, kitchen to bed. They call life during the days long dream, and at night it's the short dream. And you know, so I kind of, you know, I have this series of work that spurs with going to the ocean and then going to the mountains and its passage of time . And it's more like a memory from the long dream. It's kind of asking, you know, it's also being aware it's showing up and taking note and looking and seeing what's happening because there's all kinds of miracles and things happening. But we're busy as people did it and we're all here, did it. He did it. It's like and with meditation, we get to learn about the mind and we get to slow down and we get to live the mud settle and then we can be listeners. We can actually listen. And not always. Put, you know, moving, putting our projection out all the time, but the the outside can give a direct insight. And so it's kind of an offering a reboot for such we get to look at something and take it or leave it, but.
Parenting
00:00:00:52 – 00:00:14:15
Willy
And with with Audrey, with our daughter, it's there there's an interesting question you asked about how do we not turn her off because for the most part, it's like Audrey, we're meditating. Go do something. The thing is is that.
00:00:15:51 – 00:00:18:33
Willy
We will not exactly.
00:00:19:52 – 00:00:20:26
Kim
It's because.
00:00:21:13 – 00:00:32:26
Willy
We are not here to tell her, you're going to grow up and be a Buddhist. You can be whatever you want. What it is, though, is a over time. She notices like, Hey, my parents are a little different.
00:00:34:21 – 00:00:47:41
Willy
They don't take certain things so seriously. Not reaction. They're not reactionary. Like it. Like, she starts to look. She does start to look around and starts to take note, like, Wow, this is an interesting situation I'm in. I'm in.
00:00:47:41 – 00:00:59:35
Willy
I'm in a lucky situation here. Now, it's not just that we're Buddhists, it's that we're good people. And that that's that's not to say, you know, that's not limited, but there is something that that we that we have to offer.
00:00:59:36 – 00:01:14:09
Willy
And and just on a vibration level, even though we're saying, Audrey, don't bother us for meditating, it's just like. You know, animals like to come up and, you know, sit next to you and you're meditating and in that same way.
00:01:15:37 – 00:01:21:06
Kim
Now I always sit on her cushion. She'll sit on the couch if you sit and meditate.
00:01:21:33 – 00:01:23:24
Willy
Yeah, she wants to be there. Nice to meditate.
00:01:23:41 – 00:01:25:03
Kim
On. Yeah, they like it.
00:01:25:05 – 00:01:41:01
Willy
And it's all it's a little bit of a bedtime routine, actually, for a while when when we're doing mandala practice that each sound, Audrey would ask if we could do that when she went to bed. As a way, it was almost when she was very young, and it was like separating out when when it was time to
00:01:41:13 – 00:01:52:52
Willy
to not be there to help her fall asleep on her own. And so she'd ask us, Can you go do mandala practice? You know, because that sound was very comforting and warm for her. And she has a good impression.
00:01:54:13 – 00:02:06:45
Willy
When we go to the courses, we take her with us and there's lots of kids. There's the like. When we go to a national course, all her buddies are there from really around the US and even some friends from around the world.
00:02:07:30 – 00:02:25:20
Willy
And they they're running off and playing their things and having their fun so it can be a juggle. It can be, you know, if you drive to a course, it's, you know, exhausting. And you know, it's there's always this delicate balance of being a good parent and a good Buddhist.
00:02:25:20 – 00:02:44:38
Willy
And because we had already had a solid foundation and being a good Buddhist, we could be good parents and sort of let you know, sacrifice the good Buddhist for a while. Like, you know, I don't know if that makes sense, but but just in terms of like stepping out of responsibilities in terms of some responsibilities on like
00:02:44:38 – 00:02:46:47
Willy
just strictly bureaucratic level of like.
00:02:46:54 – 00:02:49:34
Kim
Oh, like being in the song and in your time, there.
00:02:49:34 – 00:03:03:23
Willy
Is work to do. There's emails to be, there's this, there's there's jobs to do and step out and say, I'm not going to do those jobs or even you go to a course and we would. When Adobe is really little, we'd have to take turns, you know, because she didn't have all her buddies and she wasn't old
00:03:03:23 – 00:03:14:20
Willy
enough to just play with them. And so we would take turns like one of us was going to be. And actually, my mom would come sometimes and help out to come to the chorus and just hang out with Audrey and kind of make a vacation out of it.
00:03:14:39 – 00:03:17:58
Willy
Right? But often it'd be like.
00:03:17:58 – 00:03:19:02
Kim
That's just part of parenthood.
00:03:19:02 – 00:03:19:34
Willy
Yeah, just.
00:03:19:34 – 00:03:20:10
Kim
Split it up.
00:03:20:28 – 00:03:38:42
Willy
Yeah, just you're a parent. You don't get to go, you know, there's a party. What do you go to the party and what do you stays home with the dog? I just decide it's what it is. So but it's it's that if we're going to ever convince her to be a Buddhist and do the practices, it won't
00:03:38:43 – 00:03:52:57
Willy
be us telling her to do it. It'll be strictly that she goes, You know, my parents were really happy people. There are good examples and I kind of want to I kind of want to also be able to, you know, have those practices that they had.
00:03:53:03 – 00:04:11:26
Willy
That's that's the the full brunt of it, you know, and if she finds some other path that works for her and makes her happy, that's that's great for her. We're happy to know my. Yeah, and that's another thing to I'd say, very distinctly Buddhist principles, is that our priority is that Audrey's happy so.
00:04:12:53 – 00:04:29:58
Willy
Which is not necessarily what our culture is asking of her. So like when she got really big into gymnastics. It was like get better and better and stronger and stronger and earn more medals. And and that was great, and we praised her for working hard, but she was a bad sport about it.
00:04:29:59 – 00:04:41:59
Willy
You know, she's going to, you know, I don't care what medals she got if she's a bad sport, right? That's that's no, that's not specific to Buddhism. What is, though, is the more of the we want her to be happy.
00:04:41:59 – 00:05:01:53
Willy
So it's not that we want her to succeed. And so if I see something where it's making where she's not OK, if she has to learn diligence, just learn endurance, she has to learn how to muscle through difficult times, which is one of the reasons we had her in public school all through elementary school is because we
00:05:01:53 – 00:05:15:53
Willy
want her to be faced with the challenges of every day. You know, we're not trying to isolate ourselves into this perfect bubble of everybody's happy. You know, we are trying to deal with the real situation and influence the real situation.
00:05:16:07 – 00:05:32:30
Willy
So when she was getting really wrapped up around gymnastics, to me, it was just so clear that she wasn't happy. So it's very easy for me to just let her know, like just noticing you started going from two days a week to three days a week because that's the next level.
00:05:32:30 – 00:05:49:12
Willy
And she has to, you know, train really hard and and and just noticing how it's influencing her and and that I want her to have endurance and muscle through and get good at something, but only if there's also some level of genuine happiness.
00:05:49:36 – 00:06:03:14
Willy
And so I pointed out to her like, You're not happy. It's just really obvious to you. Don't you don't care about me. You know, you're not supportive. You know, and then eventually she came around and she's going like, Yeah, this is this sucks.
00:06:03:55 – 00:06:12:19
Willy
And there are aspects of it that she wanted to keep doing. But it just had already. It wasn't doing it anymore. So she got all her medals and she put them around her neck. And this is all her own.
00:06:12:38 – 00:06:22:41
Willy
She her own volition, and she went to her coach. She showed up to practice, she went to the coach and she told the coach and all the students, and she gave them all a hug with her medals on.
00:06:22:57 – 00:06:36:28
Willy
She don't know how she came up with that. And she said, This is my last day. I've decided I'm not going to continue. You know, and then it's different. Then she started getting into horseback riding and she's like, horse crazy and she's getting good at it.
00:06:36:28 – 00:06:39:44
Willy
And it's and it's and there's consequences. It's horse riding.
00:06:39:44 – 00:06:44:33
Kim
That's you have to deal with the animal. It's another mind.
00:06:45:27 – 00:06:58:10
Willy
You have to deal with an emotional, massive beast that whose only defense is to run at a moment's notice. If a bag flaps in the wind, you know, like if a mailbox lid opens, it's the end of the world in which, you know.
00:06:58:40 – 00:06:59:04
Kim
Yeah.
00:06:59:18 – 00:07:19:34
Willy
And so. So it's really more about, I think, if if I have a benchmark of happiness, if I know what happiness genuinely feels like, then I can genuinely gauge it in my daughter. I think that's the that's called out the Buddhist values because really the goal is happiness and Buddhism, so.
00:07:22:16 – 00:07:43:29
Willy
So on that relative level, relative levels of happiness and then, you know, again, I'm a kid sick, say, and going back to it, but happiness includes. Challenges and diligence and the hard work and then and then being on the receiving end of all of that, you know, we gave her time outs, but it wasn't really punishment.
00:07:43:29 – 00:07:59:16
Willy
We taught it to her, like this is when she was really little. But basically, we have been training her how to get distance from a situation since she was born. So I had a really little edge. She'd be that.
00:07:59:38 – 00:08:11:02
Willy
I mean like that. That's a very, you know, go to your room. But but it was again, if it's done right, it's not with any anger. It's just authority and a clear boundary. And it's not. You're in trouble.
00:08:11:16 – 00:08:26:36
Willy
Go sit and do nothing and you're punished. It's you need some time to think about what you're saying right now or how your behavior has consequences. And when you're ready, come out and let's talk and she come and slam the door.
00:08:26:37 – 00:08:33:20
Willy
Hey, you and then and then and then maybe crying and then whatever. And then and then quiet. And then.
00:08:34:05 – 00:08:34:15
Kim
I'm.
00:08:34:15 – 00:08:47:16
Willy
Sorry. And then she comes out. She's like, I'm sorry. And with a real ease, with a real reason. Not not. I'm sorry. Let's get this over with. But like I thought about it and you know, this is this is what I've decided.
00:08:47:16 – 00:08:52:41
Willy
And you're you're right. I'm sorry. You know, like a real, real answer.
00:08:52:56 – 00:09:16:12
Kim
Right? She felt the emotion and then she felt her. Frustration of like, how do I get this, how do I communicate this without, you know, throwing a big fit and like really getting to the bottom of what I what my need is and and having to, you know, do I have to succumb to being out of control
00:09:16:43 – 00:09:28:40
Kim
? And then like, I don't I have a choice. I can think about it next time. Taylor, you have to go through the motions and emotions both. Yeah.
00:09:28:51 – 00:09:35:52
Willy
So I'd say now it doesn't necessarily translate into like, let's do this breathing method or something that it's more like time management. It's more like.
00:09:36:10 – 00:09:53:27
Kim
Last week, like we were walking. We're on the I. We're at the dog park and. She really wants to go see Hamilton and her friend will probably go in L.A. maybe it's not even certain, but but she was upset about it.
00:09:53:27 – 00:10:16:06
Kim
She was upset that her friend is seeing something that she wants to see her having like. I it's not fair feelings like this isn't fair. So we had such a grueling conversation about like, well, what is it when you see somebody experience joy joyfulness and that they get to do something that you want to do and then
00:10:16:06 – 00:10:34:20
Kim
you feel this, Oh, this is it's not. It's not working out for me. So we are trying to share this feeling of like if somebody is experiencing it, then that's a good thing because then you'll be able to experience it someday, like we want to multiply those feelings for them.
00:10:34:30 – 00:10:42:02
Kim
We want to be happy for them. We don't want to be, you know, disgruntled that their experience because we're not.
00:10:42:18 – 00:10:44:42
Willy
And you want your friends to be happy because they're going to be nice to you.
00:10:45:47 – 00:10:58:36
Kim
That to you, to kind of just like and then you're going to be on the other end, too. You know which you want your friend to feel that to you. You know both sides and putting your feet in other people's shoes and just.
00:10:59:59 – 00:11:13:54
Kim
Podium, you know, putting more of a rounded look upon it besides, you know, just, you know, pity party me, woe is me was me, but she was really in this woe is me thing like, I just want to.
00:11:14:14 – 00:11:28:12
Kim
We're like, Hey, if you want to experience sad, like you can go into that, but it's, you know, you can come out afterwards and we'll talk, right? Yeah. But it's like nobody really, really gets a lot from it.
00:11:28:53 – 00:11:40:17
Kim
And she labored over it for a while, and then at the end, she was like, OK, I get it. I get it. I, you know, I want to see it too, and I'm glad she's going to see it.
00:11:40:19 – 00:11:42:38
Kim
And, you know, but it took a lot.
00:11:42:38 – 00:11:42:54
Willy
Of.
00:11:43:52 – 00:11:47:54
Kim
This and it's a child to, you know, it's child.
00:11:47:55 – 00:12:01:31
Willy
That's how, yeah, she's twelve years old and she's right where she should be. But yeah, we really, in the advice of our family is really not to not to try to get them to do any kind of meditation practices or anything like that.
00:12:01:53 – 00:12:25:17
Willy
The good education is already the foundation of concentration skills, and that's the very first step in, you know, calming and holding, you know, or focusing on your breath or calming and holding mind. So it's um, it's it's more of an integrated thing where we teach her to gain distance from her emotions for that.
00:12:25:51 – 00:12:33:12
Willy
Yeah, yeah, that. We want her to be happy. Yeah, it's really simple, right?
00:12:33:13 – 00:12:41:44
Kim
There's the rollercoaster, we all experience it, but we don't have to get on the ride. We can go in the middle and we can watch it go up. We don't want to go down, we can't.
Perceptions
00:00:00:03 – 00:00:16:27
Willy
I mean, I think with parents and this is kind of general across the board, this is more general, this is what probably any most business you ask. The parents are a little wary because it's like, what's this guru and what's this and what's and why are you going to this altar and what do you?
00:00:16:29 – 00:00:33:28
Willy
You know, it sounds kind of religious. And then they take note like, wow, you really like happier or better person and you're more successful or superficial outer stuff. But but they're like, it's this is good, you know, but it doesn't seem to be, then I want that.
00:00:33:29 – 00:00:42:53
Willy
It's more just they're happy. The parents are happy for you, like. And that's a really across the board. Like, I think pretty much everybody kind of says that. And then as far.
00:00:42:53 – 00:00:48:22
Kim
As our stepdad actually likes to meditate, so he likes to join in. And actually, your mom?
00:00:48:27 – 00:01:08:03
Willy
Yeah, my mom passed away, but you know, she was she. She would come with us to courses and and my stepdad has come with us for a retreat, you know, retreats and courses and stuff like that. And he he already had an interest many years ago in some type of a zen practice and was into Taichi and
00:01:08:03 – 00:01:09:13
Willy
stuff like that. And yeah.
00:01:09:15 – 00:01:12:27
Kim
Here it is, like riding that line.
00:01:12:31 – 00:01:25:37
Willy
And then with my dad, I think it's more like we ski together, and I think that we can translate without using any words like Buddhism at all. I think it translates through talking about that moment when subject of connection to one.
00:01:25:39 – 00:01:44:05
Willy
You know this this this moment of entering into the free for those kinds of conversations on a very deep level and then also on the level of death. You know, we're very we're very just last week, we went skiing together up in Taos and it was perfect, perfect powder day and amazing skiing.
00:01:44:06 – 00:02:00:19
Willy
My dad is 73 and he's still skiing, you know, down very steep chutes and in the trees and and he's also recovering from a knee injury. So he kind of gasses out at like two. And, you know, but he's at 73.
00:02:00:19 – 00:02:13:02
Willy
I think he's actually recovering from an injury and then going to be stronger next year. So we'll see. It's and we're not we don't pretend, you know, he says this could be the last ever ski. This could be the last I ever breathe.
00:02:13:04 – 00:02:32:59
Willy
You know, he says that. And yeah, he's very aware of of impermanence. And I think that over the years, our conversations have just been natural and actually on a road trip. one time I read all, he wrote a book on Fearless Death and I read that book to him on the road trip and without any problems at
00:02:32:59 – 00:02:55:49
Willy
all. So he he just you wouldn't say that he wants to sit down and meditate. But the it seems that there's some kind of a it's not a conflict. And then as far as friends go, I've just always had friends that they just they never took interest.
00:02:56:43 – 00:03:22:30
Willy
And I have noticed in the last couple of years as as my friends are in their forties and fifties that they are taking interest because people are dying around them. They're getting old. They're discovering their weaknesses. There's there's this, you know, life will show you old age, sickness, death and loss that's going to happen, whether you're Buddhist
00:03:22:30 – 00:03:39:24
Willy
or not. And then people start to ask because it's so fundamentally clear. Well, there is this. You know, Buddha did teach about old age, sickness, death and loss. And maybe what what is his perspective? And it's always his as if Buddha was this guy like Jesus.
00:03:39:24 – 00:04:00:16
Willy
You know, this total misunderstanding of what Buddha is. But you know, because really, you'd say Buddha is your your highest potential. But it but in recent years, people, friends are coming around and they're not necessarily coming around to my school.
00:04:00:16 – 00:04:12:51
Willy
And in particular, they might be, you know, starting a meditation practice. But they come around and they ask for advice, and I'm able to give them advice that they can take on a practical level into their lives or to integrate into their meditation practice.
00:04:13:30 – 00:04:27:12
Willy
And it's it's a shift that I just noticed recently. So I imagine it's just going to increase because for us, we've been doing it for enough years that as time goes on, will be more and more settled into our practice and more and more embodying it.
00:04:27:12 – 00:04:45:02
Willy
And then as time goes on, it will, you know, will be shining brightly and and and they're scary things out in the world, especially as you get older and will be able to help people, you know, and it's it's not necessarily convert them.
00:04:45:38 – 00:05:02:44
Willy
It's being able to say the right thing at the right time, speaking from space, being able to understand that that there's something that some piece of information, some nugget, something that they are. Needing to chew on. And they haven't been able to find it in that.
00:05:03:01 – 00:05:07:14
Willy
And here it is, you know, and pass it on and it's very, very natural.
Relationships
00:00:00:12 – 00:00:02:31
Willy
We'd be in the middle of an argument egos.
00:00:02:50 – 00:00:02:54
Kim
To.
00:00:02:55 – 00:00:12:06
Willy
Be like, Oh, man, if we don't meditate, it's like, OK, hold that thought. Like when we're done meditating, I'm going to cream you like, Oh yeah, you know.
00:00:12:10 – 00:00:13:08
Kim
We're going to go out and.
00:00:13:18 – 00:00:23:35
Willy
Do, you're going to be done? And then and we'd go sit down. We'd meditate and then, you know, an hour goes by and we're done with meditation and we're like, OK, so what were we arguing about? I don't even care anymore.
00:00:23:47 – 00:00:37:42
Willy
How do you remember? So it was a it. It's like it. Just it's such an example of this. Like, here we are in the drama and things are important. And yeah, but you said that it it. But this is what I meant.
00:00:37:43 – 00:00:51:13
Willy
And you know, and then it's like, OK, we got to go meditate and then you meditate and you've got distance from it. And that's really what the practice is. So on this really blatant level, just in terms of our relationship.
00:00:51:32 – 00:01:05:14
Kim
Yeah. What are you going to choose to put your foot in gum all the time? Or are you going to choose to not put your finger like, what do you want? What do you want to do? That's the thing with Buddhism, it's self-responsibility.
00:01:05:41 – 00:01:18:04
Kim
It's like you take responsibility. It's about being a grown up. It's about, you know, owning your baggage and then saying, Oh, I don't have to have the baggage anymore. I can't let it go. Or, you know, the ego really holds on tight.
00:01:18:49 – 00:01:40:16
Kim
I mean, doing a non-Jew is a lot of ego bruising every day of every kind of disturbing emotion that you have maybe identified with as yourself in your life. And it's not so. So it sheds that that lens of, yeah, all these things come up, but they're not.
00:01:40:29 – 00:01:57:59
Kim
They're not really you. There is really no you. Ultimately, so how how much fire and you know, how much fuel are you going to put into that? What's important? Because mostly in Buddhism, then it's about benefiting others. It's also about helping others.
00:01:57:59 – 00:02:16:18
Kim
And you know, you don't have to be so consumed with your own, you know, dramas. And but those are those are the that's the path because we are in a body and we it does stem from the middle, from all of our self, and it goes out in many ways, like a cell.
00:02:16:46 – 00:02:28:16
Kim
And then you just have to know that that's what's happening. It's like, you know, the under working, you know, with the roots are so you have a lot of space, right?
00:02:28:17 – 00:02:42:51
Willy
And we talk about for the benefit of all beings. But what does that really mean? OK, so maybe like maybe I could maybe 20 people at the most. I mean, how many people can I really benefit if I'm not, even if I'm not benefiting my, my partner?
00:02:43:56 – 00:02:55:48
Willy
And then I claim to benefit all beings. That's pretty ridiculous. You know, so. And there were some very embarrassing moments. There were moments where like, we get a fire and I go too far and say, like, you never cross that line again.
00:02:55:53 – 00:03:12:53
Willy
And I'd be like, All right, yeah, you're right. That's that's that's that's not that's not who I am. That's my that's my bad habit. That's just a habit. And in the practice, it can. I don't have to identify with my actions.
00:03:12:53 – 00:03:22:16
Willy
I can. I can be embarrassed and I can acknowledge I did it and then I can offer to grow up like that's it's never going to happen.
00:03:22:39 – 00:03:37:09
Kim
Anger is the worst. It's the most damaging. And I'm all able will tell us, like, you know, if it's one that you can refrain from, if you can't deal with it, then leave the room because it's it is really the one that's based on merit.
00:03:37:09 – 00:03:54:51
Kim
And all of it can everything that you've been building up for lifetimes, maybe that can be gone like you can really blow it with anger. And there's a really great Confucius story about his son, and he was terribly angry all the time and he was ruining everybody's lives.
00:03:54:52 – 00:04:13:38
Kim
And then he finally asks his dad. He was like, Dad, help me. I really have an anger problem, and it's really hurtful. And he said, OK, well, every time you're angry instead of, you know, blowing it all up, go nail a nail in the fence, just don't yell at them or hurt them, go over the fence.
00:04:14:19 – 00:04:27:54
Kim
So he did, and he did it for like a year. There were thousands of nails or wood, whatever he pounded in, and then eventually he stopped. He's like, You know what? I think I got it. I'm not angry.
00:04:27:59 – 00:04:43:09
Kim
And so his dad said, Well, OK, instead, why don't you share the joy like things that are good? And each time something's good, go take a nail out. So he did, and the year goes by or however long all those nails come out.
00:04:43:38 – 00:04:56:41
Kim
And then at the end, he and his dad are looking at the fence, and he says, that's anger. It leaves a hole. So it's really yeah, there's something with anger that's.
00:04:56:55 – 00:05:01:46
Willy
It's almost it's hard to get to undo button. Yes, better for you in the first place.
00:05:03:26 – 00:05:04:47
Kim
It's more like wisdom, but.
00:05:04:49 – 00:05:24:17
Willy
Yeah, yeah, sure. And we were and we have methods for that. But often I think with the anger, it's like to to be able to truly pull off, transform transforming. Anger is a super skilled and not something I even want to try to do because it's well, actually.
00:05:24:17 – 00:05:47:27
Willy
No, I take it back. Uh, no, I don't take it back now. You just don't know what I was going to say, because with I just came to mind as as, you know, parenting happens, there's this authoritative thing where as a father figure, as dad, where I have to really.
00:05:49:05 – 00:06:03:53
Willy
Create clear boundaries for my daughter, for our daughter. And there's I can get very big. And that's it. We don't do that, you know? But it's like inside, I'm kind of I'm talking about on a good day, I'm not talking about anger.
00:06:04:04 – 00:06:09:08
Willy
And that's why I can't take it back, because this is an anger at all. It's you can be big and you can.
00:06:09:28 – 00:06:11:31
Kim
It's oh, we are benefiting, right?
00:06:11:32 – 00:06:22:30
Willy
It's for her. Like, we're just showing her something and it's none. I'm bigger than you and I'm going to teach you, you know, same thing. Like, you know, yanking the child out of the street like an oncoming car.
00:06:22:32 – 00:06:32:36
Willy
That's not anger at all. Right? The transformation anger. That's just that's just high level stuff that I just don't want to try to, you know, claim to do.
Sangha
00:00:00:03 – 00:00:23:48
Kim
That in the beginning, the saga was really important because they were practicing and you got to experience what it was like to be in a room with others practicing. And then it's really a gift. And to have a group of people that are all working with their minds and and trying to experience Muhammad or Enlightenment, right?
00:00:23:49 – 00:00:40:56
Kim
And we're all here together and we're really putting our energy towards that. And then they become they become like your brother and sister and ways of here. They can bounce back, they can mirror back, they can because they're also doing the practice right along with you.
00:00:41:53 – 00:01:03:17
Kim
So it's kind of a it would be it's hard, it's lonely when you don't have the the group's support. And there's probably. As far as, like development, you you have more chances to develop when you're with a group because there's others to point out for you.
00:01:03:20 – 00:01:26:06
Kim
Like what are you doing with where to check in your life? Check, check, check feedback. You need feedback otherwise. I mean, it depends on, you know, what people's proclivities are and what they want in their life. In Santa Fe, we have a small sangha, but we have a Sangha and we support each other and and it brings
00:01:26:06 – 00:01:46:46
Kim
us back and it connects us with the lineage, with that idea. You know, we're all in this stream and we're not isolated. And but Santa Fe also has that side to it too, where it's quiet. Nature Place. I often my practice in the morning is I take my dog in the mountains and I meditate there.
00:01:47:33 – 00:02:04:40
Kim
I would normally meditate at home, but because I'm dropping my daughter off right by the trailhead, it just makes sense that I go and it's really special in the morning, especially it's and the nature likes it. I think I.
00:02:04:40 – 00:02:06:10
Willy
Like birds come around and humidity.
00:02:06:41 – 00:02:19:48
Kim
Yeah, it's interesting to see you on the air to be connected. Also with that nature, Sangha to those are other. Like a whole other part. But then you have your people song.
00:02:21:13 – 00:02:22:32
Willy
Then you've got your buddies have a song.
00:02:23:11 – 00:02:43:54
Kim
Everybody suffers. Yeah, yeah. It's a I mean, it's in the three jewels for a reason. It's because you're not alone and you don't necessarily want to be alone, either. I don't think we're ever separate entirely. And then that gives you the push.
00:02:43:56 – 00:02:58:55
Kim
How else do you get information to you? I mean, I learned so much from my friends in that world that became Buddhist teachers that shared. It's a constant share of exchange and you kind of you really need that if you're on a path.
00:03:01:38 – 00:03:02:05
Kim
Yeah.
00:03:03:32 – 00:03:24:08
Willy
Yeah, I think that for me, it's just so clear because there is me running around alone when there really wasn't a Sangha. And I did 8748 and I thought, That's pretty good. I think I'm done. And then there's me with a Sangha, and the saga is not going to let you like, make up stuff like that.
00:03:24:56 – 00:03:44:20
Willy
That's true. And they keep you in check. And I think that in New York, it was a unique time because again it was still the early days for Diamond Day in the US, even though we were even though in Europe, it was more established so we could go to Europe and there could be 1000 people in a
00:03:44:20 – 00:03:57:43
Willy
tent and empowerments with check your avishay and all kinds of stuff going on and people finishing Munroe left and right. And but in the US, nobody had finished and Andrew know and and so and so we.
00:03:57:43 – 00:03:58:43
Kim
Were working hard.
00:03:58:57 – 00:04:08:03
Willy
And so we were working hard. We were like, We're going to do it. Our whole group, our Sangha, we're going to be the first, you know, New York, we're the best. So we were going to be the best in Idaho.
00:04:08:06 – 00:04:12:47
Willy
So we finished, you know, we were the first to finish Andrew in the U.S. like our Sangha, our local Sangha.
00:04:13:29 – 00:04:13:51
Kim
Yeah.
00:04:13:53 – 00:04:15:58
Willy
And and.
00:04:16:34 – 00:04:17:07
Kim
Your pride.
00:04:17:57 – 00:04:28:03
Willy
And it was just, yeah, and it really was family. We would get together every single then. Then came and I lived at the at the center in Brooklyn for seven years, and every Saturday.
00:04:28:03 – 00:04:29:25
Kim
Was all day.
00:04:29:39 – 00:04:47:09
Willy
People coming over eating and cooking and meditating together. And often we had guests. I think that. Lumley was supporting us. He knew we weren't quite making rent. So everywhere around the world, he travel and he'd say, You've got to come see the Brooklyn Center.
00:04:47:09 – 00:05:01:09
Willy
It's amazing. And so we always had these guests coming and they'd spend, you know, $15 a night to stay on our floor in the Gulf. And and so that basically helped make rent, but it was this wonderful exchange and also in New York.
00:05:02:26 – 00:05:16:16
Willy
We had something like 20 nationalities represented, you know, so. So and when when you're all cooking and cleaning and making a mess and then sometimes not cleaning together, you know, it's a real opportunity to see the different cultures come out.
00:05:16:17 – 00:05:27:22
Willy
So you've got, you know, Germans and Hungarians or Russians and and Germans like totally opposite ends of the spectrum. Yeah. So somehow it's always Germans and Polish or Germans, Irish.
00:05:28:12 – 00:05:29:46
Kim
But Italian.
00:05:30:07 – 00:05:44:31
Willy
But it gave us the chance to really see this. This and Sangha is part of the magic of Sangha is it's like, we're these kind of rough stones and we're clashing against each other. It's not necessarily, you know, once the honeymoon is over.
00:05:44:32 – 00:05:56:48
Willy
Sandra can actually be a lot of it's like family. And finding your family is wonderful and then it's kind of like family, it's like, oh, geez, like family. So there's a lot of like.
00:05:57:13 – 00:05:57:45
Kim
Argue.
00:05:57:46 – 00:06:21:35
Willy
You know, knocking you a little rough spots off. And as these stones are in the tumbler, they start to polish and shine and right. And I think I think it's a similar experience with teaching because I was all they had asked me to teach a few years back and I wasn't ready because the recession was tough financially
00:06:21:37 – 00:06:44:50
Willy
. I was in a rough patch and our daughter was young and things, you know, you really have to be in a place of surplus. On many levels and and it's and you can't really lie. I think. You know, it's it's one thing to kind of study and learn the Dhamma and then look good up there and, you
00:06:44:50 – 00:07:05:52
Willy
know, sort of like where, where nice clothes and do your hair, but. And it's another thing to study so that, you know, to say and in what order. But the big one is. Is this really because when you find yourself in a teacher role and when we say a teacher in Diamond Way, we're talking travel teacher for
00:07:05:52 – 00:07:20:28
Willy
a while, we played with the words. Maybe it's just friends who travel, you know? Teacher is not the right word. We have a teacher and that's lovely. And also the that. And then we had, you know, the rest of our teachers have pretty much passed away.
00:07:20:29 – 00:07:44:15
Willy
Shamar Rinpoche in charge here in Shanghai tonight. All and we've actually lost a lot of teachers there. You know, we subject matter and pressure and. Naito, Naito, Ricochet and Sheriff Yeltsin, but anyway, they're there are the teachers, but in this so-called friends who travel rule, it's really more like Sangha activity than teacher activity.
00:07:44:16 – 00:08:04:48
Willy
So if the teacher is the source of blessing and inspiration and methods, the song is the activity. It's the it's where we really like, put it together. And what I found in that in that teacher role, I'll travel to a center and it kind of seems like.
00:08:06:33 – 00:08:22:50
Willy
Something that could be ego building because you're representing the Dharma in that role, but actually it's more like really getting torn apart. And it's not that the Sangha is mean, and it's not that they want to like, tear you apart.
00:08:23:13 – 00:08:41:39
Willy
It's that somehow there's this extra light being shined on just you as you're up there alone talking and they are not shy and they will just, you know, telling you straight up like, you know, your nose bends to the left a little bit and just staring and looking at you for an hour and they're like, I can't
00:08:41:39 – 00:09:03:19
Willy
get my eyes off your nose. It's like, it's crooked. Did you know that? You know, Oh my god. And but you know, different levels too of like things that you just can't hide. And so in the end, I think there has to be a fundamental true happiness, like you have to feel truly confident and in a place
00:09:03:19 – 00:09:23:40
Willy
of surplus to go battle against the Sun. Like it's not a battle against the song Adobe. It's it's it's the most. I mean, it's it's like dear close, heartfelt relationships and and people are honest. So I at first was like, Oh, I want to go teach like, I want to go do that, you know, like, Oh man
00:09:23:40 – 00:09:37:44
Willy
, I get to get a free flight somewhere and there feed you. And then you're like, Oh my God, that is not a free flight that is like, you get your ass kicked. And and really, it's kind of there's also there's levels in it.
00:09:38:00 – 00:09:59:07
Willy
There really is something. There's truly to go it to me. It's almost like being called to go meet with the teacher. And so there's this this jolt of blessing and purification. And for me personally and and so if I am invited somewhere, I actually.
00:10:00:59 – 00:10:22:21
Willy
In some ways, it's it's better to just not get invited somewhere, it's better to just live out my life. Focus on what I'm doing here in Santa Fe or go travel and. We also have a lot, you know, our local retreat center is the Keaney Ranch, which is is it 350 acres up in San Luis Valley?
00:10:23:04 – 00:10:28:45
Willy
Spectacular views looking at the sangria crystal mountain range, just this jagged 14,000 foot peaks.
00:10:29:47 – 00:10:29:58
Kim
Out.
00:10:29:58 – 00:10:44:54
Willy
There, rattlesnakes and, you know, cougars, cougars. We haven't encountered the bears and the mountain lions, but we've encountered lots of rattlesnakes and and and that's our local group. So between Santa Fe and Denver, we're actually really a region.
00:10:44:55 – 00:10:48:38
Willy
So our art to when I think of my local Sangha, it actually includes Denver and.
00:10:49:00 – 00:10:49:46
Kim
Albuquerque.
00:10:49:57 – 00:10:55:32
Willy
And Albuquerque. So Albuquerque, Santa Fe to Kenny Ranch, Denver, it's the mountain region, basically.
00:10:56:29 – 00:10:56:56
Kim
Yeah.
00:10:57:48 – 00:11:03:28
Willy
And and I'll be going up to Denver tomorrow to meet up with everybody.
00:11:03:29 – 00:11:05:20
Kim
And there's a weekend.
00:11:05:20 – 00:11:16:37
Willy
And we and then the following week and after that, we're going to meet up at the Canyon Ranch for a planning. It's more like a meeting where we plan out this year ahead or next couple couple of years on logistical level.
00:11:16:38 – 00:11:38:43
Willy
And it's. The other thing, too, is sung through the activity activity at the Buddhist center in New York. There's all these skills. You know, we kind of we try to rotate out the jobs. So obviously if you have to move a piano, you get like the two strongest people and you move the piano.
00:11:38:45 – 00:11:48:07
Willy
But but things that are like, who's going to do the accounting, who's going to do this and do that? And you try to actually rotate the people through. You don't want anybody to get too comfy in their role.
00:11:48:16 – 00:12:01:49
Willy
And and what that means is that you get a chance to test out all these little things and see where you're good and so on this administration level. I learned how to send emails, communicate. Be there, you know, be responsible.
00:12:01:49 – 00:12:20:24
Willy
And that helps me in my painting career. You know, there's a lot of the office work side, the promotional side and even just this delicate balance because there's no proselytizing. We don't we don't try to convert anybody. And yet if we don't let people know we exist, I mean, then somebody else is going to have to go
00:12:20:24 – 00:12:21:00
Willy
off to India.
00:12:21:00 – 00:12:21:14
Kim
And.
00:12:21:49 – 00:12:33:29
Willy
Do absurd, outrageous things and come back, you know, with parasites for a year. So, you know, we should at least be in the phone book, you know, so somebody's got to make that phone call and put it in the phone book.
00:12:33:30 – 00:12:47:35
Willy
Obviously, I'm metaphorically speaking, it's all on the internet and fliers and this and that. And but all of that stuff really helped me because same thing with art, it's it's like there's this kind of like sell out thing that can happen as an artist of like, Oh, you're promoting yourself too much.
00:12:47:42 – 00:12:54:59
Willy
It's it's like, No, I'm trying to communicate what I'm doing so that if others have a connection, they can know how to find me.
00:12:55:15 – 00:13:09:17
Kim
So where do you want to go? It's that it's not much about talking about all the things that you've done and tattooing your heart, right? But it's like, Where do you want to go? You know, what's your path.
00:13:09:31 – 00:13:21:09
Willy
Projecting out yet? And so we'd have a meeting in the center. It's like, Where do we want to go? OK, let's make some postcards. Let's do this. Let's do that. And then and it's it's like practice run for.
00:13:21:54 – 00:13:23:27
Willy
I've learned so many skills that way.
Willy Journey/Discovery
I definitely. Had a let's call it a disillusionment phase, so I. I love to learn. I loved school and I really thought that I could. It was just a matter of reading enough books, and then I'd understand the universe and everything in it. I thought it was a matter of more knowledge. And then there is a point where that broke down and around that same time, and I was always very clean and like, no drugs, no drinking. But around that time, I took a very healthy dose of mushrooms and I did not know what I was getting into. There's these rules around when you take this kind of a drug or medicine, whatever you want to call it. And we're actually we're moving into the phase where it's becoming clinical so we can just call it medicine now. You don't do it alone, you don't do it in the dark. You don't do it in a strange place. So I did all those things. I did it in nature by a river, a landmark with a friend I didn't really know. And it was the summer solstice and I totally freaked out. I had a death experience later. When actually studying the process of death and dying, I went through the phases, so there was something more than just some kind of fantasy trip that I I thought I was being pinned down by a car. And that's when this they describe it in, like Tibetan Book of the Dead is the feeling of being pinned down by a rock. And that's the when the earth element is dissolving. Then I was drowning in a in a river. And that's when the water element is dissolving that I was just. Anyway, point is I went through a death process, and when the trip was over the next morning, I didn't know my dad actually came out to pick me up and he was so proud of me. Yes, I was always so uptight and scholarly. And no, this is how we do it. And and of course, my dad was worried about me. I mean, my both, my parents were worried about me, but but I really wasn't sure what was real at that point. And so then and so my study, you know, studying was obviously not going to get me the answers. And a friend of mine was in India sending me postcards, very good friend of mine and I wanted to be there. And so I took a year off, you know, spent part of the time working for $2,000. I spent six months in India that included the flight there and back. So that's just so like on what little you know, this was in 94. It was a closed economy at the time, so there was no Snickers bar. There was nothing relatable. It was basically entering into this 5000 year old culture. And so the first three months was taking in this culture and the and going through the culture shock and seeing things like seeing a pig, you know, being dragged to, you know, a pig to the slaughter, knowing it doesn't want to be killed, you know, like seeing teenage boys being, you know, basically handcuffed and pushed through the streets and beaten, seeing all kinds of things like just, you know, naked woman covered in ashes, walking through the streets, a man with an unsheathed sword who only feeds off of the flesh of the bodies left over in the Ganges. Like, you know, really intense, like archetypal things that are way back through the history of of humans and seeing riches and, you know, poverty and, you know, deformed bodies and you know, so. And then the second kind of chapter, you could say was meeting an invited down to teacher. And this is this is poverty. And he didn't offer any path. You can say no method, even if there is a method. It's just called self self inquiry, where you ask the question, Who am I? But not on an intellectual level. And it really doesn't even make sense to talk about it. It's more just a it was more like a shock to a burst of shock to you and then like a some kind of a look at energy transmission . But what he said was, you know, so my trip was basically, this is all a dream, and it's time to wake up. And then I walk in the door and this guy says it's all a dream. It's time to wake up. And I'm like, No, it's not happening so fast. So I came back. So, you know, and this also included reading a lot. Before I went to India, I had these friends that were students of Rajneesh, and they gave me these stacks of books and I just read through all of them, and that was a little bit of a foundation of western and eastern philosophy from that perspective. And so was everything from, you know, Gergiev to Gandhi to just he had an opinion on everything, whether or not I agreed. It just it was a bit of a guidebook. And so I did root myself in this history. But but Buddhism was was was sort of a just a hodgepodge mixture of of eastern philosophy. For me, it was I didn't I couldn't really separate out what was very sweet, a Hindu and a Buddhist, and I knew that I would meet a Buddhist like on the back of a bus. And I really enjoyed their energy. I didn't, and they were always humble and didn't really want to answer a lot of questions. So I still couldn't learn much about Buddhism, whereas the Hindus were more like, Come on in and, you know, like, let's show you this. Like, it was always a new wedding. And I knew this and I knew that. And so not a lot of experience with lay Buddhists. It was always meeting this humble monk who who just had this beaming smile like obviously happy and had found some kind of, you know, deep meaning without really any offering of how to get that right. So and because because of that amalgamation mix this kind of hodgepodge spirituality, I did have a real transmission, this experience of this advisor Vedanta experience, but it was packaged in total confusion and no real understanding of what was going on. And it was a couple of years later when I really say that I was introduced to my teacher and my past, my lineage, and that happened through this dream. So I said it was a once in a lifetime dream. Even if I tell this story 1,000,000 times is still unsolved and I was speeding particle of light, everything was a rainbow. It was total bliss. It was basically like the experience of having no self, no identity, no ego being completely plugged into the socket of the universe of all beings and experiencing total joy and fearlessness. And I woke up from the dream and I'm like. Wow, that was incredible. And there is a language streaming through my mind, like as if it's the the radio playing. There's this foreign, ancient sounding language just talking and like, Wow, what? What language is that? And a voice like a radio announcer says, Danish and my Danish. Wow. I would have thought Viking age. Yeah, I would have thought Gaelic or Tibetan or, you know, something cool or ancient, you know, but Danish. OK, so about a week later, a friend of mine says, Hey, we're going to go see this Buddhist lecture. And my first thought and I was consumed with, like spiritual materialism was, Oh, I already knew all that stuff. And you're 19. Yeah, I mean, give me a break. I'll say 20 years. Like, I kind of know 20 and 23. So Big Ego. And I'm like, OK, I'll go and I show up and the guys from Denmark. So I go, OK, my ears perk up a little bit. There's something here for me. And he's talking about spaces, information and trusting in space and all this stuff that really just sounds like everything else. It all just sounds the same. You know, if you're 23 and concerned with spiritual material, traveled in India and have big chip on my block or whatever, chip on my shoulder. But I knew I had to listen. But it just was not interesting. And I'm kind of drifting off. And this is Yassuo, who ends up being a very dear friend of ours and and I'm just kind of spacing out. And then he starts to talk about the pole practice, and the pole is it's there's this course on conscious dying or one practices eject ejecting there themselves through their body, through the top of their head into this specific one. Army top is pure land and and the outer side there's an outer, inner and secret side. The outer side is a small drop of blood or a little hole or a little bit of pus in the top of the head. And I'm like, Hold on a second. Like a metaphorical hole. And yes versus no, no, like a. The monks used to put a blade of grass in their hole in the hole to keep it open, but we don't do that anymore. That's not very sanitary. And and we're going to go do this next week, and you're welcome to join us. And I'm like, OK, hold on a second. You're telling me I can go do some each in Tibetan practice or I'm going to. Meditation and get a hole in my head, he says yes. Where do you live? Pick you up so. So they come to pick me up and it's this and I'm a senior and I'm egotistical and chip on my shoulder and I know everything and these like bright eyed, bushy tailed, blond haired, blue eyed, basically Christian looking youth group like Texas Youth Christian Youth Group shows up to pick me up in a van. And they're all freshmen and I'm white, and I'm sure I sound like, what am I getting into? And then we stopped at a Wendy's and everybody's like eating like burgers and fries. And there's a car accident on the highway and this one guy says he said karma of a channel corrigendum like, well, what's that? And he's like, Oh, it's kind of like, it's kind of like, we're like, it's like Star Wars and we're like Jedi Knights. And you can say horrible shadow and like makes good things happen. And they're just like, what is going on here, like I signed up for? So and we get there and it's like bunk beds, you know, even worse, and it's a camp, it's just like, everything's just getting so weird. And the next morning and they're all kind of ego giddy. 00, like lovely. Lovely. I'm definitely thinking I should up the wrong. This is I got suckered into this the next morning, llama. All that comes out and he's wearing like military jeans, a buzz cut and like a and a Russian sailor shirt. And I'm just like, What is this coat on here? And he starts talking and I am sold like and it takes zero time for for him. I am completely captivated. And our first interaction, maybe the second reaction, but I go up for a blessing. And he says, I saw you flying. What did it feel like? And and so we do the polar practice, and it's about 200 people there. Everyone gets the outer side. It's it's like having a vantage point. It's like having the eagle view, I guess it would kind of joke or take the mall and put, you know, glasses on him and strap some wings and throw them in the air and get an eagle view. And it was a profound, undeniable experience that, you know, shook me to the core, fulfilled me and in fulfilling in this way of I had been searching hard and long and dramatically, and I found what I was looking for. Or at least I found that at least the door was open. And so we go after the pole, it's in Houston. We go to these two movies in a row. And during the second movie, I'm thinking to myself, I need to figure out how to connect this thing. So after the movie is over, I go to all and say all, I want to be like you. And he says, Do the ninja and I'm going, Wow, Andrew, that's that's cool. What's that? So that was and that's what it took. It took that because there was no, you couldn't show up at the Diamond Race Center and have those living examples. You, you know, in the U.S. at least, it required that type of experience to pull me in just to go learn. The Ninja required driving from Texas to San Francisco just to learn from Jasper. You know, a couple practices. It was, it was. You had to kind of work hard and then and then all is gone and all the Europeans left all these everybody's like, you know, leather pants and they're all gorgeous and they all leave and then you're kind of just there again, like.
When were you first exposed to dharma?
My first exposure to Buddhism wasn't significant. Infact, it was a turn off. A man who claimed to be Buddhist visited our high school and basically told our class his goal was to become a heartless robot. Well, not entirely, but pretty much… There wasn't any joy.
A mushroom trip, where I experienced the bardos and death shook me to the core a few years later, and I turned my focus away from worldly accomplishments, and towards dharma. I spent 6 months in India and came into contact with an Advaita Vedanta teacher. Later I was "adopted" by a Cherookee grandmother medicine woman, and finally settled into Buddhism, when I took refuge with my current teacher Lama Ole Nydhal in 1996.
The reason I stuck with Buddhism is it gives me tools I can work in everyday life, as well as prepare me for the most profound experiences. The results of practice are attainable and methods are useful across the three vehicles. I also am at home with my sangha.
Kim writes:
My first exposure to Buddhism was my Korean neighbor, who made offering and lite incense and sat quietly. It was a cultural experience- no buddhist teachings, but I liked the beauty of offerings and sitting quietly.
Later when I was in college and met my, now husband, Willy, he introduced me to lay Buddhism, getting the teachings and practicing through Lama Ole Nydahl, via the 16th Karmapa Rangjung Dorje of the Karma Kagyu Tibetan Lineage.
How has the path manifest in your daily experience?
I associate Buddhism with growing up. As I become an adult, I integrate the methods and teachings into my daily life.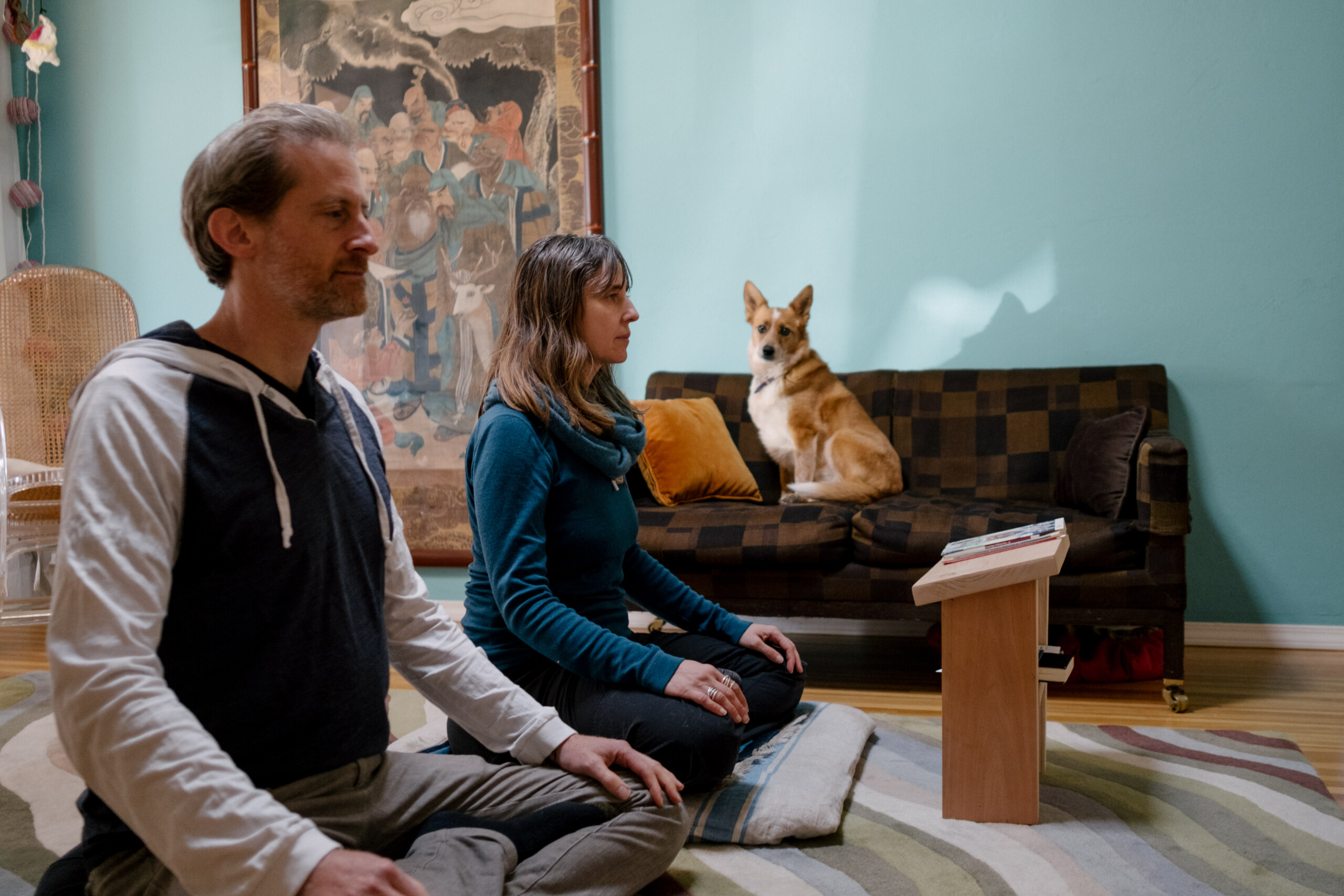 Kim and Willy practices
in their living room.
If you explore other lineages within buddhism, how did you come to decide on which lineage was right for you?
My buddshist Lama first came to me in a dream. It was one of the most profound experiences of my life. There was no time or space, only incredible bliss and I was travelling at the speed of light. Two weeks later a friend invited me to Buddhist lecture, and the following weekend I found myself doing a phowa practice (course on conscious dying) with Lama Ole Nydhal. When I met him, he said "I saw you flying". I took refuge at that course.
It's not like trying out different meals off a menu at different restaurants. When you find your teacher it's more like being born into a certain family with certain parents. One does not exchange root lamas on the vajrayana path.
My root lama is Lama Ole Nydhal, and my lineage lamas are the 17th Karmapa Trinley Thaye Dorje​,Shamar Rinpoche and other karma kagyu lineage lamas.
What are some of your practices/rituals that you do to support your spiritual development (meditation/prayers and etc)
Lately, I often start the day with 54 or 108 prostrations, which is a wonderful way to take refuge, and on a practical level gets the blood moving and keeps the body looking and feeling great. In the evening I'll sit down to some form of guru yoga… either 16th Karmapa, 8th Karmapa or guru yoga from the ngondro. These are familiar, comfortable practices, nothing special, yet always bring me back into the blessing and powerfield of my lineage, teachers and sangha.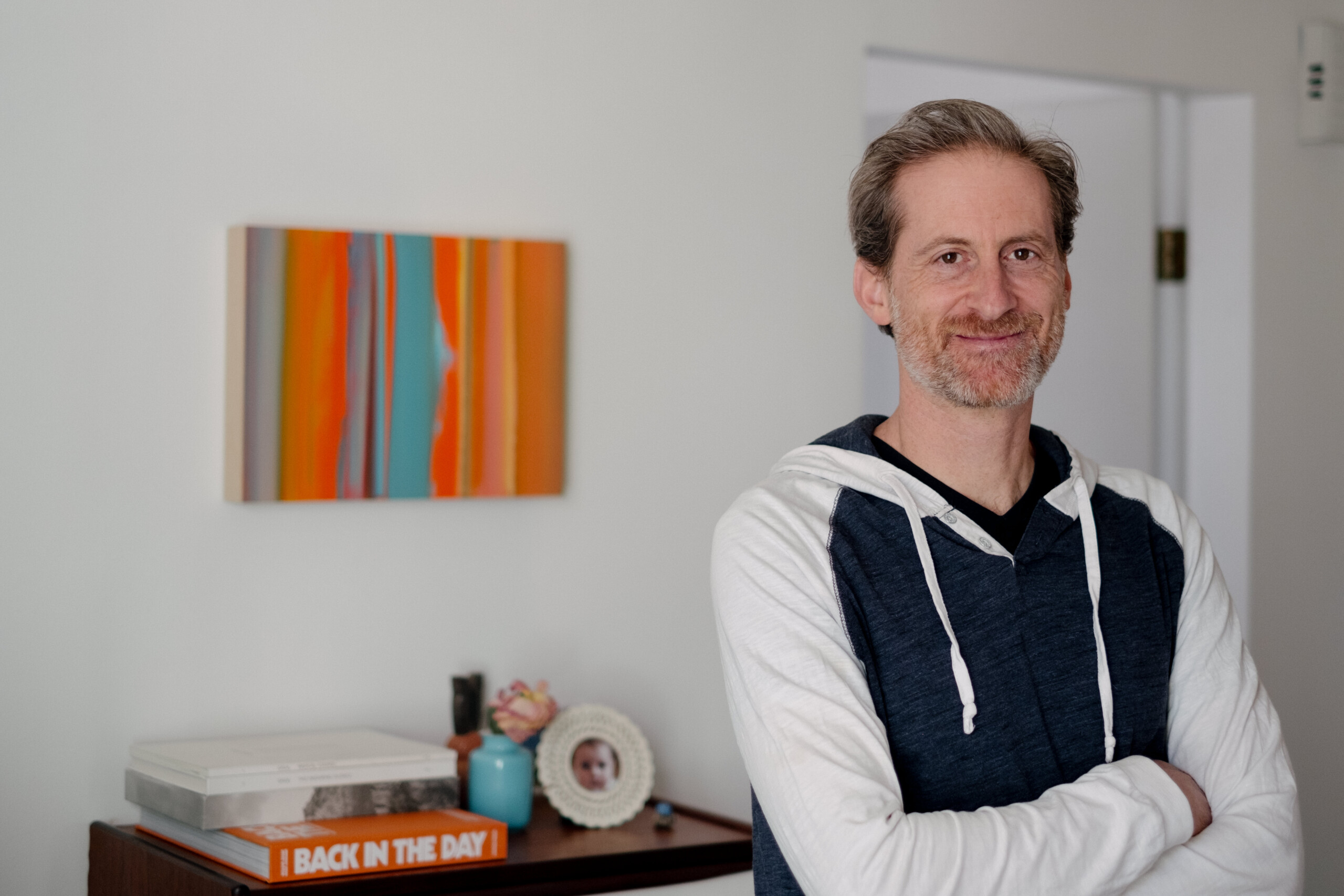 Willy is a fine art painter and
Kim is a professional photographer.
Which sangha do you normally attend. Please describe how the role of the sangha has supported/inspired your practice.
If I didn't have a sangha I'd be an egotistical jerk. These are my true friends that I butt heads with, share meals with, break bread with, so to speak. I belong to the Diamond Way Karma Kagyu sangha.
What is your primarily profession?
I am an artist/painter. My painting practice does not mix with buddhism on an outer level. I keep the two distinct and separate.
Kim states: I am a photographer- studio and fine art
Do you think your personality or background influence the lineage/practices that resonate with you?
I don't. The reason I say this is there are people from every country in the world (outside of the Middle East and Africa) that take part in Diamond Way Buddhism. The practitioners belong to every political party, socio-economic spectrum you can imagine. It seems there is a place for everyone in the Dharma, no matter what their background is or wherever they happen to be in life. I've met ex Russian Mafia members, as well as social service workers in Diamond Way. I've met janitors and CEO's. Personality and background appear to not be a factor. Diamond Way attracts people who have a connection to Kagyu and Nyingma transmissions- nothing more, nothing less.