Mark is an authorized Guiding Insight Meditation teacher who began his meditation practice more than 45 years ago with insight meditation teachers Joseph Goldstein, Sharon Salzberg and Jack Kornfield. His primary teacher has been Joseph Goldstein, and he has trained more recently with guiding senior insight teachers Rodney Smith and Narayan Liebenson. His teaching emphasis is the essentials for a skillful wise affectionate life and how Mindfulness/Awareness in all aspects of daily life can provide an opportunity for Awakening.
J. Krishnamurti also has had a lasting and profound influence on his teaching. He has studied with numerous other teachers primarily in the Theravada tradition, but also in the Tibetan and Zen traditions. Mark has attended 3 three-month silent retreats and dozens of other retreats mostly at the Insight Meditation Society, the Forest Refuge and the Barre Center for Buddhist Studies.
He is an organizer/facilitator at the Sandy Springs Insight Meditation Group, is the Guiding Insight Meditation teacher for the Half Day retreats and leads silent retreats in Georgia. Mark co-founded the Roswell Insight Meditation Community in 2016 with an emphasis on inclusivity, affection and Transformation of all aspects of one's life. He is a retired doctoral level Psychologist and also an ordained Christian deacon. He has been married for over 40 years and has two adult children.
Transcript
And even though we we had our excesses, there was a certain affection there. I've always had a a sense of this deeper affection that I ultimately came to. And so I'm driving up there and I'm thinking about, well, and actually, I, I think I was still drinking at that time because this thought went across my mind that said we could have a pitcher beer and we can have some lobster and I'm going to make some friends and then we'll meditate a little right with this, a little bit of meditation. And I get there and this I, I wrote this down. The expectations compared to reality, the very first day they walked in said there'll be no writing, no reading, no talking. And I'm thinking, did I did I is this is not the movie I signed up for and I so I said, So what are we going to do? They said, Oh, we meditate all, all day. And I thought, What happened to my friends and my and, and, and meeting some women and other stuff because I'd tried to pull away from everything that was taking me to a neighborhood I didn't want to go and I remember writing to my parents and telling them that because they were like, you were allowed to write a little bit and they were like, What the heck are you doing? I said, Well, and Jack, one thing I knew, I didn't I didn't like that. I knew it, but I knew I couldn't go back. And again, there was a certain deep, deep, deep, deep fear from that to to to know that everything you had been that everything you had been trained to do, everyone you knew, no one knew, heard the word Buddhism. Mindfulness didn't hardly exist. You know, years ago it was on the cover of Time magazine. But in those days, mindfulness was a what? But I had this resolve knowing I can't leave. And so I stayed. I was in the retreat about two weeks and they this is what I didn't know. They had offered an option where you could just stay for the first two weeks and then go, but I didn't know that. So I said, Nope, I signed up. I'm staying for the whole thing. And after about two weeks, I had a very deep, profound experience that began with a terror. And it was a dark night of the soul experience. Of course, I didn't know what it was. Nobody else seemed to know what it was either, because, again, I'm this kid from from Philly who had very little training, was still struggling to even know mindfulness. And all of a sudden this world came down. All of the illusion, all of the things I clung to. And I remember and I don't normally say this out loud, but I will. The last thought was before I went through what I know now to be a dissolution phase, and there's dissolution phases prior to what is generally very large openings and and transformations. This has got to go in order to allow that to come in. And so it was a my very last thought was there's nowhere to go. I don't know that I can survive here and I know I can't survive there. And everything came down. And so it was it, it, it, it felt it was a terror experience because I did again, didn't have a place to put it. I didn't have what you have. And what I now help people understand is a framework of the process. I didn't know anything about the process. I was just trying to get a little bit of mindfulness and maybe get rid of loneliness and a few things and go go about my life, you know? And the whole thing came down and no one really understood it. And I won't say who I talked to, etc. Joseph ended up to be the most understanding and the most compassionate. And again and again, as he did in 1974, helped lift me up. And in my in mindfulness, I talk about as a teacher the long arms of mindfulness. They can be incredibly long to reach and to hold somebody in no matter what dark darkness they're in and show them there's a way out. That's the beauty of this practice. That's that's one of the great gifts of this practice is to is to have these long arms of mindfulness that can hold and protect until you can find your grounding, until you can find your bearings. And he did that some, but shortly thereafter and I went through this whole incredible cleansing process. No gifts yet. No. No sense of gifts through this process. There are always gifts. But I didn't know it at the time. I just knew now what was suffering had turned into terror and a dissolution of everything that I knew. And including the the the consciousness. The consciousness had been altered some. And I got sick physically sick. I mean, rip in sick. Now, this again, in all fairness, is the first retreat had that had been done. So, first of all, nobody expected me to go through any of that, this retreat to show you how far over I over my head I was was all the India Westerners, monks, others. And here I am coming off the street like I can I can do this thing. And it wasn't that I can do this thing. It was that I have to do this thing. I didn't want to be there. I didn't want to be anywhere in any of this. But as I said, the last thought was there truly is no place for you to go. And that's when many times this psychological death and and and really their dark night of the soul goes through it. Generally, you arrive at sunshine. I got so sick I couldn't smell the food. It made everything. And I laid in bed for a week. And you and you don't have to repeat this next sentence. I led laid in bed for a week. And who do you think came to see me? No one. They didn't keep track of the students. Then nobody knew. I wasn't even that. I was still in bed. And I remember. And again, I'll. I'll say this. I came to Sharon and she said, Why didn't you tell somebody? I couldn't even get out of bed. I was so sick. I mean this. And so I what can often happen and in later experiences is when that has happened to me, there wasn't any physical thing. Look, I came from the world of Big Macs and whatever, whatever it was never even remotely thought about anything with vegetarian or decent food. I ate what everybody else ate. We were raised as an affluent family of mashed potatoes, green beans, and many times red meat wasn't even an emphasis on chicken because chicken was a little bit poor people. Food in those in those days. Well, I didn't check. I didn't know anything about that. You know, I'm just living my living my life. And so I told Sharon that I was going to go home and try to get well because I was so incredibly sick and I left. And I weigh £160 now. And and as you can tell, I'm still pretty thin. I arrived at home at £113, and my dad looked at me who who was going through his own sobriety issues, and he said, oh, my God, this never came from my dad, anything like that. He said, Oh, my God, what has happened to you? And I just told him that I was going through this, this, this fear and terror thing. Do you know what he was going through with his losing his his mistress? Alcohol. The same thing in a different way, not not in the depth that I was. But he understood it. My dad understood some of the darkness that I that I was going through. So I, I gained some weight, stayed home for a little while, and then I went back and did again the last six weeks of the retreat, driving up there again, full of really oh, yikes. What am I getting into? Because now I know what can happen. And and I didn't have and I'll be honest with you, I did not have one ounce of insight as to what it meant. I just didn't nobody recognized it. I, of course, didn't recognize it, except everything was different and I could feel some changes. And I came back and the very first gift I noticed was when I got there, the fear went away and there was like a welcome back. Not from anybody else necessarily, although they did. They did particularly Joseph and Sharon was the ones that I was closest, closest to. Jack was also there. And yeah, just those three later they added Richard Barsky to the the three month retreat. But in those days it was just the very first one was just those three and they were happy to see me. But I got this welcome of the heart a little bit, you know, like could your back you didn't you didn't try to run away and all of a sudden there was an understanding of mindfulness. There was two and a half to 3 hours of sleep is all I needed. There was this conviction. There were all the things I know. Now that that and let me say this upfront. When you when you talk about the Buddha in the dorm and the sangha, of course, there wasn't virtually any song, and that was a problem back then. But the message and I can look it far deeply into your eyes and say this the the teaching of the Buddhas is remarkably accurate, not somewhat accurate, remarkably accurate as to what will happen if you do the work. But I didn't know that. I didn't know anything about it. I didn't know the word emptiness except this empty feeling of of not knowing what to do, but an emptiness of that came from understand ending of change in nature, that everything in here is beginning to change. And that was terrifying. But at some point it becomes exhilarating because the change is moving in what direction? It always moves towards awakened values, loving kindness, compassion. What would I call is an affection, the natural affection, which is the natural state of the heart, when it's not covered by fear and loneliness and all kinds of other stuff. And all these gifts started to come. But and I and I understood and I finally understood, not because I had talked to anybody I'd lost. And I'll be honest, I had lost some confidence that somebody else could help me. We always want somebody, whether it's Jesus or the Buddha or a teacher or somebody else, to save us. Every teacher is is that's worth their weight. Can, can, can help you, can lift you. But you have to do the walk. You have to take the next step. Nobody can attach their leg to yours and make you make you take the net. You you have to find that the strength in yourself to do that. And all of these gifts started to come. And I remember talking with Sharon and her like eyes lit up, like my eyes lit up because it was again, a gift, not of me. So when I drove back there with all this reticence and some fear and everything else, I thought, man, you're going to you can get it. You're going to get another smack down. I didn't understand the very nature of the experience that I'd gone for. There is a promise of certain gifts and the gift of some purity of heart and and and some natural understanding of mindfulness. Not this understanding I have now, but the understanding that there is a key clear seeing is the necessary factor for wisdom to arise. It is. It is with investigate. An investigation is is part of the wisdom factor. That's the necessary factor for wisdom to arise. Wisdom is the necessary factor. For all of insight and particularly awakening what the Buddha calls enlightenment. It's wisdom. It's not Jack, it's not Mark. We can do the work, but the work is what change it. Krishnamurti uses the phrase It's it's the truth, which liberates not your effort to be free. Well, you got to do a lot of the effort to be free to realize it ultimately is the truth. Jane And I didn't understand that, and I began to understand it when I came back during those six weeks and anoth. Another thing that happened which transformed my life was and it started with a few tears, one after probably morning. It was one morning, maybe afternoon, one morning, and it started with a few tears. And it was this deep forgiveness experience of everything that ever hurt me, but particularly towards my parents, that knowing they did the best they could and knowing that, you know, they didn't talk much about that. The disease model of alcoholism, I always had a sense it was is not something my dad did from over drinking. It was it was in the genetics when he when he started drinking early, he drank differently than everybody else, except the other ones, too. And same with my mom and my dad and I'll talk about this a little later. But I was we became best friends. My mom and I became best friends. And I through that forgiveness experience, there was not a shred of animus left anywhere in in this heart after it. And I had only one intention the rest of my life. Again, it it wasn't of me. It was what what came from from this this transformation, this this change was to lift my parents up. That's all I knew. And so for the rest of my life and fortunately, they lived a fairly long time after that, particularly my dad lived seven years after that. And my my mom less so we became best friends. And I remember my brother saying, how do you do it? And I used to say, Well, there's two things. Not only do I love them, but I like them. I'm interested in their lives. And that's where the psychology thing came in. I became when I was a kid, my parents would say, Go play with the other kids. I'd be like, Oh no, I'm going to go do salamanders. Approximate. So I suddenly became deeply interconnected, although I didn't know that word then in the human realm with with people. And how can we help not only every living creature, but every living being? How how can we make this life better? And it was an extraordinary experience. And people ask, well, how did you do it? And the simple answer is, I didn't do it. There are things that will be done to you that don't have anything to do with they have to do with you did the walk, but then the sunset was there. Then the gift. The gift was there. Whatever you didn't. If I walk over here, did I do this? No, I didn't. I just took the walk. And it's the same thing with the path of Dharma. Do the walk and things will change. Some of them will be difficult. Every dark corner that the Jack has or Mark had will be seen. Because that's the nature of this process, the nature of the purification process. And the question I ask many of my my students is, which is the richer soil that's that which is easy or that which is difficult? Is it the easy people in your life that are the richest soil or the most difficult people? I had a difficult family. Again, two alcoholics. My mom had psychiatric issues. My my brother and sister were not a big fans of fan of what I was doing, but they were a big fan of what I was becoming. And that was what people couldn't understand. My dad, he didn't care a hoot about Buddhism. He told me once, I don't want to hear that that Buddhist crap. But he loved the the friendship and and the closeness and the reliability that when you become a safe human being, which is the ultimate definition of sangha, when you become safe, you also become as reliable as a human can be, meaning you will no longer hurt. Whatever lands here on this table is safe, whether it's a mosquito or whether it's a bird, they're safe. And that's how we begin to change begin to change the world at any rate. So I did that retreat and then I did two more three month retreats after that. And many, many, many other other retreats. And near the end of that two year period, I knew that I was ready to go back out and I was also running out of money. That was part of the motivation, but I was ready to go back out, get off the cushion. You know, part of what you're talking about is what happens off the cushion. You can get very comfortable on the cushion. Good for you. It's important, but you better be at least that comfortable off the cushion. And that's that that's the additional work and and some other things happened that were not of me at that time, which is a confidence, as I mentioned, the accuracy, the teaching, the confidence. What in Christianity and Buddhism, some you don't hear this word as much, but faith and faith doesn't have a blind quality at all. It has the same quality. And the faith that comes is is much stronger because it's been seen. And again, I, I say almost every night I teach. It doesn't matter what I know, it matters what you hear so to so to use what I call investigative, investigative listening. It's a listening that investigates and sees how does it work in this being meaning in your being? Not that that the teacher has done it or somebody else has done it, and the Buddha uses it an exceptionally important word, which is a Persico, which is see for yourself. That's what hooked me. Don't you don't have to bow down to the authority of anything. You simply have to see for yourself and you don't have to. I also love the quality of you don't have to tell them. Monday night at Roswell Insight Meditation Community. You don't have to believe what I say. See if it's true and the accuracy of the Buddhist teaching which becomes yours or mine or anyone who hears it clearly and understands it with wisdom. The accuracy is phenomenal. There's some stuff you look at you, and I'm not too sure about that one. But mostly the essence, the handful of leaves I talked about is absolutely spot on. Doesn't matter if you're Zen, doesn't matter if you're Vajrayana Tibetan stuff, doesn't matter if you're Christian. It's it's if you take the time to look at this mind body process, it's the same now as it was 2500 years ago. We just dress it up different. But it's it it it's the same. So I did those two years, did the three month, three, three month retreats lots of other. Then I moved into some some Zen because I thought if I ever do teach I need to understand the differences in the similarities and the similarities. Although people, you know, you look different with robes and looking at walls and in other stuff, it's the same it's exactly the same stuff is Tibetan Tibetans. Again, there's different technique. There's there's different what's called skillful means, which is the techniques. Okay. The Buddha taught 45 years why he could have done it on a week, because first of all, we come to him with greed, hatred and misery and delusion and confusion. Really. We come virtually always, maybe even in a beginning human life. We come with those programed into the computer. They manifest. And then as we age, we have to decide what are we going to do with these now? Because you've got greed, hatred, delusion and confusion. You can live a life, as I tried to do with that. But every so often you get this, you know what? I had a wakeup call. I don't know that that that many but almost all of the original people that I met through meditation had gone through the same difficulties I had with secular mindfulness. Now you've got a lot of people coming to the mindfulness world for different reasons, to be a little happier, to be a little more, you know, just I think all the reasons are good reasons, but they're not looking for the what the Buddha talked about as far as freedom, freedom, freedom from not freedom of remember, you know, there's a tendency I heard a monk not long ago say, well, we're we're trying to to do away with desire. Good luck with that. It's freedom from, you know, if the mind is aware, there's what's called the sacred, the sacred space where you could go towards the ice cream or stay put, whatever it is, either one is fine. As long as there's mindfulness, there will something arise in the mind not of you called desire, did you? Is there a you behind the desire? So you behind the desire because there's no you behind any of it. Now, a note to the listener. It may sound a little a little strange, but what part of you is solid thinking? I did a talk on thinking not long ago. Thinking gives this illusion that it's us, we think. And in and in Zen, there's a saying. Can the mind sit before thinking? Of course it can. And when it does, it sees thinking come from emptiness or stillness. It stays for a while. And guess what it does. Its nature is always the same. Whether it's thinking, whether it's feeling, whether it's sound, whether it's singing, it arises from stillness. It stays for a while and ultimately changes in and moves forward. And every object, not some. Or when I say every object that then the one who is deeply attached to thinking says, What do you mean? I am real and I'm solid. Maybe. Or maybe aren't. See for yourself. You know, that's the beauty of it. And and if you're you're scared. Good. That just means you're being challenged. Take a look at it. That, too, will. That, too will change. So I had to figure out what to do for a living, and I decided that I would be in an MSW master's social work program at University of Georgia. I was ultimately going to Penn State, and then my parents had moved down here. My dad were in Philadelphia carpet in Philadelphia. They had moved down here. And I and I, after that experience, I wanted to be around my parents to help no matter in what way it would, whether it was financial or or physically or whatever it was. This deep devotion that, again, the Buddha talked about, I just didn't know it at at the time. The Buddha said, if you could carry your parents every day for the rest of your adult life, you will never repay the debt you owe them. I didn't know that, but I had it, you know, and came down here, went to University, Georgia. And I before I started the social work program, I decided I met some social workers up in Cartersville, just north of here, and I said, well, let's see what they do for a living, you know? And I went up and they were they were called visiting teachers, but it was a nice name for truant officers. So I stood one of them would stand at the front door of many of the the areas we were in were were trailer parks. And I had an eye opening experience when I came down here dirt, dirt floors, potbelly stoves, right up in town. Back in those days, back in the back in the seventies, no running water. There was real and there still is poverty in these in these areas. But poverty I didn't recognize you know, we had air conditioning up in in Pennsylvania. You know, I didn't know anything about it. And I thought, do I want to haul kids to school every day? And a friend of mine had a convertible car, you see. So one of the lead social workers up there and I would I would work with him and we would take these these kids and we'd put the top of the convertible down because they all had the smell of heavy urine and smoke from a potbelly stove. I mean, those were many of the homes we went to. Again, dirt. I mean, walking in a dirt floor with a potbelly stove and beds lined, not a an eighth of a mile off Cartersville Square with beds lined all the way around electricity. But no, no running water. And I'm thinking, wow, you know, I just had no no idea. But hauling kids to school, I thought, I don't know that that's what I want to do. And so I had this sense of psychology from, the industrial psychology that I had looked at it in my undergraduate degree. So I moved into psychology and it just held hands with meditation. You if you understand this, you understand people. And I had a saying for 30 years when I worked as a psychic and I did three degrees at Georgia, I got a doctorate in psychology, but the main thing was I had this affection for people again, not of me, not that I wanted to have it all the time, but that that came very naturally. And in my 30 years, my my office was in the projects in Marietta for some of my 30 years, I would say 15 of them were in the projects, and that was an eye opening experience to use. And there was never a person that came into my office. I couldn't get my toe in their shoe yet, just had an understanding of where they were. You know, you don't have a full understanding always of what people are going through, but you had enough understanding that you could lift them up and get them the help they that's what that was what I had dedicated my life to, lifting up not only my parents but anybody else and also being truthful. You know, I was one of the psychologists who said they come in and say, well, I'm I'll get a drink to say, well, I'm I'm I'm feeling depressed now. And I said, Well, what's different from the last time we saw you? And they said, Well, I quit taking my meds. And I would I would I talk about this Mona Lisa smile, which is not a t smile. It's just this little. Hmm. And it's a smile of affection. And in this case, said you wanted to lean forward and say, what were you thinking? That somehow one day you just wake up and everything would be back? You know, you chemistry would be you don't think it had anything. And how many people I saw all over the years to come in when I quit taking my meds because I felt fine, but that's it, you know? But I, I did that work for for 30 years. And there was a time where I thought, I've done everything I can do. I mean, let me move back into working with groups, you know, much more formally, i.e. meditation groups, etc. We're still doing the half day retreat. We did a half retreat here for way more than 20 years, even when the kids were little. And I would teach at that. In the beginning days we would get 3 to 5 people and pretty much before COVID we would get 25 to 30 to 35 people and fit them into the the guest area that you saw downstairs was and and then COVID came, which changed obviously changed everything. But I, I knew there were two things that would save me. It was meditation. First, because I didn't know service in the beginning, but I understood what held hands with meditation had to be service. And those were the two things that saved saved my life. It isn't enough to just sit. You can. You can. You know, again, I don't criticize the guys who go into caves and, you know, I don't get it that you would live your life there, because at some point the richness of the practice is giving it away. You know, they talk about it in the 12 step program. I've never been in the 12 step program, but I was my dad's chauffeur. He had 41 years of sobriety. So I knew I know a lot about that and still have a lot of his friends just north of here, right over those hills. And I go up and see those guys, almost all human beings that suffer, even these guys, they didn't necessarily meditate. All those step 11 is through prayer and meditation. Can I come to an understanding of of God, whatever it is you you think that that is there's a certain purity of heart from these old salty guys that were my dad's friends. And their language is great and other stuff, but they're lovers, you know, they just have this deep, this deep sense of of appreciation and love that they survived the same one. I did same when I do. I survived a different way. I never came to addiction problems. But is that because of the transformation of meditation? It may be, I don't know. But it beat most everybody else in my family. But I never got bit in the same way. And when I finally when I stopped drinking a long, long, long time ago, I put it down like an old pair of shoes was like. And I thought, Well, what am I going to do Friday night? And they drank Friday and Saturday night. And I thought, Well, what am I going to do? I'll go up the park and run. And that was the end of it. And that may be, in fact, from the meditation practice, I just don't know. Yeah, I started so young. I don't know what would still be here if I hadn't. The one thing I mentioned to you this morning is that loneliness I feared so much. The routes got cut and I've never seen it. I've never seen it again. And it's just a strange thing the leader would ask me. My wife would ask me when I'd go on a trip. What, did you miss me? And I was like. And for a while I said, Well, you know, hon, you know, I don't really. And she said, Yeah, yeah, I get it now. You know what I do? Yes, I just answer yes. Yeah, but it doesn't it doesn't really arise in me. But you know, that one of the important changes that I that I have seen is, is really this the guide of wisdom. And it it it shows you how you want to live in the middle of nature. It shows you what's important to staying and following the the middle way. I saw difficult people every day of every day. Jack, when I when I started, I realized very early on, if I carry 1% of every case, I handle and I'd handle at least 100 cases a year if I handled 1% at the end of the year, what would I be full of all of those? So again, there had to be this deep sense of beginner's mind at the end of the day. And this was meditation. I know it for 100%. The ability to whatever it was, whatever child you were working with or whatever family you were working with, had to be put down unless it was continuing the next day, then, you know, you stay with it as long as you had to. But ultimately, just like in life, the things that you're still learning from keep and learn from the things you no longer need. What your mom said to you, 20 years ago, they hurt your feelings. I'm not going to tell you to get over it, but I'm going to tell you to examine it and at some point, take whatever wisdom you can and then get over it because life requires a life of dharma. A life on the path requires a light backpack, can't carry all the past, can't carry all the the stuff that one forgiveness experience I put down 22 years. First couple I probably don't remember, but 22 years of stuff and never picked it up and that same thing I have a I have a saying forgive before you ever leave the room. My mom was a bear. A bear to the very end. I loved her with all my heart. And when she did throw something out, you have your choice. You can step out of the way of that arrow. You know, the Buddha talks about arrows. The first arrow is like. Like back pain. The second arrow is, oh, my God, I had back pain. What am I going to do? My life is over. I'm never going to get over it. That's the second, third, fifth, fourth, 10th arrow. The key is the first arrow sometimes happened and my mom could be a bear, but when she sent it, my direction, I had two skillful choices step out of the way. No target to hit or if the if the if the heart is sufficiently open and and loves regardless of your bad. Can we love regardless of bad behavior. So what Martin Luther King talked about what Mother Teresa said, people are a pain, they're annoying. They're this, they're that. Love them anyway. And I could with my mom again, I didn't do it, but I loved her dearly. I like all her shenanigans and and, you know, stuffed stuff she would do. But I loved her dearly. Same with my, my, my, my dad and my brother and my sister. They could all be bears. Maybe we can all maybe we can all be bears at time. But can we find that love that still appreciates them? And knowing we breathe the same air and we're deeply interconnected, if we're throwing hot coals at everybody else who's getting burnt, the first we get burnt, the first every hot coal you've ever, whether it's greed or animus or whatever it is, every hot coal you throw it, you get burnt first. When you realize that you don't pick it up. And so it it became a job of love and easy. You know, there were many times, though, that Felicia drove me on the way up to see my parents, and I'd be like, okay, somebody's going to throw out a juicy, you know, they were all fishermen. I'm not, but they were all fishermen. A juicy piece of bait in the middle of that floor and who's going to take it? And I had if when my mom was alive, there was four that that would take it. And they'd look at me like, Mark, Mark. And for a while, Jack, they got annoyed. Where's that fighter that used to be? And it just didn't have any meaning anymore, you know, not to say everybody can't be hooked at times, but. But mostly did it ever get you to a neighborhood you wanted to be in? I mean, I talk about that with anger. You know, if if you want to go march, you want to go march, and you're angry on the couch. If you take that anger on the street, do you get yourself and other people in trouble? The answer is yeah, used. If you have anger, use it. Use it to get motivated, but then it's got to transform and come from a place of affection. And that's how we change. That's how we change the not the world, not screaming at somebody on the streets, not going to going to pull out the same stuff with them. And they have. And the funny thing is, I was able to become best friends with my entire family and I held my mom first when she was 63. I would been about 35 at that time when she passed away, maybe a little older, you know, 37. And I hold my mom. And this remarkable thing happened as unexpected as going back to that retreat and having gifts, there was another gift that instead of grief, there was this deep sense of joy of her release, knowing this unit, she'd already lost a leg. She she was going to lose another. She was suffering. And in that instant, a suffering if the heart if the heart is aligned, there's a sense of compassion and a joy in that release. Not anything personal, not my mom any more. Just a human being, suffering and that that joy never changed. That was never, though, wanting her back because she couldn't come back. First of all, what was done was done. And secondly, this unit was done. And I was amazed by that. And then when my dad died, the same thing. The room's crying and I'm like, He's gone good. You know, we were asked to carry him. My wife and I were asked to carry my dad that last 150 yards to the end. That's all. He ran the long marathon. We just had to carry him to the end. We couldn't take him across. Of course, he had to do it on his own. But can you do that with a sense of joy, knowing that this unit is shot? You know, he's 90 years old. And he said to me that I was we were with him. This is another one of these odd universal things. We hired somebody to stay with him and we helped him in every way, whether it was financial, whatever it was deep love for my father. He had he and I were very similar personalities. You know, he loved to tell stories and stuff and he and his his stories were always so interesting. At the end, though, I said to him, Dad, some of these stories are a little like different. I'm not sure I've heard it before. He said, Oh, yeah, you've heard it before. I just I changed it to make it a little better story. I used to be like, Okay, Dad, he's 90 again. He could do whatever he wants. And that and his helper, his full time living, he had he had slipped and fallen and she caught him and got hurt. And I thought, oh, gosh, you know, what a disaster. And I won't tell the story. But you might know the story of the the the horse that got hurt. Buddhists, the the Buddha talks about it. Yeah, I won't I won't tell it. Tell the story. But how this. So she got hurt. So there was just me and the leader who he depended on. And we're the only ones he wanted up there. Mostly. And so we went up and I thought, oh gosh, you know, in the gift of being with him on his last night, you know, and it was and we were sitting there and Lita had gotten this dinner that he liked, which was turkey honey baked turkey. You know, and I know that's more details. And he went, but it's but it's just a cute story. And he was sitting there and he ate and mashed potatoes and green beans, that kind of how he and he and Jackie ate every bit of it. And he leans forward. He said, Fleta. He whispered a little louder. So you can hear me. The Leader Do we have enough for tomorrow night? And finally my wife said, Yes, we do. So we'll have another meal and you could see him light up like, Good boy, that was this last night. And the next morning he said to me, he said, Am I dying? And I said, And this is something I've tried to maintain in my life, not brutal honesty, because you have to again, there has to be wisdom. You don't hurt people through honesty. But I said, yes, you are. And he said, When I said Soon, he said, okay. And I and I, I didn't even take a breath. I said, But I will be with you. I am now certain I will be with you to the very end. And he said, Oh, good. And I said, I'll call your buddies up at AA and make sure they're there and everything else. He said, You've really thought about this, haven't I said, Well, I thought enough about it to know what what you wanted. And his last words to me said, Good. And he closed his eyes and I probably went to a coma at that point. He never said anything after it, but I was able to hold him to the very end. And and guess what? Came back to visit this deep, abiding joy of knowing it was his time. And you can't cling and you can't hold and you can't. You can. But all you'll do is make it harder on them and to give them permission to leave and to feel the deep joy that release. And I on occasion miss my dad and mom. But it's not a suffering. It's just well, dang, they're not very good company, you know, they never call. They never send me a note. Hey, Mark, it's good wherever I am or which is kind of kind of a joke, really. But and then my brother passed away two years ago. I was a nationally ranked tennis player and got a brain tumor. And the universe allowed me to be with him. And it was the same experience. The world the world is grieving and crying. And I just knew. Paul, you're done, man. And but you're you're done in a way. Just go to do whatever you need to do. And the the the joy is not something you can create. It's just the understanding what done it, what's done is done. And would you ask them to suffer another day? Of course you would. Of course you would. Same with your dog or anything else I noticed with our dog. I love that dog. But when she died, it was just this, the joy of her release, you know? So that's you know, that's one of the the gifts of practice. I know you wanted to hear, you know some about that. It isn't just teaching, you know, in help to run inside communities. It's it's doing the other things. You know, Vliet and I are very involved in in feeding like the homeless and in what I call Beverly's. Georgia has an enormous amount of Beverly's, meaning people who are barely getting by if anything goes wrong, they're homeless. And Bartow County is a a poor county, very, very rural. You go out of here, once you get out of Cartersville, you bump into some some stuff that is very, very different than I don't know what you have in Michigan. Truthfully, I've been to Michigan, but you're not going to survive in some of the housing that we have in Michigan, you know, tin can houses and and tarps and and that kind of stuff. Your climate is way too harsh for that. You know, many of the homeless come down south because they can survive here, but, you know, it can get in the twenties here, but it's not going to -20. I don't know what what yours does. And so you see a lot of that. And social workers still have their hands full of kids who don't want to go to school. The dropout rate here and and everything else is is phenomenal. When you think to not even get a high school diploma, you can work up in the mills, you know, the carpet mills and that kind of stuff. But where's that going to? We're going to go. And we have a society that largely thinks about can I get now, you know, as opposed to making the sacrifice and the the the the path will ask ask you to make sacrifices. There are things you don't want to do, but, you know, you have to do and you do them, you know, what kind of what what choice is there? Mosquitoes can be annoying. I can't kill him. I can't. I can't. I can't kill anything. And it isn't like we caught a scorpion last night about this big. And I didn't see it. I don't know if you have scorpions up there in your in your area, but we don't get the big ones like you see in South America that are real trouble. But and so I take the the tennis ball key and I don't play tennis anymore. But I did when I was young and we we catch everything you know, in fleet is quite good at it now she initially was like Mark what are we doing? I said, You don't have to not kill, but I'm I'm not going to kill anything. And of course, she adapted it. The kids are pretty good about it too, at any rate. So I brought it out and I figured it was just like a little stink bug or something. I open up this darn scorpion and like, Wow, okay. And then we just throw him off and let him let them do their their life. But, you know, the forgiveness is one of the great gifts in life. And I just say this as a friend. If you if you don't have an intimate relationship with forgiveness, you either think you're too perfect or you don't. You don't see that the transformation in that forgiveness experience that I had and in any forgiveness to this day, it rewrites the future. It allows the future not to be what was condensed in this moment, you know, karma. You say, oh, well, this moment determines it does determine the next moment. But when this moment is there is wisdom and light brought to this moment. It redefines this moment. And it's the rewriting. It's also the allowing of putting down. You see that nice little thin backpack you have. You can put some stuff in that. But in a long life of of Dharma, if you're carrying all the burdens and you still believe all the stories that were what your mom said 20 years ago, your dad did this and that. Can there be a fresh look? And Suzuki Roshi talked about beginner's mind. Can you see it with fresh eyes? You know, I sit here for for 2 minutes and you do the same 2 minutes and you close your eyes and you look out it lights up the world. And it's just the light of mindfulness. It's not some magical, although it is magical. It it's simply it is a factor of mind. All human beings, no matter who they are and what they've done, have. And it's simply a matter of finding that light and knowing where that where the the switches. And, you know, if you if you really want to change the world, people talk about that. A question the other night, last Monday night, somebody said to me, well, how do I change these other people? You know, they're really pains. And you know, this in that. And I chuckled to myself and I used what I call my Mona Lisa smile, which is, again, it has an affection in it of there's a better way, you know, and the better way is this is where the triggers are. And if we're able to see these, you became you become the most important thing, a song a member can have. Saga member needs light, you know, the light of whether it's through Christianity or Buddhism or Hinduism or whatever, whatever it is, the light of, of, of purity, but we, we, we have to find, first of all, that we're not perfect per perfection is always with a small p if you think everything in your life, whether somebody is enlightened or not enlightened or whatever the story is, you think everything is perfect. They still have back pain and they still have this and they still have car payments or or or whatever it is. But if you truly want to change the world, change this and this is what ultimately change the world. And this practice by transforming this transforms everyone we meet in a sense, and you have a gift to give. If it's just words, if it's another book I read or something else, it's fine. No, no, no issue with that. And there is a a why a stage for that and still reading, you know, I have a member of a book club that's interesting but you've got to bring the deeper wisdom. The beauty of deeper wisdom is early on for me, it took a while for that to come. And as you walk farther on the path, it comes very quickly and says there's a number of things you could do. It says it in the silent for a number of things you could do, but as Krishnamurti used to say, there's only one choice. And it's and it's that of wisdom and compassion and goodness. And I think that that's the world we want to live in, this little bird out here that everybody's here. And he's just singing, singing his heart out. And he's singing his heart not for us, but we're part of his heart, you know. And what a beautiful thing not going to Vienna. And he may go eat a worm or whatever, but right now, can you hear the the the sense of of comfort in and joy and just contentment in in this moment? And, you know, I use an acronym and it's been very, very important to my teaching, which is Smile or Smiles. And I'm I'm working on a book in a talk with combination of smile and teachers of transformation. All the friends of mindfulness and I've done a couple of series is I'm going to put those all together and I'm working on that now. But but smile is this little Mona smile. The richest soil is always the the difficult and how to transform how to skillfully transform the the difficult or the adversity, turning adversity into opportunity. How to do that simply by seeing it simply with the clarity of mindfulness and the other factors come. So what I ask people to do, if they're so inclined, is to particularly smile into difficulty when fear comes into heart, to smile into it. In that smile, there's a natural affection that says, Oh, welcome, you know, the knock on the door, no matter what it is, welcome with that smile comes up, a settling in and a surrender into the M in smile, which is mindfulness. Got to be there and it's got to be there early. But it's a surrender into this moment with mindfulness. The second friend that almost always comes is the wisdom factor. The wisdom factor of clear seeing is investigation. The one that says, oh, you again, let's take another look. Apparently, I haven't learned all the lessons that you have to teach me to see everything in life as a what? A teacher of transformation, so investigation and so you so you you have s m i l if if there is investigation. Sachi, it's in the auto here. It says she came out to see us. At any rate, smile. The nature of investigation and wisdom is letting go. And if the letting go is deep enough, it becomes letting be. Which is watching the sky of the mind in the clouds past. No fingers, no pushing, no pulling, simply watching it and letting be in, letting be. There may in fact be a love. And that's what I'm talking about. This affection that naturally rises. So that's the l once. Once there is love and there's investigation and there's mindfulness. And you found your little Lisa smile. Is that little turned up good? You've come again. It's like a friend. Good. You've come again. Then we move into the possibility of, well, I'll. I'll say that in a second. We move to equanimity. Equanimity is the balance of mind, the highs and the lows. Can we live a balanced life? That's the joy that comes with a death that has to happen. A unit that is is gone and creates the balance when the world is. It's a balance before the issue and a balance during the issue. That's the beauty of it. It's a balance in seeing it for what it is. It's over. It's okay. Whatever happens, happens, whether it's another lifetime in Buddhism or Hinduism or whether it's heaven, you know, we don't really know, but we know this probably isn't isn't the end. And so you move into equanimity with equanimity. And those other friends of mindfulness, you're now ready for them. One of the most important is which is engagement engaged now. And the reason you can engaged adds the peace to smile and turns it into smiles to to really have this this smile towards the world and and smiles is the reason you can now engage is what word that begins with is safety. And with you truly become a safe human being. We have a real place in this world getting buttons pushed and and, you know, look, I've said a lot of times and not everybody likes it. If you come to Roswell, I don't care if you have a red hat on, a blue hat on, a green hat on or whatever, you will be loved. And it isn't that we agree with everything. Everybody says it never is. But can we still find that that deep sense of love interconnection as these leaves move, we feel the interconnection of of this being to the universe and those are the many gifts that comes from a life, a lifetime of mindfulness. I didn't understand it when I was young. I didn't understand it completely in the middle. And I don't understand it all completely right now. But I have a deep sense of our place. And our place has to come from a place of safety, goodness, compassion, loving kindness and just this, this deep sense of we don't live here alone, so what can we do to make this a better place? Not for just all living creatures, which is what I dedicate my practice to. I use a phrase in my my life's practice be dedicated the happiness and freedom of all living creatures, of all sentient beings. And by the by the power of the dharma of the truth may. All beings find deep purity of heart guided by wisdom and compassion. Those two have to go together. It isn't enough to have just the the emptiness of wisdom. Compassion has to be there because that brings the warmth back. That when you hear a little a little colorful, something crying, in fact, it is a child. The compassion comes and you do something to help that child. So it isn't just color or sound. It comes back to the relative sense of this human life we we live in. So.
Adapting to the West
I think because you don't have to dress in a certain way and you don't have to bow down to anything. And Lord knows Krishnamurti and I go back to to him only to tell you the importance of taking a look at his, his stuff. He had a, a he had such a reaction to somebody. He's Indian, and they would all bow to him and he would just about throw up, not literally, but he just couldn't stand it because he said, It's not about me. It's about the importance of the truth. And you see, we forget that we think the teacher is is is the one. And they get attached to the teacher in the flesh, in the look and and so terrified of Buddhism in some ways. And I hadn't really thought of this so I appreciate you bringing up is is an is easier entry in that they look like me and that's what I found with Joseph and then I went to other traditions and there was just a lot of things added and adding and look and adding other things doesn't change. Now, here's the thing. The truth is, is extraordinary. But it's extraordinarily simple. And anything I dress it up in. He's more holy because he wears something or does something or a certain. Again, I'm not. No judgment at all. Everybody sees something different. And it and what I always say is whatever initially attracts you, but if it attracts out of an entertainment value, then you have to take a look at that because that will wear off. That's why we have 50% of everybody who get who even bothers to get married. They end up not being married because they got attracted to some stuff that is inevitably in it, in a in a world that has to be full of nature because it's the nature of the universe has to change. They get themselves in trouble by attaching to those things that will will change instead of just the goodness. And so the door is wide open. I don't ask anybody. And, you know, this is me when I agree, when I agreed that to start this other community and act as the teacher with another person, I said, first of all, it will not be built around me. There has to be another teacher. I don't want anything being built around me. I just again, it isn't because of Krishnamurti, but somehow that mind says, No, don't build it around me because it it ain't got nothing to do with me. You hear the words and whether you you know, that's the thing. Use the words to transform. Use the wisdom to transform. So I said, there's got to be another. Another teacher. And we've got a great other other teacher there. You you talk to Lisa, I think, a little bit. And, you know, she she hadn't taught a lot, but she was gung ho and in a deep sense of commitment, again, from suffering. And and, you know, if you've walked in and you haven't suffered, maybe you stay, maybe you don't. But many times secular mindfulness will come in with certain things they want to fix. And once they're fixed, there isn't a deeper. I never came in with it. I came in to try to run through it all. Not consciously, but. But knowing I could never leave until there was a fullness to this. And many people don't come in with that. We tend to be a you know, there used to be suggestions back in the day of staying with the teacher five days I've I've had Joseph as part of my teacher for a lifetime and we're friends and he hears from me every year I hear from him and then other teachers, Rodney Smith out at Seattle and say he started Seattle Insight and now Ryan Lieberson, great friends and teachers of mine, encouraged me to to teach and do and do more. And I thought, yeah, let's get this thing done. And I've always done stuff for four years. But then I said, Let's, let's really start on a community based on true sangha. And I've been to a bunch of songs, one here, I would never mention the name. It's not around anymore, but I first time I went, I said to the leader when I left, Those people really don't like each other. Well, Jackie, it ain't going to happen, because if the if the hearts don't have union, it's like a marriage. If if there's a divide, then that divide will grow unless somebody sees it, recognizes it, and and refills it back with affection. It can always be refilled with affection. I never stopped loving my parents or my brother and my sister, no matter how annoying they could be. And I said it Monday night. I said, This isn't to say people weren't still annoying, but she just loved them in spite of it. And I've been unable and I don't know if it was from any of the early experiences, I really don't know. But I've been unable to pick up the frills, the extra stuff. I mean, I, I, you know, I could say I'm a Christian that loves the Buddhist teaching or I could say I'm a Buddhist that that appreciates the Christian teaching. But I tend not to say any of that. Um, do I consider myself a Buddhist? Should be another adoption. So I consider myself a, a, a, a deep, deep, deep appreciation of the teaching. But in a quiet mind, there's not a Buddhist or a Christian or a in Asian or a or a non or a even color in it is the universal teaching that's important. And the rest of it is kind of the colors of the cover of the book, you know what I mean? I mean, Martin Luther King mentioned I do a lot with his stuff. Sometimes I have a whole series on it. You know, I would love my children someday to live in a country to be judged by the content of their character, not the not by color. We talk about color too much. Look, it doesn't matter what you are, you know, is there is there love for for you? Even if somebody was annoying and mad, I had I was surrounded by annoying when I was young and I realized and not everybody agrees with me, but the richest soil does appear to be the ones we don't get along with. The other ones, they're easy to love. It's the ones that still haven't entered our heart that we need to take a look at. Does this heart have room for everyone? And the fact is not the opinion. The fact is it does doesn't mean you get there and it doesn't mean it isn't at sometimes where you think, oh, geez, I don't want to put up with this. But, you know, can we come up? Can we put that little smile on her face and say, Yep, but I still love you? And then the world just has a different it has this kind of look. This was going to be a rainy day. You know, if we could span the camera and show them at some point what this beautiful day and behind you, the mountain and the clouds. And I'm looking at the birds who are getting along just soaring, you know, could be an extraordinary life. And I wake up with a certain gratitude and appreciation that I didn't have when I was young. I had a certain I didn't understand the gift. Now at 70 and for years now, I truly understand the gift of this lifetime. And it's the gratitude and appreciation not for just all the good stuff, but the difficulties too, for teachings, but to wake up in the morning and be excited about, yeah, let's go see what's out there, you know? And I hope it never leaves me. I mean, at some point I'll be gone. And who knows what happens then, but to to smile into difficulty. And it's and don't ever believe there won't be difficulty because it's the nature of a human life. So I'll end on that. But I love any questions. As you can tell, I love the Dharma. It is it is rare to find someone to really talk to and listen me. Sometimes it's like, okay, Lisa, we got to get off the phone because, you know, they said most people are like their eyes are rolling back in their head. But to to really love the gift that we've been given. And early on, I'm not sure that that's something else I would warn about. It's not appreciation that's not appreciating the gift, because I learned it so early. I thought it was a gift for that was given to everybody. It's an extraordinarily rare gift. You go to Asian countries and you think everybody's a Buddhist and really they're not. Very few sit Jackie's to mention even 5%, about 5% of monks actually have a a significant serious practice. And you think what when it becomes religion meaning you buy the the rituals and the dress and the and the words, but not the meaning under the words. Then it becomes religion. And that isn't inherently a problem. But it it starts to march up against another religion. And everybody starts to protect their part of that island. You know, it's our island, all of our islands. And it didn't. The Buddhist, the Hindu, the the Christian. It's it's Muslim. It's all of us. Can we can we, for God's sakes, can we get along, you know.
Framing the dharma
Both method, both messages work. You look at tick not John comes out of Mahayana tradition Zen. But it's not a Zen you would recognize very loving. Then you have Suzuki Roshi, a Zen master with the sticks and and so does and also has sticks. I don't I don't know if they do down at Red Clay or not, but do they have the sticks. Yeah. And I remember the sticks and thinking, okay, fine, you know. And I was bound and determined not to get hit by a stick. And I in those days, I was, you know, I had good posture and all that for long periods of time because I was young. And then I got tapped on the shoulder once by the guy with a stick. And I was like, What? And he tapped me. He said, You're going to get it. And I was like, Oh, so even the guys who don't get it are going to get it, you know? And I thought, whatever, but, but you go to take that John and I did I, I also did some of his, his stuff and it's full of love and light and singing. And I guess they do some dancing too and, and stuff. And I thought for me it's too light because there has to be life. Look, whatever life is, it is the good, the bad. And mindfulness is the ring. There's three sides to a coin. You hear. There's two sides to a coin. There's three there's the the obverse, the reverse. And the rim. In mindfulness, in meditation, you've got the good, the difficulty, the the pleasant, the unpleasant. However you want to say it. And what is the balance? It's the rim. How long can you roll that quarter down the hill? You can really roll that. But if it gets stuck on one side, you see what I mean? It gets stuck on the bad side. You've got chronic depression and other stuff gets on the good side. You think life is going to be like that? And I'm sorry, friend, it's not going to be you're going to have death in your life no matter how good your life is, no matter how extraordinary this relationship is. I have lots of death in my life. It's what do I do with that and how do I adapt to that as well? Because in any human life, you are born with an end process which is old age sickness. Krishna was asked by, I think it was Arjuna said, What's the most unbelievable thing in the world? And Krishna said, Hmm, let me think. He said, The most unbelievable thing in the world is that a man or a woman sees everyone around them getting sick, old and dying, and they think they won't. You will. So to see both, I did a five day retreat with with technology. And in the first day I went in to one of the guys I saw who was working in the parking lot. I said, so when when do we start silence? Because everything I've done is silent retreats. And at the forest refuge, it's very strict. At the at the retreat center, it's also very strict, but not as much as the forest refuge where you won't hear a pin drop. You can hear the guy chewing over at the garage over here. That's how quiet that you could get. And I got the first time I went there, intimidated a little by that silence. I thought, oh, my God, I've lived my whole my life around silence. It was so quiet. And he says, Silence. Oh, no, we don't. We don't do that. I looked at it and said, What did I just sign up for? And there was lots of singing and goodness and light full of light. And it was lovely but too much for me, you know, more like a sense of a summer camp that sometimes you would sit quietly and the leader would walk in and say, And I'm not being critical at all. I'm just saying different models work for different people would walk in and say, Well, it sounds awfully quiet in here. Let's sing. And I would think, you don't have to sing. We're you know, because I have a reverence for silence, because we have so little of it in this society. We're always entertaining. Then you try, then you do rinse ice. Then you're going to get your butt kicked. You're just gonna that's that's so again, you find what speaks to you there are people now can't have is it's wonderful to walk shoes to be with seven or 800 people I was more concerned about the bugs getting stepped on than the walk sometimes because again, that's the way my mind works. The reality of 800 people is now again in a human life where you run over frogs and kill bugs. Yeah, but do you intend to do that? You don't. So there's no real heavy karma in any of that. You breathe, things die. The Jains wear masks so that they don't kill any organized isms. That's a tough one. You know, I get it, but I'm not prepared to wear a mask all the time, too. It's a lovely, wonderful tradition and I love it. And he's the one who talks about smile, which made sense to me. And I adopted it in a different way. But it really is the the mind that can smile at this world with all of its beauties and its difficulties. There's the balance, just that little Mona Lisa smile. It's not a giddy and it's not a a frowny face. It's just the the joy of living a life that was promised to you as the good, the bad and the ugly. We just didn't want the message. We want the good. And this society's steeped in good. I would say, goodness, it's steeped in stuff and entertainment and and stimulating the pleasure center of which meditates and can do. And I've seen that group. And when it when that goes away, they try to get it back. What's the definition of suffering, trying to get it back? You know, because maybe you get it back, maybe you don't. But you can't stay there. You can't live that. And there will be a friendly face sometime and it's okay to smile at the frowning face because that's what life is. So do we have those extremes in this country? We have. If you were in India, particularly in Africa, which we've been at, we've done a lot of lucky enough to do a lot of world traveling. You'll see the other side of it much more. I think it really is an important balance. I'd like to fly every kid over from here who complains about America and show them bodies burning and bodies laying in the street for two days and not enough food and not fresh water. And we're complaining about our Internet and our Nike's got $199. Nike's got dirty. That and my job and your job, what you have done is to try to come back to the middle. Living in a society that we were born in. You didn't ask for it? I didn't ask for it. It is what it is. They're teaching is still is relevant. There will be those who hear the deeper message. Even in the most affluent home you can find deep suffering because it doesn't. Buying more stuff eventually gets to the point, the Buddha said. And whether he said it or not, it's true. There's no end to desire through stuff. But there but there can be a freedom from not a you know it's kind of things are going and if you don't have any desire good for you is what I always say to people because they talk about in front of fully enlightened Buddha. No desire. Nope. Fine. If the light has gone out. I don't know that what I know is a freedom from there could be again that space. No not going to wisdom comes in is not going to do that today that's our job. It's not to convert the world. It's not to stand on the street corner, although you're entitled to do it or somebody is entitled to do it as the Christians do fine, we will never force somebody to change. In 30 years of being a psychologist, the ones who changed were the ones that had suffered enough to change or suffered enough, even with much less suffering than me, who had sufficient wisdom to see the necessity to change. Because we arrive in this life differently, we do some very quickly understand some. It's a much more gradual process. I had some early things, but then things settle down a lot. Not a lot of magic and raising kids and other stuff. I mean, yet you do, but it's a different kind of magic. And then in doing retreats, other things will start to happen or here something will happen. The key is, Can I bring light to this moment? Does it have to be every moment? But just to bring light to this moment? Because the only way you and I stay balanced and the Dharma can stay activated is to do the work. And maybe those after five years or ten years come back. Maybe they do. Maybe they they don't. I know. The only guarantee is we have this moment and this is the past is gone. Everything I said is gone and everything in the future is yet to come. But you and I have this connection in this moment, and that's the most important thing. And that's the key. And that's what I try to do at Roswell, particularly when I when I tell people they're loved and appreciated. I don't say it to say it. I want them to know in this room, good as you are, you are loved and appreciated. That's a room you're more likely come back to than one who's giving you Buddhist theory or or too much rituals and other stuff. Because a lot of people, they want to get to the truth. You know, now, again, lots of people like this and lots of people like that. But ultimately there's their old saying in the dharma world, lesser vehicle, greater, you know, diamond vehicle. They're all they're all eventually towed by owner expense. I can't remember who said that. I didn't. But it's the truth. And the battling among Buddhists or Christians or Hindus or whatever know do you know somebody else? Do it. I don't have a a part in that. And and I get every so often as a teacher, you get some wild stuff and it's just like, come on, let's just come back and settle in and to, to, to leave in a warmer place than you as a as a warmth that you didn't have. And I see that. And I never know if anybody's coming back. I have never seen more transients, see, than in the world of Dharma Church people. You see some they're you know, they get mad they all half goes but half stay the world of Dharma because there's so much out there. It's really hard to get people who who commit. Then you had the the pandemic which gave people an excuse to stay home and now people want to do more, zoom, etc. It will never be the same as this. You know, you can put that on. And if somebody really listens to it all, it's the same as this. But this this is is a unique experience of eye to eye to eye, heart to heart. That, again, Zoom is a good replacement. If you can't do this. But this is what's real and you do the best you can. That's all. I never I hear Dharma teachers who do get disappointed and it's hard sometimes just to see numbers and think, you know, they should. They're not back to where they were. You just have to let go of all that. Do the best you can, enjoy yourself. That's the other thing. When I teach, I try to you know, I don't mind joking around and, you know, having a little a little fun with it and whatever people think they need, the true thing they need is a little life in there, a little light in their life. And that's what we offer. And for those who who want to live in light, fine. And you want to do something else that, you know, that's a, quote, free society, I guess. You know, so but I appreciate you and you are loved and appreciated. And I certainly appreciate you coming by today. It was it was it was really nice. I thoroughly enjoyed it. You know, when I initially thought, I don't know, that was that same voice who said, why me? You know? And then it didn't take me long at all to say, Oh, let's have some fun, you know, and whatever else this is, to find someone who has a love of the Dharma and has a clear understanding of the importance of of goodness in an offering. What you do is you offer it to anybody. And that's always been the the centerpiece of of sangha and the Dharma, really, and the Buddhist teaching. I don't think he got paid much, you know, so so thank you very much. I appreciate it. Thank you. I really.
Impact on Profession
Most most of my work was with with kids. So you so you really have to use different language. And my job was educating parents in order to help their kids. I worked with a lot of special needs kids. So that's a whole that's a whole different area where language isn't isn't the main thing except for the the parents. So a lot of what I did was in schools, school psychology. So it's designing programs to help children. My goal when I boiled it all down was where can I be of of service? Whether it was if it was therapy or was it parents who just were overwhelmed or we got lots of people from all over the world who had come here, some legal, some not. We didn't care. And no idea what to do with their children, you know, if they had, say, Asperger's or Tourette syndrome, you know, I don't know if, you know, Tourette's, where the language comes out and they would think they were demons and their town wanted to do a lobotomy and other stuff. And then they'd end up with us and be like, oh, no, no, no, no. And then using simple language, one of the reasons that I prided myself and again, it came somewhat naturally to speak the language of who sits in front of you, even if you had a good translator, to use the simplest language so that they understood and you could see the lights. Eyes light up. Yes, I get it. They're not possessed that there are some things that can be done and you know, I remember early on with with some gay children that parents didn't know what in the world they were serious Christians and Christianity can be hard on on on some and I used to talk about do you have love in your heart for both and I never talked with the mom she said yeah and I said, where? There's the key. It's not the rest of it. You've got to love them equally. And you know, there's divorces for all kinds of stuff you deal with. I also dealt with all of the I was the crisis intervention. I started it probably after two or three years when we had suicides and other stuff. I handled all of that until the day I retired and the phone would ring Sunday night and I would think, here we go. And, you know, there was this little voice, Jack, that would say, why me? And immediately it was followed by who better then? And to go in with with equanimity and balance in the room is crying. Can someone stand in front of that and say, okay, I got it, you're upset. But if if we if we can't get some control, then we'll have to have somebody else in the classroom. Because if you get one crier in the classroom, you're going to have, you know, kindergartners or whoever a man, if they see their teacher upset the whole place and they don't even you know, based on Paige's model and other models, you know, children don't even understand the permanency of death at some of those, but they understand a cry and teacher. And and my job was to come in grounded and centered and have that same there's there's a joy in presenting a plan and other things that are going to help and not make things worse and dealing with the press and and that kind of stuff. And nobody ever wanted I always wanted to nobody ever wanted to take that job away from me. And and I didn't have to say anything about meditation. It really was. It's there for anybody. You want to quiet down, you want to call it meditation, whatever you want. But the thing is to be able to settle down and see things not the way you want them to be, the way you think they're going to be, but see it for what it is. And when a child dies or or a parent dies or a teacher dies or there's suicides, there's ways to to give that a enough space that it can flower into some kind of goodness, meaning there will be some grief and some some other things, but but not turn into any kind of pathology or places that kids are going to get stuck in. Sometimes you'd feel this overwhelming whelming sense of, Oh my gosh, this has opened up a hole, but you still have to come back to this grounding the bodies, your ground. It's not between your ears that never is. It's it's an economy that is found here from years of good. What can we do here to help? We have a we have an issue. The issue has happened. It can't be denied. So we want to recognize it. But how do we begin to try to foster some growth from that? And as difficult as that part was, it was one of the most important things I ever did, because it it challenged my practice in ways that I never wanted. But I saw the need. We were surrounded by Cobb County, which is a huge county, and we had some cluster suicides in Marietta City. It was much, much smaller, but I knew whatever was in the big one would come to the little one, and sure enough, it did. And I used to say early on, I hope we never do this to do this enough to get good at we did because in 25, 30 years, every year, there was more and more and more. And as you know, with suicides and mental health issues, I'd like to say they're getting better. And that I did all this people work, people are what they are, and you do the best work you possibly can. My goal was every day to to do this like it was the first time. And if I never saw them again, I, I done and said everything I wanted too much like I did with my parents when they passed. Or my brother or my, my sister. And I never knew if I was going to see people again. So I did the best stuff and then walked away. When they come back, I look at the folder and read Fresh and all, but I had to put it down because as I said, in a long life in 70 isn't that long. But when you hear people's issues for 30 more years, if you carry it, you're not going to last very long. And that's why, you know, there's psychologists, there's a lot of trouble in that world sometimes, you know, people trying to solve their own issues and and drug drug issues and suicides and other stuff. I this mind walked through it pretty clean. I also had a lot of people around me who loved in the same way I did and wanted to help in a good thing about most educators do they have some purity of heart and want to help children. So it made my job. I got credit for a lot of it, but truthfully it was I was way better because of the teams that I had built over those guys in Marietta City 26 years. And I and I knew them when they came in at 22 and I knew them when when they were 58, when I, you know, 56 or whatever it was when I left, you know, I left at 56. So I knew them almost a lifetime. So we had these great, great teams, but they were built around affection. And I don't know of a stronger foundation than affection. There's other things, but I don't know of a stronger foundation. So and I also did personal safety training for years with women that was part of protection street safety. I did mostly school safety, but I also did street safety. You know, you just wherever you see a need and I worked with the vast majority were women. And somebody wants you whether you're for 94, somebody want you. So I, I, I did that too. I love that work because I wanted people to be safe and not get themselves in these predicaments. You know, you and I walk out into a parking lot mostly. Nobody wants us. They woman walks out in the parking lot. Somebody wants them. They may initially want them for money or whatever, but it always ends up somewhere. So. So I did that work for a lot of years too. And it was also a work of love. I loved. I loved doing it because I knew they'd say, Dr. Hebert, you know, I had this situation and they would they would tell me stories and I would be like, thank goodness, you know? And then having kids, you know, you bump into a lot of stuff that the kids would be part of my safety training, you know, I would have them come. And to keep people safe, you know, how to how to do nonviolent crisis stuff. So nobody got hurt. And the kids would act as my models and stuff and they would hear all those lessons. And it was it was fun for everybody. They oh, I remember Marcus when he was this big and Kim when she was this big, you know. And now there Kim's about to be 31. Mark is about to be 33. So and they remember those days fondly. You know, it was fun for all of us. And Vliet, of course, would come, you know, whatever I did, Violetta would would be there to to help me with it and whatever related did I try to help her as much so.
Modern Students
It's it's an enormously important it's an important question. And what you have to do as a teacher is is don't be attached to anybody that walks through the doors because it's a very, very transient, particularly in the south, probably more than than than at Cambridge inside or Seattle cities that you know, this this is a fairly conservative state. And what I do is I try I have a silent goal and I and I'll say it out loud sometimes that my only goal is that you leave better than you arrived and that something makes sense to you. So that's why I also try to speak English. I use some Dharma stuff, you know, in nature, but then explain it or or not or, you know, duke it. But I but I but I stay away from the heavily Buddhist and some of the Terra Varda traditions are heavily Buddhist traditions, lots of lingo and lots of other. So I try to stay away from that as much as I possibly can. And speak to you from whatever you walk in as. And if you're a Buddhist to emphasize the handful of leaves not to the far too much. Too many Buddhists know the forest, but they don't have a deep sense of the the essence of what I call the essence of Buddhist, the Buddhist essentials, really. And it's not the essentials of Buddhism. It's the essentials of a skill for life. You can call it Buddhist, you can go Christian, you talk about it. It's the essentials of a skillful life. And many people come in who are simply they also are made up people who who have 50 meet ups and they come in and just check it out and the knee hurts and they, you know, but you do the best you can with the message and you try to say it in English and you try to say it in the same language. Simple language that I used in my office always, except in a in a Buddhist friend framework, as opposed to although we we psychologist add some of that Lisa does and and I do but in a simple language again to sharpen the hook, so to speak, so that people will come back. But ultimately, the commitment has to come from here. It doesn't matter how many times right now, all the most of the retreats now and your big centers are full again. But if you look at the numbers compared to the general population, it's tiny, tiny, tiny. So there's still many more multiple times of people with deep practices than when when I was coming up again, you had the Asian a lot of those were Asian males and females, not Asian descent, but they had studied in Southeast Asia, studied in India, etc., with Goenka and some of the others, Mahindra, other Maharshi, Sadar, etc., some of those traditions. And then came back. Those were at those early retreats. Many of them became teachers because the dormitory hook, they could never get rid of it like I couldn't. So now I became a psychologist and then did much of this on the on the side as a way to have a living and to put the teachings together. And then when I retired, that's when I could do a lot more of this, this full time kind of teaching. I thought I would become a a retreat teacher. And then I realized with a 70 year old body, I would give that to the younger teachers who can set those hour after hour after hour after hour, who are still trying to make a living. One of the things that I never lost was I still always understood money. And my dad said, Well, the one thing we know about you when you go into psychology is you're going to be poor. That didn't happen because I always understood money and I owned it. I always understood the need to, you know, invest and save and be careful and save for a rainy day, pop above all those things. And I and I owned a something called Key Keeper Investments when I was working as a as a side. And I did investments, but I never took any money. I've never I've never took a man taking money from the dorm or teaching or even keeper key keeper investments. I did that for free as well because I didn't need me and I was good enough at that on, on, on the side. And that that has been a godsend to me because I could also help, particularly educators. I worked with a lot of educators with all their degrees and everything else, and they didn't know a thing about money or what to do with. And they said, Well, my guy told me to do such and such. Well, well, the guy's making the payment on his new Mercedes. If I'm not taking a penny, it is a lot more likely, to be very honest. And I did that for years and I love doing that work because I naturally understood, like I ultimately did some of the Dharma. I naturally understood money and the the balance between greed and greed and fear and everything else. And it was so much fun to help people's lives in that way because whatever else you say without your work bringing in the rent and other things, the dorm is going to be tough to do, you know, without without some of that. So it's the balance between the two and finding that balance can be really important. You can still, still have a nice living Goenka. In fact, was was, you know, became very wealthy before he got into Dharma. And then I don't know if he ever took any money or not. Probably not. But I could never I wasn't able to take Donna. I would give it back to whatever I did. Even here, people would leave Donna. ET cetera. For the half day retreat, and then we'd give it to other other groups to find those ways to give back, whether it's through hunger stuff or the Dharma or something. If you don't give this back, it will it will get stale and it has to be given back because this teaching is alive, just like the mind is alive. It's not stuck in the the library collecting dust. It's it's to live this life. You couldn't have picked a better title for your project. I don't know how you came up with that title, but it's a it's a lovely title because it is about doing the work you got to do that. You've got to do the work on the cushion, but you can get good at that like I did. And then no part of it was to go find a living. But part of it is because I knew it was time to do some other things. Let's test you have to test your practice. And can there be affection? Whoever walks through the door and I see too many groups who have a certain slant in one direction or another, don't want this kind of person or that kind of. Come on, does Mother Teresa say, no? I don't. I don't like your hat or I don't like what your. No. Does the Dalai Lama didn't care what you are. You know, that that that affections are available for for everybody. Maybe not quite like the Dalai Lama, but, you know, he just got every time I quote this, I'm wrong, like 13 lifetimes or something. I don't know how many lifetimes he had. And my Tibetan friends will say, no, it's how many it is. But, you know, it's it's an extraordinary gift. It's an extraordinary simple gift that is designed for anyone who walks through the door. And it's not magical. It's simply a matter of doing doing the work and continuing to one step after another. And eventually you you start bumping into some stuff, you know, not all. It will be pleasant, but all of it can be learned from so.
Key points on different stages
It's an unusual thing to happen, have happened early on in having that that same experience other again with years of practice there was no fear, there was no terror, there was no anything else. Any any deep, deep opening, awakening. Whatever. Whatever it's called. There will be things that come that come down. There will be moving beyond ordinary consciousness. But the key is something that I didn't have, which is a friend of mindfulness. And I already mentioned it comes very early to mindfulness, and that's investigation and equanimity. Once once there is a letting go. And if that's understood, I just I didn't have any place to put any of it. Now any good teacher. Now will know and recognize those kinds of things. And the key is you you you can't the help that you can give is to simply explain the process. And because I think part of it was because I got so sick and the model that where nobody was really kept track of, etc., March, etc.. Now we're very careful. When I, when I first started sitting, there was no questionnaire about any kind of psychiatric issues. Anybody to follow up, were they in therapy? Did they have a history of any kind of stuff? There wasn't any questionnaires like that. Now, the difference that has been added to all of the retreat, pretty much all the retreats and there's a couple of exceptions which I won't necessarily say too much about, but most every insight retreat now will have a retreat helpers kind of semi managers. But their job is to help people who get who who go off the deep end. Some somehow. One of the things that can happen in retreats and again it's not it's not common and it's uncommon from a daily practice. But remember, in order to come to sometimes you have to jump in the into the pan, so to speak, you know, and that generally happens at a retreat, not advisable at home. Somebody who's who doesn't have a well established foundation, particularly in equanimity and other things, can can do some at home stuff and certainly a daily, daily practice. And I hope you ask me that some at a certain point what some of the most important things that people can do daily practice is number one. Absolutely. Number one, boring. None. What what's the thing that the biggest mistake people make? The biggest mistake. It's it's not the first four hindrances which are sloth and torpor, tiredness, restlessness, etc. It's not the first four. It's the last one, which is doubt, believing the mind that says, I can't do it. And then part of doubt is procrastination. I'm going to get to it tomorrow. I have seen just in doing the half day here, thousands of people have gone through here and they leave here virtually without exception, knowing the light. And then they go back to a busy life and the light dims and they say, I will as they're leaving, I will see you next month. I wouldn't. I'd be a rich man if I had a penny for every person who said that that I never see again. How many do many do come back but they're what there and I don't know that this is true, Jack, but I'm going to say it because it it comes from where I sit. If you've suffered enough, you never go back. I'm not saying you don't get married and get sidetracked in a little bit and blah, blah, blah. But if the Dharma Hook is in Joseph, Joseph coined that phrase when I was young. If the Dharma Hook is in deep enough, you can never leave. I could never leave. Never. I had a daily practice every day for my entire life. I've sat some every single day my entire life. I won't ask you if you brush your teeth every day, but if you brush your teeth every day, it's just the same. Practice has to be an integral part of your life, not something you've added to a busy life. There's an old saying and I said this I think Monday night student asked this teacher, How long should I sit each day? And he said, A half an hour, unless you are too busy, and then you should set an hour. And it's the honest to goodness truth. Now, I never made the mistake of walking away. Look, I had wife and kids and job and parents that I supported in all the way. The best money I ever spent was helping my parents. Because whatever the Buddha said, if he had, I wouldn't doubt what he said about carrying your parents to the right. But if he hadn't said that, it wouldn't matter to me. That's what I knew to be true, that I have a picture in there. My dad's holding me and I'm this tall. Come on, me. And that's all you got to see. And you know what you've got to do. You know, wherever I was going after that, he protected me from all this. All the stuff that could have gobbled me up, you know? And you just know those things in such a deep place. But you know them because every day you've come back to center, even if it's a little bit. Look, this. This mind is like every other mind has all kinds of distractions and everything else. But there is also an understanding of they're all teachers of transformation, everything in this life, the knee pain. Oh, I wish I could get rid of that knee pain. It is there to teach you. Now you can whine about it, which just makes you more miserable than your wife, miserable or whoever it is you're with your girlfriend. The fact of the matter is, that's the first arrow and that will happen in every human life. The second arrow, though, is defined by that second sect, that sacred pause of mindfulness that says, Well, I can wine or we can be aware of it, which brings what naturally it's not you bringing equanimity. Equanimity is invited silently. Equanimity will come. Investigation will come. Depends on the order, sometimes with pain. For me, equanimity comes way before investigation. Usually just because of how many years I've set the balance calms. And with balance is does investigation work a whole lot better? Of course it does, because you're not pushing and pull. And if the mind is steady now, I don't mean steady from somebody, you know, that word, somebody's concentration. It let me say something I said is hugely important. Investigation not only brings the wisdom is the wisdom factor, it is also the interest factor. Were you interested in that, in what you just heard for the last however long it was, all of us are interested in a good in a good story. I mean, we don't blink half the time because it's just because we find it as we find us in every story we hear that's in every moment there's a story being tale told. We just have to be clear enough to hear the message. I may never get rid of that knee pain or the back pain or whatever. The Buddha had back pain to the day he died. I have I have a lot of back pain and a lot of everything else. I just turned 70. My dad talked about aches and pains, and I used to be like, Oh, Dad, I don't know, Jack. I wake up in the morning, I think, now, why does that hurt? You know why it hurts? Because I'm 70. It ain't got nothing to do with what I did or swing into, pick out back or whatever it was. So the mind has a choice with a life of mindfulness. And this is what in the beginning people have to understand. You have to do the work you can. Again, it's like going to the gym. Somebody said this was a good friend of mine, African-American guy, very musclebound, and you know, everything. I was a very good meditator. I'm very, very strong practice. And he said, How much should I sit? I said, I don't know. How much do you go to the gym and he looked at me like, okay, I get it. And he started doing some retreats and other stuff and you could see the depth of his practice change when you go to retreats, which is, I believe, hugely important. I did a lot of retreats. Why? Because I suffered a lot. You still can't answer, can you? I because I suffered a lot. Those I remember driving back from IIMs inside meditation society with another guy and he said to me, I'd give him a ride to somewhere near my house. And I and I lived in PEI and he he was doing something in the Philadelphia area. I lived outside of Philadelphia, but, um, and he said, you know, I wouldn't even go to a meditation retreat if I didn't get high, meaning high from the meditation. Apparently he had good somebody and I looked at him like, and I, and I'll edit and I thought, you have got to be kidding me because you know what I did at meditation retreats, I suffered a lot because I was away for from from everything. And and again, you get fed what they want to feed you and you sleep kind of, you know, you give up the control of your life largely at retreats and the depth. Again, of of the of samadhi, particularly samadhi one pointed ness of mind, what's called unification of energy happens generally the longer you sit. But here's the thing. I'm going to circle back to what I said a few minutes ago. Interest has exactly the same factor. If you're interested in something, really interested in something, you can become absorbed in it to the point that a friend walks by not even notice. They walk by because you're so engrossed and it and it's similar to a good story whether it is a non effort did somebody because of interest what brings that factor people say I'm bored meditation if you're bored meditation you're simply not very aware because is every minute different, every single minute you spent with me in your mind and my mind was different. How can it not be interesting? It's new and see if the mind sees it with those new eyes interest comes. You don't have to worry about necessarily staying with the breath here. To use the breath, you can just nod the breath for yeah, because the mind is already focused. If you hear something that is of high interest or sees something is of high interest, do you even have the breath anymore? Not really. Do you have the body anymore? Although the body is. That is the great grounder of all, even much, in my opinion. Much better than the the breath, because it's this the beauty of the body. It's one of the first foundations of mindfulness. The breath in the body, the beauty of the body is you will always be in the body or better be or you dead. And it's the gross object, meaning it's the easiest object to find. So when you're in your car and you want to come back to the present moment, remember, be here now coming back to the present moment. How do I do it? You can find the breath, but the breath gets a little too inward and you might miss a red light or a stop sign or something else. You settle into the body. The body cannot get out of the present moment. It can't. And it's always present. There's your object if you're talking with a friend. Listen, listen to me. Talk right now. Can you find the body? The answer is yes. Can you find the breath? Probably not. It's too subtle, but the body is always there and it in jacket whispers. Welcome back, welcome back. Because normally we're between the two, two ears lost in what content? So whatever place you're in, whether your beginner, middle, wherever it's it's always the same. The nature of the mind is the same. It becomes much more pliable and easy later on because the the friends of mindfulness become more developed. There's seven factors of awakening seven six other than mindfulness. But mindfulness brings all of the other all of the other factors investigation, equanimity, energy, all of the other stuff it brings. And ultimately, the, the goal of all of those which you can't do but can be done, is wisdom coming forth. The wisdom is probably already there. It's just uncovering the this stuff we put on top of it, whether it's ego or thought or whatever, the wisdom is already there. And that's why I said this. Deeper wisdom starts to come much, much more quickly. And then it's not ten decisions. It's just this one decision that that happens, whether it's a again, whether it's a wife or a job or a place to live, all of those things become much, much clearer. And I was also lucky, probably some to, you know, to find you know, I met believe in first time I met her I thought she has such enormous purity of heart. I almost found it annoying because I'd done so much work, you know, in suffered so much. And she just walked in the room with all this purity of heart. And I thought, well, I'll she'll look different in a year. We've been together 41 years. It's right there, you know. And fortunately I've done some work. So I, you know, I found much of that purity of heart that she again came to naturally for whatever, whether it's lifetimes or who knows, what did Mother Teresa do? The same kind of meditation that you and I do. The answer is no. Did she have purity of heart like nobody's business? You know it. So purity of heart is a Buddhist thing. It's not a Christian thing. It's not a Hindu thing. It's a it's a it's a thing that's already there. We just have to get some of the brush off of it, that's all. So beginning, practice to sit daily practice is the most important thing. Find Sangha if you can. I didn't have it when I was young. Made it much, much harder. Song is hugely important, the Buddha said. It's the most important thing. Accuracy. The teaching is is right up there. Accuracy of the teaching better be it better be accurate. But Sangha can can help you foster and understand the accuracy of the teaching. So in that sense it prob sangha is probably the most important thing. A teacher's really important, particularly if you bump into some of those high energy states. One of the things I'll talk about in a few weeks on the factors of awakening that I mentioned, the friends of mindfulness. There's more than just those six or seven friends. There's lots of other teachers of transformations and factors that come in, but, you know, you you you have to you have to at some point, you'll see that in every moment of mindfulness, there's a mini transformation taking place. It might be many, but when you look back, when you look back, you know, anybody looks back even after some weeks or months, you start to see these little changes. And it's not going to be a big blow up change like some people had kind of what I had. But this this gradual transformation and, you know, the direction it is always in now, maybe two steps forward, one step back. To step forward is an interaction of goodness, goodness with a capital G. It's just the the good stuff in life that all human beings recognize as, yep, it's it's the right it's the right thing to do. So a daily practice sangha, if you can find a good teacher, you trust any teacher that thinks they're smarter than anybody else or doesn't show shows any pretense or becomes I have become more regular from the practice, more regular meaning, more ordinary. It isn't the robes and the, you know, special, and I'm on the front of the state. None of that goes through my mind. It's is there is can we find this affection and also the delight of of mindfulness and live this life? You know, nobody is any better than anybody else. No person in robes with all the stuff and all this. This, again, I'm not criticizing. I'm just saying if there is any sense of I'm the authority you need to listen to maybe question that and go do something else, because this is your practice. This is my practice. And and no, no one. You have to find the truth on your own. I can be a I can be a guide. I can help. But you have to do the work. And that's that's the beauty of it. And most of your insight teachers are pretty pompous, free. You will see it in some some traditions. And I won't say too much about them, but where the teacher becomes a guru and then there's abuses and problems and you can you can see it in some lineages that there's a little too much emphasis on me. Do you know how important I am if I'm important? I haven't seen through that sense of emptiness, meaning emptiness of a permanent self and if there's some pompous, who's the one who's the one that's still holding on to the I better than somebody else? And that's a slippery slope. And for any meditation teacher, if you start to hear that I'm the one. No, you're not the one. You're just blessed enough to have come to the teaching, in my case, early on and. And decided I had nowhere else to go. Believe me, there was many times in my life I wanted to go somewhere else and do something else, and it just wasn't able to happen. You know, Joseph talked about an experience he had when he was leaving India, and he started to walk across the street and he tells his story. So it's not something he hasn't said out loud. And he physically got stopped by something that wasn't there and had to go back. And there's, you know, there's stuff like that. And I had it in a much quieter way that said, you just don't have any chance in that world. So just just don't go to the neighborhood, you know? So. But other other questions. Yeah, yeah. The beginning is the is is the most important because that's where the hook gets set. If it gets set deeply enough, you may leave for a while. I've known lots and lots and lots of people who have left for a while. They come back. But I will tell you, though, there is a danger in doubt and a danger in thinking I will get back to it because tomorrow never comes. You're younger than me and you probably already understand. Tomorrow is not promised to anyone. Anyone. My brother was a picture of health nationally ranked tennis player. Couldn't have been healthier, was healthier, as healthy as me. Anyway I he played a lot of tennis was extraordinary and I do a lot of running. So we were both and he was dead in eight months, didn't get to do all the things he wanted to do. And that's the one sadness I do have in my heart that his wife was about to retire and they were going to do some things. And here's the other thing, and you already know this, because you you are living very likely in extraordinaire life, in the work you've chosen and everything else. Get it done the way I'll get to it. Sometimes you do, sometimes you don't. I learned it was a weird, you know, nobody ever wanted to talk about death when I was 23 or 24, but I got it. And I would every time somebody would pass away, you know, particularly the young ones, the old ones have lived their lives. They've gotten pretty much done. And that's why they're they're also very easy to let go of. It's the young ones that get taken and you sound to me to be doing such a lovely project, first of all, and that the beauty of that project says to me is the hook is sufficiently deep in you, no matter what else you fiddle around with. You come back to this because this mindfulness is the only friend that will be with you in the end, no matter if you've got the greatest wife in the world, it will be with you in that last breath and once that becomes true, then life becomes a whole lot clearer. And when you become safe for other people, life just becomes a much happier. You know, of course there's difficulties in every life, but it just becomes a different. You live it with a different light. So the most important thing is a daily practice. Tomorrow, that little voice, whenever you hear that voice too much, talk with a good Dharma friend or a good teacher, somebody and say, I'm just struggling with my practice. I can't get back to it. It's just bring it into this moment. No matter where you are. You're sitting in a train station and or the airport. Everybody else is looking at their iPhones. I just close my eyes, pull my hat down and and see what's see what's in the in the world here, you know, and when this becomes interesting, you know, but middle stages, most people have come to a teacher, you know, that can also be a dangerous stage in that there can be complacency. I saw that in myself. Some are not as completely devoted, completely confident in it. But did I use because I found it so young, did I use all the opportunities I had? I use the ones I understood? But in looking back, there were some things that could have been done differently to find a work that that feeds your practice and a practice that feeds your work that's important. But sometimes the work can get out of balance because you get paid to multitask and you get paid more to be multitask. Yet that's not the message of what mindfulness is, where we really have to slow the bullet train down again. That happens naturally through mindfulness and and so a little bit of somebody your interest it slows it down so you can really see the the scenery outside the windows. But sometimes we can get caught up on the the speed of a life. That's one to take a deep breath and come back and look at it. I've seen thousands of people who said they were back and I hope they found somebody somewhere. But they didn't. I never saw him again. And I've seen some years later and say, yep, I'm coming back, you know, five years later, maybe you're lucky and you got another 15 or 20 years, but maybe you don't. And world is the one that everything's tomorrow's promise to him because it isn't. And I, I knew it. But then my brother happened and the, the sadness that I have is not a personal sadness that although I would have liked to have done additional things with him, but I had mostly said everything, had done everything I ever wanted to do. It's where the life he couldn't live with his family and his kids and the suffering that they go through every day. His wife is in my loving kindness every day because she she's it's a big struggle, you know, and I've this mind let go of a lot of things easily this 40 year, 41 years. It'll be a difficult time. No matter what anybody thinks about their practice. There will be challenges that you will. You'll be asked to step right to the right to the edge again. But with mindfulness, it's this possible, but and then the stages that are very scary. Later on, they should be with a teacher. I didn't have that at first. I had enough understanding of what happened in the first experience. So when those type of things happened again and that in a much deeper sense, the wisdom was much deeper, the clarity was much deeper. Later on, again, another benefit of the practice. If that had happened to me two years after it, it would have been terrifying again. Some of those experiences were years and years and years later. The mind immediately understood them. And there was not a ripple, not a ripple of the terror. And it wasn't fear. It was some some terror early on. And and that's just having a framework, a framework of practice and years of equanimity and an understanding. This, too, will pass. There's a real delusion of mind with any non pleasant state of mind. This one's gone. This is the one that's going to stay forever. Where the the pleasant one you say, Ooh, I wish this would stay forever. And we get our sticky fingers, we push the one which is a glue, we hold the other which is which is a glue. And it's really just to see a good friend of mine, Ryan Levenson, up at Cambridge Insight, runs a huge center up there. Good, good friend of mine said to me once, enjoy all of life, but cling to none of it. It's a deep truth and it's an it's a truth. We will learn one way or another if our eyes are open. And the beauty of it is it truly happens in spite of you. But you've got to do the work, you know?
Precepts
Yeah, because people view them as the Ten Commandments or something else. And they're always they're almost always done at the beginning of insight retreats, virtually always. And the reason is, at a retreat there, celibacy, not stealing, is not much of a problem, isn't much of a problem, because most of the retreats are are silent. The the the precepts, the beauty of the friends of mindfulness is in any moment of mindfulness, it isn't just mindfulness. You know, we tend to think, oh, is just mindfulness. The other factors come in and the other factors are part of the purity factors. And is it can there be killing with the eyes open? There could be killing with compassion, perhaps. Perhaps knowing that it's going to be worse and assisted something maybe maybe something like that. But most things are killed out of delusion. So there are the precepts become a natural extension of everything you do. I took it very literally early on. The no the no killing at all speech becomes challenging at time because they they add in their gossip and other things and, you know, gossip is kind of interesting. So you can get that hook and you look well, I'm not really hurting anybody, but it's so gossip. And some precepts are stricter than others in Theravada tradition, you do the first five, some people do eight, which which adds no eating after noon, no sleeping on high end luxurious beds, no dancing, singing, etcetera. But you but you won't see that in, for example, Zen in Mahayana traditions, they'll do the first five. The other ones not not so much. So they'll sing and dance, etc.. The travelers don't, except the monks, of course, can't, can't do that. They have 167. Maybe the women have 200 and something, or maybe the guys have 200. So you can't you can tell I haven't done it, but they got a million of them. They're, they're, they're guides until the mind, until that hook is in deep enough that you know, that goodness matters. It's not to say that you don't say something unskillful, but if you blow it, what do you do? Again, it's it's a step. It's a 12 step. And it's a life. A life step, which is to ask for forgiveness. First of all, from for yourself, we are really if there's any one thing I saw in my office is people just don't like each other very much. I always kind of like myself. Okay. And people come in and a lot of people from other countries don't get it like the Dalai Lama used to be. What is with you guys not liking you? Because we like each other and people people are very harsh critics. You bring whatever your personality, personalities, whether rejects is Marx's believed it is whoever the kids, Marcus, Kimberly, they bring their personality to the cushion. And if they're judgmental, I can't do this. It's too hard. What am I doing here? What? Who are these people? Oh, I think they're probably all crazy. I should do something. I'm going to go shopping. You, you know. And that's the doubt. Again, doubt being the most dangerous of all the hindrances, because it is the only one really that starts to shut the door on practice, kind of completely says, Nope, I can't do it. I'm going to go back to my drug of choice or whatever it is. People used to tell me, Go, go drink something away. And even when I was young, I drank a lot, but it never went away. I woke up the same morning, the next morning, and guess what? It was right back. So that never. But some people will maintain a lifetime trying to drink away or drug away, etc.. Um, but doubts. Doubts the biggest one. What I see is in an interest world, a world full of interest and people not understanding how interesting the mind is. I still hear people talk about took him Trumpy used to talk about cool boredom that's different called boredom is Singh letting be meaning it's not a boredom from that not saying it's it's a not touching because you see it is simply see the clouds of mind, the thoughts, the feelings, the other and that's freedom. That's freedom from it's not freedom of if you think you're going to stop all you're thinking and have just a quiet mind. Good. Do it. You can't do it. The Buddha couldn't do it. Nobody can do it. The the nature of the mind is the nature of the mouth. The mouth salivate. Stop salivating. You can't stop thinking. You can't now there can be space and there could be times that thinking does stop or slow down dramatically. And again, that's often related to level of interest or samadhi, depending on which which word you want to use. Somebody is usually what people do. They stay on the breath through the rise for the evening with a high degrees of samadhi. You you can and I did all of that the samadhi stuff again like I did Zen and Tibetan so I could understand it. So I've done a lot of the the Jana work and you, you know, you can reach very high states of consciousness, you know, which is called Brahma consciousness and cosmic conscious, because guess what they all do, they have the same nature as every other state of consciousness. Why is there part of ordinary consciousness? The nature of ordinary consciousness is it passes away. So all of those lofty states that people seek are subject to change. What the Buddha talks is talks about. The truth is, beyond that. And again, it's no reason to talk about that much because again, it's a little like talking about love, unless you've really but you learn very quickly that exalted states of mind, although they can be seductive because they stimulate the pleasure center. Lots of somebody will will inevitably bring rapture in and other things. Woe to the one who gets to trapped in that because it can just be another the the drug of meditation. That isn't the key. A lot of people, particularly in secular mindfulness, if they come to one of those states, man, they latch on like guru. Yeah, except somebody is a very difficult factor of mind to keep because in a distracted world, it's one of the first to fade. Then they get depressed and then they say, Well, this didn't work any way. I'll just go do do something else. Those, those aren't the key. The key the Buddha taught suffering and the end of suffering. The freedom from what I would, I would tend to use this freedom from because again, there can be that first arrow of pain, etc., but without the second arrows there isn't suffering. There's simply knee pain. Okay, slipping, but the mind's still clear, the mind still stable. It's not pushing and pulling. The minute we get into the pushing or pulling, we're shooting other arrows. And that's the big the big deal of beginning practitioners is they're so many arrows. And I know that mind, you know, people say, well, how do you talk about it? I remember it like it was yesterday because the nature of our minds are extraordinarily similar. Your content of your consciousness objects. Consciousness even believes consciousness is different, that the content, but the process of consciousness, the rising and passing, etc. is 2500 25,000 years ago. And the Buddha was just the one that whether somebody knew it before it got written down through oral tradition, etc. And the oral tradition is largely, hugely accurate. But don't believe a sum this up. We don't believe a word I say. Your Dharma Hook is in deeply enough to see anything that I have said, and the key is to continue to do the work. And in the project you have started is part of that Dharma Hook. And it's a very important one because in the beginning there's lots of doubts. Later on when doubt comes up, which it may and will, it's seen as a teacher of transformation as opposed to doubt. Do you see the difference? One is a teach. One can teach me. One is the knock on the door that says You who? I'm back just to give you another lesson. And if we can smile into that, I mean, with just a little, oh, good, good. You're back. And you may not know in the beginning you won't believe that little smile. Sometimes when you say, Oh, good, it's really crap, you know? But there's a point in practice where you actually believe it and say, Good, you're back. There's more to learn. And if there's more than that, I don't know it. But this is a life of teachers, of transformation, and seeing clearly is and you see this in yourself, the necessary factor for wisdom to arise. And wisdom is what does the change? Not Jack, not Mark. It is something that arises because it's like God's grace. If you if you you can prepare for quote God's grace, where the truth. But that's all it'll come as it comes. And, you know, I always say to my my Christian friends, if you want if you want to know the will of God, move your own will aside, because that's what standing in our way is our own greed, hatred, delusion, misconceptions, preconception and confusion, etc. And there's lots of that in the beginning. There's lots of that in the middle and there's some of that at the later on too, but the mind begins to recognize it because of that deeper wisdom arising in a much shorter period. It gets recognize or many times I think, what are we going to do here? Takes a little while and then it's like, Oh, okay. And then it's, it's understood. Doesn't mean it won't change, but it's understood.
And I've been teaching for for a lot of years with a without a fair amount of songs in Georgia and currently involved with Sandy Springs as a facilitator and started Sandy Springs Insite back with some other people in back in 2009. And then currently I'm part of a teacher led group. It's me and Lisa story. We're co-founders Roswell Insight Meditation Community and I've been teaching there the last six years, going on seven years. And so I'm happy to be with you this morning. And I'm going to I'm going to go back to the the beginning in 1974 should have been a very happy year for me. I was graduating from college and I had decided my parents didn't know this so much, but I decided the year before that I just could not do the business thing and all. Gabbard's My last name is Gebhardt Mail. Cabot's That's what they had done historically, and that's what I was trained for.
And I had a degree with a few different majors marketing, management and organization behavior, which was an industrial psych some, and that was an area that I was starting a leaning lean towards. This is psychology, but struggling a lot because I was designed to do that. But my my true nature said that I wouldn't survive. I was a fan of excesses, women, fast cars, drugs, etc.. Both my parents were alcoholics. And although I never developed an addiction problem, I certainly had the aptitude to lean in that in in that direction of of again, excess. And it was a very difficult year for me because I came upon this what I now know it as existential kind of this this urgency or angst, not knowing where I was headed, what I was going to do, having an expensive degree, which I was not going to use and I knew I wasn't my parents were, to put it mildly, less than than happy about any of that. And what is this, this Eastern stuff you're starting to talk about some. So I was really pretty lost and it was a difficult time for me. And I had an epiphany that big because of my propensities with the cars and women and drugs and whatever else it was that I wouldn't survive, that I would I would be driving a very nice car, but I would I will wrap myself around a pole or whatever. And I and I just couldn't do it. There was nothing in me that allowed me to move forward in that direction. So a friend of mine, an ex-girlfriend, invited me and some others to go out to Naropa Institute for Ram Dass. And I had looked at the book in my in my dormitory be here now and you know the book the famous book from Ram Dass and I had didn't have a clue what would be here now men but there was a certain internal shift that said I have to I have to learn what this this means. And I went went out to Naropa Institute in 1974. It's the first year they they open Naropa took him. Trump was there, Ram Dass was there. And it was. And Jack, who was this very, very interesting time, because you had the Buddhists and many of them Trump his followers. He has what's called the Varsha guard for vaginas, the larger guard, and they dress in three piece suits. Right. So this band would walk in protecting him from something, and then you'd have Ram Dass in those days, the long beards, the hair, all white. And you had many of the the most famous followers of his originally, his Ram Dass, his original teacher. And it was a very beautiful, warm and then there was a a certain strictness on this side, in this clash of cultures. You know, and Ram Dass and Joakim Trump. I did a six week course with them and they would talk and there was very, very little that they could agree upon because because really Ram Dass was full of light and hope and all this other and, you know, chicken chirping would come from a little darker space. And like, I'm not sure. So it's a very interesting time. But then I was lost and my first teacher was a Tibetan teacher, my first instruction and I really didn't know what he was talking about. I just didn't you know, I'm a kid from Philly. I didn't I hadn't ever heard the word mindfulness. I just went out because Ram Dass was there and I thought, is his stuff. I get some of it, at least the goodness part of it, but I don't really know what be here now means. And so the first experience I had, I just didn't know what they were talking about. And then I saw a little a little sign on the bulletin board, you know, Bolt Boulder is this beautiful little town with all kinds of stuff in, you know, part of University Boulder. Boulder part of University of Colorado is there. And it's just a beautiful town. And I saw this little sign that said there was a guy teaching mindfulness. I don't know that they had mentioned insight meditation because that was something that ultimately Joseph and Jack and Sharon kind of came up with some of that. So at any rate, I went to that and it was in a little room and like a gymnasium or something, a little side room or something.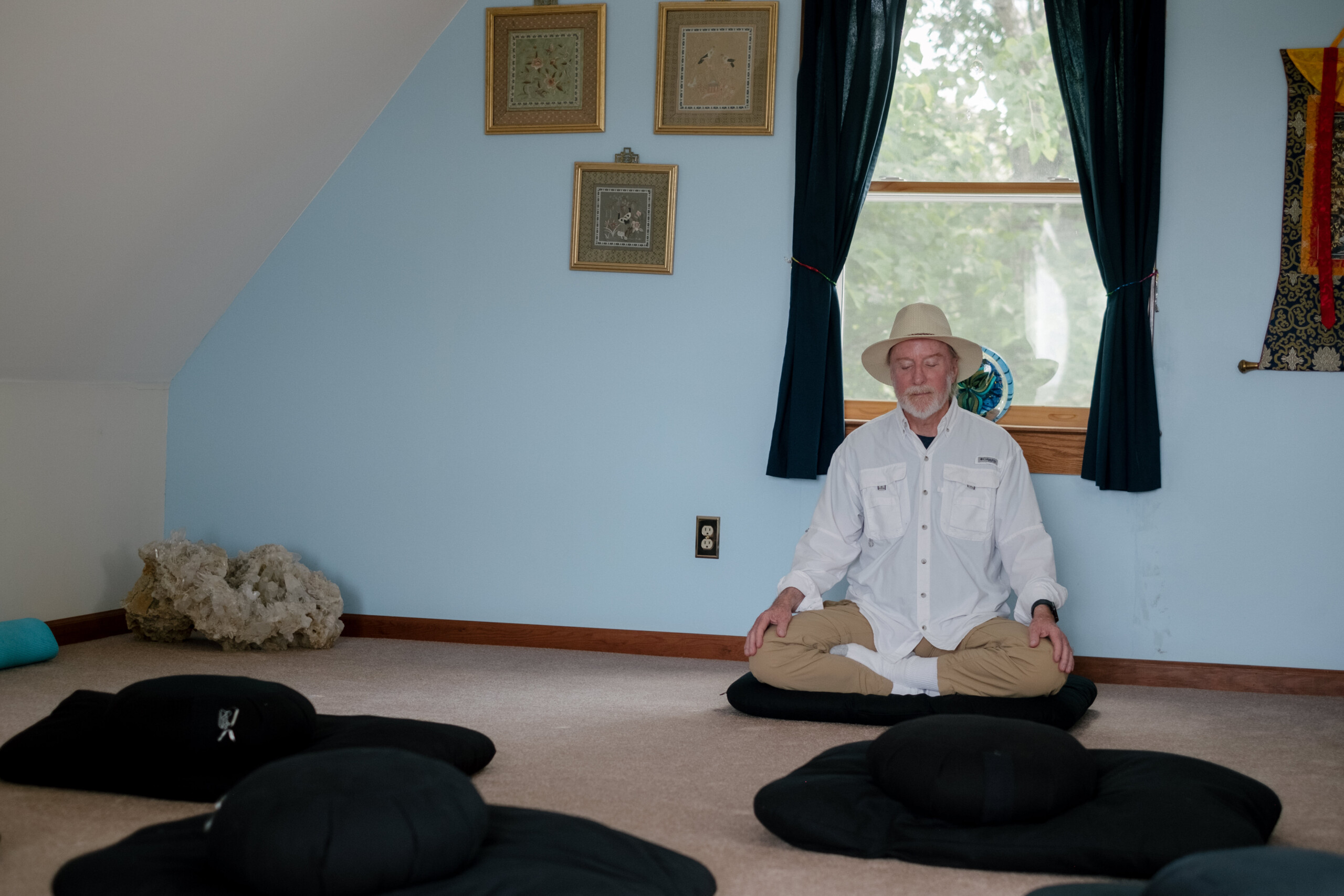 The expectations compared to reality, the very first day they walked in said
there'll be no writing, no reading, no talking.
And I'm thinking, did I did I is this is not the movie I signed up for
and I so I said, So what are we going to do?
They said, Oh, we meditate all, all day.
And I walked in and I, I met Joseph Goldstein, who, you know, in is known to the world at this point. But he had just come back from India, spending eight years in India practicing with his teacher on a Greek, a Manildra and Goenka and some other some other teachers. And he was dressed like me. He's he's I just hit my mike. Sorry. He was dressed like me. He sounded like me. And I could understand what he was saying. And he used the phrase he could he could feel my suffering. And I really had had just marinated in it because I didn't know how to get out of it. You know, I obviously raised a Christian. I didn't know what to do there. And knowing that I would I would not survive unless some kind of transformation, transformation or some kind of change happen. And Joseph said he could feel my angst, he could feel my suffering. And he said, use just one simple phrase. He said, Can you be aware? And I could feel this this sea change of I think I can. You know, I think I think I can. And he said, it's that simple from that day for the next almost 50 years now I've come from the school of Keep It Simple. The Buddha talked about a handful of leaves. You don't need to know all the leaves in this this beautiful greenery we have around us. You just need to know this many leaves. An awareness is the key. It's that the absolute key to all of the others. And I'll talk about this later. What's called the friends of mindfulness that come all of these wholesome factors that come and begin to change and transform your life, whether you want it or not. The doing of the work allows it to happen. And so I had this just this enormous sense of light that I will survive. I still don't completely know what he's talking about, but what somebody else understood lands what I'm going for you get you know going through because often I heard well you've got a bright future what's your problem? You know why why are you what is all this gloom and doom about? And and it was this deep sense of something is missing. Something is missing from this life. And what I saw was in my parents, I came from an affluent home, a lot of dysfunction. There certainly was some love and care, etc.. I became best friends with my parents, but at that time I was still doing a lot of suffering of children of of alcoholics, you know, the fights and the, you know, and I and I've been surrounded by a fair amount of affluence. And the thing that occurred to me at some point was. But are they happy they have it all, at least what society says is all. But it wasn't enough. And what I had, Jack, was whatever it was I touched, it was never enough. You wanted the girlfriend. You got the girlfriend. You wanted the car, you got the girl, you wanted the drugs or whatever you got. You got all of that.
On the 3 vehicles
But ultimately there's their old saying in the dharma world, lesser vehicle, greater, you know, diamond vehicle. They're all they're all eventually towed by owner expense. I can't remember who said that. I didn't. But it's the truth.
And I was still the same underneath it all. It looked it looked good. But I still had this emptiness, not the emptiness of of what the Buddha talked about, but it but an emptiness of loneliness. And I remember my very first goal was, could I get past this, this, this loneliness? And it was interesting about that time, 1974, I made a mistake that I never make, which is being home by myself. And I came home and talked to my parents and they said, well, we're going out to dinner. And they didn't exactly say you're not invited. But they they knew I at that point, I wasn't drinking or any of that stuff. And I wasn't wasn't invited. And I remember as as clear as yesterday, I called everybody I know I knew and guess who I got? Nobody. And I was thrown back on myself. And I had no capacity really to deal with that. I mean, you know, I kept one step moving for, you know, moving forward. But I said, I've got to find this. And and that phrase of Joseph's finally gave me the hope that somebody understood the suffering that I was going through in the Buddha talked about. Of course, I didn't know it. I didn't know that I was marinating in the first knowable truth. All of life is has a all of conditioned life, has some unsatisfactory unreliability. Or you could go to the extreme that I was going through of suffering. So so when I when I left Naropa, I went out West for six weeks and hitchhiked. And it was just this eye opening experiences, a world out here that I've never seen as a as a, you know, a little Philadelphia boy, you know, and I had talked to Joseph quite a bit, and I was surprised sometime later when I got a call from Sharon Salzberg on, probably six months after Naropa, maybe the beginning, very beginning of 75 or so, 1975. And I'd gone back home because I didn't know what else to do was doing construction. Construction, which really thrilled my parents, you know, so swinging a hammer. And I loved physical work, but the pay wasn't so good. But it was okay. You know, I was outside and had had fun and I was learning again, ride my bike to work and ride my bike back. But my parents weren't happy about it and my dad was also getting sober and that was the beginning of his sobriety. And he was one miserable guy. In fact, my my brother was out of the house. He was married, but I was with my sister in the home. And I thought maybe he should go back to drinking because this this guy is so miserable, you know, I felt the same way. I just didn't express it. I didn't say much about it. I suffered in silence. So to speak. And I and I had left a lot of my party friends, which was what I had. So again, there was this this loneliness and despair. And when Sharon called, she talked about this retreat they were going to have. And I and she said it was a three month retreat. And I thought, oh, good, you know, and I and this question came to me. I talked to her a couple of times, and she was so thrilled because they were just trying to get enough people to to rent this monastery up at Bucksport, Maine, that that part of it was open the the big part of the monastery where we could do a retreat. Now, this was the first long retreat that they had ever done. They had done, I think a couple of maybe one or two, two week retreats out West, nothing much on the East Coast. And so I talked to Sharon. And this this this question came to me a number of time, and I never asked it. It's like it came and the truth said, we're not going to let you ask that one. And it was, well, what are we going to do there? So I'm driving up, you know, so I never ask the question and I was so thrilled. I'm going to make friends. Finally, I didn't know the word sangha, but I did understand friends. I've always been blessed with a lot of friends.