When were you first exposed to dharma?
In the fall of 2004, a friend asked me to attend with him and I did. The first time I went, I knew I would return. Not sure I would call that experience knowing this was the path for me; what I knew at that point was that being able to stop talking, to be away from being an "expert" (I practiced employment law – was the sole employment law expertise in the business department of my firm.), needing to know what to do, needing to get it "right", etc.
How has the path manifest in your daily experience?
Overall, influences/determines how I want to be in the world and with others. I retired from law practice at the end of 2015. Over the course of my 35 years practicing law, I moved away from litigation (largely preceded meeting Buddhist practice, but related to how people relate to each other and wanting to be in the world in a kinder, more wholesome way – accelerated into emphasis on proactive (eventually only proactive) advising and focusing on/learning more about how we communicate, on how to function in organizations, on workplace bullying (including taking Laura Crawshaw's boss whispering training), on the experience of people transitioning during employment, etc. and relationships In January 2015, Michael (Sojin) Kip and I married. (At Heart of Wisdom, we were the first wedding in the zendo after our community purchased and upgraded/restored the property.) We met in this community and there are so many benefits to sharing this spiritual practice.
What are some of your practices/rituals that you do to support your spiritual development (meditation/prayers and etc)
Meditation, of course. At HOWZT on Thursday evenings, Sunday mornings, and evenings; Meditation is also my 'go to' if thinking about things I need to do/anxiety are keeping me awake at night. Loving-Kindness meditation – less regularly at HOW; I shuso when Nan leads it and fill in to lead it occasionally when the regulars (Nan and Kodo) are not available; particularly after working through Christina Feldman's book, Boundless Heart, in a Meditation & Dharma Drop In I facilitate on Sunday evenings, I find this type of meditation becoming something I go to on a more frequent basis during my days. Meditation twice a week via FaceTime with Kip's cousin (usually I offer some guidance). The Work of Byron Katie – which I met through this community; after attending her 9-day school, I now do the work on a regular basis with two friends I made there; this year I attended a 3-Day Camp for The Work of Byron Katie and look forward to continuing this involvement in whatever format/event/location works. YouTubes – Hogen, Chozen, Kisei, Jogen, and others from Great Vow Zen Monastery.
Sesshin – twice a year is my current intention (and practice).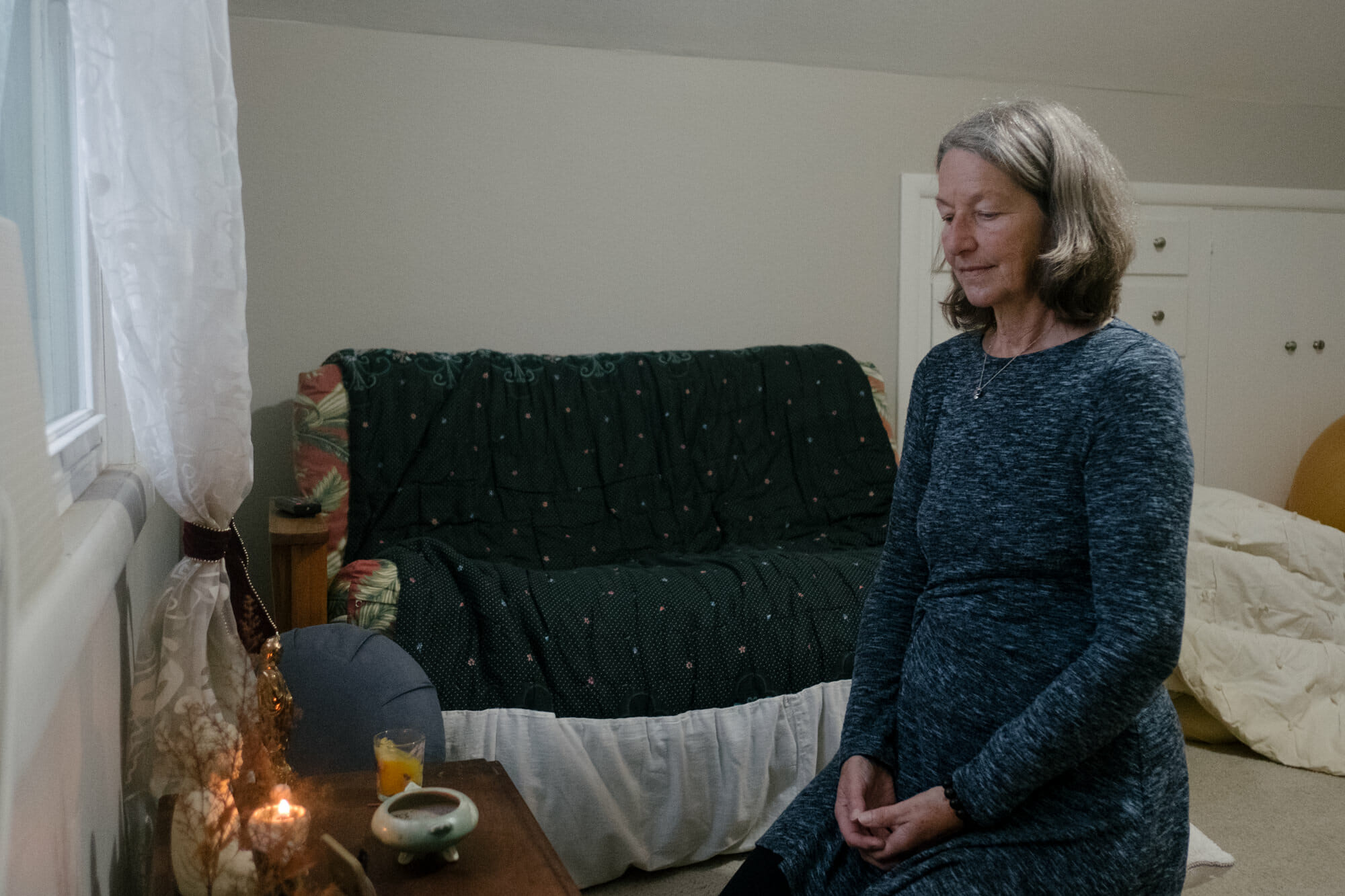 And it was kind of a magical, but I don't tend
to be a magical thinker, but it was like it was a startlingly strong,
a fact of how solidly I was meditating at that point in time in my life.
Which sangha do you normally attend ?
Wisdom Zen Temple, in-the-city location of the Zen Community of Oregon (ZCO) which also has Great Vow Zen Monastery, a training monastery. Initially provided the structure of weekly sitting for an hour + dharma talks. Has since expanded such that I offer back support in the form of Thursday Head of Zendo responsibilities, facilitating Sunday evening Meditation & Dharma Drop In (45 min program), offer a Work and Zen workshop one Saturday each year and a 3-hour workshop for working and professional woman a couple times each year. I am one of 3 co-facilitators of our six month Awakening to Whiteness program, carrying forward what was initiated, developed and first offered/facilitated by another member of the sangha. I have also held most (and trained in all) service positions so am able to fill in as needed on these. Within the past year, have become involved in the Engaged Buddhism Committee.
What is your primarily profession?
Retired. Previously practiced law for 35 years.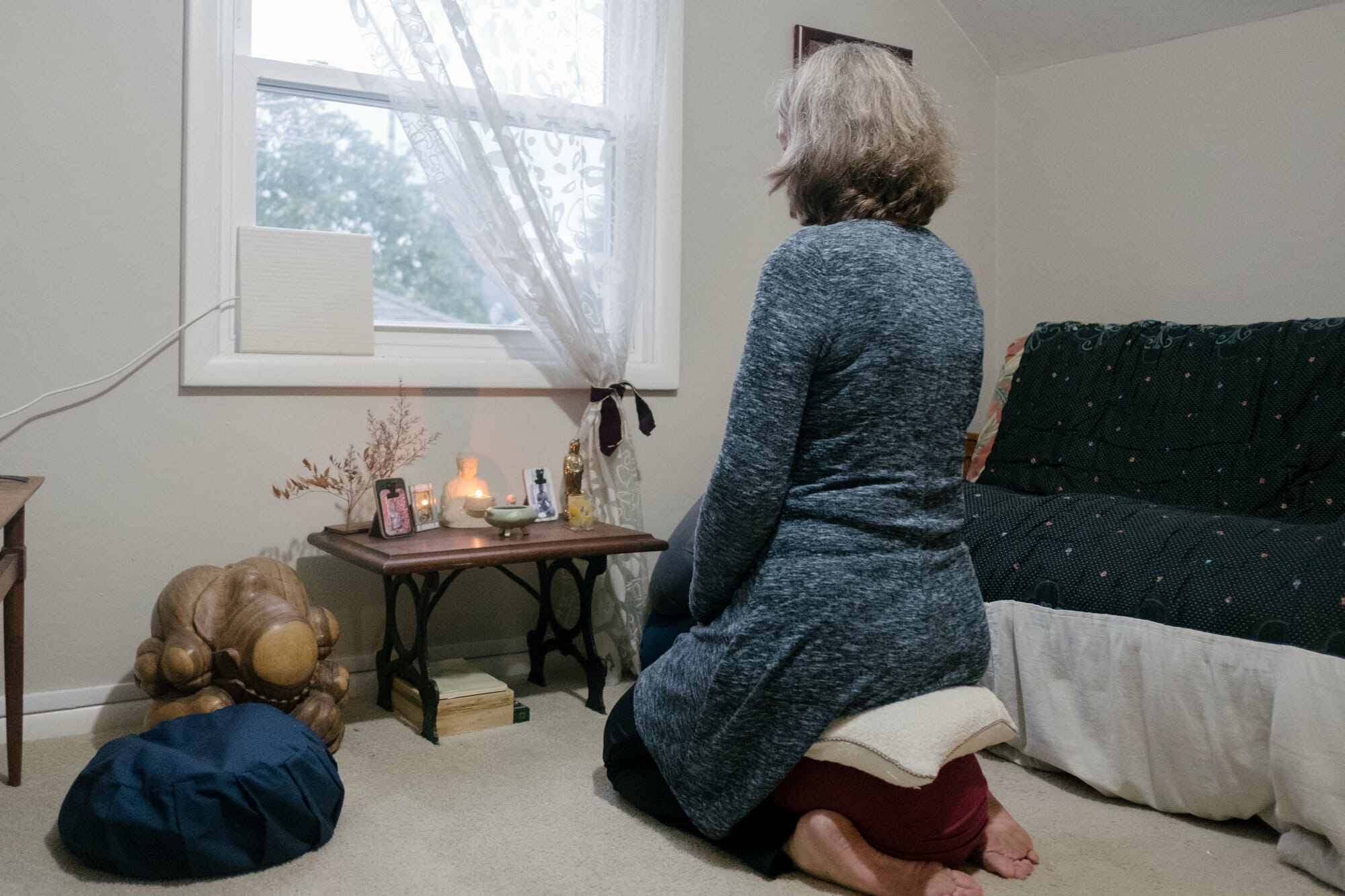 What the Buddhist practice did is cause me
to have the very clear realization that this isn't about my
mom, but none of it's about my mom.
Do you think your personality or background influence the lineage/practices that resonate with you?
Absolutely! As I mentioned above, my childhood religious experiences felt disconnected from the rest of life in a way that caused me to be very resistant to participating if this practice felt separate from the rest of my life. As I began to meditate, go to beginners mind weekends and workshops, then stepped into sesshin (longer retreats) and sanzen (one on one meetings with teacher), my early sense that I was getting what I needed/wanted (not sure of word I want, if feels more like I don't often know what I need! Yet what I get support and benefits me being better, more aware, more discerning, wiser in the world). One thing specific to my experience is an early childhood in which I was consistently receiving anger and being told I did not belong, was not wanted, was stupid; my experiences in this community are very much to the opposite – and push me to see more clearly what are habits and influences of my past versus what is real and needs attention in the present.
Can you share any powerful experiences (whether it was through mediation or transmissions) and how you integrate/motivate you in your practice?
Many powerful experiences, particularly in the early years of my practice. Motivation was to see what they were, what was going on. (Practically speaking, had I stepped into talking with teachers about them when I was experiencing them, I might – or might not, who knows! – have moved in my life and ways of being more quickly.)
Share This Story, Choose Your Platform!