Shinge Roko Sherry Chayat Roshi is abbot of the Zen Studies Society's mountain monastery, Dai Bosatsu Zendo Kongo-ji, and New York City temple, New York Zendo Shobo-ji, and is also abbot of the Zen Center of Syracuse Hoen-ji in Syracuse, NY. She began formal Zen practice at the Zen Studies Society in 1967. She served as co-director of the first residential community at Dai Bosatsu Zendo from 1974 until 1976, when she moved to Syracuse and began leading the Zen Center there. She received lay ordination from Maurine Stuart Roshi in 1985, and full ordination from Eido Shimano Roshi in 1991. She was installed as abbot of the Zen Center of Syracuse in 1996; received Dharma Transmission from Eido Roshi in 1998; and in 2008 was authorized as a roshi, or Zen Master, and given the name Shinge, meaning "heart-mind flowering."
In addition to her work as a Zen teacher, Shinge Roshi is an award-winning writer
and editor. She compiled and edited Eloquent Silence: Nyogen Senzaki's Gateless
Gate and Other Previously Unpublished Teachings and Letters (Wisdom Publications);
Endless Vow: The Zen Path of Soen Nakagawa, with Eido Shimano Roshi and Kazuaki
Tanahashi (Shambhala); and Subtle Sound: The Zen Teachings of Maurine Stuart
(Shambhala). She is also the author of Circle: The Zen Brushwork of Kazuaki
Tanahashi (Amsterdam: Samsara Uitgeverij) and Life Lessons: The Art of Jerome
Witkin (Syracuse University Press), and her articles and reviews have appeared in
Buddhadharma, Tricycle, Tikkun, ARTNews, Sculpture Magazine and American
Ceramics, among others. Her weekly art column in Syracuse Newspapers' Sunday
Stars Magazine ran for twenty years. She is a graduate of Vassar College.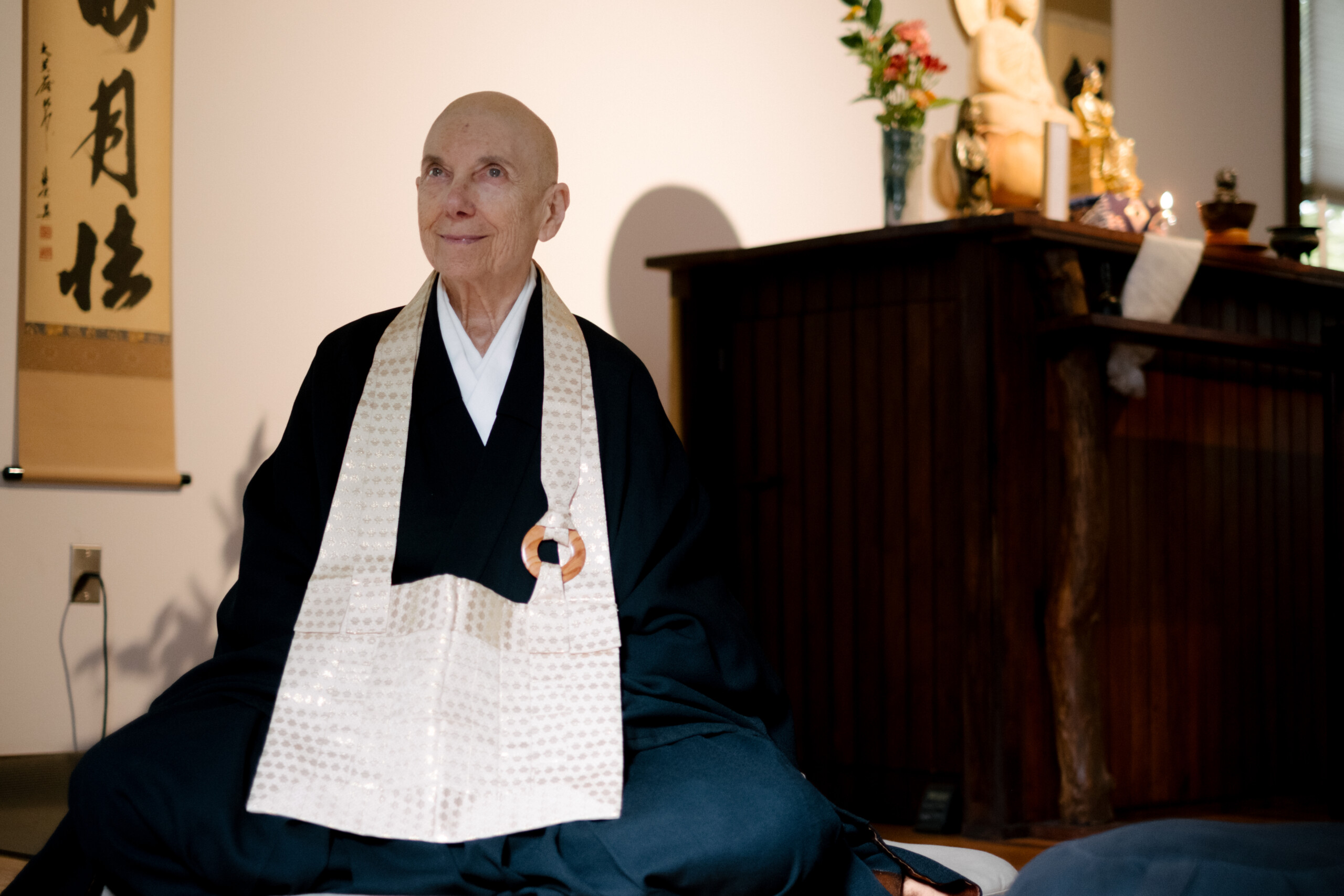 So I don't have any desire
Ito demystify Buddhism.
I want to really invite people
I into the mystery.
So. Yes, my name is Shinji. Raquel Sherry at the abbot of this place. Angie is the name of the temple, the Zen Center of Syracuse and in fact, you asked an interesting question about starting out, not knowing what this practice was called that I came to intuitively. It wasn't so much to call myself. Rather it was an experience. I sat under a tree. I let myself go into the radiant nature of the present moment without knowing what I was doing. I was so miserable. And suddenly the bubble of misery burst. So it wasn't an intention to calm myself or find a mindful way of dealing with issues as much as an original experience of something vast. Beyond my small awareness of suffering. And I think many people have experiences like that, but they don't have a context for it. So when I read about Zen, it really struck me so deeply that here was the context, here were the teachings of the Buddha. And I resonated immediately. Yes, I know this. And just what about my business of whatever I was doing at the time? I was in art. I was a painter and I was an art critic. And doing a lot of writing. But yearning for practice. Something that I could say more formally I could engage in. And that's when I found the Zen Studies Society in New York City. And my first teacher. So I think that formal connection with a teacher is very important. The formal connection with the Dharma, through readings, through your own insight, cannot. There is nothing more wondrous than that. Cannot be talked about. And the song got to realize there are others who are intently wishing to plumb the depths, plumb this mystery. We don't know what this is. So I don't have any desire to demystify Buddhism. I want to really invite people into the mystery.